Reading Time:
9
minutes
The social media landscape continues to change, with user habits and demographics constantly shifting from year to year. Crucially for schools, as the presence of older users on the leading social media sites grows, usage among millennials and teenagers is increasingly migrating towards smaller 'niche' sites. Facebook, in particular, has come under fire recently for restricting the organic reach of business pages as competition for space on their newsfeed increases, limiting the impact of unpaid marketing efforts on the platform.
It's important to note that the sheer reach of the more popular sites still dwarfs that of the smaller ones. Facebook remains a behemoth, with an estimated 1.1 billion users worldwide, more than three times that of Twitter, the next most popular network with 310 million. There is certainly a decline in the site's popularity among younger users – according to a study by Adweek, usage of Facebook among 18-24 year olds is expected to decline in 2016, while usage among 25-34 year olds will remain static.
If your school is considering expanding its social media reach, it's important to understand that many sites populated by a younger demographic have specific, unspoken rules about the tone, content, and community participation of brands within their online communities. With that in mind, just how worthwhile is it to diversify your social media strategy?
In this blog, we take a look at three of the lesser known social media networks, which present unique opportunities for student recruitment, to help you get a sense of whether or not the platform is right for your college.
How Schools Can Join The Conversation With Potential Recruits On Tumblr
Tumblr is a microblogging site that allows users to present short-form blogs in an easy-to-read dashboard interface. With 555 million monthly visitors as of January 2016, it offers many potential marketing advantages to recruiters. For one thing, Tumblr is extremely popular among 13-25 year olds, and its market share among older demographics is increasing. Users also spend an average of 14 minutes on the site per visit, a full minute and a half longer that the average on Facebook.
Tumblr's unique culture also lends itself well to marketing. Commenting on posts and reblogging content is far more commonplace on the site than most social networks, where 'oversharing' is sometimes frowned upon.
From a social media marketing campaign management perspective, Tumblr has many pluses. Colleges can keep multiple blogs, using the Mass Editor feature to update them easily, and are able to schedule posts internally. Content is organized by tags, and you can share content on other sites from within Tumblr. Best of all, links Tumblr posts are 'dofollow' links, making them hugely beneficial to your SEO strategy.
Example: The University of California uses Tumblr to showcase snippets about their research, with links back to the full articles on their website.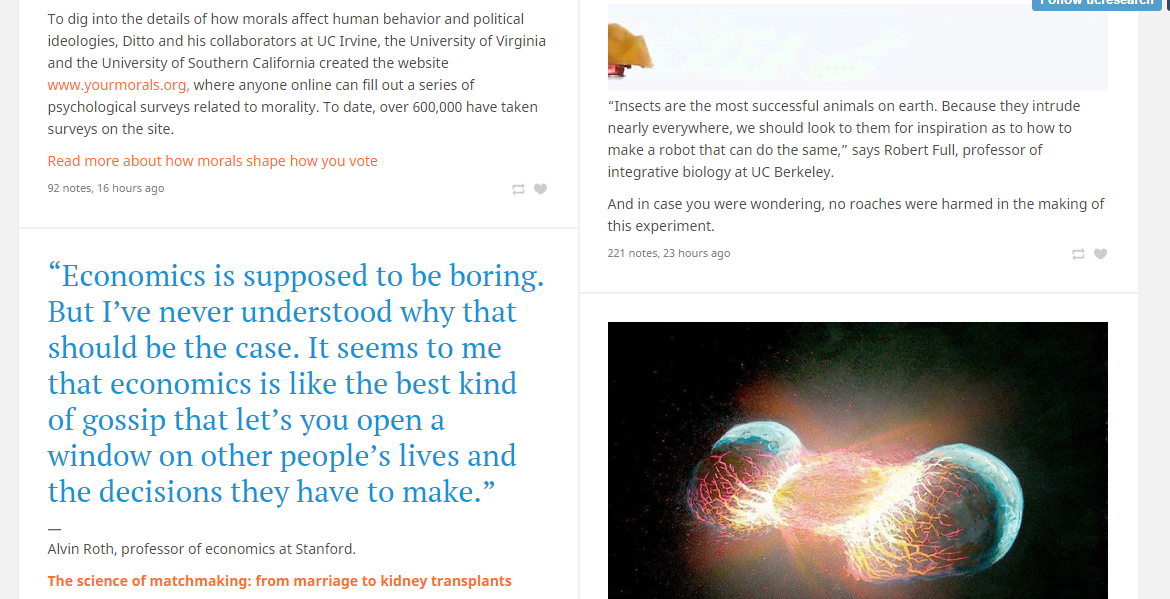 So what sort of content should your college post on Tumblr? The platform typically favours short, visual posts, with gifs and images performing best with its users. Many universities have had success creating Tumblr blogs for areas like students care services, and running competitions and offers on the site. It's also an option for repurposing older content, such as taking an old video of a college event and cutting small segments of it to create GIFs. Since the site allows you to search your email contacts for Tumblr users, you can also use it for targeted recruitment campaigns, checking your mailing list for potential recruits you can connect with.
Example: Michigan State University's admissions office uses a Tumblr blog to answer applicants' questions and share unique images from their students and faculty. As you can see from the 'four accounts' post in the right hand corner, MSU also use the platform to link to campaigns on other social media sites.
Of course, any website that advertises itself as "so easy to use that it's hard to explain" is bound to have a few quirks. Tumblr users have a famously irreverent tone, and trying to appeal to their sensibility can be difficult for recruiters. While it is a blog site, items which make heavy use of text don't tend to perform well. Curiously, leaving simple comments such as "great post!" is also considered bad form on the site, as users expect comments to add something to the original posting to enhance it. And you will be expected to comment on other posts; as mentioned before, Tumblr users are very active, and expect the same from brands, so managing your school's presence there can be time-consuming.
Pinterest: A Versatile Alternative To Instagram For Student Recruitment?
Marketers have long been fond of the unique design advantages offered by Pinterest. The platform allows users to organize images, videos and quotes into 'virtual pin-boards', and the extremely intuitive layout is easy to get to grips with. While the site officially announced it had reached 100 million monthly active users last September, it's now become the fourth most popular social networking site with 250 million estimated unique monthly visitors, according to eBizMBA Guide – almost three times the traffic of its image-based competitor Instagram.
So why is Pinterest often overlooked when it comes to online student recruitment efforts? While its users visit the site often enough, the audience has traditionally been dominated by women in their 30s. However, this appears to be changing – today more than 30 percent of users are men, 45 percent are from outside the U.S. and teens are certainly a significant growing market.
This mobile visual bookmarking site continues to show explosive growth and exciting potential for marketing. Pinterest is currently the top traffic driver among social platforms – 4 times more than Facebook! Search activity on Pinterest has grown 81 percent annually and two-thirds of pinned content comes from retail sites or blogs. Driving more traffic than Reddit, LinkedIn and Twitter combined, it's an excellent way to amplify your school's blog and infographic content and boost your discoverability with SEO.
The platform offers a far wider formatting variety than sites like Instagram and is slowly rolling out buy buttons to simplify shopping opportunities. The first step is adding a Pin It button to your webpages, which alone can deliver dramatic increases in lead generation. Colleges can create and manage unique boards on different subjects, such as student care services, various faculties, sporting events, and just about every other facet of college life you can think of.
Create a Board specifically for your blog posts, with relevant keywords in your brand description and alt text of images to make it easy for followers to find. For each posted blog, include a brief summary or quote, a compelling image that represents the content, and a link directly to the blog on your website. A call to action, such as "please repin" can increase engagement by 80 percent. Remember to pin often and consistently for top visibility.
To maximize your Pinterest marketing efforts, study your analytics results to understand your top performing content, trending pins and boards, best times to pin, and your most influential followers. While Pinterest offers its own basic analytics page, Google Analytics and dedicated tools like Tailwind will provide the best in-depth insights.
Example: The University of Alberta's Go Abroad Office manages a number of Pinterest boards, providing students with information on study and work opportunities in different countries, travel guides, and other interesting tidbits.
Pinterest builds a stored link for every post, which creates an inbound link to your site or even specific landing pages, helping your SEO ranking in the process. Schools can also avail of the unique 'place pins' boards, which allows users to pin posts to a map of a specific area, such as a college campus, providing an interesting option for a unique take on campus tours.
Example: The University of Michigan was one of the first colleges to use place pins. In addition to a virtual campus tour, the school also created the 'Wolverines Around The World" board, which is an innovative way to spotlight students, faculty, and alumni doing interesting things in far-flung places.
Is Reddit Tailor-Made For Higher Education Content Marketing?
According to Reddit itself, last month the social news networking service had 231.6 million unique visitors, but it's what that user base is capable of that makes it special. The site allows users to submit content relating to any topic, which is divided into relevant categories known as 'subreddits'. Members will then upvote and downvote the submissions. It is essentially an online bulletin board and possibly the most efficient viral engine in the world, with constant updates to every page throughout the day.
Posts which are heavily featured on the site have been known to get as many as 10,000 pageviews in less than two weeks, and some marketers estimate each upvote to be worth as many as 2-5 unique visitors. Reddit posts also include dofollow links.
The open-source community hosting service's user demographic is also highly desirable for recruiters – 30% of users are aged between 18-24, with 25% aged 25-34. It's less popular among teenagers, with just 4% of Reddit visitors aged 17 or under.
Crucially though, it's a smart crowd. 50% of Reddit users have at least some college education, and tends to favour intellectual content. In contrast to other sites like Tumblr, which prefer short, visual posts, Reddit users tend to welcome long-form, text-heavy content.
Unfortunately, marketing on Reddit can be something of a minefield. The user base has total control over what it allows, and has been known to ban brands for what they see as spamming. While users are allowed to promote their own content, it must be seen as a valuable contribution.
Users who only submit their own content or ask directly for upvotes are also quickly called out. Repurposing content can also be problematic. Old or out-of-date posts are frowned upon, while anything that remotely resembles a 'click-bait' title can lead to issues.
Nonetheless, universities who play by the rules can find Reddit an ideal platform for higher education content marketing. The user base's appetite for long form, informative content makes it ideal to promote your school's research and academic achievements. Another option is to include 'Ask Me Anything' posts, or AMAs. This format is extremely popular among Reddit users, and schools can take advantage of it by asking faculty members to host Q&A sessions.
Example: This 'AMA' session with OCD researchers from Columbia University received 3,884 upvotes and over 1,000 comments.
While they are not fond of marketing, Reddit users tend to be fine with brands promoting their own posts once they also promote other content. As a general rule, only posting your own content one in every ten posts will keep you under the radar. Also, if your posts can capture attention and garner upvotes and comments, you will earn what Reddit calls 'karma', which shows your totals to users, so that they can see you have a record of producing interesting content.
Example: The Baylor University Subreddit strikes a good balance between the college's own content and other posts that will be of interest to students.
Is It Worth Changing Your Approach To Online Student Recruitment?
While schools may find new opportunities on these sites, it's worth bearing in mind that the platforms prospective students use for socializing might not be the same ones they choose for researching colleges. For instance, while millennials might prefer to connect with friends on Snapchat or Tumblr, a 2014 survey of high school seniors using college research site Chegg found that, when making a decision about their education, they used Facebook, YouTube, and surprisingly, Google+.
This disparity may simply be a result of the lack of diverse university presences on smaller sites, but may also relate to branding and format restrictions. Either way, schools should be cautious, as they wouldn't want to invest a lot of time and effort into building a profile on a particular site only to find their efforts ignored, or even worse, unwelcome. Seek to understand the preferences of your prospective students, using tools such as Google Analytics' social media reports and even online surveys.
In the end, whether or not these sites provide a worthwhile return on investment to your school will come down to the audience you're trying to connect with, the resources you have to increase your social media activity, and whether you can provide content that will appeal to these particular niche user bases.