Reading Time:
4
minutes
Paid online lead generation is more competitive than ever as more and more institutions complete for a shrinking pool of prospective students.
The once price-accessible, non-branded keywords that describe your programs are now highly competitive and expensive. Average cost per click on your Google Adwords campaigns are increasing every quarter. Your conversion rates are stuck but you don't want to jeopardize lead quality in experiments with new keywords. Sound familiar? So what can you do to increase the ROI on your fixed PPC budget?
One way is to move some of your PPC budget over into Bing Ads.
Here are 4 reasons why you should consider Bing:
1)      Bing is gaining market share and should be taken seriously.
Bing and Yahoo (which sells its advertising under Bing Ads) makes up approximately 20 % of global search engine activity. Yes, Google makes up the other 80%, which is where most organizations go to first launch and develop their PPC advertising activities. But remember, if your campaigns don't include Bing/Yahoo you are ignoring 20% of the market. If you are just getting started in PPC, Google Adwords is probably where you should be, at least until the point where you have learned the ropes and are beginning to ramp up your budgets, have optimized your campaigns and ROI and now are looking new cost effective opportunities to expand. Recent reports show that Bing/Yahoo has grown its market share and is making a concerted effort with its PPC clients to continue this trend. My bet is that this growth will continue.
2)      Cost per click on the Google search and content networks has risen dramatically in the last few years and is generally higher than on Bing. 
Specifically Google's average cost-per-click (CPC) on higher ed terms rose 26% over 2012 -2014. Google's quarterly higher ed search reports have not been released since Q1 2014 so the stats for 2014/2015 are still unclear. Anecdotally, we can report that here we have seen consistently rising cost per click rates for our PPC clients. Mobile and display campaigns have buffered it down to some degree but generally an overall increase has been experienced. The more general stats below, representing contrasting CPC rates from across a number of industry verticals, including education, reports an average "education" click in Google at almost 60% higher cost than that in Bing.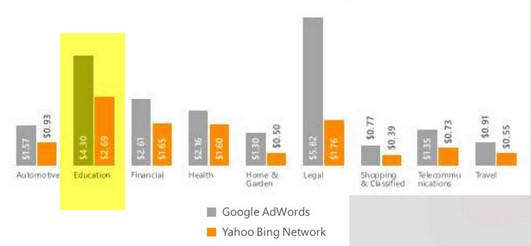 3)      Bing delivers a different demographic audience than Google; one that you should examine carefully to determine if it aligns with you target audience.
Here's the age distribution of Canadian Bing users. If your programs are targeting an older audience, for example for adult education, continuous learning or say, to reach new Canadians looking for upgrading or a Canadian accreditation Bing could be a great option for your campaigns.
Other generalizations about the typical Bing user include:
– Users of Bing are generally less "techy".
– Bing users are more-so, blue collar than white collar.
– Bing searchers are more likely to have children, based on their age.
If these characteristics match your target audience personas, Bing Ads may provide your campaigns with access to an even better qualified search audience than Google can.
4)      Conversion rates are at least equivalent, if not better, in Bing.
This statement is of course highly subjective but from personal experience working with both, I am finding equal or higher conversion rates in Bing Ads. This is based on using similar campaigns across both, including similar keywords, ads and landing pages.  So let's just say for the sake of argument they are equivalent, what this means is that given a lower cost per click in Bing and therefore a lower cost per lead in Bing that your overall ROI can be better in Bing.  Of course everyone's campaigns results will vary, some significantly, so you need to test this out for yourself. What I am confident enough to say, though, is that the Bing/Yahoo's user demographic, although a bit different from Google, do cost effectively convert to prospective student leads, just like Google's.
To recap, if you are just starting out in PPC it is probably still best to stick to the  80% of the search market that Adwords gives you access to, to learn the ropes and build you working knowledge of PPC advertising.  But if you are already in the PPC game and need to find ways to produce continuous improvement of your lead generation performance and overall marketing ROI, give Bing a serious look. I think you will find the reasons compelling and the incremental results you get will be positive and well worth the effort to enter this second platform.
What has your experience been with Bing? If you do currently use Google and Bing, how have you split your budgets across the two? Would you recommend to new PPC marketers to start with one, or both?