Reading Time:
8
minutes
International student recruitment can occasionally get a little messy. With prospective students inquiring in different languages, international calls to schedule with leads in different time zones, not to mention recruitment agents to communicate with, admissions teams can find it hard to stay on top of it all.
Investing in CRM and marketing automation technology can get rid of more than a few of these headaches, helping schools to track and manage their recruitment activities in several different countries – or even several different languages – effortlessly and efficiently.
If you've been finding expanding into new markets and regions around the world easier said than done, keep reading to find out why CRM and marketing automation could be the solution.
Improving International Student Lead Flow and Segmentation
One of the chief features of CRM is the ability to create customizable lists that allow you to segment all of your contacts into different categories. For schools that deal with prospective students in a wide range of countries around the world, the organization this can bring to your lead management can be a lifesaver.
By properly configuring your online forms, you can ensure that any prospective student who makes an inquiry is systematically segmented in your CRM in accordance with whatever criteria you specify. A simple place to start might be to segment international students by location. If you are engaging in any multilingual marketing campaigns, it may also be a good idea to segment prospects by language, too.
Example: A sample Mautic contacts list of Brazilian students. The platform can be configured to automatically group prospective students together based on location.
Some CRM platforms will also allow you to create subgroups within larger contacts lists, meaning you could organize leads from different markets according to other factors such as behaviour, engagement, or the stage they are at in the enrollment journey. If you build custom fields in your online forms, you could also segment them based on important information such as visa status, budget, or anything else that might make them easier to categorize and manage during your follow-up process.
This function can help your team to ensure the right contacts are passed into the right person's workflow queue, that follow-up is scheduled to account for time zone differences, and that your lead management is organized to prioritize high value potential applicants and maximize productivity.
Onboarding Agent Activities into a CRM for International Student Recruitment
International recruitment agents are an invaluable resource for schools in a number of sectors. They offer firsthand knowledge of local markets, a presence on the ground in important regions, and a steady stream of qualified applicants for the institutions they serve.
However, because they work independently, managing the flow of information and leads between both parties can sometimes be challenging. Investing in CRM for international student recruitment can bring more cohesion to this process.
Your school can add its agents as users on your platform, and allow them to upload  a lead's information once they are ready to be passed to your school.  They can change the contact's classification and it will be automatically reassigned to your in-house staff to handle the next steps.
Example: A contact's history in Mautic. Once the lead's stage has been changed to Application form sent, the contact can be assigned to a different user for processing.
If it suits your school, you could also use the system to pass direct inquiries you receive online from international students to agents based in their region, so that they can follow on up on those inquiries, further strengthening your relationship and fostering reciprocal growth.
Using CRM to Follow Up with International Students
CRM can also offer a number of valuable tools to supplement your international student inquiry follow-up. For a start, you can schedule your workflows in accordance with time zone differences to ensure you contact prospects at appropriate times of day.
Some CRM platforms also offer facilities which allow you to place calls directly from the system. As many schools will be aware, international calls can be expensive, but CRM systems will integrate internet calling platforms that can offer reduced rates. HubSpot, for example, uses Twilio Connect for its click-to-call system, with up to 2,000 minutes of call time included for users depending on your subscription.
Additional calls can then by made by creating a Twilio Connect account, and are billed by the minute. Prices vary depending on what country you are calling and where you are calling from, but are quite competitive. A call from the US to China, for instance, can be as cheap as USD$0.02 per minute.
Placing calls directly from your CRM also allows you to automatically log them in your system, record calls, and make notes on their outcome.
Example: A call logged and noted using HubSpot.
CRM can also be used to send texts or emails to international students, and in some cases integrated with instant messaging services like WhatsApp. This can be especially valuable in this sector, considering the popularity of IM platforms and the costs of international SMS. Best of all, each of these communications can be logged in the contact's history, allowing you to track all of your follow-up activities in one place.
Creating Multilingual Content with Marketing Automation
There can also be a lot of value in using marketing automation for international student recruitment, particularly when it comes to multilingual campaigns. Using a CRM for schools with integrated marketing automation functionality, you can create landing pages and inquiry forms in the native language of the students you are targeting. When an inquiry is made, those leads can automatically be created with their preferred language specified.
Example: An Italian landing page from Irish College of English with a lead capture form. Using CRM and marketing automation, you can ensure that any lead captured through multilingual campaigns is automatically segmented according to language.
Your school may also find marketing automation useful for developing follow-up content in different languages. You can create autoresponders, nurturing campaigns, and additional email templates in a prospect's native language, which can then be personalized using the platform's custom fields for each student. While it's important to invest in professional translation services for multilingual content, this feature means you only have to do it once for each mail you want to create.
Example: An email template created in Portuguese for an American ESL school in Mautic.
Monitoring and Measuring Your International Student Recruitment Campaigns
In addition to providing you with tools to follow up with prospective recruits more effectively, the reporting functionality offered by many CRM and marketing automation systems can also help you to measure the ROI of your international student recruitment campaigns.
Complementing other measurement tools like GA and social media analytics platforms, CRM reporting can be used to gain new insights into your digital marketing efforts. Your team can view your lead generation results for different programs, channels, and locations, giving you a clear view of what initiatives are driving success for your school, and where.
Example: Mautic reports tracking lead generation success by program, channel, and country.
These insights can help you evaluate which countries and regions are most valuable to your school, and what activities are helping you reach your goals in different international markets. You can also create custom dashboards for your admissions managers, team members, and even agents, giving them a single shot show view of the metrics they should be tracking and taking into account.
Example: A Mautic dashboard which has been configured to display results by location.
In addition, CRM reporting can allow your school to analyze your student inquiry follow-up efforts to determine how well your team are doing at nurturing prospects through the admissions funnel, and what follow-up activities are being carried out. This will help you to better allocate resources, and to pinpoint any changes you can make to improve productivity or results. Insights like this can be particularly helpful if your team is new to international recruitment, or if you are following up with prospects in a new market for the first time and still finding your feet there.
The reports offered on the marketing automation side can be very instructive, too. Your team can analyze open rates, click-through-rates, and other performance metrics on things like emails, texts and instant messages, forms, landing pages, and CTAs to determine what is working and what isn't.
Example: A sample of a HubSpot marketing dashboard showing landing page and email performance metrics.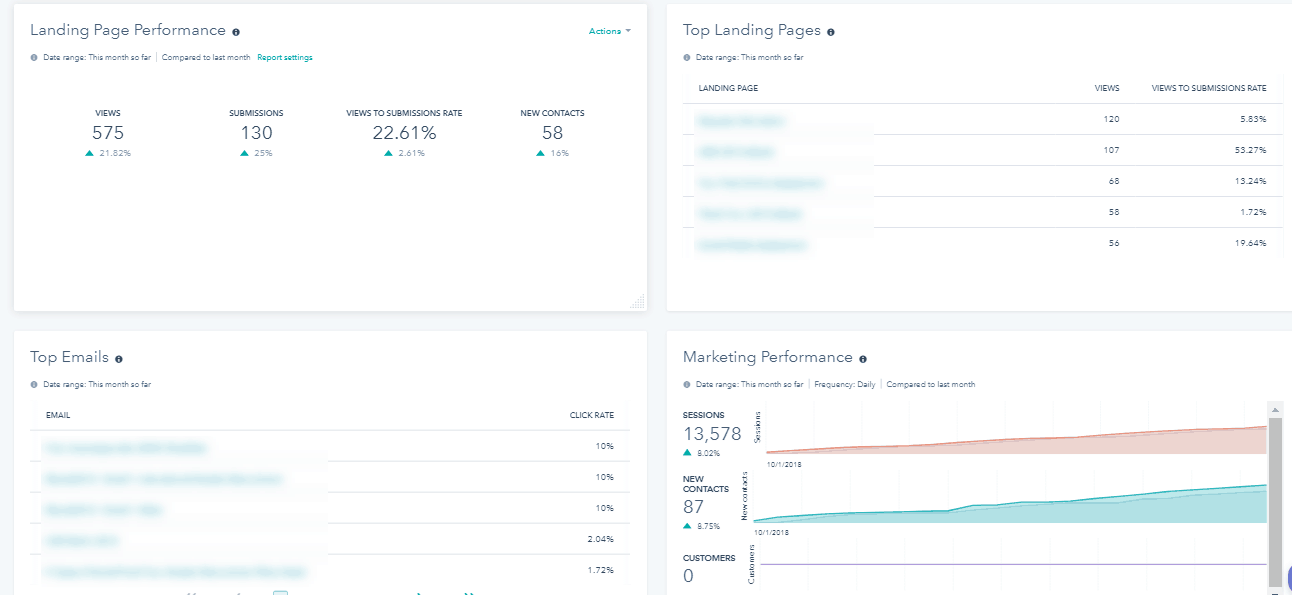 Many CRM and marketing automation platforms also come equipped with social media monitoring tools, which can be used to track followers and engagement across crucial channels like Facebook, Twitter, and Instagram, and can be very useful in helping you see which social media sites your student base are visiting.
Example: Social reporting tools in HubSpot.
These are not the only ways that CRM and marketing automation can help your international student recruitment efforts. Depending on which system you are using, other features like social media scheduling, lead scoring, and payment gateway integration may also be available. All of these can have their uses and applications in an international strategy, depending on your needs and the nature of your course offerings. By carefully considering different CRM and marketing automation options and finding a platform that can be customized for your goals, you can create a system that will be at the heart of all of your international student recruitment activities.