Reading Time:
8
minutes
Email marketing is a way for your school to deliver messages straight to prospective students.  Even with all the software and features of email marketing today, the content of your email remains as important as ever. 
As a school, there are a few types of email communications you should consider when trying to recruit new applicants, such as newsletters and email drip campaigns. Weekly newsletters offer important school announcements and updates, while drip campaigns are a series of emails sent over a period of time with the goal of moving prospects through the admission funnel. 
When it comes to drip campaigns–also known as email workflows or nurture campaigns–creating the right content is particularly important. It's about writing email marketing content that prospective students will open, read, and act on. You'll need to decide how to focus your email message on various parts of the student enrollment journey. From there, you'll need to implement some copywriting best practices to draw in readers. 
So how do you write a great email for a lead nurturing campaign? Here are some tips for drafting messages that will engage prospects and convert them into applicants. 
1. Set the Scene With Subject Lines
A big part of writing email marketing content is nailing the subject line. A strong email subject line sets the stage for your content; it should entice prospects to open your email while telling them what to expect from its body. But this is easier said than done–especially when you're working within a tight word count. 
There are a few copywriting best practices to keep in mind when creating your email subject lines. First and foremost, each subject line should align with the content in the body of the email. As a school, you want all your messages to be honest and reliable. If your subject line contains empty promises, prospects are less likely to trust your school's communications in the future. But more importantly, the whole point of a subject line is to give readers a glimpse of what's to come. It lets them know what the purpose of the email is so they can prepare to take the next step. 
Identify a Clear Action 
This leads us to our next tip for writing email marketing content: use actionable language in the subject line. What do we mean by that? Make it clear to readers what the goal of the email is and what they can do with the information. While using action verbs is the obvious way to achieve this, the most important thing to consider is how you can nurture leads to take the next step in enrollment.
The example below from the University of San Diego is a subject line that prompts quick action from users. The school keeps the message succinct with a clear call to action. 
An action-oriented subject line should also carry a sense of urgency. Think about adding exclamations or time-sensitive information when writing email marketing content to urge prospects to take the next step. Phrases like "Register Now!" "Deadline Approaching" or "REMINDER" tell recipients that the information in the email requires immediate attention.
With a strong subject line that shines a light on the email, you can ensure your content efforts don't go to waste. 
2. Customize Your Content for Prospects
According to research, 92% of marketers now say customers and prospects expect a personalized experience when engaging with a brand. This is particularly true for prospective students who are making long-term decisions for their future. They will want to feel a connection to the school that they are choosing and feel valued in return. Personalization is the best way to focus your content–but it takes more than just adding a name.
Writing email marketing content that truly speaks to your audience requires an understanding of your target market. Remember, the whole purpose of a drip campaign is to nurture each lead toward enrollment; it's about delivering the right message, to the right person, at the right time. 
The ability to segment email lists and individualize messaging is one of the most effective personalization tactics. Research shows that marketers have found a 760% increase in email revenue from segmented campaigns. To get started with segmentation, think about what stage of the enrollment process your recipients are in and what kind of content they need to move forward in their application. You can then customize your email messages to various stages of the student funnel.
For example, new leads who have expressed interest in your school won't be ready to apply just yet. Instead, they will want to learn more about what your school has to offer. In that case, think about writing email marketing content around programs, extracurriculars, or alumni testimonials–things that can familiarize leads with your school. 
Example: The University of Waterloo sent an email that is customized to prospects in the early stages of enrollment. The content gives those leads an introduction to the university and an explanation of the application process as they move forward.
Down the line, email marketing for schools should help prospects to finalize their decision to enrol at your school. The example below from the University of Waterloo is designed to convert leads into applicants by providing the upcoming application deadline and a link to apply. The content is also personalized to those interested in the Faculty of Engineering.
No matter your target audience or their level of interest in your school, think about how you can establish relevancy through personalization when writing email marketing content. 
3. Stick to Your School's Key Messages
The content you create should also be highly relevant to your school's branding. Branding is important in all your school's communications, and it's how you'll differentiate your school's emails from the competition. But branding goes beyond logos and colour schemes; the tone, voice, and style of your email content are equally important. 
Most importantly, your email content should ring true to your school's other marketing efforts. 
A good place to start is to consider the kind of messaging on your website and use that as a template when writing email marketing content. Your school's unique selling points should come through loud and clear in your email content. 
The example below is an email from the University of Alberta. The content is framed around the university's "international reputation for excellence" and lists the school's unique rankings to support it.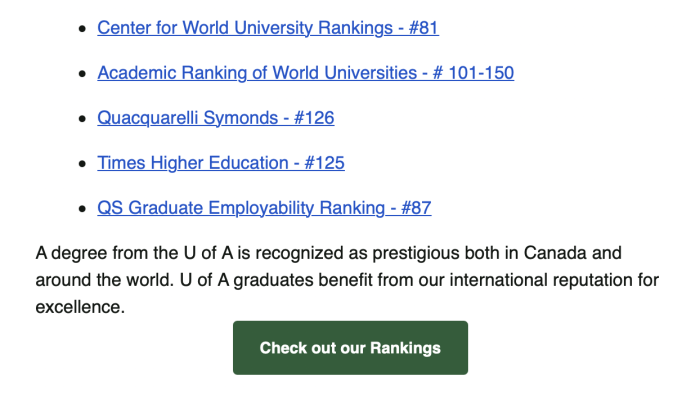 There are numerous ways you can differentiate your school from others and create emails that are consistent with your brand. Special programs, campus features, extracurriculars, and support services are all examples of things that make your school unique–and are worth highlighting to prospective students when writing email marketing content. 
4. Clarity Above All Else
No matter the focus of your email content, aim to keep the copy brief; you want prospective students to come away with a clear message and a better understanding of your school. Remember, as an educational institution, readers will be expecting clear and reputable information from your emails. 
Data suggests that emails with approximately 20 lines of text, or about 200 words, had the highest click-through rates. As a more general guideline, try to use as few words as possible to make your point, without sacrificing on the presentation and style of your copy. 
The email below from McGill University is a great example of clear and succinct content. It introduces the subject of the email in two lines and uses bullet points for better readability. The email ends with a single fact about the school's ranking to bring credibility to the content. 
Clarity is especially important when it comes to the CTA (Call to Action) in your email. An effective CTA should be clearly labelled, stand out from the rest of the content, and be linked to the appropriate web page. Aim to include just one CTA to make the message of your email even clearer. In the example shown above, the CTA "Learn about funding your studies" expresses a clear purpose so that readers know what action they are taking. 
5. Get Creative When Writing Email Marketing Content
While it's important to keep your content to the point, that doesn't mean you can't bring creativity to the table when writing email marketing content. In fact, adding some personality to your copy can help to humanize your brand in the eyes of potential students. They will come to view your school community as a fun and lively place to be. Creativity can mean different things for each school, and it'll be up to you to find an approach that best fits your brand and target audience. 
For example, Arizona State University came up with the slogan "Gold is going to look good on you" for its email campaign. The phrase is not only catchy for readers, but it's also a fun play on the school's colours. Recipients can easily identify the school in their inbox. 
Beyond catchy taglines and headers, think about how you can shake up the content of your email and include elements of creative storytelling when writing email marketing content. Infographics, testimonials, fun facts, and tips can all help to tell your school's story in a fresh and inventive way. 
Example: An email from the University of Pennsylvania includes a graphic to illustrate the story of its founder, Ben Franklin. The content is used to inspire new applicants and paint a picture of what it means to be a "Penn student." 
By adding a creative angle to your copy, you can engage prospects in your school's key messages while leaving a lasting impression on the reader.
6. Consider Template Designs
If you're not sure where to start when writing email marketing content, email templates can provide a useful guide to streamline your school's copy. Different templates can help you focus your content for the right leads so you can provide clear and targeted messages at every stage of the enrollment process. Your school can choose from existing email marketing examples and adapt the content as you see fit. 
A big benefit of pre-made templates is the consistency they bring to your school's content while taking away some of the burdens of writing new content for every email. Mautic by HEM gives your school the option to create template emails that are both automated and manual, where you can customize the design, copy, and content of your emails with an intuitive template builder. 
The image below shows how your school can edit a pre-existing element in the "Customize slot." 
Content is at the heart of any good email marketing strategy and is ultimately what will lead prospective students to take the next step in enrolling. With knowledge of your target audience and some key copywriting best practices, you can begin writing email marketing content that speaks to prospects today.