Reading Time:
9
minutes
Having a good local student recruitment strategy is important for schools at the best of times. As much as students from further afield can bolster your enrollment numbers, a strong local presence can ensure a steady stream of accessible, easily qualifiable applicants who already know your school's reputation and what it offers.
In the current climate, however, this could be even more important. Although lockdown measures across the world are easing, travel restrictions between different countries and regions are likely to remain in place for longer. Prospects from different countries may also be wary of the possibility of a second wave, and reluctant to commit to long-term study plans.
Even in cases where schools have pivoted temporarily to online instruction, local students may still be more inclined to begin their courses than international candidates since it will be far easier for them to transition to classroom learning once it becomes possible.
With that in mind, trying to get more from your local recruitment efforts could be a prudent move right now, and help to mitigate any drop in enrollments. Here are a few tips for reaching more students right on your doorstep.
1. Redefine Your Local Student Personas
If you want to put more emphasis on recruiting local students, creating localized personas – or revising your existing ones – is always a good move. Properly defined personas can be used to inform your digital marketing efforts across a number of channels, and will help you make better decisions regarding where, when, and how to target your audience.
If your school has not placed a lot of focus on its local audience in the past, you may find you have to completely rethink certain aspects of your marketing approach. For instance, many language schools that rely heavily on international recruitment use a 'language tourism' approach that emphasizes the opportunities for sightseeing and new experiences in their location.
Local language school students, however, are already living and working in your area. Thus, their goals will likely revolve more around improving their professional prospects or better integrating into their new home.
Example: The Resident, a persona developed for a language school looking to focus on their local market.
Even if your school already has a strong local presence, you may need to review your personas in order to boost your market share and refine your approach for the current climate. A university, for example, might find they now have more interest from younger local students who would have most likely chosen to study elsewhere before COVID-19. Likewise, a career or community college might find that the economic impact of the crisis means there is a larger pool of applicants in the area who are considering retraining for a new career.
Another thing you may need to account for is increased competition. With international enrollments down, many of your competitors will also be looking to make up the shortfall through increased local enrollments. This means more aggressive and persistent marketing efforts at a local level, and ultimately more choice for your prospective students to consider.
2. Target Localized Keywords to Improve Your School's Visibility
One of the big advantages of using digital marketing for local student recruitment is that the current mechanics of search engines will very much work in your favour. Because so many internet users utilize search to find goods and services nearby, Google and other providers have adapted their algorithms in recent years to prioritize local search. This means your school might already rank quite highly in targeted searches in your area, even if you haven't been trying.
Example: A Montreal-based search for nursing courses automatically favours institutions in the city, such as the Ingram School of Nursing, John Abbott College, and Dawson College.
To further this advantage, you can target location-specific keywords in your web pages and blog posts that will boost your rankings in these crucial searches and ensure you are visible to local prospects.
Further refinements, such as ensuring name, address, and phone number (NAP) information is added to all of your web pages, can also be added to give your rankings an extra boost.
3. Optimize Your School's Google My Business Listings
A big part of the move towards local search has been Google's introduction of the 'local 3-pack' that now appears at the top of all localized searches.
Example: The local 3-pack for the search language schools in Montreal.
These results – as well as the right-hand panel of many branded searches – lead to Google My Business listings, which provide summaries of various businesses and are becoming increasingly important as a search tool.
If you're looking to attract local students, taking ownership of your GMB listing and sprucing it up could do wonders for your school's visibility. GMB gives you the option to add photos, a short description of your school, notices of upcoming events, and even updates that take a form similar to social media posts.
Example: A GMB update post from WU Executive Academy.
Not only will making full use of GMB listings help make your school look more inviting to prospects, but it may also improve your chances of getting into the top local 3-pack results. Experts believe that Google monitors the interactions that GMB listings receive in order to determine which businesses to rank highest, meaning that a comprehensive, engaging profile is essential.
4. Run Locally Targeted Ad Campaigns for Your School
Paid advertising can also be a great option if your school wants to reach local prospects. This is especially true if you're looking to boost interest within your own region quickly. Short-term campaigns in the runup to application deadlines or course start dates can be particularly  effective when targeted at local markets, as students do not have travel, accommodation, or visa constraints holding them back from making a last-minute decision to apply.
Paid search ads on Google can be targeted at localized keywords, helping to boost your visibility if you don't enjoy especially high rankings in localized searches. You can also geotarget your campaigns to ensure you reach the right regions in key searches.
Even if your organic rankings for local searches are good, investing some resources in paid search could be prudent. Institutions who don't rank well in local searches will likely be investing in paid advertising to correct their disadvantage, while schools from further afield often create 'guerilla' campaigns that target local searches in the hopes of piquing the interest of prospects from that area. With online courses becoming more popular, this tactic could become more prevalent.
Example: The ads that appear at the top of the page in a search for MBA programs Montreal are all from online degree providers from outside of the region.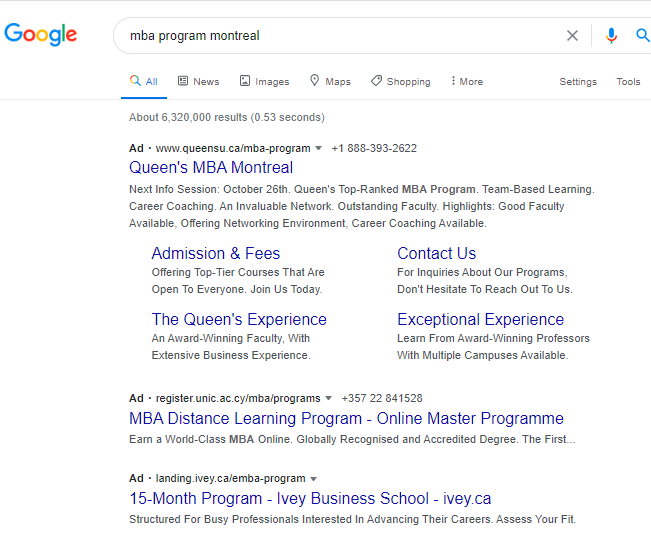 Social media can also be a great option for recruiting local students. Facebook, Instagram, LinkedIn and other major platforms all offer location-based targeting options, and you can also target users by language and age to help ensure they match the demographics of your target persona.
Language schools, for instance, could build a campaign on Facebook that targets non-native speakers living in their area. They could also use the 'ex-pats' field to target those who used to live in specific countries.
Example: The ex-pats field in Facebook. A language school could potentially use this field to target newcomers to its local area in ad campaigns.
Depending on the social network, you could also use interested-based targeting, targeting based on professional backgrounds, and targeting based on online behaviour, as well as creating remarketing or lookalike campaigns. And because social networks offer a lot more options in terms of formatting and placement for your ads, you can use your creativity to put together something that will really stand out in the local market.
5. Create Content for Local Student Recruitment
Your content creation efforts don't have to be specifically targeted at local students to attract them, but you do need content which speaks to their motivations. If your school has prioritized national or international recruitment, it's possible your content may not cut it.
For example, you may have created blogs and videos that focus heavily on selling your location as a study destination. While local students may well be fond of their city or town, they don't need to know about all the different things to do and see.
Campus life can also be less of a selling point, as prospects from the local area may have established social circles and hobbies and be less inclined to pursue something new. Having said that, the current pandemic could change this somewhat at the university level, as students who may have been inclined to go further afield seek a full college experience locally.
Usually, an approach that focuses on the knowledge, skills, and opportunities afforded by studying at your school will be most effective. Even outside of the current crisis, choosing to study locally is usually a practical decision. A prospect may have work or family commitments that make moving away for education impractical, for instance. Younger students may want to save money by living at home during their course. Or they may simply like where they live.
In all cases, they are likely to prioritize what your school has to offer in terms of learning first and foremost. Your content should highlight the academic rigour of your programs, any facilities or opportunities you offer for practical training, and the positive career outcomes of graduates. Do that well, and you won't go far wrong.
Example: This blog from ASC English in Boston focuses specifically on improving business English. A post like this might have more appeal to local students seeking to improve their language skills for professional reasons.
You could also highlight anything that you specifically offer local students. For instance, you might be able to provide financial aid or scholarship opportunities to locals that other students cannot access, or have links with local employers that those who do not intend staying in the area after their studies would not be seeking out. Anything that can give your school an advantage and make it seem like a welcoming place for those in your doorstep could help give your local student recruitment strategy an edge over your competition.
6. Make an Effort to Follow Up with Local Students
If local prospects represent a higher value market to your school right now than others, then it's important that you give them your full attention in your follow-up efforts.  You should segment your leads so that any locals go into a unique contact list which your team can prioritize.
From there, don't be afraid to follow up early and often. You could create tailored automated email workflows that speak specifically to the needs of this audience. Additionally, because local students will be more accessible by phone and you don't have to worry about time zone differences, you should make an effort to contact them by call and text.
Example: A follow-up workflow for local leads that combines emails, calls, and SMS. The follow-up schedule for the first week after an inquiry is received is frequent, reflecting the importance of this particular segment to the school.
7. 'Warm Up' Cold Local Leads to Reignite Their Interest in Your School
Because there are fewer barriers to them pursuing their studies, local students may also be more likely to reignite their interest in your school, even if they have not chosen to take their education plans further for quite some time.
This is particularly true in the current climate, when many people might be turning their attentions towards educational opportunities they had considered before but never pursued.
With that in mind, it may be worth creating remarketing campaigns to retarget locals who previously made inquiries at your school, visited your website, or followed you on social media. You could also create email campaigns for this audience, or better yet, pick up the phone and check in. You may just touch base with them at exactly the right time.