Tell Your Brand Story & Attract New Students with Social Media Contests
Date posted: September 1, 2015
On the surface, social media contests may seem like just a fun way to entertain your school communities online. However, when strategically designed and implemented, they are an incredibly effective way to:
engage regularly with current students
attract new potential leads to your social channels (increase your fan base)
elevate and extend the reach of your brand
learn more about what your target personas think and are interested in
generate authentic, user-generated content that can be leveraged across your entire web presence
drive traffic back to your website to encourage conversions
Inviting current and prospective students to contribute content to your social media contest – in the form of pictures, video, anecdotes, etc – helps add authenticity to those accounts and by extension, to your school brand.
Plus, when contestants contribute personal content, they automatically become more invested in the contest's outcome and what type of feedback their submission will generate. As a result, they are likely to spend more time monitoring and engaging with your brand on social.
So what themes or events can you focus your social media contest on to really get your key branding messages out there, grow your online presence, and attract new prospective students?
Here are a few ideas from schools who are getting it right.
Promote Your School's Unique Culture
No one can tell your school's brand story better than current students. Social media contests can incentivise sharing by offering prizes in exchange for anecdotes, images and video that capture something unique about your institution – experiences recorded by students and disseminated through your and their social networks to effectively reach and engage new leads.
Prospective applicants are far more likely to take your students' word for it than buy into conventional, institutional messages. Generating and sharing "peer proof" is a foundational element of successful social media marketing for schools.
[Tweet "Social media contests help elevate your school brand by highlighting authentic student narratives. #HEMktg"]
Here's a great example of a social media contest Grand Canyon University organized on Instagram to promote welcome week. By asking new students to show their "Lope pride" by posting favourite moments of the move-in experience, GCU leveraged the excitement of that first week on campus to really get the word out about what makes the school unique and desirable – all with student-generated content.
GCU is careful to promote the contest regularly on Instagram, right up until the day before the deadline, to offer examples of #LopeCountry images and encourage submissions:
Show You Help Students Land Great Jobs after Graduation
Here's another example of smart branding through social media contests by Michigan State University College of Law. Their contest challenges law students to get smarter about promoting themselves online by asking entrants to pitch a comprehensive "social media strategy" they can use to land a great job after graduation.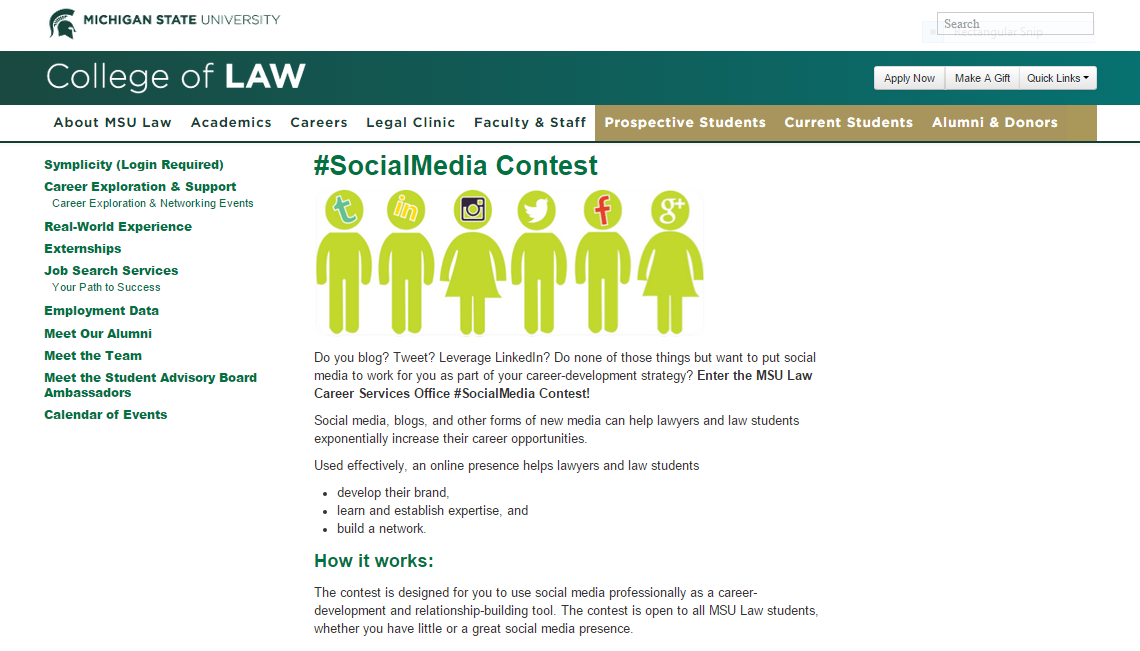 Entrants must present a plan for how they will market themselves online across multiple platforms – and the participant who implements the most compelling strategy wins.
This contest achieves several compelling branding goals for the MSU College of Law:
Promotes the institution as digital-media savvy  and equipped to support students' professional success with the latest online tools and techniques
Disseminates the MSU College of Law brand across multiple social media channels – such as the increasingly important LinkedIn – as entrants create profiles for their strategies and generate positive college-related content online
Attracts positive interest in the school from onlookers who amplify MSU's brand with their supportive comments
Here are a few responses from Twitter: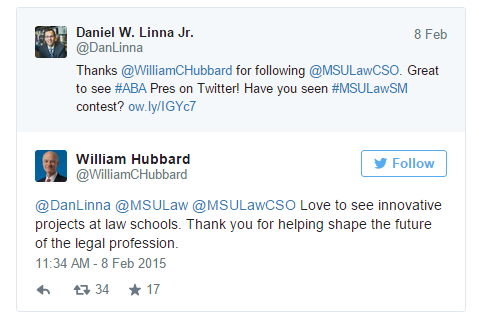 Again, it's the students' submissions that are driving this positive publicity, rather the than college directly promoting its "career services" team, or a similar initiative to support new grads as they enter a competitive job market.
This branding message is particularly important for attracting the growing number of career-oriented post-secondary students. These potential university and college students prioritize schools who help them map out and achieve their professional goals with counselling, the latest tools, and targeted training.
Generate Detailed School Branding Statements from Students
When Mohawk Valley Community College designed their mascot-naming social media contest, they were after more than a name for their representative "hawk."
The contest required students to suggest a name, but to also justify their choice with an explanation of how that name embodied the spirit of the college.
The result? Over 150 unique branding statements from current students, including the winning entry in red below, which captures what MVCC is known for – "excellent art programs" that help grads land "great jobs without going to a four-year college."
The school could have spoken for itself, but these words from a real student will reach a far wider audience of potential new leads on Facebook.
Here's a similar example from the Village School, a private K-12 institution, who leveraged a social media contest to emphasize what it considers a foundational characteristic of its overall brand: the celebration of cultural diversity and promotion of global citizenship.
Using the hashtag, #weareGLOBAL students, parents and school staff were all invited to participate by uploading photos of themselves travelling during spring break to Facebook, Twitter and Instagram. Extra points were awarded to entrants who wore Village School branded items in their photos.
This contest effectively showcases themes that are particularly salient to the Village School brand, and increasingly popular across the education sector: internationalism, global citizenship and inter-cultural awareness.
Use Social Contests to Promote your Programs, Events & Facilitates
Have a particular program you would like to generate awareness of on social media in order to attract applicants to your school?
Social media contests are ideal for getting the word out about a potentially popular new academic initiative you feel is likely to resonate with prospective students.
Take a look at how Simon Fraser University promotes its international co-op program by inviting current participants to enter images and video of their "international work day" to a social media contest.
These mini-stories will position the university as globally connected (great for millennials who want professional and personal experience abroad) with unique, authentic, highly shareable content.
Here's another example from Northern Michigan University who uses a Twitter contest to showcase an upcoming Orientation Session. In this contest, entrants must answer trivia questions about resources on campus that will be used to host the event, including residence halls, dining facilities, and Student Services building.
Northern Michigan raises awareness about their orientation event – crucial for generating RSVPs – while providing prospective students (and parents) with some important insight into campus resources and facilities.
Attract Prospective Students to Your Social Media Communities
Let's say your school has recently launched a new social media channel and wants to attract fans to build up the community. Contests are a simple and effective way to garner interest in your channel and grow your online reach. Why do numbers matter? Because larger online communities can help drive traffic back to your website and generate more leads and conversions from social.
In this example, CDI launches a contest with the clear goal of growing their Facebook and Twitter communities. All students have to do to enter is become a CDI Facebook fan or follow the school on Twitter.
Note that CDI has also included a lead generation form on their contest page to encourage inquiries and grow their contact list.
Leverage Contest Content across All Marketing Channels
It's important to remember that social media contests "keep on giving" long after the deadline has past and the prizes have been awarded.
The images, anecdotes and videos your students submit can and should be catalogued and distributed strategically across your social media channels, website, and print materials. This is an excellent content strategy for schools who wish to fully capitalize on the engagement their contest generated, and use that positivity to continue connecting with personas in meaningful and persuasive ways.
Some ideas for leveraging your contest content include:
Using images students have submitted to create personalized social media covers
Using inspiring quotes from textual submissions as testimonials across channels, including your print collateral, homepage, and application pages
Feature winning videos on your website homepage and across your social channels
Write and share blog posts that integrate anecdotes students have submitted to your contest
Here's an example from Saint Michael's College who has published the winning video of a social media contest under the "On Campus" tab of the school's website:
And here's the same winning entry published on St. Mike's YouTube channel:
And here's the video again, promoted on the college's Facebook profile:
What insights or advice can you share about promoting your school's brand, programs, and resources through social media contests – and leveraging participants' content for subsequent marketing efforts?