Reading Time:
10
minutes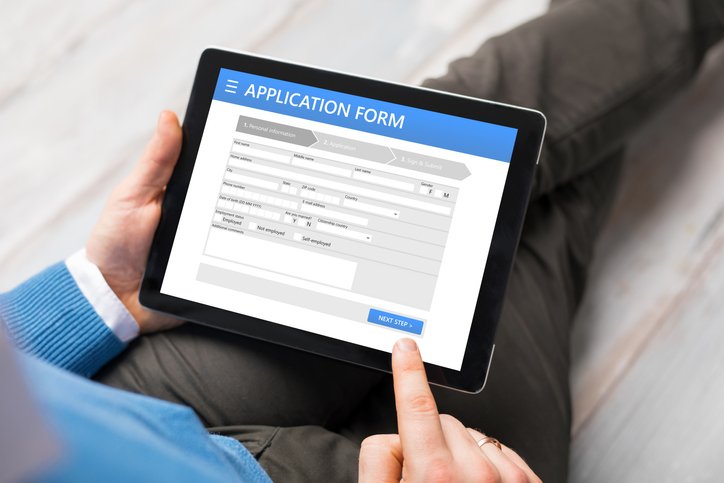 An essential but often underestimated factor in converting students is the quality of your application forms.
If your school offers an outdated application process, you may be losing applicants out of inconvenience. Prospects are more likely to complete a form that is intuitive, easy to fill out, and most importantly, online.
Despite the crucial role that forms play in the admissions journey, many schools have yet to optimize their applications to offer students the online experience they expect in today's digital world.
If your school's applications still need to be fully digitized, or if your forms could use some improvement, here are a few tips to help you create an online form that effectively transforms prospective students into applicants.
Step 1: Choose the Right Student Booking System for Your Application Forms
Nowadays, students are used to making practically every transaction online, and they don't expect their schooling to be any different. Online application processes make it much easier for students to apply to schools, and also help admissions staff more efficiently organize submissions.
However, that doesn't mean they are all created equal. Online application processes come in many forms, and while they all may have merit, some options are much more efficient than others.
Some schools, for example, require applicants to complete multiple forms: one for admissions, one for accommodations, and another for parking, for instance. As you can imagine, this process can be inconvenient for prospective students.
Other schools might have an online application form, but still require students to submit their documents or pay their application fees in person, by post, or through another online gateway, which counteracts the ease of applying online.
Schools can avoid these issues by using an online portal which makes it easy for students to submit all their necessary information and documents in one place.
Example: With HEM's Application Portal, you can craft the perfect online application form for your school by customizing each section, integrating different payment options, and enabling file uploads.
Online application portals also boast countless other perks. Some will allow students to start their application, save it, and return to it at a later time, for instance. Considering that the application process is often lengthy, and requires information and documents perhaps not readily available, this feature makes the process much smoother for students.
In addition, a robust booking system makes it easier for schools to monitor where a prospect is in the application process and guide them through it.
Example: John Cabot University's application system notifies prospective students of the next steps they need to take – notice the notification in the top right-hand corner – and even offers them the chance to connect with the school's student ambassadors.
There are many different online student application systems available to help you customize the perfect forms. Think carefully about what information you require from prospective students and find a system that supports your school's needs.
Step 2: Determine What Personal Information You'll Need from Applicants
Creating the 'personal information' section of your application form may seem self-explanatory, but it can be worth taking some time to figure out exactly what you need there, and how to phrase and structure it.
With careful consideration, you can save your prospects time by ensuring you only ask for the most relevant information in the most intuitive way possible. Look at the personal details requested in your application form and go through each question one by one, asking yourself whether or not each field is essential to processing the submission. Eliminate any extraneous fields.
Also, be sure to examine the contact information fields closely, as this information can impact how productive your post-submission communication efforts will be.
Example: London Business School's application form emphasizes that they only want students to leave their most relevant postal address and phone number. Notice how they also include optional fields for Skype and WeChat, which would allow the school to communicate with international students, in particular, more effectively.
Once you've determined what questions to include, the next step is deciding the format with which you want students to respond.
There are many different ways to gather information in forms, with the simplest being text boxes that students can write their answers in. If you have basic yes/no questions – or questions with only a few different possible responses – you may want to use check boxes instead of asking applicants to write out a full answer.
You could also allow students to select their answer from a drop-down menu. This option can be especially useful when asking prospects a question with a finite number of answers, but too many options to fit in a check box format, such as what country they're from or what their title is.
It can also be helpful to make your form responsive, meaning that a user's answer to certain questions will alter the fields they have to fill out.
Example: On ESI Institute's application form, you only have to enter your address once if your mailing address is the same as your permanent address.
These tips may seem simple, but optimization lies in the details. As you progress and create different sections of your form, you should consider the same formatting questions, and strive to make it as seamless as possible.
Step 3: Build the Qualifications Section of Your Online Student Application System
Depending on your school type, the 'Qualifications' section of your student booking system will look different.
Many institutions, for example, will require an applicant's academic record, while some may require information about language proficiency levels or test scores, or records of professional or personal certifications.
Just like the 'personal information' section, this should be fairly straightforward – but that doesn't mean there aren't ways to improve this aspect of your online application form.
Academic information can sometimes be the most difficult section to format if you need to accommodate a wide range of prospects with varying education levels. If this is the case for your school, make sure that this section is customizable for each student.
Example: York University's application form allows applicants to add extra blocks based on the number of postsecondary institutions they have attended.
In addition to academic history, some admissions departments, such as those in business schools or handling postgraduate programs, may also want to know about a prospect's work experience. Listing out their entire employment history could be a lengthy task for some applicants, so try to make the process as smooth as possible on your forms.
Example: Athabasca University makes it easier for MBA applicants to provide their employment history through strategic use of drop-down menus.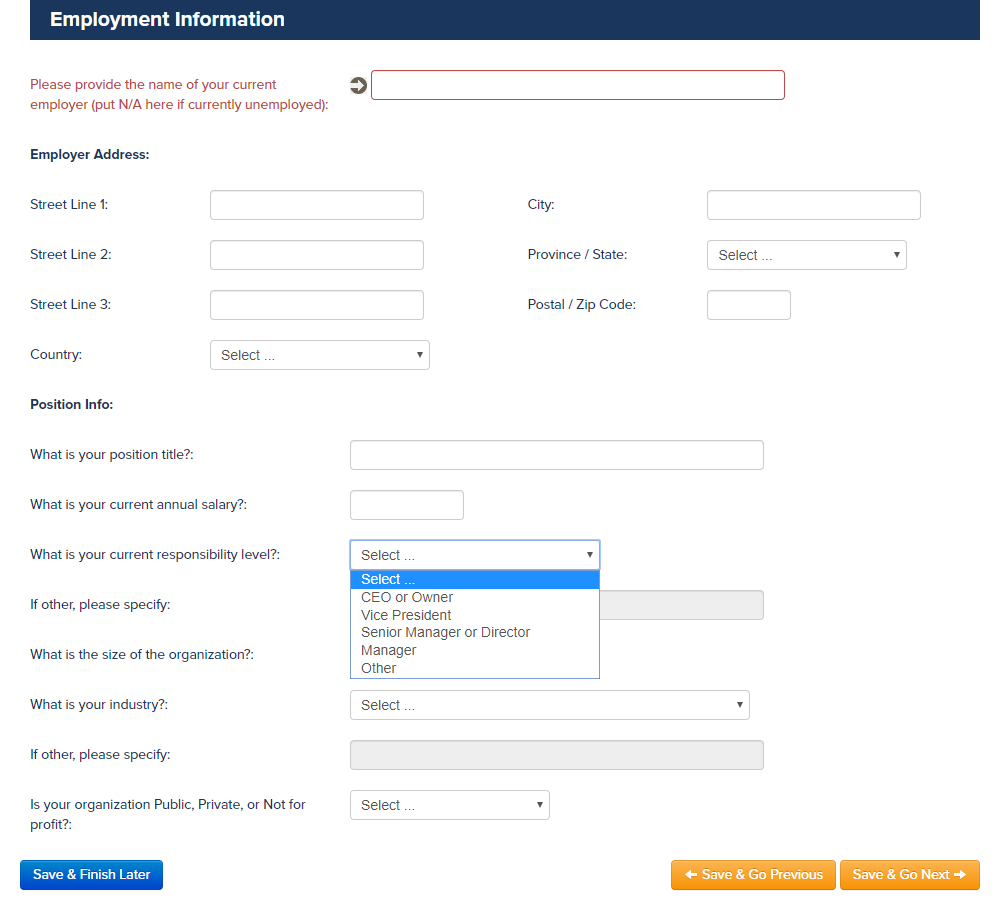 Depending on what you look for in your students, you may also need to include additional questions or sections about other aspects of their backgrounds, such as extracurricular activities, awards and recognition, or even references if appropriate. Again, using a system with a versatile and intuitive form builder can be crucial to ensuring you can put together what you want.
Step 4: Determine Additional Sections for Prospective Students
Depending on your school, your perfect online application form may require more fields than those covered above. Perhaps you need to know students' accommodation preferences when they apply, or maybe your school offers optional activities like trips and excursions, or course extras like exams and study materials. This information may require additional sections in your school's application form.
Example: HEM's Application Portal allows users to build accommodation options and costs into quotes and forms.
Some schools may also need to add a section to identify if applicants are veterans, indigenous, or part of another group that receives subsidized education. If your school offers accommodation for students with disabilities or special needs, you may need to include questions around that as well.
Step 5: Enable Online Document Submission
Many schools require students to submit documents such as transcripts, letters of recommendation, resumes, and ID photocopies when they apply.
Instead of asking students to take the time and effort to mail in these documents, make your application a one-stop shop where students can upload all their files. Allowing them to submit their documents online also greatly benefits schools, as admissions staff can more easily track, store, and organize digital files.
Example: In each section of CultureWorks' application form, you can drag or upload your supporting documents with ease.
These documents could come in a myriad of different formats, from JPEGs to PDFs, so make sure your document upload function supports a number of different file types.
Step 6: Offer Digital Payment and Signature Options for Students
Practically any transaction can be made online nowadays, so why not make your school's application or course fee part of the digital payment trend?
Online fee payment is one of the most convenient services you could offer applicants, and may even be the only option non-local students have if they wish to apply.
Example: HEM's Application Portal makes it easy for schools to integrate various payment options, from commonly accepted credit cards to online payment gateways like Stripe and PayPal. The latter is especially helpful if you recruit a great deal of international students who may be cautious about making online purchases.
By accepting payment online in different forms, your school can make things that much more convenient for prospects.
Many higher ed application forms also require students to sign off on their information before submitting, but this step can sometimes cause difficulty if you're trying to digitize the process. Some schools ask students to print the online form, sign it by hand, and re-upload the document for submission – but luckily there is a much easier way to gather student signatures online.
E-signatures are becoming an increasingly popular document feature, and they are legally binding in 60 countries. E-signatures come in different formats, from asking users to type their name, to using their mouse or finger to draw out their signature just as they would on paper.
Example: English Studies Institute allows applicants to draw out their signature online.
Step 7: Seek Feedback on Your School from Applicants
The final section of your application form can be a great chance to gather feedback from prospective students to better improve the recruitment process.
Example: After Coventry University applicants accept the form's 'terms and conditions', but before they can submit their application, the university asks students to describe how they discovered the school.
Making feedback part of your form is one of the most effective ways to gather student admissions insight – just don't ask too many questions, as you could risk losing students before they've submitted.
Step 8: Determine Your Application Form's Language Options
Applying to a school can be daunting enough – but if you're not fluent in the language of the institution, it can be even more stressful.
If your school attracts a large number of international students, or offers language programs, you should highly consider translating your application form to make it easier for your prospects to apply.
Example: EC English offers their forms in numerous languages, such as Spanish, French, and Portuguese.
Multilingual application forms don't just make it easier for prospects to apply – they also lessen the chance of miscommunication, thereby mitigating the risk of admissions hiccups.
Step 9: Sync Applications to Your CRM and Marketing Automation Systems
After a student has submitted their application, it can be tempting to think your job is done. However, it's important not to lose momentum.
If your school wants to maximize its enrollment numbers, and ensure accepted applicants go on to begin your courses, CRM and marketing automation software can help you streamline communication with future students.
CRM and marketing automation is like the ribbon that binds your application process together, allowing you to track applicants, monitor whether or not they've completed all the needed admissions steps, and make your follow-up process more personalized and efficient.
Once you've synced your application form to a CRM or marketing automation system, new applicants will be automatically added to your contact database along with all their information. If they have already made an inquiry to your school, their information can be automatically updated, and their stage changed to reflect their progress. You can then sort applicants by program, country, or other characteristics for strategic communication by phone, email, SMS or instant messaging.
Example: HEM's student application portal can be integrated with a number of CRM and marketing automation systems, including our customized version of the Mautic platform. Schools can choose which fields will be automatically pushed to Mautic.
Post-application follow-up can also be a fruitful marketing tactic because the more excited future students are about attending your school, the more likely they are to share that excitement with their friends.
By optimizing each part of the admissions process, from beginning to end, your school offers prospects a streamlined application process that effectively funnels students from application to enrollment.