Reading Time:
13
minutes
Ever since the onset of the pandemic, digital spaces and interactions have been on the rise. Interestingly, so has digital advertising. According to The Business Research Company, "the [global digital advertising] market is expected to reach $281.32 billion in 2025." This provides school marketers with exciting and new opportunities to better reach interested prospects.
School marketers interested in boosting their efforts can begin developing an omnichannel approach, which allows them to adopt different channels in order to interact with prospects and create a consistent brand experience. Through these efforts, school marketers can reach the right audience at the right places, promoting their program offerings and student experience where it matters most.  
But with so many options available, it can be difficult to determine which channels are the most effective and cost-efficient for your school—giving you the highest ROI and the ability to stand out in a competitive market. For this reason, you'll need to identify your digital advertising mix before you start implementing your marketing and advertising activities. Here's an in-depth overview of the considerations you need to make to get started on the right track! 
Understanding Your School's Digital Advertising Mix 
A digital advertising mix can be understood as a combination of different digital methods that a company may use to advertise its products or services. For schools, that would be the collection of channels used to promote the school's brand and program offerings as well as the student experience. These can include advertisements on search engines, such as Google Ads, or those on social media. 
Deciding the channels you'll be using is crucial for your school's success as it continues growing its brand and reach. By taking an omnichannel approach and focusing your resources on the channels that bring you closer to your key audience, you can begin boosting your student recruitment efforts. In fact, research shows that the purchase rate of omnichannel campaigns is 287% higher than single-channel campaigns—making your digital advertising mix all the more important.
Review the Four Ps of Marketing for Your School
These four Ps impact every aspect of a marketing campaign: Product, Place, Price, and Promotion. Considered part of the marketing mix, the four Ps allow your school to better identify key strengths and areas of opportunity. Using this traditional marketing mix methodology is one way to approach developing your digital advertising strategy and advertising mix. Here are some questions to consider for each category:
Product
Who is the target audience for your school's program offers?

What are you offering and how will it meet prospects' expectations?

How is your competition positioning itself in the market?
Place
How are your products and services distributed? / Which channels are you currently using?

How do prospects hear about your school?

Which platforms or methods do prospects use to research your school?
Price
Can you base your price on value? / What is the value of your program offerings and student experience?

How are you priced in relation to your competitors? / Should you make adjustments?

How do prospects prefer to purchase your services?
Promotion
Where and when will prospects likely see your school's marketing messages?

What additional steps do you need to take to maximize your reach and boost brand awareness?
By diving into these four key points, you can better understand and develop your school's unique selling point. Doing so enables you to refine your messaging and maximize the impact of your marketing and advertising efforts.
Outline Clear Goals and Accurate Student Personas
SMART goals and clear objectives are essential for any business starting a new marketing or advertising campaign. Schools are no different, requiring clear objectives, such as generating leads or boosting conversions, in order to track progress. 
It's best to think of these goals in terms of how they fit into the overarching student journey. For instance, your school can focus on maximizing its reach in the awareness stage or increasing its website views in the consideration stage. Conversions can also be used as a goal to track the impact of your efforts in the final decision stage.
Segmenting your efforts in this way and defining objectives for your ad campaign enables your school to create a positive experience throughout a prospect's enrollment journey.
This is also where you'll want to prioritize creating accurate student personas. Student personas are semi-fictional profiles of your prospects, reflecting their background, motivations, and concerns. The image below showcases a student persona developed by HEM:
With a student persona in hand, schools are better prepared to tackle digital advertising and make a stronger impact in the competitive education market. Using the information provided by your student persona, you can begin identifying the right channels for your audience.
Explore PPC for Higher Education to Boost Your School's Online Visibility
Pay-Per-Click (PPC) campaigns can help schools expand into key regions, test new keywords and target markets, and even remarket to existing leads. These ads can also be cost-effective since schools only pay once a prospect clicks on the ad itself to call or visit your site. By using them strategically, you can boost your school's online visibility and better achieve your student recruitment goals.
Google Ads (Adwords) is one of the most popular PPC campaign platforms. You can find them by inputting a keyword into the Google search engine and reviewing the top results. This happens because different schools bid on certain keywords, allowing them to appear further up on the search engine results page (SERP).
In the example above, prospects looking for business schools in Canada can quickly discover Yorkville University's Bachelor of Business Administration program as well as the Rotman School of Management (University of Toronto)  MBA program. Prospects interested in either of these programs can now easily explore them and continue down the enrollment journey. 
PPC for higher education can be a great option if you're looking for an advertising method that is easy to measure and track all while giving you the power to customize your targeting options with full control. You can set your own ad budget and tailor the settings depending on your results and performance. Notably, PPC campaigns via Google Ads can help your school quickly catch up to its competitors—giving you the chance to vie for high-competition keywords. The trick is to focus on optimizing your efforts.
Structure Your Landing Pages for Maximum Impact
Once prospects click your ad, you'll want to ensure that where they land motivates them to stay. This is where a strong landing page comes in. For your PPC ad campaign to be successful, your landing page needs to convey a clear message. This way, prospects can easily navigate the page, view essential information, and be guided towards a clear path to conversion. 
Here, your school should aim to keep the message clear and concise, add relevant images, and focus on a single call-to-action (CTA). 
Example: The Rotman School of Management structures its landing page with this in mind. Prospects are immediately greeted with an easy form to fill, with the CTA consistently encouraging them to download the program brochure. 
Scrolling further down, prospects can read key messaging—including what they'll gain and who should attend, among other relevant information. To entice those motivated by certain credentials, the School provides a sample preview of the program certificate awarded once prospects complete the program.
Source: The Rotman School of Management
Pro Tip: You can even go a step further and create site links in your PPC ad listing. This allows interested prospects to view key points in your landing page before they even visit the page. They're able to quickly consider your content, click, and directly visit the section that is most appealing to them.
For instance, prospects searching for "high schools in Philadelphia" will find a busy search engine results page. The first three PPC ads feature various site links to instantly attract viewers to different parts of the school website.
PPC ads and landing pages are a great way for schools to boost their student recruitment efforts. Taking the time to create impactful PPC campaigns and optimize your landing pages will allow you to maximize your ROI and reach prospects who are most likely to discover you on search engines more effectively. 
Consider Other Types of Google Ads for Schools to Reach Your Prospects
There are different types of Google Ads that your school can consider. In addition to search ads, your school can consider display ads. These ads are typically shown to prospects who are browsing the internet and are visiting websites within the Google Display Network—which comprises over two million websites, reaching over 90% of global internet users. 
By using Google display ads, you won't be targeting prospects who are actively searching for your school and its offers. Instead, you'll be focusing your efforts on reaching prospects that are likely to be interested in your school and programs. As a result, you can broaden your reach and improve your brand awareness.
Display ads have various benefits and key characteristics, including their highly visual nature, which can quickly attract and capture a prospect's attention. The example below showcases a Display Ad created by Concordia Continuing Education, which capitalizes on a minimalistic design in order to emphasize its main message: learning that works.
Source: Concordia Continuing Education
This option can be an effective addition to your digital advertising mix. However, you'll need to use a strong visual along with the right keyword and audience targeting techniques. It's worth noting that different ad types have different targeting options and settings, adding unique value to your school's digital advertising strategy. 
Ultimately, if you're looking to attract local prospects or target highly relevant keywords, search ads may be the way to go for your school. Alternatively, if you're seeking to boost brand awareness and cultivate interest in your school among an audience of potentially interested prospects, then display ads may be a better option. 
You may be inclined to combine both display ads and search ads for maximum impact, especially if that's your default setting, but doing so can actually be counterproductive. That's because Google's search and display networks behave differently and would thus likely skew your data if you use them for the same campaign. 
Regardless of which Google Ads for schools you choose, it's best to begin with a small budget and run separate campaigns. This way, you can better control your targeting efforts and better monitor your performance.    
Connect with Your Prospects through Education Social Media Advertising 
Social media's value and impact on marketing activities has only been increasing. In fact, research shows that social media has overtaken paid search as an advertising channel, expanding by 25% and reaching US $137 billion. This rise could be attributed to the countless benefits marketers can enjoy. Statista has released a graph that indicates the top benefits of social media marketing as of January 2021:
Source: Statista
There are numerous incentives to using social media, though not knowing which platform to use may cause you to lose momentum. This is where you'll want to turn to your student personas, identifying the platforms and channels that they are most likely to spend their time on. You can collect this data directly from your students or make an informed guess based on your competitors' efforts. Once that's done, you can begin creating your ad content and reaching out to prospects in a more personal and engaging way.
Pro tip: You may feel compelled to try each and every social media platform in order to boost your presence and reach. However, taking on too many channels may negatively impact your performance and return on investment. Each channel will require significant focus, taking up some of your precious time and resources. As such, it's best to start with a limited number—using the ones that you know your team can easily manage while giving you the best results.
Embrace Visual Platforms like Instagram and TikTok
Visual content is particularly popular in today's digital world. So much so that US social network video ad spending is estimated to grow by 20.1% year-over-year, reaching $24.35 billion in 2022. Take this opportunity to create compelling images and videos on platforms designed for this type of content. 
Instagram and TikTok are great examples of visual-heavy social media channels that may attract your ideal student persona. Through these spaces, you can gain direct access to prospects looking for engaging content like yours. This gives you the chance to promote your campus, active student community, expert faculty, and high-quality programs through captivating images or fun and digestible short-form video ads. 
Choosing Instagram ads allows your school to target a wide audience, especially those who fall between the ages of 25 and 34 years old—and, on a slightly smaller scale, those aged between 18 and 24. It also allows you to share live stories, short reels (15-second videos), and highlights (collections of stories that you may divide into categories above your Instagram grid). The targeting options are similar to Facebook, focusing on location, interests, demographics, behaviour, lookalike audiences and automated targeting.
Alternatively, TikTok ads can prove effective when targeting Gen Z prospects—individuals aged between 18 and 21. In-Feed Ads, TikTok's standard ad format, allows schools to integrate their video ads into their target audience's "For You Page" to boost engagement. The platform also enables schools to make the most of interest targeting, behavioural targeting, lookalike audiences, and custom audience options to further refine the target audience. 
Example: The University of Strathclyde uses TikTok In-Feed Ads to boost awareness for its undergraduate application deadline. This was done specifically to target young students right before the UCAS application deadline in 2020.
Ultimately, your choice should reflect the type of content you create, your target audience and student personas, as well as your school's own resources and business objectives. That said, regardless of which platform you choose, your school can benefit from supporting student ambassadors and encouraging user-generated content.
Consider LinkedIn and Facebook Ads for Schools
Both LinkedIn and Facebook offer access to important audiences, which can increase a school's reach and better equip them to connect with different types of prospects. To make the most out of these platforms, you'll want to begin by reviewing your program offerings and student personas in order to determine your final digital advertising mix.
LinkedIn naturally draws in older audiences, making it most popular among adults aged between 46 to 55 years old as well as those between 36 and 45 years old. This means your ad copy needs to adopt a more mature and professional tone. Schools with a similar student base are likely to benefit the most from LinkedIn advertising, making it a great option for business schools or continuing education centers. 
Through LinkedIn advertising, your school can target different audiences based on company, job experience, education, and interests. Your school also has a selection of different ad formats to choose from, including sponsored content, text ads, sponsored messaging, dynamic ads, and lead gen forms. Each option provides you with a different set of benefits, giving you the opportunity to pick and choose what best suits your needs. 
Example: Using LinkedIn, Pepperdine Graziadio Business School created an advertising strategy that targets the right audience (supported by strong historical performance) through sponsored message ads, sponsored content, and lead gen forms. This campaign generated significant success, driving more than 2500 clicks and over 15 enrolments—leading to an "outstanding ROI."
Source: LinkedIn
Considered to be the world's largest social media network, Facebook should not be ignored. Facebook Ads for schools can help you boost traffic to your content on the platform as well as to your website, giving you the ability to customize your audience targeting settings in order to better connect with and engage prospects. 
Here, you can choose your marketing objective (i.e. brand awareness, lead generation, conversion, etc.) and define your target audience. Your parameters will include demographic, location, interest/behaviour, and connection targeting as well as custom and lookalike audiences. Your next steps will be setting your duration and budget, and creating an engaging social media ad creative.
Example: ASC English launched a Facebook ad campaign to attract prospects looking to improve their English skills as transfer students. The ad includes a welcoming image as well as compelling ad copy that motivated the reader to take action and "learn more."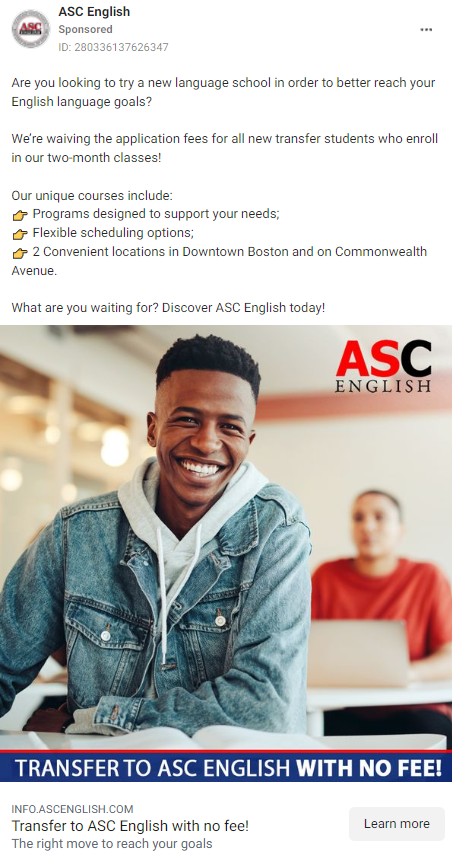 Source: ASC English
It's a good idea to start small when you're first trying out Facebook advertising. Doing so will enable you to gather enough data to help you make improvements. It will also allow you to become more familiar with Facebook Ad Manager and more confidently navigate the various options available.
Measure and Optimize Your Education Advertising Efforts for Success
To ensure your success, your school will need to review its data and performance regularly. Here, data analytics serves a key role in boosting your growth and impact, providing you with actionable insights that you can use to better identify your strengths along with any areas for improvement. It can also be a way for you to determine which channels work for your school, helping you further refine your digital advertising mix.
By using Google Analytics, or the social media platforms' own analytics tools, you can begin reviewing and optimizing your efforts, leading you to generate better results. Taking the time to look at the data in this way can help you develop an even stronger paid advertising strategy.
If you're seeking to continue improving your current advertising efforts, then your school should consider auditing its advertising campaigns. Auditing can help you develop a big-picture view of all of your efforts, allowing you to better understand your return on investment and make moves to maximize the results. As such, you can allocate the right budget and resources to the right channels. 
With this approach, you can even identify new opportunities or channels that can strengthen the efficiency of your digital advertising mix and boost your student recruitment efforts.