Reading Time:
11
minutes
The use of customer relationship management (CRM) and marketing automation technology has grown massively across a number of industries over the past few years. In fact, Gartner Research now estimates that CRM is the largest software market in the world, generating USD$39.5 billion in revenue in 2017.
For organizations who invest in this technology, the returns are undeniable, both in terms of boosting business and streamlining lead management and follow-up processes. CRM provider Salesforce estimates that it can increase sales by as much 29%, and sales productivity by up to 34%.
Despite its proven effectiveness, however, new CRM users can find it challenging to get to grips with the many features and functions of the technology, and it sometimes takes time to see results. So how can schools unlock the true potential of their CRM platforms? Keep reading to find out.
Using CRM for Different Types of Student Inquiry Follow-Up
The beauty of a CRM for schools is that it allows you track all of your follow-up activities in one place. Any calls, emails, and SMS or WhatsApp messages can all be scheduled, logged, and reviewed in any individual lead's contact history.
Phone calls are perhaps the most important student inquiry follow-up activity your recruitment team will undertake. Providing you with the chance to connect one-on-one with prospective students, hear their unique questions and concerns, and make the case why your institution is the best choice for them, a phone call can make all the difference in converting a prospective lead and convincing them to take the next step. A typical CRM system will allow you to place a call directly from the platform, as you can see in the Hubspot interface below:
Placing a call directly from a CRM gives you the option to record your conversations with prospects so that you can review them later, which will allow you to catch any key information you may have missed, and to review the service your admissions team provides for continuous improvement. Keep in mind, though, that you will need to obtain a prospective student's consent in order to record a call, and there may be other laws governing the recording of calls depending on what country you are in. Hubspot provides a useful guide to call recording laws here.
You can also take notes in your system both during and after the call. Here's a snapshot of the note screen in Hubspot:
In this case, a voicemail was left for the prospect, with a promise to follow up in a week's time. The specific call outcome should then be logged in the system, and the follow-up call should be scheduled using the 'create a follow-up task' option:
This system allows you to keep a comprehensive record of your phone activity while keeping manual work to a minimum, freeing up your team's time and increasing productivity.
In addition to placing calls, many CRM systems will allow you to draft and send SMS messages directly from the platform. Since text messages are more likely to be read than emails, this can be a great way to increase engagement. You can compose unique messages for individual leads, or create SMS templates in your CRM for use with multiple prospects. Any replies you receive will also be automatically logged in your system, and the member of your team assigned to the contact will receive a notification:
It's important to note that text messaging is not necessarily an effective approach when dealing with international students. Because the cost of responding will be higher, an international lead will be less likely to reply to SMS. Instead, you can use an instant messaging service like WhatsApp, which might be more likely to yield results.
CRM platforms with built-in marketing automation functionality also offer a range of different options for email creation. Based on the information you receive when a new lead makes an inquiry, you can create autoresponders for specific languages, programs, or any other subset of your prospective student audience. This will allow you to send personalized responses instantaneously, leaving new leads with a great first impression of your school.
To take this a step further, your team could also create a series of email templates to answer common student queries, such as questions about the visa process, your prices, life on your campus, and more. When these topics come up during your follow-up calls, you can send prospective students a readymade mail with all the information they need right away. Here's an example of a series of email templates created in the Mautic system:
Each of these follow-up channels will provide you with plenty of options to reach out and engage with leads depending on their specific needs and the stage they are at in the enrollment journey – all through a convenient, centralized system.
Link Your Web Forms to Your CRM to Automatically Segment New Student Inquiries
To truly get the most out of CRM for student recruitment, it's important to segment your leads efficiently. CRM platforms will allow you to group contacts according to a number of customized parameters, such as their native language, the program they are interested in, and the stage they are at in the enrollment journey.
This process will help you to determine what follow-up activities are most appropriate for each lead. For instance, you may have created campaigns and autoresponder emails in multiple languages, and need to ensure that each prospective student receives correspondence in their preferred language of communication. Or, you may want to send SMS messages to local students while contacting international students by WhatsApp, and need to ensure that they are divided by country.
In order to accomplish this, it's important to gather as much relevant information as you can from new leads from the point they inquire. You can ask for pertinent details in your online forms, such as a student's language, location, and level of education, or even ask them to specify their preferred method of contact in order to deliver follow-up tailored to their preferences.
Once these forms are linked to your CRM, any data they provide will be captured in real-time when the lead is created, eliminating time-consuming manual input while providing you with a clearer picture of the individual you are dealing with.
Example: This inquiry form for Inlingua Victoria asks prospective students to specify their country, program, and language of study, all of which could serve as a good basis for segmentation in a CRM system.
You can also use your CRM to develop unique forms for use in different markets or campaigns. For instance, a school may want different information from domestic students and international students. A CRM will allow you to easily create and integrate custom forms into your landing pages and other marketing material which can then be served to leads depending on their location.
Example: This is a comparison of two draft forms created in Hubspot for the local and international leads at a language school. Here, the school has asked the international leads to specify their country of origin, as well as the time of year they wish to enroll and the length of time they are planning to study for, factors which may be less of a concern for local students with more flexibility.
The local form, on the other hand, focused more on their study schedule and reasons for learning English, while also seeking to clarify whether they are inquiring for themselves or a family member aboard in order to eliminate the risk of the lead being classified incorrectly.
Another important element of segmentation is ensuring that your follow-up efforts are assigned to a member of your recruitment team with the requisite skillset. For instance, you may have registrars who are more used to processing applications than dealing with direct inquiries, and want to ensure that leads who are at an earlier stage of the enrollment journey are assigned to staff members with more well-rounded admissions experience. A CRM system will allow you to make that distinction, automatically separating your online applications and general inquiries to ensure each lead is dealt with by the person most capable of the task.
Example: A snapshot of inquiries received by the Mautic CRM for a school. You can see that the system has been set up to differentiate a lead who made an application from other inquiries.
You can also automatically assign prospects to staff members who speak their language, or who have specific experience dealing with students from their country or region. As a result, your admissions team will be able to maximize their strengths and compensate for any weaknesses, and ultimately experience more success.
Use Lead Scoring to Organize Your Leads into Separate Student Inquiry Follow-Up Workflows
Another invaluable tool CRM platforms provide to help you streamline your follow-up process is lead scoring.  Lead scoring involves assigning a numeric value to leads based on their perceived worth to your school. It can be used to prioritize follow-up with prospective students who have shown high interest in your programs, or target others who may be particularly desirable candidates.
For instance, you might have determined that inquiries in your local market have a higher conversion rate than those from further afield, and deem them a higher priority for follow-up. You can also use it to better judge what stage a lead is at in the enrollment journey, and ensure that your follow-up activities are appropriate.
A good CRM platform will allow you to create a customized lead scoring matrix which takes into account any parameters you consider valuable. It will then automatically assign an initial score to new leads when they make an inquiry, allowing you to segment them appropriately. This score can then be increased or decreased based on the outcome of your follow-up activities.
Certain CRM platforms which incorporate marketing automation functionality like Hubspot can also automatically increase a lead's score based on their interactions with your school through social media. For example, a prospective student's score could increase if they like a post on your Facebook page, as it indicates a stronger interest in your institution.
Example:  This sample lead scoring matrix shows some of the potential things your school can assign value to when evaluating prospective students.
Using a matrix like this, you can segment leads into a number of different workflows for follow-up. For example, the below workflows divide prospective students into four categories based on their lead score:
A follow-up workflow should dictate what actions need be taken with a prospective student and when. In the above example, for instance, the leads in Workflow A have been assigned the highest value, and extra effort should be taken to try and connect with them. A workflow which demands multiple contact attempts through a range of channels is therefore appropriate:
The school should attempt to call or message the lead multiple times per day, and continue to prioritize them throughout the first month of their arrival in the funnel. For medium priority leads, a less intensive effort is more appropriate:
As you can see, follow-up efforts in this workflow have been restricted to just a few contact attempts per week, and the leads are moved on to a weekly email nurturing workflow from Week 2 onwards, after which they only receive a monthly newsletter. With lower priority leads, you may opt to move straight to monthly nurturing without any contact attempts: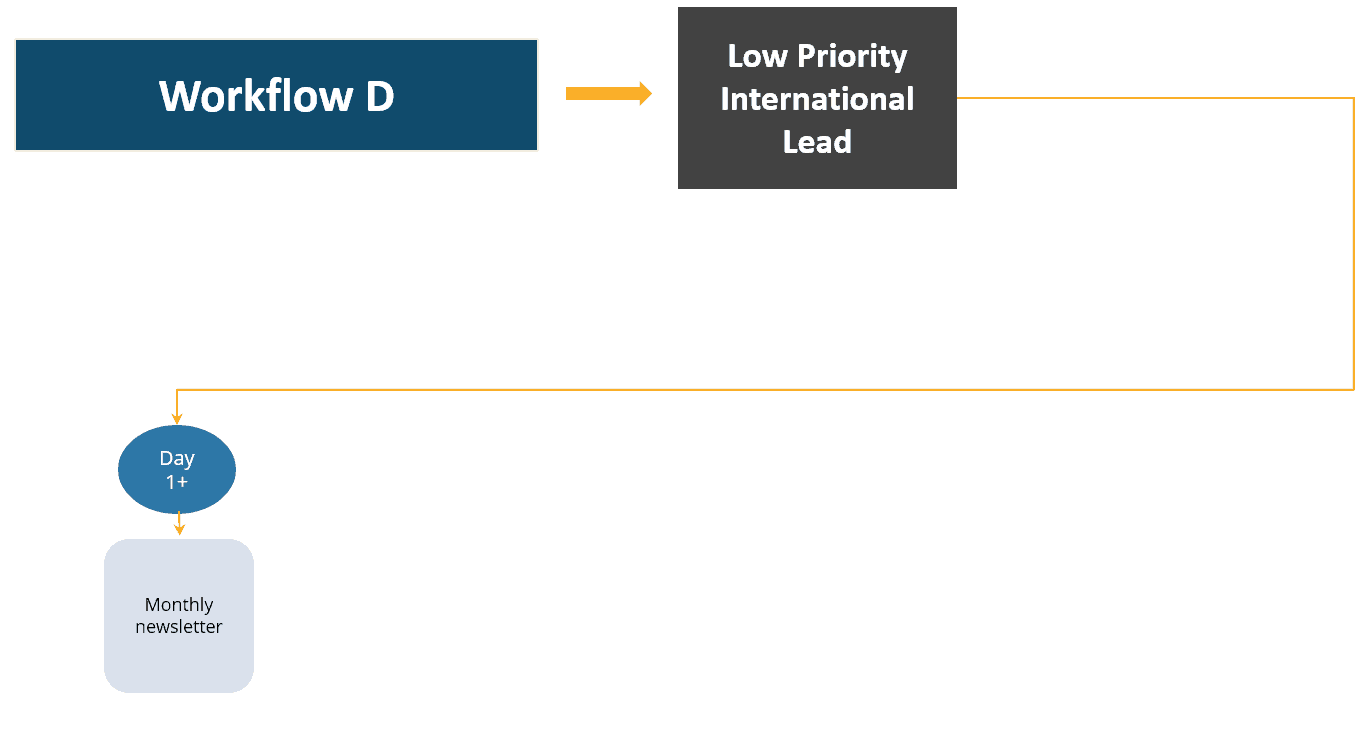 Of course, it is possible that the perceived importance of leads in each workflow will change as they progress through the enrollment journey. Prospective students who had been considered a lower priority may prove to be more viable candidates than you thought, and vice versa.
As you make contact with each individual prospect, you should update their history in your CRM to reflect the stage they are at in the enrollment journey and ensure they are moved to the correct workflow for their status. You will be able to view each lead's history in your CRM dashboard:
In the above example, you can see that this particular prospect was contacted on June 28, and their admissions stage was changed to reflect this. After some further follow-up email, they completed an application on August 1, and were again moved accordingly. Updating a prospective student's admissions stage is vital to ensuring they receive the appropriate attention and follow-up, and that your team maximizes the capabilities that are offered by CRM for education institutions.
Using CRM Reporting to Measure Effectiveness
CRM reporting can also be an important tool in your follow-up efforts. Most CRMs will offer customizable reporting functions, allowing you to create tailored reports that provide the information you need. For instance, this report in Mautic shows leads divided by admissions stages:
You can use CRM to establish the ROI of your digital marketing efforts, too. Here, you can see reports tracking lead generation success by country, program, and channel for a language school:
CRM reporting is also a vital tool for managers looking to track the productivity and effectiveness of their admissions staff. For example, some CRM platforms allow you to track call volumes and their outcomes:
You can also get a clear picture of just how much activity is required in the follow-up process. In the below example, we can see a total of 1,010 follow-up activities – including calls, emails, SMS, and others – which were carried out by a school.
These efforts resulted in a total of 78 applications, which averages out to about 13 activities per lead, and underlines the amount of effort it takes in order to convert initial inquiries into enrolled students. With so much to undertake, the various functionalities that CRM platforms can provide are essential to making the process more manageable for your staff. And as your team becomes more familiar with its capabilities, you should start the see the results in both your time management and the success of your conversion efforts.