Reading Time:
13
minutes
Is your student base getting older? Traditionally, mature students have always been considered to be something of a niche market by most educational institutions, comprising a small section of their overall student population and usually favouring a handful of specialized courses and programs.
Over the past several years, however, that has been changing. As their priorities, ambitions, and personal circumstances have changed, more and more adults around the world have been returning to education through universities, community and career colleges, and online education providers.
To take the US market as just one example, the CLASP Center for Postsecondary and Economic Success estimated that around 40% of undergraduate students in the country were aged 25 or older by 2008, and has projected that 'non-traditional' student numbers will increase twice as fast as traditional students between 2012 and 2022.
With that in mind, it is vital schools of all types look to refine their recruitment strategies to speak more effectively to this growing demographic.
Defining Your Mature Student Persona
Many schools make the mistake of defining their mature students' demographic characteristics too broadly, and assuming that they all have similar motivations, concerns, and needs. In fact, adult students will often arrive at your school through several different and disparate paths. A notable 2004 study by Michael Osborne, Andrew Marks and Eileen Turner, which is still cited often by educators today, split mature students into as many as six broad categories:
Delayed traditional students– who may have taken time away from pursuing education- perhaps for family reasons, or to travel, but have chosen to re-enter through traditional channels.
Late starters– who have been through a life-transforming event, such as a divorce or redundancy, and are looking for new start.
Single parents- who are seeking a viable career to provide for their family.
Careerists- who are seeking to upskill or gain new qualifications in their current career.
Escapees– who are employed but seeking a more fulfilling career in a different field.
Personal growers- who want to pursue further education purely for their own personal interest and desire for new knowledge.
Now, consider your current adult students. Do they fall into any of these categories? How do their concerns, motivations, and needs differ from a typical, younger undergraduate student? How can your school better serve their unique goals and expectations?
Answering these questions will be the first step to creating more detailed targeted student personas for your adult learners which better reflect their characteristics.
You can also survey your current mature students, alumni who were late starters at your school, as well as your admissions and support staff to get a clearer picture of the background of your older students, and what factors influenced their decision to choose your school. Armed with this information, you can create more engaging and persuasive content which will dramatically improve your recruitment strategies for mature students.
Mature Students Are Highly Engaged and Know the Value of Education
One advantage of targeting adult students over more traditional college recruitment audiences is that they often place a much higher value on their education. While most younger students will have a strong desire to learn, their are still some who attend college mainly due to family and societal expectation, or to socialize and have a 'traditional college experience'.
Adult students, on the other hand, have made a concerted choice to return to education in order to build a better future for themselves. As a result, they can be much more willing to engage, and are usually eager to hear more about your school, the facilities you offer, and how your programs can help them reach their goals.
This can make them prime candidates for targeted lead nurturing content such as email marketing campaigns. LinkedIn sponsored InMail, which allows advertisers to deliver paid messages directly into a user's inbox, can also be a great option for professionally focused programs.
Following up inquiries directly can also be a very effective tactic when dealing with adult students applying to programs which usually attract a younger age group. Many might feel that it will be harder to secure a place at your school since they don't fit the traditional mould of a typical undergraduate student, and a quick phone call or email from your admissions team can make all the difference, making them feel valued and wanted and increasing the chances of them following through with their application.
Another important thing to consider is that adult students tend to have far more clearly defined end goals in mind when they enrol at your school. Most will be very focused on securing a more stable, fulfilling career, and will want assurances that the qualifications they earn at your school will really improve their employment prospects. Targeted web and blog content which focuses on possible career paths and graduate outcomes can be a great way to reassure them that they are making a wise choice.
Example: Career and community colleges often do this extremely well, given their focus on more practical education and historically larger adult student populations. AAPS College in Alberta, for instance, ensures that employability is a central part of its message.
The college also regularly features student success stories on its blog, demonstrating the effectiveness of their programs and providing persuasive evidence of the real results they can achieve.
Why Finance Matters in Your Mature Student Recruitment Strategy
It's probably not surprising that financial concerns are top of mind for many mature students. While younger students are relatively unencumbered, adult students are more likely to have additional financial responsibilities like bills, rent, or family expenses, and the thought of carrying the extra cost of their education can be a major barrier to entry for many prospective applicants.
The challenge for schools looking to recruit mature students is to make them realize that it is possible to pursue their goals, providing support and guidance throughout the inquiry process and making all the information they need easily available to them. This means making your pricing clear and transparent, and creating comprehensive financial information pages which detail your program prices, as well any scholarships, financial aid or other options available.
Example: The University of Limerick in Ireland provides a comprehensive list of different financing options specifically for mature students on its website. The list is clear and concise, and includes links to relevant resources and external sites.
Offering Flexible Education Options will Help You Recruit Mature Students
The personal and financial commitments that adult students have to take into account can often mean that they seek more flexible learning options, and your school's promotional content should make it clear that you offer schedules which give students plenty of time for work or family responsibilities.
Example: Herzing College makes its manageable class schedules a key part of its messaging.
The freedom that online learning offers has also meant that it has become increasingly popular with older students in recent years. A survey of adult learners conducted by Barnes and Noble College last year revealed that as many 42% have taken at least one class online during the previous semester. Students also showed a predilection for digital learning materials—such as Open Educational Resources (OER), etextbooks and adaptive and collaborative learning materials—over traditional print resources.
As a result, it pays to think digital when trying to reach adult students,  and promoting any online options you might have could be the key to attracting students who may feel that a full-time class schedule would be a bridge too far for them.
Example: This blog post from Southern New Hampshire University positions their online programs specifically as an option for adult learners.
Online options are also particularly prevalent when it comes to 'careerist' adult students, who are happy with their current jobs and are seeking education to further their professional development. In this case, it can often be worthwhile trying to appeal to employers as well, who may be funding your prospective student's studies, or even making inquiries and bookings themselves.
Example: The DeGroote School of Business at McMaster University has a dedicated section on its website with information about its EMBA program specifically for employers who may be funding training for students.
Emphasizing Connection and Support Services in Your Mature Student Recruitment Efforts
While mature students are highly motivated and engaged learners, they do sometimes find it hard to fully integrate into your wider school community. With more outside responsibilities to contend with, they will usually spend less time on campus, and are likely to be less involved in any social, sporting, or other recreational events you provide for students. Speaking to Barnes and Noble College, one student—a junior at university—said, "I commute, and therefore don't go to any events, sports or otherwise—too inconvenient."
While this may be fine for many older students, it is still important to make sure that they at least feel welcome to participate in the social aspect of life at your school. With many of them working in order to finance their studies, looking after their families, and dealing with the pressure of returning to education after a number of years away, stress can be a huge problem, and ensuring that adult students are able to retain some sense of work-life balance can be crucial to both recruitment and retention.
In the table below, you can see that mature students are much less likely to feel connected to their school, make friends during their studies, or to feel like they have peer support they can rely on.
Source: Barnes and Noble College
Fortunately, there are plenty of things you can do to help older students get more out of their time at your school. You can plan events and activities that cater to non-traditional students specifically, and promote them prominently on your website and social media to make sure both prospective and current students are aware of them. Student organizations which cater to this growing demographic are also becoming more common, and highlighting these resources can help make your school seem much more attractive and inclusive.
Example: The University of Sheffield organizes a Welcome Day for its mature students each year and promotes it prominently on its websites. You can see from the testimonials featured on the page just how much the event helps adult students feel more at home.
Another huge part of making older students feel more supported on your campus is making sure they have easy access to help from your faculty and support staff. Older students can often be far more forthcoming than traditional students when it comes to forming relationships with advisors and course tutors, seeing them as peers and being more eager to seek out their help and guidance.
Unfortunately, their busier schedules and the fact that they tend to spend less time on campus can make it more difficult for them to get the support they need when they need it. Making it easy for adult students to make appointments ahead of time online can be helpful, and even offering online support through email, instant messaging, or your online learning portal can be a great way to help make it easier for them to connect.
Example: Loyola University offers online consultations for graduate students.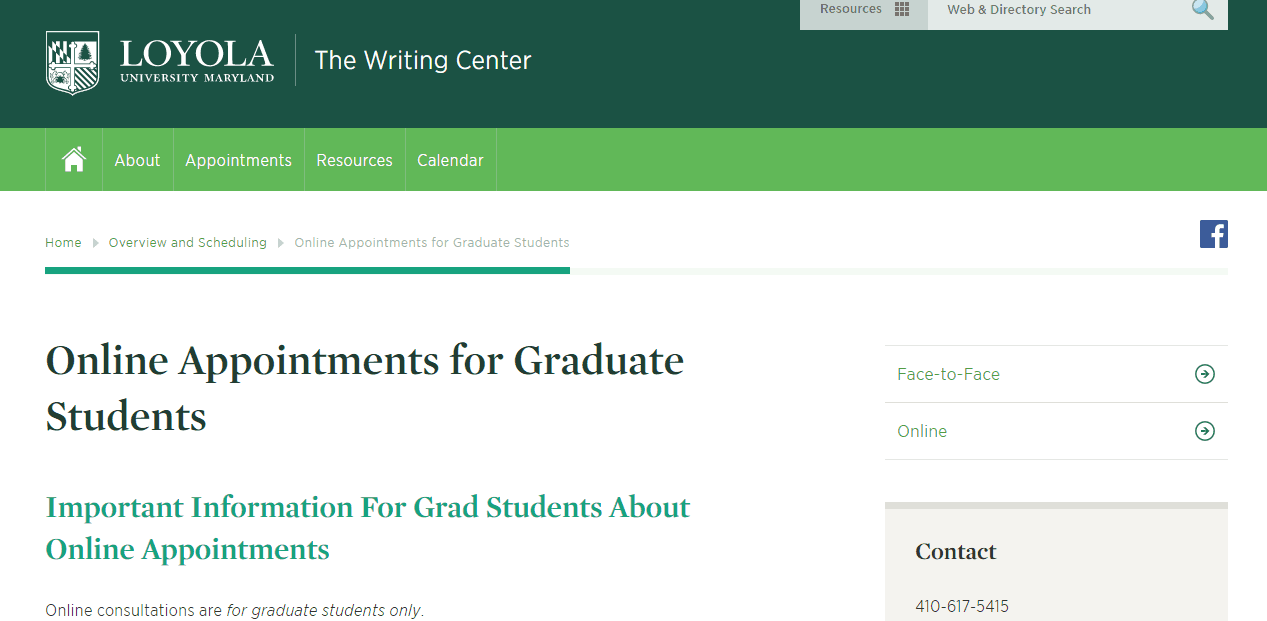 Of the support you offer, your career services can also be one of the most important for adult students. With many students in this demographic seeking a career change or returning to the workforce after a long time out, they may not feel very confident about their chances of securing a job once they graduate.
Offering resume and interview preparation, job search advice, and even just practical guidance and support can make a huge difference, and prospective students will be pleased to see that your school will go the extra mile to ensure they are successful in reaching their goals.
Example: Academy of Learning Career College in Alberta promotes its range of career services as a key part of its recruitment efforts, highlighting its specialized resume writing and job search classes, networking events for recent graduates, and connections with local employers.
Appealing to the Families of Mature Students
When you are looking to recruit mature students, one key factor which it is incredibly important not to neglect is the role their families play in their choice. Younger students are usually single, which means that you only need to appeal to their individual motivations and needs. Older applicants, however, can be more challenging.
If they have a partner or spouse, they are likely to have just as much of a say in the decision-making process as the student themselves, and may even be helping to finance their education. As a result, their opinion can make all the difference, and schools with experience in appealing to adult applicants often make an effort to include partners in the inquiry process and to make them feel as though they will be just as big a part of their community.
This can be particularly important when it comes to international student recruitment. Due to the fact that it may take longer to find a suitable placement, gain a visa, and meet the language and other entry requirements for international study, students from overseas are often more likely to be older and have already started their families when they commence their studies.
This means that their partner often faces tremendous upheaval, and may be concerned about finding a job, learning a new language, and making friends in a new country. To counter this, many schools offer guidance and resources specifically for this group, making sure that they have plenty of support and social and practical outlets when they arrive.
Example: The University of Waterloo's international student pages are full of practical information for students looking to bring their families, including guides to local schools, childcare, and visa requirements.
The page also contains information about a special group which was created for the spouses of international students, which could be a valuable source of support.
Childcare can be another important factor for adult students. Many of them will have children, and some may even be single parents. Having access to affordable childcare can be a huge factor in determining whether they are able to pursue their studies, particularly given the extra financial burden involved in returning to education and possibly taking time away from work. Many schools now offer their own childcare facilities, as well as help and support for students with children to ensure that they are able to manage their responsibilities alongside their education.
Example: Springfield Technical Community College in Massachusetts offers its own non-profit day care centre for students.
Strategies for Recruiting Mature Students Across Different Digital Channels
In this day and age, most adult students are just as internet-literate as your younger applicants, and can be reached across a broad range of digital channels. For example, a recent study by Ruffalo Noel Levitz showed just how diverse the online research habits of adult students in the US were:
Across all levels, search was by far the most common method of finding schools online. The queries were mostly branded searches, in which prospective students included the name of the institution in their query, but searches involving the name of a specific program and a location—for example 'social worker programs in Colorado'—were also quite popular, which would suggest that optimizing your program pages and blog posts for these types of keywords or using them for targeted PPC campaigns could be a fruitful strategy.
The Ruffalo Noel Levitz report also revealed a number of other interesting insights. When it came to researching schools by social media, Facebook was seen as the most reliable site by over 40% of respondents at all levels. Intriguingly, Google+ was a surprising close second, despite the fact that it is sometimes neglected by marketers, suggesting it may have untapped potential for reaching students in this market. Other popular sites such as Instagram, Snapchat, Twitter, YouTube, and LinkedIn all polled less than half the amount of those two sites, but are still popular enough to suggest that they may be worthwhile channels for reaching mature students:
Another statistic which may be worth noting is that over 50% of mature students at all levels indicated that they had clicked on advertisements for schools, with nearly half of those indicating that they had not  heard of the institution in question before, suggesting that paid search and social media ad campaigns could be extremely effective within this  market. The latter, in particular, holds a lot of potential, with the range of demographic and geographic targeting options making it easier to create campaigns that are guaranteed to reach an adult audience.
Having these kinds of insights into the research patterns and specific concerns of your audience will make it far easier to create a customized mature student recruitment strategy that will really increase your chances of attracting inquiries from this growing market.
Interestingly, however, there are increasing signs that the motivations of traditional students and mature students are not that far apart. While millennials had a tendency to prioritize their personal interests in their education, the recent global economic uncertainties has led to the generation that followed them adopting a far more pragmatic attitude.
As a result, the more practical, grounded expectations and concerns of mature students are becoming more prevalent among traditional college-aged students too. Speaking last year, Barnes & Noble College's Chief Marketing Officer Lisa Malat said, "Both groups showed they were more likely to attend college for career improvement or financial reasons, with Gen Z rating career preparation as their top reason in choosing a college," she said. "This is in contrast to Millennials who are more likely to base their college ambitions on seeking personal fulfillment."
With that in mind, it wouldn't be surprising if your recruitment strategies for both groups turned out to be more similar than you expected.