Reading Time:
10
minutes
To boost enrollment numbers, schools need to reach out and connect with prospective students constantly. Depending on your digital marketing strategy and initiatives, this process can be effective, or it can be a drain on your time and resources. By applying the golden rules of digital marketing for schools, you can ensure that your efforts produce the desired results and help you better reach your school's objectives.
Schools relying on the latest digital marketing trends and strategies have an advantage, equipping themselves with the techniques to easily attract, engage, and recruit students from around the world. Here's a closer look at a few rules you can begin exploring.
1. Win the SEO Game with High-Quality, Long-form Content
Many users use a search engine to find specific information. Prospects may be curious about a potential career or even program subject, looking to learn more about the topic and their career prospects within that field. To fill this need, schools can draft high quality and high fidelity content that answers some common questions and concerns relevant to their programs, delving into these subjects to satisfy their prospects' curiosity. 
This is where long-form content comes into play. Long-form content is best described as content that takes a user an above average amount of time to consume. Marketers typically consider articles between 1000 words and 7500 words to be long-form content. Interestingly, research shows that it's this type of content that can boost a page's ranking on the search engine results page (SERP):
According to the graph above, top-ranked content is around 2,450 words. Despite their length, these long articles can potentially give users more value. That's because these articles can force schools to factor in search intent, a key SEO metric. Search intent is about understanding the purpose behind an online search query. To do content marketing justice while simultaneously improving your SEO, you need to consider your prospect's search intent and create content that adequately addresses their needs.
With long-form content, you can thoroughly answer frequently asked questions and deeply explore relevant subjects, positioning your school as an essential thought leader. You can even use long-form content to:
Boost engagement and increase the time a user spends on your web page

Build trust and credibility with your prospects

Create more backlinking opportunities—boosting your chances of getting hyperlinks from other websites that link to yours, thus increasing your SERP ranking, visibility, and traffic

Increase the potential of creating repurposed content (e.g. an infographic or short video for social media) 
Example: InFocus Film School has a blog dedicated to various topics. Many of these blog posts are in-depth overviews, explorations, tips, and insights that may interest prospective film students. The one featured below is around 1800 words, helping to establish the school as a knowledgeable source on 3D animation:
Source: InFocus Film School
Helpful marketing strategies for schools to consider when creating long-form content include developing topic clusters and keeping everything organized in a content calendar. Topic clusters allow you to build a comprehensive content repertoire around high-gain keywords relevant to your school and its programs. This strategy creates a cluster of topics, each containing a pillar page (a school's program page) and cluster content (relevant blog posts and internal links). These separate content pieces are connected through hyperlinks that can strengthen your website's authority and SEO ranking.
To go one step further, your school can consider creating long-form, evergreen content. By going evergreen, you're ensuring that your long-form content efforts can withstand the test of time—staying relevant to your prospects. By going through these steps, you can maximize your ROI and beat out some of your competition—especially those who create short content that does not address prospects' needs and search intent. 
2. Target with Precision Using Each Platform's Advanced Targeting Features
Targeting features on advertising platforms are powerful and complex—but also critical. By using the right targeting settings, your school can better reach prospects who are interested in your programs and are more likely to engage with your ads.
To get the most out of your efforts on digital marketing for schools, you'll want to take advantage of your advertising platform's advanced targeting features. For instance, if your school notices that many students who are taking a specific course or program are coming from China, then you may want to run campaigns targeting China. In doing so, you may waste time and resources targeting the whole country, including rural areas, instead of urban hotspots like Shanghai and Beijing—where most of your prospects may actually be coming from.    
These advanced targeting features also allow you to refine your ad's visibility. For example, schools that want to target prospects in London may be inadvertently targeting those searching for London as well, wasting precious resources. With advanced targeting, you can more effectively control how you run your campaign and generate a higher ROI.
You can explore these settings in Google Ads and social media ads. Schools running paid ad campaigns on Facebook can use Facebook ad targeting to generate the same results. Below is a screenshot of how schools can refine their target audience on the platform, selecting key cities within each country along with a target radius for each one.
In addition to targeting locations, you can add audience segment targeting to your campaign or adgroup when planning your advertising strategy in Google Ads. These audience segments refer to groups of people with specific interests, intents, and demographic information. Using them in your campaign can help you reach prospects based on their interests and habits, what they're actively researching, and their interaction with your school—boosting your campaign's performance. 
Once you select an audience segment, Google Ads will show your ad to users who are likely in that chosen category. Here's the list of segments you can choose from:
Affinity segments

: reaching users based on their passions, habits, and interest

Custom segments

: reaching an ideal audience by entering relevant keywords, URLs, and apps

Detailed demographics

: reaching users based on long-term life facts

Life events

: reaching users during important life milestones

In-Market

: reaching users based on their recent purchase intent

Your data segments

: reaching users that have interacted with your business

Website and app visitors

: reaching users who've visited your website or app

Customer match

: reaching existing customers based on CRM data

Similar segments

: reaching new users who share similar interests with your web visitors or existing customers
Note: All audience segments are available for display campaigns. The same applies to search campaigns, except for custom segments and life events.
3. Add Strategic Top of the Funnel Offers to Your School's Full-Funnel Marketing Strategy
Digital marketing for schools can be easily broken down into three core categories: top of the funnel (TOFU), middle of the funnel (MOFU), and bottom of the funnel (BOFU) marketing. These funnel stages indicate where prospects are on the enrollment journey, giving school marketers a chance to tailor offers and calls to action (CTAs) to drive prospects closer towards conversion. 
At the top of the funnel, prospects often search for content about a relevant subject or career field. In this stage, they've likely never heard of your school and its programs. Once they've interacted with your TOFU content marketing initiatives, they can move down the funnel—progressing into the consideration (MOFU) and decision (BOFU) stages. Many schools focus on the latter two stages to convince prospects to finally convert. In doing so, they neglect prospects who make up a vast majority of the market.   
TOFU offers and calls to action are designed to reach a much wider audience, enabling you to generate leads inexpensively to build your list of potential students and guide them towards conversion through continued messaging—such as email marketing. These offers aren't meant to be overly promotional. Instead, they should focus on providing prospects with value, solving a potential problem, or educating them on a topic. They can be integrated into blog posts, social media posts, podcasts and videos, and even landing pages. They can even be linked to your school's newsletter, giving with the chance to nurture new prospects and lead them down the sales funnel, all while providing value along the way.
Example: McGill's School of Continuing Studies has a webinar series designed to attract prospects at the TOFU stage. The one featured below is particularly relevant to prospects seeking to advance their career development:
Source: McGill School of Continuing Studies
By choosing to register, prospects must provide their contact information and accept further communication from the school. This creates an opportunity for the school to hook prospects in and entice them with new and relevant offers that address their needs and interests. 
Schools targeting international prospects can also benefit from this approach. If your target prospects are new to the country, they may not be interested in ads for a course or program. However, they may be drawn to register for a webinar on "How to Launch Your Career in [insert field] as a Newcomer." By understanding your target audience via accurate student personas and developing clear TOFU to BOFU marketing initiatives, you can begin generating great results. 
Looking to apply the rules of marketing to improve your school's performance and outreach? Contact our team of education marketing experts to set up an in-depth review of your efforts and gain personalized insights! 
4. Use Email Marketing to Guide Prospects through the Enrollment Funnel 
For your email marketing strategy to be effective, you must send the right message to the right prospect at the right time. Naturally, this requires a lot of preparation and foresight. Your emails shouldn't be ad hoc, they should be thought out well in advance and structured with the intent to guide prospects seamlessly through the enrollment funnel. The content you draft here can be tailored to each stage of the funnel, giving prospects enough information to nudge them forward.
Your school can use email marketing techniques to provide prospects with new and compelling information—providing answers to common questions, addressing potential concerns, highlighting your unique selling proposition, showcasing exciting events, and so much more—all to accelerate your prospects' journey towards conversion. Doing this can help you recruit more students quickly and at  lower costs.
There are various industry best practices to consider when drafting your emails. The list includes:
Personalized messaging

Eye-catching images, video, or gifs

Clear CTAs 
Example: McMaster University's email for prospective students begins with a compelling email subject line, prompting prospects to open the message to learn more:
The email itself contains eye-catching images and a captivating tone of voice, encouraging prospects to keep reading on and learn more about their potential campus:
Scrolling further down, prospects can view another image and relevant CTAs that propel them to action. This clear structure makes it easy for prospects to engage with the school and complete desired actions: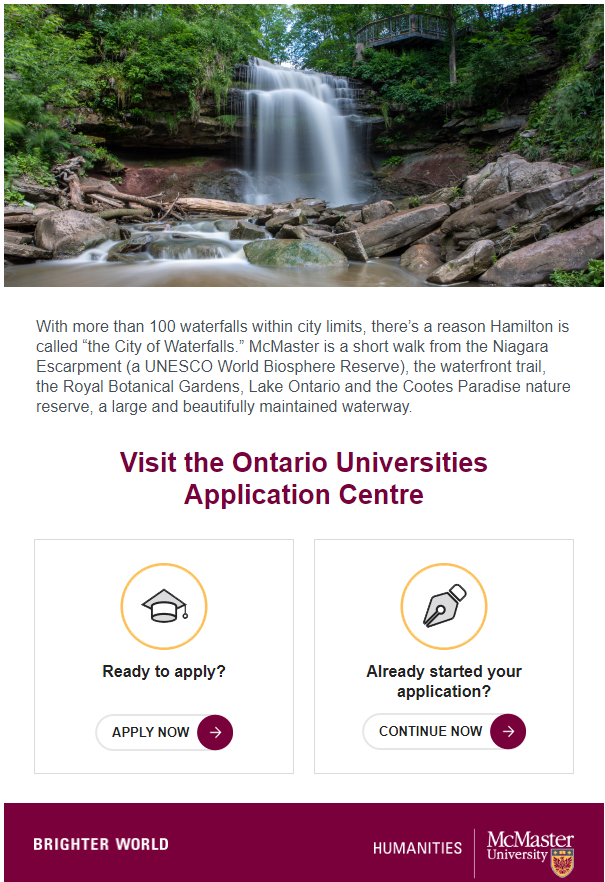 Source: McMaster University
A great thing about email marketing plans for schools is that they can be automated through various workflows, helping schools better accomplish their marketing goals. These email automated workflows can save your school a lot of time, boosting your team's productivity while generating effective results. You can create an automated workflow focused on lead nurturing, event promotion, and even one around your application deadlines. They can be triggered depending on your leads' actions, making them especially handy for education marketing.  
Example: As part of their automated workflow, the Canadian Business College has invited its prospects to a virtual information session. This email further supports the promotion of an event, enticing prospects to register and move closer towards enrollment:
Source: Canadian Business College
Pro Tip: A key trick for effective digital marketing for schools is regularly monitoring performance. The same applies to email marketing for education. Schools eager to get the most out of their efforts should look into their email marketing engagement metrics and take active steps to optimize their efforts for better results.
5. Improve Digital Marketing for Schools by Viewing Key Insights All in One Place 
Generally, looking at your analytics is crucial for optimizing your efforts and generating a higher ROI. It's a good idea to get into the habit of regularly tracking key metrics and goals on all of your marketing and advertising channels, including Google Analytics 4 and social media.
Many schools run various marketing and advertising campaigns, logging into different platforms to view their performance on each channel. With Google Looker Studio (formerly Data Studio), that will no longer be the case. Now, schools can access a single platform to view all their data in one place. Looker Studio is free, and it can be used to turn your data into informative and fully customizable dashboards and reports that are both easy to read and share. According to Google, you can use it to:
Visualize data through configurable charts and tables

Easily connect to a range of data sources

Share insights with others

Collaborate on reports with your team

Accelerate the report creation process via built-in sample reports
Centralizing your data this way can be a game changer, resulting in better digital marketing for schools. Not only can it improve data analysis and data sharing, but it can also boost your team's productivity and introduce more opportunities for optimization.