Reading Time:
11
minutes
If international students comprise a large part of your school's student population, these past few months have likely been challenging. However, there are many reasons to be optimistic about the future of international student recruitment.
International student recruitment won't go back to normal overnight. In fact, recruitment as we know it could be changed forever. But this prediction shouldn't be taken negatively—it just means that schools need to adopt a different set of strategies in order to convert international students online.
If you're interested in reaching today's international students, read on for some actionable insights.
The State of International Student Recruitment
When it comes to post-pandemic recruitment, the good news is that students will always want to study abroad—the only question is when they'll be able to safely. Although many are still hesitant about traveling at the moment, the more we understand COVID-19 and are able to slow its spread, the more likely students are to resume study abroad plans.
In fact, we can expect to see a surge in travel once things return to normal—or at least the 'new normal.' With everyone cooped up in their homes for the better part of a year, many are itching to get outside, explore new places, and meet new people—especially young adults.
It's also important to keep in mind that the student travel industry was on course to achieve its "best year ever" before the pandemic hit. While it's disappointing that the trajectory didn't go as planned, it's also a reason for schools to be optimistic about recovery in the study abroad sector.
Now for the not-so-good news. This recovery won't take place overnight, so your school can expect to face competition with other study abroad destinations over the next months. Not only that: the strategies you used to recruit international students may not be effective for today's prospective students.
Fortunately, there is a simple solution to navigate these not-so-simple challenges: adapt your recruitment strategy for the current climate. Now, of course, this is easier said than done. Schools will need to figure out who their target audience is, what they're looking for in a school, and how to address their concerns. But the quicker you start adapting your strategy, and the more accurately you answer these questions, the quicker your school will recover its international student numbers.
Build Your Brand Reputation Through Social Media
Building a robust, reputable online presence has been a key objective of practically every school's digital marketing strategy for the past decade. The goal is for your school's website, social media presence, and other digital channels to reflect the message it wants to communicate to its prospective students. Doing so not only benefits those who stumble upon your school online—your school will also gain notoriety and generate leads through positive word-of-mouth.
During a time when word-of-mouth takes the form of an online conversation, and the only way for international students to learn about your school is through its digital presence, this objective is more important than ever.
If your school has a new-and-improved website, along with a sizable following across key social channels, you have nothing to worry about. However, if you feel your school is falling short in any area, fret not: there are a few relatively quick ways you can boost your school's brand.
Social media is a great way for prospective international students to get a glimpse into your campus life and see what your current international students are up to. It's also not all too difficult to periodically create social media posts—especially in contrast to other, more costly endeavors such as redoing your school's website.
Now, of course, if you want to really grow your social media following, boost your engagement, and curate a strategic message, you'll have to put in a lot more time, energy, and resources into your social channels. But if you're looking for a quick fix for your online presence, social media is a great place to start.
Example: A post on Cork English College's Instagram page featuring a quote from one of their international students. Having current international students share their study abroad experiences during the height of the pandemic will help convince international prospects who are currently on the fence.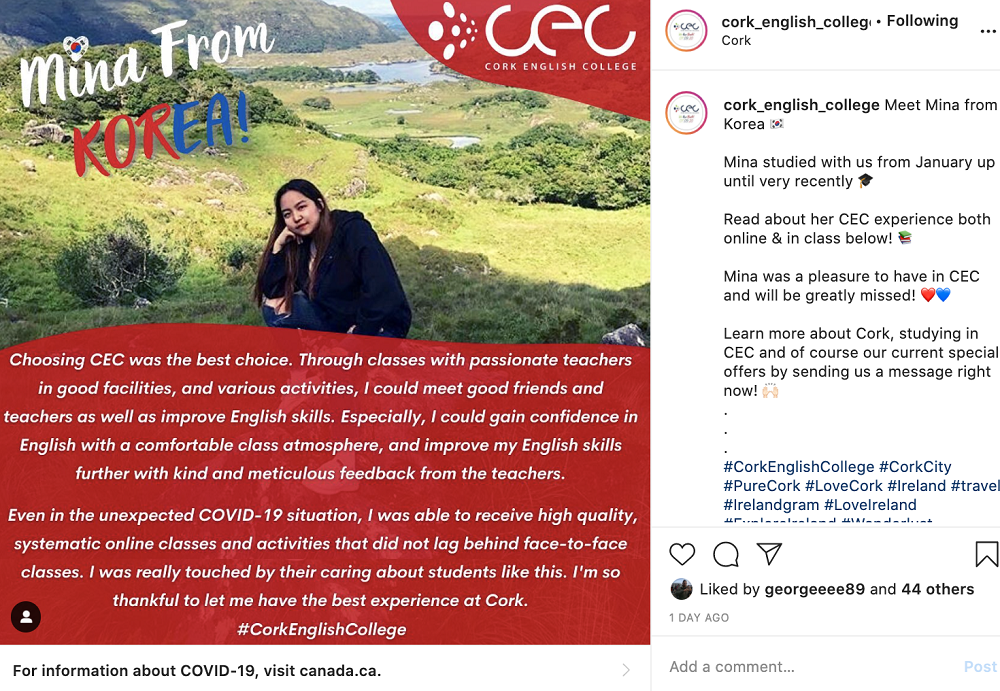 Since social media provides a direct communication channel between your school and its audience, it's a great way to show the human side of your school. And at a time when everything is online, this personable connection is that much more meaningful.
Diversify Your Target Markets for International Students
Although COVID-19 has affected every corner of the globe, some areas are more impacted than others. Certain regions have seen a fall in COVID-19 cases, while others are now experiencing renewed spikes in the virus.
Although it's impossible to know what state each country is going to be in when your next intake dates come around, we can make some intelligent guesses using the current data. Since it takes time for countries to contain intense COVID-19 outbreaks, the countries that are currently experiencing the largest share of cases (including the USA, Brazil, and India at the time of writing) will likely take a while to recover. As a result, it's important for schools to diversify their target markets and aim to reach those in countries where it's easier for students to travel.
During the pandemic, we've also seen certain key recruitment regions, such as China and India, localize activities, which is just another reason for diversifying your school's international student audience. As such, you may want to start focusing your recruitment efforts on emerging regions in Africa and Southeast Asia.
If you're trying to figure out which regions to reach, your school's current search traffic could also tip you off to new markets.
Example: This GA Location Report shows engagement from top international markets like Australia and Malaysia, among others, which could help your school identify new opportunities.
You could also take a critical look at the markets you've found past success in and assess how their governments are handling COVID-19. Even if they seem to have flattened the curve, that doesn't necessarily mean they're a viable spot for re-recruitment. Pay attention to how the country supports those that unfortunately lost their jobs due to COVID-19, too. If many families are left struggling, students are more likely to stay home and help their families recover.
Rethink Your International Student Personas
Your target audience influences each aspect of your digital marketing strategy, from paid advertising to email marketing to social media posts.
As such, you may want to rethink your student personas so you have a clearer picture of the international students you aim to target. That way, you'll be setting your school up for success with each recruitment endeavor.
Example: Sample international student profile for a school based in Canada.
Geography is likely not the only factor different from your school's current international student personas. What they're looking for in a program, as well as what's preventing them from applying, will likely look vastly different as well.
Mull over these factors and incorporate your answers into your international student personas.
Example: Sample motivations and concerns for the above persona.
You may also want to create multiple international student personas for those in different regions, especially if the travel restrictions or visa application processes differ.
Create a Paid Advertising Strategy to Recruit International Students
If you're trying to reach new regions where your school may not be as well known, it's a good idea to invest in paid advertising in order to introduce yourself to potential students.
Another reason why you should make paid advertising part of your international student recruitment strategy is that competition amongst schools is high and average CPC rates are low. Therefore, it's a win-win for reaching more international students.
A secret for creating highly effective ads in the post-pandemic era, without having to stray too far from your pre-pandemic strategy, is by using Lookalike Audiences. This targeting feature is a great way to find new international students who are likely interested in your school, since they're similar to your current international student base.
The Lookalike feature uses data from past ad campaigns to discern the types of users most likely to submit inquiries and applications to your school. You can then target those with similar qualities in different regions, for instance.
Lookalike audiences are available on Facebook's Ad Manager, meaning that schools can use it for both Facebook and Instagram ads.
Example: A Facebook Ad campaign targeting lookalike audiences in South Korea. This is a great way to reach new markets without having to go through the lengthy process of overhauling your entire advertising strategy.
For search ads, you may also want to update your keyword strategy to more accurately target today's international students. This could include updating geo-targeted keywords (phrases that include a location, such as "MBA in London" or "Culinary School Japan") to more accurately reflect your new international student personas. Your school may also want to consider adding online learning-related keywords to its digital advertising strategy.
Once you know your ads are being directed to the right prospective students, the next step is to create ads that your target audience can't resist clicking.
Think about the kinds of things that are enticing international students to go out of their way to attend an education institution abroad during a pandemic. Reputable programs, career-ready training, and the ability to have a social life while social distancing are a few factors that may be appealing.
Sound familiar? They are the persona motivations we listed earlier. These points can help you create targeted, tailored ads across search engines and social media networks.
Example: A Facebook ad for Cumberland College, a digital marketing school in Montreal. Cumberland could have highlighted the perks of studying in Montreal, but instead, they focus on the practical skills that students will gain in their 2-year program.
Virtual Events Replace In-Person Visits for International Students
It's always been challenging for international students to get that in-person feel of a campus when school-shopping from afar. Granted, some students choose to visit the schools they're interested in—especially when it comes to universities and business schools—but this practice isn't all too common, and even less so when nonessential travel is discouraged in many places.
Now all students, both domestic and international, are in the same difficult situation of not being able to see their future school in person. As a result, many schools have invested more in virtual events.
Since virtual recruitment has become a central part of many schools' digital marketing strategies, you should create events specifically for international students if you want your school to truly stand out. Not only are prospects more likely to attend a webinar that's tailored to them, but the information that international students need likely looks quite different from domestic ones at the moment.
If your school has the bandwidth, you may even want to consider creating events specific to certain regions if travel restrictions differ across your target markets.
Example: A webinar for Nigerian students hosted by Carleton University. As you can see, the webinar took place in March 2020, when COVID-19 was officially declared a pandemic. This timing indicates that the webinar was likely part of the school's strategy to retain interested international students for their Fall 2020 intake. As new COVID-19 developments take place, it's a good idea for schools to follow suit and host events offering updated information.
For maximum success, make sure to record your events and upload them onto your school's website and YouTube channel. You can also share the videos on social media, or incorporate them into your school's email marketing strategy.
Another great way to use webinars as an international student recruitment service is to create virtual events for admitted international students. These serve the dual purpose of welcoming your new students while showing your prospects how your school cares for its international students.
Example: Webinars for admitted students at York University. These events are a great way to introduce international students to their peers from afar.
Today's prospective international students are looking for a school that provides extra help in the higher education transition process, given the added difficulties in meeting new people and exploring their new environment in the current context. This means they'll likely not only be browsing the section of your website devoted to future international students—they'll also look at what you offer current students.
Providing an enriched experience for international students, regardless of whether they're at your campus or not, is key. This practice will also generate positive word-of-mouth, which will help you recruit future international students.
Create Resources Specifically to Recruit International Students
Another great way to show that your school understands the needs of its international students during this difficult time is by creating resources directly related to their motivations and concerns.
This could take the form of entertaining content, such as blog posts, infographics, or videos, as well as informative content on your school's website. All serve the purpose of answering questions your prospective international students likely have, and showing them why your school is right for them.
Example: Travel FAQs on the International Students section of McGill University's website. The university frequently updates this section as new information becomes available.
International students, specifically, will likely be concerned about their accommodation options. Some schools have closed their dormitories, leaving students to find accommodations elsewhere, whereas other schools have new health and safety protocols for their on-campus housing.
Example: The Health, safety and support in accommodation section on the University of Edinburgh's website, which outlines how the school is keeping international students safe in their dormitories.
In addition to updating your school's website, consider creating interactive, engaging, or entertaining content to catch international students' attention when looking through your school's website, as well as scrolling through social media or scanning their email inbox.
Example: A blog post by Cornerstone International Community College of Canada for international students.
The most successful international recruitment strategies are both comprehensive and targeted. In other words, the more channels your strategy spans, and the more resources you have to offer, the better—so long as everything you do is created with your international student personas in mind. Since the concerns and interests of your prospective international students have likely shifted drastically, it's important to reevaluate each recruitment tactic to ensure you're sending the right message to those you're hoping to reach.