Reading Time:
10
minutes
Many schools have made it easy for prospects to learn about them online, whether it be through their website, social media pages, or other digital channels. However, it's the next step in the admissions process—namely, getting these interested students to enroll—that many schools struggle with in the virtual realm. 
Now, of course, photos of your campus on Instagram and program information on your website provide an excellent online introduction to your school. But it's important to also provide the personalized support that prospective students need to take the next step. 
Applying to a school or booking a course is no small decision, and students want to ensure they've found their perfect program. However, to provide the needed support and counselling to each and every lead is something that few admissions teams have the bandwidth for.
That's where online admissions software comes in. Marketing automation programs, AI technology, and education-specific software provide the best of both recruitment worlds. You can answer prospects' questions and help them plan their studies without having to connect manually. If this could help your school, continue reading to explore the different options available.
Optimizing Marketing Automation for Online Student Recruitment
When education professionals think about remote admissions tools, the first thing that may come to mind is fancy, pricey software that requires a PHD to customize to your school's needs.
However, there are plenty of affordable, easy-to-use, and school-specific programs available, which we will explore later in the blog. Not only are there more options for your school than you may expect—they also may be more accessible than you may think.
If your school already uses marketing automation software, there may be untapped opportunities for you to further personalize and streamline communications in order to nurture leads further down the funnel. By providing leads with the right information, right when they need it, you not only speed up the admissions process drastically, but you also enroll more students.
Customizing Email Content Using Marketing Automation
Many marketing automation programs—including Mautic by HEM, Hubspot, and other platforms—allow you to tailor your marketing messages to each lead. For schools, this could involve providing prospects at different stages in the admissions process, or with different interests, with the content that is most relevant to them. 
From dynamic content to email workflows, there are a number of different features that can help you deliver the exact information that a prospect needs to start their application.
Dynamic content refers to web elements that adapt based on information about the person viewing it. This information can be based on the user's website cookies (which may identify which web pages the user visited) as well as any forms they submitted on your site. 
If your school already has a marketing automation system, and wants to make the most of it, check to see if your platform is capable of creating dynamic content. Keep in mind that different systems refer to it differently, so keep an eye out for features such as 'adaptive content' or 'smart content'.
When you've located your system's dynamic content feature, one great way to use it is by creating smart calls to action (CTAs) that adapt based on a prospect's program of interest, stage in admissions process, country, or a myriad of other factors.
It's important to ensure you include calls to action in all your emails so that prospects are continually invited to take the next step in the admissions process. Dynamic content makes sure that each prospect receives the content needed for them to get to the next stage—without having to customize every email for each prospect.
Example: A simple set of smart calls to action (CTAs) in HubSpot. The default CTA directs users to an English test. However, those who already are in their system and classified as market qualified leads are pushed towards an online quote, while those further down the funnel at the sales qualified stage are encouraged to book.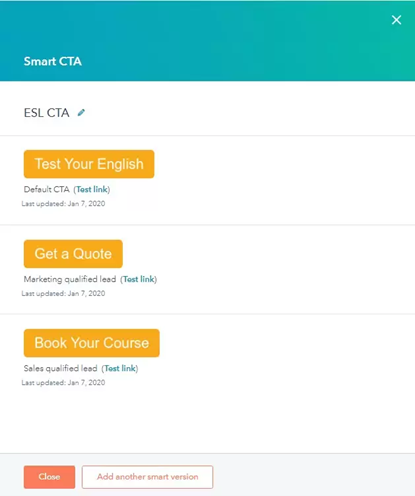 The above example is just one way you can use dynamic content to enroll more students via email. You could also link to different blog posts based on what program a prospect is interested in, or add a CTA to download different brochures based on which campus they're considering.
Another great way to optimize your enrollment funnel is through email workflows. Unlike dynamic content, email workflow campaigns are part of practically every marketing automation program, so you'll have no problem finding this feature on your system.
In case you're unfamiliar with this digital marketing tactic, an email workflow is a series of automated emails triggered by certain factors and conditions. Workflows could be as simple as an autoresponder that prospects receive after submitting a form, or a reminder email sent to leads before an application deadline.
However, workflows can also include a lot more moving pieces. You could, for instance, create an email series based on a prospect's program of interest, like the one below.
Example: A program-specific autoresponder campaign, created in Mautic by HEM. Instead of receiving a generic autoresponder email when filling in an inquiry form, this workflow allows you to maximize that conversion and provide prospects with a customized autoresponder that offers extra info and insights into the program they're interested in.
To optimize your enrollment funnel further, you can add multiple messages to this workflow, strategically spaced out over a given time period. This recruitment strategy maintains a prospect's interest in your school, and subtly nurtures them through the admissions process, but does so without your school coming off pushy or sales-focused.
Example: A sample workflow for an online business course.
Providing a Dynamic Website Experience to Prospective Students
Dynamic content isn't only for emails. You can also adapt different elements that your prospects see on your school's website to help advance them through the admissions process.
Like dynamic email content, features like responsive forms and dynamic website content anticipate the information a prospective student needs, and foreground it on your school's website. These elements are subtle ways to show that your school knows what its prospective students need.
Another less subtle but equally effective feature to provide prospects with what they're looking for on your website is chatbots. Chatbots allow you to mimic a conversation with an admissions advisor by allowing prospects to ask questions and providing answers through your school's web pages.
The aforementioned features are all great ways to simultaneously increase website conversions and provide prospects with a more valuable experience on your school's website. The result? More students in your classrooms come next intake.
Dynamic Website Content to Improve Conversions
Like responsive forms and smart CTAs, dynamic website content tailors the user experience of your school's website based on an individual's needs and preferences.
Dynamic website content can adapt based on the following three factors:
In-session behavior: this type of content changes based on the pages a prospect visits, how long they spend on your site, etc.
User Data: dynamic content of this kind changes based on past engagement with your school, such as which emails they opened, what events they've registered to, and more.
User Characteristics: this content adapts based on information you've gathered about a user, including demographic info and interests.
For schools, dynamic website content could look like recommended blogs, customized CTAs, adaptive downloadable assets, and the like. Instead of waiting for prospects to stumble upon this information on your website, dynamic content allows you to hand it to them on a silver platter as they research higher ed options.
Dynamic Forms to Optimize Lead Generation
In a perfect world, prospective students would enroll right away, but in reality, it often takes multiple interactions with your school before they decide to take the plunge.
If your school is strategic, you can gain additional information in each conversion in order to make other aspects of your recruitment strategy—such as workflows and dynamic content—more personalized.
However, making your forms longer isn't the answer. Doing so may prevent prospects from filling them out in the first place. But with dynamic forms, you can finesse this catch 22.
If a prospect has already filled out a form on your website, a responsive form will make sure that, if they fill out another one, they will not have to answer the same questions. Instead, you could ask additional questions for each additional form a prospect fills out so you can gather more information about them. This is known as progressive profiling, and can be a very effective tactic. You can think of these responsive forms as an invisible chatbot that is gradually getting to know your website visitors.
If you don't need to gather much more information from existing leads, you can also use dynamic forms to simply shorten the submission process for contacts that already exist in your database.
Example: A responsive HubSpot form on an HEM landing page. The initial form is what someone will see if they are not in HEM's database, and the second one is what someone who reconverts will see.
While making a form shorter like this won't provide you with more information about a prospect, you will increase the chances of reconversions—which will ultimately draw prospects closer to the finish line.
Chatbots for Student Recruitment
If you've ever landed on a webpage and had a popup (usually in the bottom right-hand corner) appear asking you if you have any questions, or want to learn more about something in particular, then you've encountered a chatbot.
A chatbot is an innovative tool that simulates a conversation online. Many ecommerce companies use chatbots to answer customer questions about products, shipping, and similar topics, but this feature is relatively untapped in the education sector.
However, this is a missed opportunity. If a prospect has specific questions, it may take them a while for them to find the information they need on your website, or connect with an admissions advisor offline. With a chatbot, however, their questions are answered instantly.
Example: A conversation with the chatbot on the University of Wyoming's site.
Chatbots are as helpful as they are customizable. You can configure a chatbot to answer questions specific to current, future, and former students, that could include:
What housing options do I have at each campus?
How do I change my courses?
What is the deadline to pay my tuition?
There are various ways that prospective students can find this information, but a chatbot provides a one-stop shop where prospective students can quickly zero in on exactly what they want to know.
Remote Admissions Software to Help Students Plan their Studies
Providing targeted, tailored mails and messages to prospective students is a good way to sustain initial interest and keep the conversation going with your prospective students.
But what about getting them to the next step? This is where many schools struggle. It's relatively easy to get prospects interested in your school by highlighting its unique selling points because simply learning about your school requires little commitment on the part of prospective students.
Applying to your school, however, is a different story. Prospects want to be sure that your school is the best possible fit for them before they go one to devote ample time, dedication, and money to your program.
That's where HEM's remote admissions software comes in. Our custom-built Quote Builder and Virtual Admissions Assistant (VAA) are stepped programs that allow prospects to plan out their studies according to their wants, needs, and goals.
The Quote Builder allows prospects to compare different course and accommodation costs, as well as explore the extra activities and options a school offers. The VAA offers similar benefits, but focuses more on study choices rather than costs.
HEM's Quote Builder
Our Quote Builder takes any confusion out of the booking process by allowing prospective students to explore all possible options and plan out their dream program. Prospects will also be able to see the cost of each selection, as well as the full cost of their studies, so there are no questions later down the line.
Example: The 'Dates & Activities' step of a sample language school Quote Builder. You can fully customize each section and selection.
At the end of the process, prospects are optimally prepared to go straight to booking—and that's exactly what the last step of the Quote Builder invites leads to do.
Example: The 'Quote' section of HEM's Quote Builder, which allows prospects to view a summary of their selections, have this quote emailed to them, and begin the booking process.
Virtual Admissions Assistant
Our Virtual Admissions Assistant is an innovative program that digitizes the process of sitting down with an admissions counsellor and planning out your studies.
Prospective students walk through various sections—such as campuses, programs, and financial aid options—and see what your school has to offer.
If a prospect has any questions about the process, they can click on the 'helper' icon which will help them navigate the software. They can also get in touch with an admissions advisor by clicking the "Request a Call" button, which allows them to submit their contact info so someone from your team can get in touch.
Example: The first step of HEM's Virtual Admissions Assistant. You can include however many options you want in each section.
Not only can prospects plan out their studies using the VAA—they can also take a deep dive into the different options available. If you click on an individual campus or program, for instance, you can access a bunch of relevant content—including text, videos, links, and more—to learn all about it.
Example: An individual course option in the VAA. If you offer different start dates for your programs, you can allow prospects to compare them here.
These online student recruitment tools speed up the admissions process so prospects get from initial inquiry to application faster and more effectively. By making it as easy as possible for prospects to access the information they need, you are removing any possible obstacles between your prospects and the application process.