Reading Time:
10
minutes
As schools compete for enrollments in an increasingly globalized education landscape, allowing leads to fall between the cracks isn't an option; yet it's no easy feat to keep up with each inquiry coming from your prospects.
A tool that's vital to that end is the school's CRM (customer relationship management) software that helps you manage your relationships and interactions with contacts and nurture leads at every stage of the enrollment journey. With the onset of a new year almost upon us, it is an ideal opportunity for schools to re-evaluate their current approach to lead management and consider investing in the ultimate gift for 2022: a new CRM, either as an upgrade to replace an outdated or proprietary platform that may require more life-support and fixes to keep it functioning or as an entirely new cloud-based solution for those institutions that haven't yet implemented a CRM yet. 
Here, we discuss the benefit of choosing a CRM that's been designed with educational institutions in mind, with some input from one of the key designers of HEM's own customized CRM for schools. Read on to learn more about how your admissions team can benefit from using a CRM software solution like Mautic.
What Exactly Is a CRM and What Should Schools Look for in One?
CRM is software that enables more efficient initial and follow-up communication between your school and your prospective students. It also lets you organize tasks, assign and segment leads, track productivity and activities, and scale and automate your marketing efforts – all in one centralized system. Through your CRM, your admissions team can keep track of all your leads and their contact details, allowing you to closely monitor their activity at every stage of the enrollment journey. This lets you fine-tune your communications with your prospects, at just the right time, when they are evaluating and making decisions related to your school. 
When evaluating the right tool for higher ed customer relationship management, your school selection team will want to be mindful of certain attributes or functionalities as they develop their requirements list. The software should be robust and adaptable so that it can cope with an ever-increasing amount of data and scale up with your school's own unique growth pattern. It should also include solid leads management capability, a host of reporting tools, and options for creating various types of campaigns.
Why a CRM Customized for Education Is the Ideal Solution
On top of some of the more generalized CRM requirements mentioned above, imagine taking things a giant leap further with software that's pre-packaged with some of the precise reporting tools and other features that matter the most to educational institutions. For example, Mautic by HEM, an open-source cloud-based CRM solution that HEM has tailored to address the most common needs of schools so that they can more easily manage their teams' day to day work more efficiently by integrating workplace calendars, use workflows to assign leads and follow-up tasks, track team member productivity, win-loss status, and much more.
The Mautic platform itself is the world's largest open-source marketing automation project. As it is an open-source platform, developers are also able to use custom code to adapt Mautic to the needs of their specific businesses – which is what HEM has done in creating its unique version for schools. Elias Nasser, Technology Solutions Director at HEM and a key integrator of the application, says Mautic by HEM is a great acquisition for schools looking for a solid ROI from their CRM. "This is a great system for a school that really requires a strong solution for email automation and lead management. Campaign building is also a significant strength in Mautic, and some clients seek the system just to automate some of the follow-up processes in their school or university," he notes.
When you start using Mautic by HEM, you'll discover a host of features you can start taking advantage of from day one – see a snapshot of some of those features below, from the Mautic "Knowledge Base":
Let's take a closer look at some key outcomes Mautic by HEM lets your school accomplish:
Streamline Leads Management
Using the Mautic CRM for schools, your school will quickly benefit from the tool's streamlined lead management capability, helping to prevent leads from slipping through the cracks. Elias says, "From the applied customizations, you have solid options for managing leads coming in from different sources." He explains that Mautic can be connected to a school's forms, landing pages, or even third-party software such as student portals. "This flexibility is a key point," he notes.
Your marketing, recruitment and admissions teams will appreciate how simple it is to segment, manage, and follow up with each unique prospective student. The software enables you to segment contacts by admissions stage, program, and location, letting you track each individual lead's enrollment journey and keep notes and records of every touchpoint. This type of tracking ensures each prospect gets the right message from your school at the right point in the enrollment funnel when it will make the most impact. Timing is everything! 
Mautic by HEM also offers a lead scoring system referred to as 'points' in the customized software. This lets you automatically assign a score to incoming leads based on behaviour and demographic factors. As the contact continues to engage or disengage from your school, the score will update automatically. 
Example: You'll discover various leads-related tutorials on the Mautic by HEM user centre, to help you take full advantage of the CRM's capabilities. This page shows you how to create 'points actions' – actions a contact could take to impact their lead score, such as opening an email, downloading a brochure, landing page visits, or form submissions.
Nurture Leads with Email Marketing
Email marketing is easily one of the most effective ways of reaching and nurturing your prospects. Mautic includes features that let you easily design, build, and manage a range of different automated and manual email campaigns to engage your prospects.
Example: This page from the Mautic by HEM site shows you step-by-step how to create an autoresponder email campaign. 
Analyze the Productivity of Your Admissions Team
Mautic by HEM comes with several custom reports designed specifically for the education sector. You can use these insights to track your team's activities and productivity, the progress of leads as they move through the funnel, and much more.
Example: This at-a-glance report displays a summary of all your admissions team's follow-up actions. 
Creation of Lead Forms and Assets
Mautic by HEM also lets you create assets such as PDFs, white papers, brochures, and more, all of which can be helpful to students seeking additional information about your school. As seen below, there is a page on the Mautic by HEM platform dedicated to helping you create these assets so that they can be sent directly to your prospects, either in bulk (via email campaigns, for example) or individually:
The user centre page also includes a step-by-step tutorial video on creating forms:
You never have to guess how to leverage the functionality of the platform to its fullest potential, with an extensive range of both written and video tutorials to consult on features of interest to your school.
Some Mautic Advantages Your Admissions Team Will Love in 2022
Once your school implements Mautic by HEM, it will start benefiting from a number of stand-out features included in the software right out of the box.  As an example, your admissions team is bound to quickly note the software's ability to help them organize their daily workload. To that end, Mautic's calendar is an excellent resource, integrated with Google calendar to let your admissions team centralize their planning in order to track meetings, appointments, and other tasks on their daily schedules. Your team will love how easy it is to customize the calendar view if you want either a more focused look at upcoming tasks or to see events over a larger time frame.
Example: Here's what one customized calendar view looks like on Mautic, 'Day' view, organized here by half-hour intervals so your admissions team can view your schedule in detail at the start of each workday.
Your team will notice the benefit of having all of its follow-up processes centralized. This lets your admissions staff book meetings, make calls, send SMS messages and emails to individual contacts, and more, all directly from the system itself. 
Example: The dedicated Mautic by HEM site shows you exactly how to build a new SMS campaign, so you can send important promotional text messages out to your leads.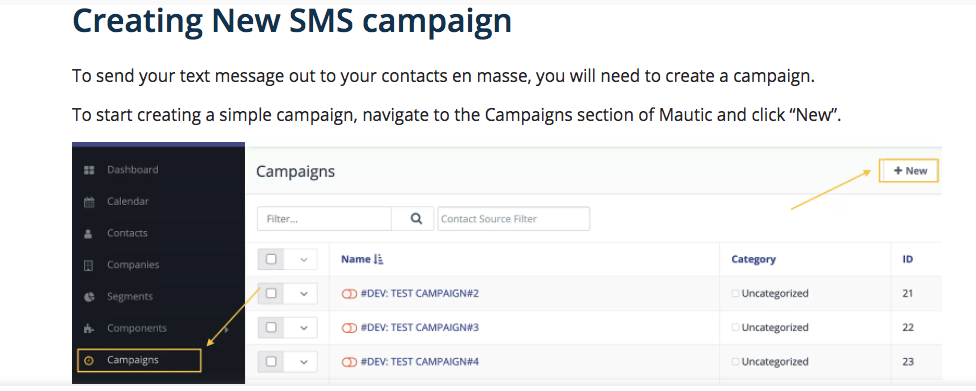 Your school will also have access to a fine-tuned reporting suite available on the platform that schools won't find on any other CRM. "These reports are built and customized by HEM," Elias says, noting the suite is based on the data HEM has pegged as being the most valuable for helping educational institutions drive and track recruitment outcomes. "This is based on our years of experience in the education field and working with schools," he says. Here's a sample of a few key reports included in this CRM solution:
Speed to Lead

– How soon your staff members are following up with new leads once they enter the system.

Meetings Outcome

– Any meetings your staff have held with leads.

Leads by Stage

– All leads segmented by admissions stage.

Leads by Program

– All leads segmented by program of interest (if known). Leads by Channel– All leads attributed to their original source (e.g. organic website traffic, paid advertising campaigns, online sources etc.).

Admissions Activities Summary

– A summary of all follow-up actions taken by your admissions staff.
Elias describes this customized reporting suite as one of the features clients have found to be of most value in the school CRM. "There are some interesting reports like lead conversion and admissions activities summary, showing all of the activities of the counsellors, to monitor how many emails they send, how many SMS messages, and calls they made," he says, adding, "So if you use the CRM properly and log the data, you'll be able to really get some good results and insights out of it."
Example: One admissions activity is 'calls by outcome,' where the CRM reveals the total number of calls made by each admissions rep. This report provides a great overview to see if your reps are meeting their expected quota of calls for a given time period. 
Most Recent Mautic Updates of Interest to Schools 
An additional advantage of Mautic by HEM is that your school never has to worry about having a system that's falling behind alongside the continual evolution seen in digital marketing. With these rapid changes in mind, HEM is constantly working to update its own schools-centric Mautic design.
"Every year we're making more changes and faster, and this year we've done a lot of modifications," points out Elias. One of those modifications is the addition of WhatsApp as a new option for schools to be able to connect the CRM to. An additional new feature is a communications panel, that lets schools track both outbound and inbound communication, "so you can check the messages and communications in general based on specific dates, SMS, WhatsApp, calls, emails, and any other communication activity that happens," says Elias.
Keeping the CRM up to date is a continual effort, involving HEM's development team coming together weekly to discuss what's in the pipeline already, and what enhancements need to be implemented next. This ongoing process of updating and evolving the CRM helps ensure that Mautic by HEM continually offers value to schools.
"As an example, this year a big milestone was that we actually changed the core infrastructure of the system where we've created two servers and centralized the server for our European and US/Canada clients," says Elias. This change is significant as it means that whenever something new in the CRM is customized, it can be implemented once, with all clients in those two regions benefiting from the changes immediately. 
While enjoying a CRM that's constantly being updated, schools will also note how customer-centric Mautic by HEM is – complemented, as an example, with the Mautic newsletter resource that keeps your school updated and informed on highly useful features you might otherwise be unaware of. 
Sent out monthly, the newsletter points subscribers to all kinds of useful tools and accompanying written and video tutorials on the platform's user centre. See a sample page from that "knowledge base" user centre below:
These are just a sampling of the numerous features and functionality your school stands to gain by choosing a CRM customized for education. If your school is missing out on the advantages offered by a CRM specifically designed with schools in mind, Mautic by HEM is the ultimate holiday gift to help your admissions team track progress from inquiry to admission and watch enrollment numbers shine in 2022!