Reading Time:
15
minutes
What if we told you there was a digital marketing channel which offered $44 ROI for every $1 spent? And that this channel had over 3.7 billion active users? Or that your messages on this channel were 5 times more likely to be seen by people than a Facebook post, and 6 times more likely to be clicked on than a Tweet?
This isn't some up-and-coming social network or instant messaging app, just good old-fashioned email marketing. Email has been part of online life for so long that its impact and importance often gets overlooked in favour of newer, trendier channels that don't have anywhere near the same reach or effectiveness.
For schools that do understand its value, however, email can play a vital role in your overall digital marketing efforts, helping you to follow up on inquiries, nurture leads, and engage with your wider online community.
How Well is the Education Sector Using Email Marketing?
The potential uses for email marketing within the education sector are countless. Email campaigns can play a role in:
Promoting specific programs
Increasing attendance for events
Pushing prospects towards enrollment
Generating new leads
Engaging current students, staff, and alumni
Despite its usefulness for schools, evidence suggests that the wider industry fails to make the most of the channel's potential.  In particular, a 2016 GetResponse report entitled The State of Email Marketing by Industry showed that the majority of education professionals surveyed failed to employ a number of general email marketing best practices. The most damning statistics included:
However, while there is clearly room for improvement in email marketing for schools, it isn't too difficult get onto the right track. With the right knowledge, the proper infrastructure, and a bit of time, you can develop an email strategy that will pay real dividends.
Choosing the Right System to Manage Email Marketing for Schools
Unless you're planning on painstakingly sending every single mail by yourself, you are likely going to need to have some kind of software platform in place to manage your email marketing efforts.
There are numerous options available for this purpose in today's online market, each of which will have different capabilities, strengths and weaknesses. Generally, though, they will fall into three broad categories:
– Email marketing software which is designed specifically with a focus on email. These platforms will allow you to create email templates, manage your contact lists, and send mass email blasts, and will usually have some automated workflow functionality. Good examples of this type of software are AWeber and iContact.
Example: The iContact workflow creation interface.
– Marketing automation software such as HubSpot or Marketo will include similar email marketing functionality, but also allow you to automate other aspects of your online campaigns such as forms and landing pages.
Example: Campaigns created on HubSpot's Marketing Hub include emails, but also customized landing pages, calls to action, and social posts.
– CRM systems like Salesforce or HEM's Mautic CRM offer tools to help you manage your interactions with current and prospective students, which will usually include email management, as well as features to streamline communication on other channels like phone, SMS, or instant messaging.
As you research your options, however, you will likely notice that many of the available systems in today's market don't fit neatly into just one of these categories and have capabilities that fall into all three. This is because email marketing often goes hand in hand with CRM and marketing automaton functionality, with each working together as part of a larger follow-up process.
Example: In the below illustration, you can see elements of CRM, marketing automation, and email marketing all being put to use within a single workflow. As the CRM lifecycle stage is changed to Qualified Lead, the workflow triggers a series of automated marketing activities, including pre-prepared email templates.
With that in mind, it's probably wise to opt for a system that provides a diverse range of functionalities across all three areas. This will give you the flexibility to shape your email marketing strategy around your admissions and marketing team's needs.
Generating Leads for Higher Education Email Marketing
Like many other digital marketing channels, email doesn't exist in isolation. Rather, it works as part of a larger ecosystem, both relying on and supporting your other initiatives at various stages throughout the enrollment journey.
As such, it's important to ensure certain other elements of your digital marketing strategy are in good health in order to maximize your chances of success. While email marketing can actually generate a surprisingly significant amount of new leads by itself (usually through referrals from your existing prospects and students), its main use is as a tool to engage and convert your existing contacts.
In short, you need to generate decent amount of leads to put your email marketing strategies into action effectively. This means optimizing your website with well-placed CTAs and forms to encourage prospects to make inquiries and provide their details for follow-up.
Example: John Cabot University places a pop-up form on each page of its site to allow visitors to request more information. This tactic can be a great way to build your contacts list, as it offers leads an easy route to conversion at all times.
If your school sends regular newsletters, including a short subscription form on your site can also be a great way to build your lists quickly. Generally, schools and other organizations will make these forms as simple as possible, usually only requiring an email address (and perhaps your name) for prospects to convert.
Example: The pop-up newsletter subscription form on WU Executive Academy's website is short and to the point.
Your school might also consider offering free resources – often called 'lead magnets' by marketers – such as downloadable PDFs, videos, or even online quotes, to entice prospects to give you their information.
Example: The University of Waterloo offers faculty and program brochures as mails and digital downloads on its website. The form asks leads to opt into their mailing list.
If you are using paid advertising or social media to attract prospects, it's also wise to consider creating unique landing pages for your campaigns. Landing pages aim to make conversion as easy as possible for users by presenting them with all the information they need on one page, and directing them to a form to sign up on the spot. Unlike other pages on your site, they will usually not include a navigation menu in order to lessen the chances of visitors clicking away from the page before submitting the form.
Example: Heartland International English School used this landing page for an ad campaign targeting Portuguese prospects.
These tactics can all help your school build a strong contacts list, which can allow you to create a robust and versatile email marketing strategy.
Segmenting Your School's Email Marketing Campaigns
How well you segment your contacts lists and campaigns is often the difference between success and failure in email marketing for education.
Instead of just sending every single prospect the same messages, segmentation allows you to plan and personalize what each lead receives depending on their specific characteristics.
Your mails will then be more likely to resonate with them, in turn increasing the likelihood that they will take the next step in the enrollment journey. In fact, research from Campaign Monitor across industries found that segmentation can increase revenue up to 760% compared to one-size-fits-all email campaigns.
There are a number of parameters you might choose to use to segment your campaigns, such as:
Location
Program
Previous engagement
Job title
Industry
Your lead generation forms should provide the initial basis for your segmentation efforts. While you don't want to overwhelm prospects by asking for too much information or forcing them to fill in overlong forms, you should be aiming to get the data you need on each lead to segment them effectively.
Seeking basic details such as their location, age, industry, or program of interest will often be enough. Of course, that doesn't necessarily mean you should be afraid to take things a step further, and be creative with what you include in your forms. A well thought out question may give you a particular insight into your audience's motivations that could add an edge to your campaigns.
Example: WU Executive Academy asks potential applicants to detail their motivation for pursuing a business school education in their inquiry forms, providing a number of possible answer choices. This question could form the basis for a brilliant segmented email marketing campaign, in which prospects are served different mails with messaging tailored to their answers.
You may also want to segment contacts based on what stage they are at in the enrollment journey, or even use a lead scoring system to place contacts in specific groupings. There is no right or wrong way to go about it, and what works for your school may be different to what works for others.
Creating Email Marketing Workflows for Education
With the right segmentation strategy in place, your school can begin to create workflows to send mails that are tailored to your audience and your enrollment goals. A workflow is a series of actions that can be triggered based on your prospects' behaviours or characteristics.
Workflows can range from very simple to very complex, and incorporate both automated and manual emails. If you are using a system with CRM and marketing automation capabilities to manage your email efforts, your workflows may even incorporate other activities and channels, such as follow-up calls or text messages.
One simple example of an email marketing workflow that is relatively common among schools is a drip campaign. This is a series of mails that is sent to prospects at carefully timed intervals after they make an initial inquiry, gradually nurturing them to take the next step in their journey.
You can also build automated email workflows to remind prospects of upcoming application deadlines, promote events, reengage lapsed applicants, or even help incoming students prepare to begin studying at your school. There are countless possibilities you can consider depending on the needs and wants of your audience.
Keep in mind, however, that all of these campaigns may need to be modified or have additional qualifiers added to prepare for any response you get from prospects. For instance, if a potential applicant is sent an email encouraging them to schedule a campus tour, and they do so, you wouldn't necessarily want them receiving another mail urging them to book one the following week.
As a result, it's worthwhile to build more complex workflows, with 'if/then' branches that change the course of follow-up with specific leads based on how they engage with your mails. You might also include triggers that add to their lead score, schedule manual follow-up activities like calls, change their lifecycle stage within your CRM, or other actions.
Example: This workflow – designed for business school prospects who download MBA brochures – is especially complex, incorporating email, SMS, CRM stage changes, and lead scoring, with each action dependant on the responses of recipients.
By ensuring your workflows are well-structured and reactive, you can harmonize your follow-up activities across different areas, and personalize them to the interest levels and preferences of each individual lead.
Creative Best Practices in Email Marketing for Schools
No matter how well you plan out your higher education email marketing strategy, your school won't gain much traction from the channel if the mails themselves aren't good. Poorly written copy, bad design, irrelevant CTAs, and other mistakes can all conspire to derail your efforts.
And while there is no magic formula for creating emails that connect, keeping in mind a few tried and tested best practices can help increase your chances of success. Here's a few tips you may want to take into consideration.
Put Care into Crafting Your Subject Lines
A simple a detail as it may seem, how appealing your subject line is can make a huge difference to the results you see from your mails. After all, a mail with a subject line that doesn't grab the attention of its recipient will more than likely end up in their trash folder, marked as spam, or just sitting unopened in their inbox.
There are countless tips experts recommend to try and improve your email subject lines, such as personalizing them with each recipient's name, highlighting any offers or added value the mail may contain, or simply ensuring that the copy is clear and concise.
Furthermore, it's vital to choose your words carefully. At Inbound19, marketing expert Michael J Barber presented some eye-opening data on how the inclusion of certain words or phrases in subject lines affected open rates:
As you can see, even the most minor, seemingly inconsequential details – like including the word wonderful in your subject line – can make a difference. However, as much as you can use data like this to improve your school's efforts, your prospects will be the ultimate barometer of what works and what doesn't for you. Trying new approaches and monitoring any variations in your open rates should give you a good idea of the best ways to appeal to them.
Include Personalization Tokens
Most email marketing, CRM and marketing automation systems will offer their own personalization options, which can be used to tailor certain elements of your content to individual recipients. Some things you may be able to personalize include:
Subject lines
Greetings
Region-specific information
Last touch information
Personal events
Signatures
Send details
Example: Hult International Business School use personalized subject lines in some of their mails. This can be a great way to stand out in a crowded inbox.
Personalizing your mails can also help your school better align your offers and content to your leads' previous activities and stage in the enrollment journey, and convey to them that you are paying attention to what they want.
Include Preview Text
Another small detail which can make a huge difference is your preview text. Previews appear as additional snippets of text in your inbox. By default, they will usually display the first few lines of text from your mail, although schools that use design templates or include links in their mails may find that recipients see URLs or HTML code, which is not ideal.
However, many email marketing systems will allow you to customize the preview text in your mails. You can use this extra space almost like a second subject line – adding additional information about your email content in order to further entice recipients to open it. According to Litmus, 24% of people look at preview text before deciding to open a mail, meaning it could have a major impact on your results.
Think Visual
Aesthetic appeal is becoming increasingly important to emails. Adding banners, images, and even videos to your mails can all make them look more appealing and professional to recipients.
Example: This email from London Business School includes an eye-catching image.
If the platform you are using provides for it, you should also consider creating email templates for your campaigns. Templates can allow you to present a range of different news and offers to prospects in interesting ways.
Example: The email template builder in Mautic offers a number of different preset design options.
Keep in mind, however, that images can affect your email load times, which may be frustrating for some prospects. Creating a plain text version of your mails and allowing recipients the option to view it can help mitigate this problem.
Whatever visuals you do include in your mails, be sure they are consistent with your school's brand, incorporating your logo, typography style, and colour scheme. Your mails should reinforce your brand identity with prospects, ensuring you create a memorable impression.
Include the Right CTAs
In many ways, your Calls to Action are the most crucial component of your email marketing efforts. If your mails don't drive prospects to the take the right steps at the right time, your funnel will effectively break down.
There are a number of components to a successful CTA, including:
Design
Size
Colour
Copy
Placement
Getting each of these right – and testing where possible – could make a huge difference to your success rates.
However, perhaps the most crucial element of your CTAs to get right in email marketing is the offer itself. Often, schools falter by presenting prospects with CTAs that direct them to things they are unlikely to be interested in at that point in the enrollment journey.  For instance, a prospect who has just made inquiry with your institution for the first time may not be ready to submit an application, so prompting them to in your first mail might be a bit redundant. Instead, linking to a blog, video, or other asset might be a better way to firm up their interest.
As they progress further, you could encourage them to attend an event or schedule a meeting with an admissions advisor, gradually pushing them toward making an application.
Example: The CTA in this mail from Hult does a great job of aligning well with its subject matter, directing recipients to a report that serves as tangible social proof of the value of studying there.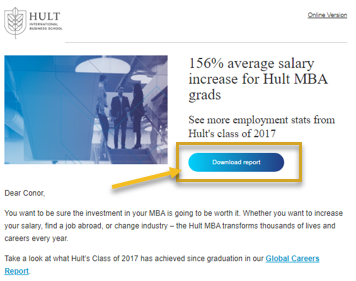 Creating workflows will help you to map this process logically, and pinpoint when a prospect is likely to be ready to receive a particular offer.
Privacy in Higher Education Email Marketing
With privacy on the web coming increasingly to the fore in recent years, organizations across all industries are becoming more mindful of ensuring their email marketing efforts comply with best practices and legislation, and schools should be no different.
First, you must check that any signup forms you use to generate leads and build your email lists require explicit consent from prospects, and include a statement regarding how your data is collected and what it is used for. Many marketing automation platforms like HubSpot now offer readymade statements to this effect which can be automatically added to your forms.
Secondly, GDPR and other global data protection legislation requires marketers to include a link in each of their mails allowing recipients to unsubscribe easily and quickly. If your school sends lots of different kinds of mails, you may also want to offer your leads the option to tailor their preferences so that they can control what mails they receive.
Example: The University of Chicago Booth School of Business offers it contacts a number of different options to manage their email preferences.
While some of your leads may opt out, those prospects are likely not to have a firm interest in your school anyway, and removing them will enable you to concentrate on those that do want to hear from you.
Deliverability
Another aspect of email marketing which has come under increased focus in recent years is deliverability. As the filters of email servers become more sophisticated, many organizations who send mails to prospects are finding their messages being consigned to the spam folder, even if they are legitimate.
The reason for this is down to sender reputation. Many email providers will flag senders for spam if they are unfamiliar, or if they have had a large amount of spam reports, mails delivered to invalid addresses, or other issues.
One way to help you get around this is to validate your Sender Policy Framework (SPF) and Domainkeys Identified Mail (DKIM) record using tools like Mandrill.  This essentially verifies that your sending address is legitimate and associated with your school's domain.
You should also make an effort to remove invalid emails and contacts who have unsubscribed from your email lists, as this will improve your sender reputation.
Tracking the Results of Your Higher Education Email Marketing Strategy
The system which you use to manage your email marketing will likely offer a breadth of useful data about its success, allowing you to measure important KPIs like open rates, click through rates, and unsubscribes.
Example: HubSpot offers valuable data about email success at campaign level.
If your system has marketing automation functionality, you may also track views and submissions of things like CTAs, landing pages, and forms by source, to help you gauge how well email is contributing to your overall conversions.
Example: If you create landing pages in HubSpot, you can track how many views and submissions you receive from each of your digital channels. On this page, email is the biggest driver of conversions.
Viewing your Google Analytics data by channel will also give you an idea of how well email is driving traffic and conversions to your site.
You can use these data sources to help you evaluate the success of different approaches to email creative, workflow structure and overall strategy. Over time, you should be able to establish what tactics are right for your school, and realize the potential of this undervalued digital marketing tool.