Reading Time:
9
minutes
Podcasting has been around since 2003, but the media format had its breakout year in 2019, as consistent listeners grew by 26% and podcast creation increased by 27%. Since then, the popularity of podcasts has continued to skyrocket.
As a result, celebrities, journalists, internet influencers—and yes, even schools—are rushing to create their own podcasts, and prospective students are rushing to listen.
The lengthy and personal format of podcasting is a great way to engage prospective, current, and former students alike. Through podcasting, your school can explore a variety of different topics and communicate them in depth.
Interested in adding a podcast to your school's digital marketing efforts? Read on to learn more!
The Rapid Rise of Podcasting in Content Marketing for Schools
Although podcasting as a medium borrows largely from radio shows, it was solidified as a digital media format in 2005 when Apple created the Podcasts app. At this time, only 3,000 shows were available.
Flash forward to July 2019: The New York Times reported that there were over 700,000 podcasts, with thousands of new ones popping up each month.
Example: Magna Global estimates that podcast listeners will increase by 34% over the next couple of years.
Not only does podcasting garner a large audience, but listeners also tend to be highly engaged. According to Podcast Insights, podcast fans tend to follow brands they like on social media, rarely watch TV (thereby missing out on a large segment of advertising), and are drawn to "content with an education focus." That's music to the ears of schools looking for new, innovative ways to engage with prospective students online.
Should Your School Start a Podcast?
The popularity of podcasts, as well as the types of people that listen to them, makes this medium an attractive recruitment channel for schools.
Although podcasting is uncharted territory for many schools, it has great potential for those that have the resources to carry it out. With the skyrocketing popularity of podcasts, it's expected that this medium will become a staple part of education content marketing in the years to come.
However, just because a digital marketing tactic is effective doesn't necessarily mean that every school should rush to implement it. In a perfect world, schools would be able to test out every new recruitment strategy on the market. But the reality is that every institution has limitations in terms of budget and bandwidth, so it's important to consider your priorities, goals, and resources before launching a new channel.
Unlike other content marketing initiatives, where you can get away with a relatively flexible posting schedule, podcasts are episodic in nature. In other words, if you want to get your school's podcast off the ground, it's important to make sure that you can create consistent content.
It's also wise to keep in mind that podcasts are fairly resource-intensive. While a blog may take just a single writer to maintain, a podcast requires a team of people with different talents. For starters, you'll need some to create the storyline, host the show, as well as record and edit it. Not to mention behind-the-scenes tasks like coordinating interviewees and promoting the show online.
However, some schools—universities, in particular—have alleviated this workload by inviting students to help. Not only does this make life easier for your school, it provides a great way for students to gain hands-on media experience. Additionally, prospective students are more likely to trust a school's students more than its staff, so this is also a great strategy for helping prospects get to know those that make up your school.
Example: Season 2 of the BG Ideas Podcast, hosted by Bowling Green State University. In each episode, the director of the school's Institute for the Study of Culture and Society discusses the interdisciplinary work done at the school with artists, activists, and academics. Students aid in the research, writing, and editing of the podcast.
Creating a high-quality podcast also requires high-quality equipment, so it's important to consider this factor if you're considering podcasting. Some schools may already have microphones, headphones, and recording software, whereas this technology is an investment that others may have to make.
To decide whether or not your podcasting ROI will be worthwhile, consider which resources you already have. Perhaps you have someone on your team with the video editing skills, or your school is planning to invest in recording equipment for its virtual events. Then, compare this list with the elements you still need.
From there, you can assess whether or not these additional resources are worth the potential benefits a podcast could bring in terms of recruitment, student retention, or whatever your podcasting goals may be.
Creating a Premise for Your School's Podcast
If you decide that a podcast would be a beneficial addition to your school's content marketing strategy, the first step in bringing it to life is deciding upon a premise for the show.
Whereas your blog may explore a wide variety of topics, this form of content marketing for schools is most successful when it follows a certain theme.
The premise of your school's podcast is largely tied to its intended outcome. If you want to showcase your school as a thought leader in its community, you may want to consider creating one where you invite experts from your school to discuss a particular subject. Perhaps you may also want to direct your podcast at a specific audience, such as prospects, current students, or alumni. The choice is yours and the podcasting possibilities are endless.
Topical Podcasts
A great way to simultaneously establish your school as a thought leader while showcasing its programs is to create a podcast on a certain subject that aligns with a field your school specializes in.
If you want to promote your science programs, English courses, or arts degrees, you base your podcast premise on topics that current students, or those interested in these types of programs, would want to listen to.
A great way to subtly plug your school's programs on this type of podcast is to invite faculty, teachers, and even students to share their thoughts on the subject.
Example: Northwestern University's Breakthroughs podcast, which discusses cutting-edge research in the medical field.
Student-Specific Podcasts
Your intended audience should influence and impact every aspect of content marketing for higher ed. If you're aiming to reach prospective students, in particular, or keep current students informed about what's happening on campus, you might want to create a podcast that caters to these groups.
Example: The Buddle Huddle Podcast by McGill University. The show is hosted by the school's Dean of Students, Chris Buddle, who discusses relevant topics like mental health and imposter syndrome with current students.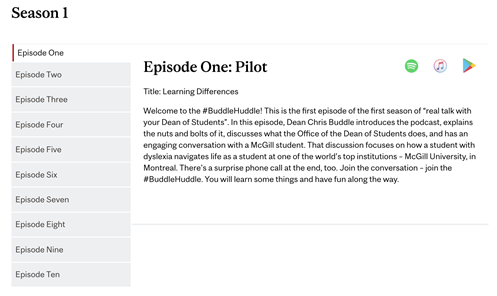 While podcasts like The Buddle Huddle are catered to current students, they can also be helpful for prospective students that want to get a better sense of your school's campus life.
Education Content Marketing Tips for Planning Your Podcast
Once you've got your podcast premise down pat, you can start ironing out the technical details. It will take a while, no doubt, but once you've got everything in order you can then focus on creating a great show for students.
To create a successful podcast, create a plan that answers the following questions:
How long will a typical episode be?
What is your publishing schedule?
Just as it can be helpful to plan out a blog calendar in advance, your school may want to plan out its show's first season. Thinking long-term is especially important if you have multiple hosts or are conducting interviews.
Before filming your first episode, it's important to also establish a tone for your podcast. You may want to get your writers and hosts together to make sure that everyone is on the same page. In addition, this tone should be reflected in the show's technical elements, such as the theme music as well as the promotional strategy—but more on that later.
In addition, you will also need to decide which channels you want to host your podcast on.
Example: Notre Dame University's podcast, With a Side of Knowledge, covers all the distribution channel bases, from popular platforms like Spotify to the education-specific podcasting app, Lyceum.
The more platforms you host your podcast on, the better. That way you cater to every type of listener. While Apple Podcast, Google Play, and Spotify tend to be the most popular amongst millennials, PCMag also considers Luminary, Stitcher Castbox, Breaker, Overcast, and Himalaya among the best free podcast apps for 2020.
Another task to check off your list before launching your podcast is to create a page on your school's website for it. When designing this page, make sure to think in the long term: at some stage you'll have multiple seasons with a myriad of episodes, so it's important to make sure that it's easy for prospective students to browse through your recordings.
Example: The University of London's podcast landing page. Its clean design, helpful menu, and prominent CTAs make it easy for prospects to not only listen to the podcast, but share and subscribe to it.
Promoting Your Podcast Using Digital Marketing for Schools
At this point, you've got an intriguing, entertaining idea for a podcast, as well as a plan for carrying it out. Now, all you've got to do is to find your listeners.
Although we mentioned that few schools are taking advantage of podcasting, there are hundreds of podcasts being created each day, so it's important to have a robust marketing strategy so that yours stands out.
One great way to get the word out is by creating a 'teaser' episode—this could be a snippet of your first show, if you've recorded it already, or a short video that introduces your podcast and its hosts—before your show premieres. This is also a great way to test out each of the distribution platforms you intend on using to make sure everything is properly set up before you officially launch.
Example: An Instagram post announcing the University of Waterloo's new podcast along with a video that offers a snippet of the first episode.
A teaser episode is also a great addition to your pre-podcast promotional strategy—which, yes, is something that you should definitely have. This goal of this type of plan is to announce your new podcast, generate buzz around it, and encourage students to follow your school's account on various podcasting platforms.
Whenever you're promoting any new digital initiative, it's important to get the word out on as many different platforms as possible. Common channels include social media and email.
Example: A Facebook post promoting the University of Toronto's COVID-19-related podcast, which links to a press release on the school's website.
Next, it's important to consider what your school is going to do to promote each new podcast. It may be helpful to create a checklist that outlines the different steps you need to take in order to reach as many students as possible.
Helpful tactics could include sharing the episodes on each of your social media channels with relevant hashtags. You may also want to create a hashtag specifically for your podcast to keep track of the conversations surrounding it.
Another helpful strategy is to promote the podcast in your emails, whether as a standalone email or as part of other campaigns such as your newsletter.
It's also important to make sure that your website is updated with the latest podcast. Many schools will include calls to action across their site which invite visitors to check out the latest episode.
Some schools even go so far as to create a new blog based on the topic of the latest episode. This helps drive traffic to your podcast by bolstering search engine performance. It also helps improve accessibility, as not everyone is able to listen in to your podcast.
Although it no doubt takes effort to get your school's show off the ground, podcast listeners tend to be highly engaged, so having a comprehensive promotional strategy will set your school up for long-term success. And considering the fact that the popularity of podcasting is only expected to grow, it's an investment that's bound to pay off in the long run.