Reading Time:
9
minutes
Stop, take a moment, and think about how many times you use your phone in a day. 
The number that comes to mind should show you why it's no secret that the future of marketing is mobile. Your phone provides a highly effective way of communicating, accessing information, and keeping organized.
With that being said, it is surprising that relatively few schools are taking advantage of the power of SMS marketing. Not only is this tactic mobile-centric, it also involves an area of a prospect's phone that is relatively untapped with promotions compared to, say, an email inbox or social media feed. 
That's why SMS marketing is such a lucrative recruitment tactic—and why your school should add SMS campaigns to its digital marketing strategy. Read on to learn how!
The Power of SMS Marketing for Recruitment
There is no shortage of statistics that show the power of SMS marketing in 2021. If you haven't yet adopted this tactic, here are a few reasons why you should.
Speedy Delivery
Speed is an important factor to consider for a wide range of digital marketing tactics. For instance, you want your emails to reach a prospect's inbox at the right time, and when a prospect visits your website, each page should load instantly.
Thankfully, it is easy to achieve lightning speed with SMS marketing. Relative to other digital channels, text messages are delivered in record time.
This means that SMS marketing is a great way to send out time-sensitive messages. If you want to send out reminders before events, meetings, or deadlines, a text will get your message out asap. 
Not only are texts sent out quickly, they're also read quickly. In fact, 90% of promotional texts are read within 3 minutes of sending.
Sky-High Open Rates
When your school's text message reaches a prospect's mobile phone, there's a very high chance that they will actually read it. In 2018, 98% of marketing text messages were read. When you compare this to the average email marketing open rate of 21%, it is even more exceptional.
But when you think about the process of receiving each type of message, these numbers make sense. 
Think about it: people tend to have multiple email accounts (spanning Gmail, Hotmail, Outlook, etc.). It is likely that your school has one of these addresses, and one can only hope that, when you send an email to that account, the individual has their desktop or mobile notifications on. They then have to go into their email account and find your message.
However, when someone receives a text, you have no doubt that it is delivered to their cell phone and that they will be notified of this. Plus, many phones will show the text—either in full, or a snippet—right on the screen without a prospect having to visit their app.
Highly Effective Results
Companies that use SMS marketing have found it to generate a significant return on investment, which means that schools can look forward to success with their own endeavors. 
Since SMS communication is so convenient, many people are happy to receive SMS messages from companies. 75% of mobile phone users don't mind receiving promotional texts from a brand if they've opted-in for it. In fact, many people prefer to communicate with brands over text. 
The conversion data upholds these statistics. 79% of mobile phone users have been influenced by promotional messages in their shopping decisions.
How to Use SMS Marketing Using Marketing Automation for Schools
Unlike other kinds of content, SMS messages do not include any visual elements. Copy tends to be short and sweet, and most include only one link, if any. 
But this doesn't mean that the relatively limited length and design scope corresponds to limited use. In fact, with CRM for schools, SMS marketing can have countless uses.
Announcements
If your school has some important news, a text is the perfect way to share it. Considering how many people open and read SMS, a promotional message is a great way to ensure that anyone who needs to hear something actually hears it.
This tactic is helpful for prospective and current students alike—especially during the unpredictable COVID-19 period. After all, many schools were given little notice of when they had to switch to online classes, and when they could resume in-person learning.
Example: Sample SMS notifying students at a fictitious school of campus changes.
Event Invites
Want to boost event attendance? SMS event invites will ensure more prospective students attend—or view—your webinars, open houses, campus tours, and other important recruitment events.
Example: A sample text message invite for an open house.
In order to retain your SMS subscribers, make sure that the events you invite students to are optimally relevant to them. In the previous instance, you'll see that only those interested in a particular program are notified of the course-specific event.
If not, you'll risk more and more people opting out of further marketing messages, thereby severing this communication channel for them.
Reminder Messages
As we mentioned earlier, SMS is an ultra-timely marketing tactic. Since people are practically glued to their phones, text message marketing is the perfect way to remind prospects of upcoming meetings, events, application deadlines, and any other time-sensitive matters.
Example: A mock-text from an admissions counsellor to a prospective student, reminding them of their upcoming appointment.
Collect Feedback
If your school wants to continually generate better results from its recruitment strategy, it's important to evolve it accordingly.
Now, there are probably elements of it that you already know need improvement, as well as new tactics you want to try out. But knowing exactly what prospective students think about your school's recruitment efforts is invaluable. 
Sending a quick text is a great way to gather feedback by inviting prospects to complete a short survey after a key conversion event such as attending an event, meeting with an admissions advisor, or even submitting their application.
Example: Sample post-application SMS to a future student.
Automating SMS Campaigns With CRM and Marketing Automation for Schools
One reason why schools may be hesitant to add SMS marketing to their recruitment campaigns is the fearful thought of manually sending out hundreds—if not thousands—of messages to prospects, as well as managing replies and conversations.
However, with CRM and marketing automation for schools, you never need to worry about that. The system does your job for you: sending text messages, managing campaigns, and notifying your admissions team of replies. 
HEM has created a custom CRM and marketing automation platform that offers a robust suite of tools to help schools craft successful recruitment campaigns in the simplest way possible.
Sending Individual Texts in Your CRM
If you're looking to send a quick text to a prospective student, you can do so in their Mautic contact profile.
There is a section entirely dedicated to SMS history in each prospect's profile where you can send individual messages.
Example: Sending an individual text in Mautic by HEM. If a prospect has submitted multiple phone numbers, you can choose which one you want the message sent to. You can then either type up a custom message, or use an existing template to create the text. Once that's done, all you have to do is click the "send" button!
When a prospect replies to your message, you will be notified on Mautic, and you can view their response in their contact profile.
Building SMS Campaigns
Mautic makes building SMS campaigns easy.
The platform has a section dedicated to text messages where administrators can create SMS message templates which they can then add to campaigns and workflows.
Example: The Text Messages section of Mautic. Here, schools can create an endless number of messages, categorize them, and view quick stats such as how many have been sent out.
The process of building an actual text template in Mautic is also very simple.
Example: Mautic by HEM's text builder.
Once you've saved your text message, you can then add it to workflows such as autoresponders and drip campaigns. 
With our comprehensive Campaigns tool, you can fully customize workflows to be as simple or as complex as you need.
Example: A simple SMS event invite scheduled to be sent to a particular segment at a particular date and time.
Schools can also use Mautic by HEM to nurture prospects towards enrollment using timed SMS nurturing campaigns.
Example: A 3-part SMS drip campaign made with Mautic. After submitting a form on the school's website, the initial text invites prospects to schedule a campus tour. If a prospect replies, their stage is automatically updated to "contacted" in Mautic. If they don't reply, they will continue to receive strategically timed reminder messages.
In Mautic, you are not limited to creating campaigns that only involve SMS. You can also add text messages to pre-existing campaigns, such as email workflows. These customization opportunities help your school make its campaigns as detailed and effective as possible.
Using CRM for Schools to Measure SMS Success
Not only is it infinitely easier to manage SMS campaigns with marketing automation for schools—you can also monitor each element of your campaigns with ease.
Trying to count how many texts you send out and how many replies you receive is practically impossible to do manually—but with a CRM system, you can view a number of helpful reports to understand how your SMS campaigns are performing.
If you want to see how a particular text is performing, navigate to the Text Messages section of Mautic by HEM and click on the text you want to monitor. You will be greeted with a number of different reports.
Example: A graph indicating how many messages have been sent out over a period of time. If you are reusing a particular text message template and sending it out over different points in time, this chart can be very useful. It's also very insightful if your school has created SMS workflows, as the messages will go out at varying times based on when prospects are added to a particular segment or fill out a certain form on your school's site.
If your text message includes links, you can monitor the number of total clicks and unique clicks using the "Click Counts" report:
Schools can also monitor which contacts have received a particular text. Again, if this SMS is triggered by a certain workflow or campaign, you may not know who has received what message—but this report shows you just that:
If text messages are part of a larger, multi-channel marketing strategy, you can compare how effectively they drive users to a particular webpage using Google Analytics.
To do so, you're going to want to first make sure that any URL you include in your texts includes UTM parameters which indicate that it's a link from an SMS campaign. (If you don't know what these are, check out our tracking code blog—we promise this isn't as difficult as it sounds!) 
Then, you can go to the "All Channels" report in GA to see how SMS compares to other digital marketing channels such as paid search and email marketing: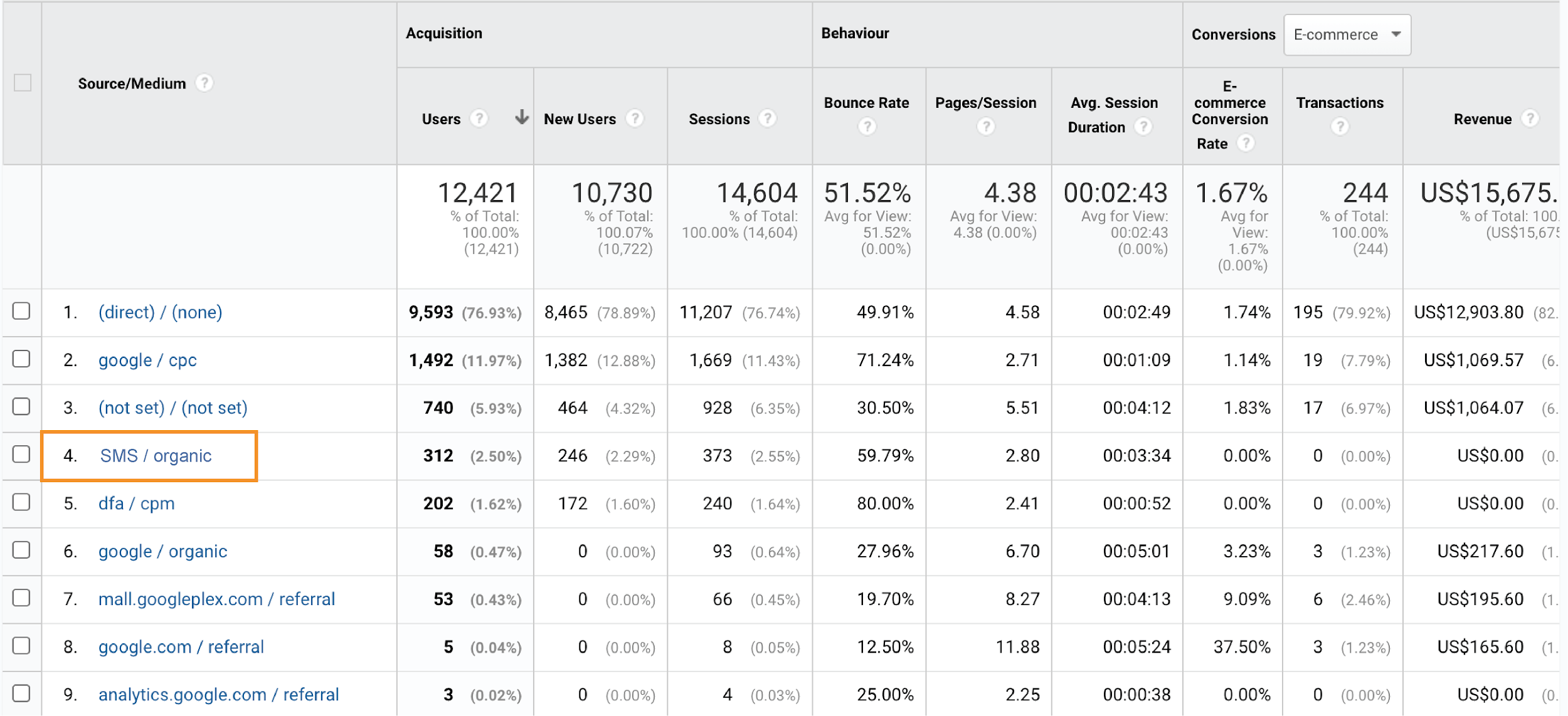 If your school makes use of the tips in this blog, and continuously updates its SMS strategy according to CRM reports and student feedback, you can expect to see positive results in these reports. Of course, as with any digital marketing tactic, it can take some time and testing before you achieve results, but phenomenal open rates, response rates, and overall returns on investment are something your school can look forward to.