Reading Time:
10
minutes
Competition can get tough as more schools embrace SEO, making it increasingly difficult for your school to stand out in the search engine results page (SERP). Various SEO strategies for higher education can help boost your search ranking, but long-form content holds notable promise. 
Schools wondering how to improve website SEO can use long-form content to better connect with their prospects and rise in search engine results. This type of content can even help increase dwell time, the time they spend on the page, which experts consider a major Google search ranking factor.
Read on for insight on how to create winning long-form content and get the most out of your content marketing and SEO efforts.
Understanding Long-Form vs. Short-Form Content
Your school blog is a platform that allows you to express your school's brand and unique selling points, allowing you to dive into relevant subjects that interest your target audience. You can use it as a space to share important updates, the latest news, in-depth articles, and more, all while integrating some of your key messaging. 
However, before creating this content, you need to consider the goals you want to achieve. School marketers who want to attract new prospects and gain SEO benefits will fare better by choosing long-form content, while those looking to share quick insights or updates will be better off creating short-form content.  
Generally speaking, long-form content refers to articles that are at least 1000 words long. Here, you want the writing to be thorough but also succinct. A good range to aim for is around 1500 to 2000 words, though research also shows that content reaching the 2450-word mark performs best in search rankings. Short-form content, on the other hand, refers to articles that are below that word count, often being at least 300 words. That could be short blog posts, infographics, or quick news updates.
Example: The London Business School uses short-form content to share a quick update regarding its New Governing Body Chair. This text is around 445 words, accomplishing the goal of communicating important news to its audience:
Source: London Business School
By comparison, InFocus Film School uses long-form content to provide its prospects with an in-depth exploration of what compositing in film is all about, a subject they are likely very interested in. This text is around 1160 words, giving the school enough room to thoroughly explore the subject and present a comprehensive guide: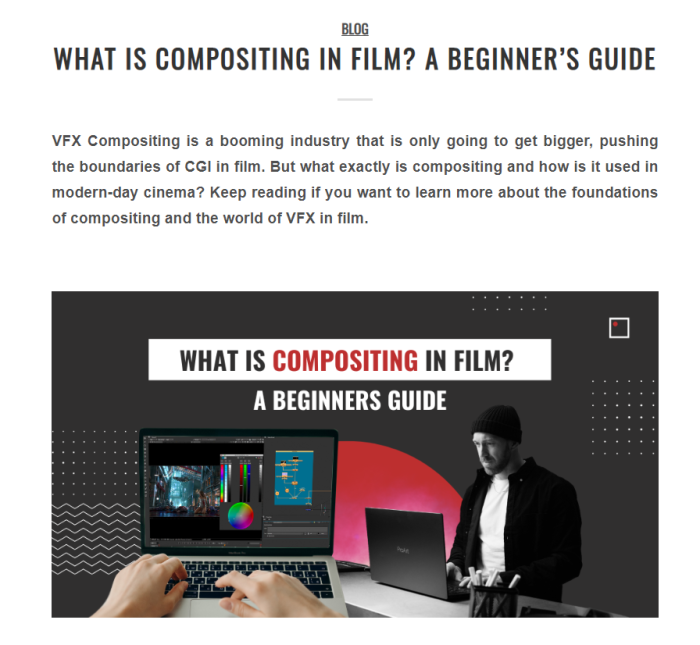 Source: InFocus Film School
Marketers looking to maximize SEO for schools can use long-form content to their advantage. SEO can boost the article's search engine ranking, making your school visible to your prospects for relevant search queries. It can also increase the time a user spends on your site, indicating to Google that they've found value in what your webpage provides. Because of its length, long-form content also provides marketers with the opportunity to integrate external and internal links, which can help you improve your backlink strategy and boost your school website's authority.
There are different types of long-form content that you can choose from, but your goal should always remain the same: providing your reader with value. The list includes:
How-to guides or ultimate guides on a specific topic

FAQ pages

List articles

Checklists

Case studies

Student success stories

Expert opinions (insight from your faculty)

Research overviews
How to Improve Website SEO by Creating Winning Long-Form Content
If you're wondering how to improve website SEO, then a good strategy to start with is creating long-form topic clusters. Here, you'll develop pillar pages with subpages exploring specific aspects of the main topic. All of these pages would link to each other for maximum SEO impact. A single pillar page can be one of your school's program pages, which would then contain various links to relevant blog posts, and those blog posts would link back to your school's program page. This strategy can strengthen the overall SEO impact of your school website.
Incorporating long-form content into this topic cluster model can ensure your efforts generate even better results. You'll have a better chance of ranking higher on search engines and getting noticed by your prospects. Once they're pulled in by one of your articles, they may be equally drawn to explore the links you've embedded, guiding them toward the program page or other high-quality, relevant content. This way, they can build trust in your school and transition into quality leads. 
1. Start with Keyword Research
You want to make sure your long-form content is visible and that it appears when users input relevant search queries into Google. To do that, you'll need to target high-gain keywords. This is where keyword research comes in, which can help you determine the impact of various potential keywords in your content marketing strategy.
To do keyword research justice, it's best to start with an awareness of your user and their search intent. You want to focus on keywords that prospects use to discover information relevant to your programs, ones that match their search intent. This way, your content will align with their expectations, boosting the chances of it rising to the top of the SERP. 
Another tip is to target keywords that allow you to demonstrate your industry know-how and position yourself as an authoritative source on the subjects of your programs. Doing so can help you establish your school website's authority, particularly as other websites link to your content as a reference or resource. By embracing long-form content, you can apply this strategy and simultaneously improve your SEO and content marketing efforts.  
With this in mind, you can begin selecting your seed keywords, also known as short-tail keywords, that are usually one or two words long. These seed keywords can be based on your school's programs and will likely generate a high search volume, making them harder to rank for. To lower the difficulty and target a more precise search intent, you can transform these short-tail keywords into long-tail keywords. Long-tail keywords are longer and more specific, making them more likely to convert visitors. An example of a short-tail keyword can be "cybersecurity training," and the long-tail keyword version could be "cybersecurity training for beginners."
There are different metrics to look at when choosing your keywords. This includes search volume, keyword trends, keyword difficulty, intent, and cost per click (CPC). To find this information, you can rely on online tools like Semrush Keyword Overview or Moz Keyword Explorer among many others.
Example: Private schools looking to improve their SEO can use these online tools to determine the right keywords for their content. By inputting the long-tail keyword "private schools in Toronto" into Semrush, school marketers can quickly discover key metrics:
Source: Semrush
To boost SEO for private schools and other educational institutions, it's best to choose keywords that are not difficult to rank for while simultaneously generating a good search volume. Even if your school isn't running any ads, looking at the CPC can help you determine how much your competition is willing to spend to rank above organic results for these keywords. High CPC typically indicates a larger number of advertisers eager to beat organic results, making it harder for your webpage to rank well organically.
2. Enlist Professional Content Marketers and Provide Readers with Value
Once you sort out your keywords, you'll be ready to draft your content. Professional writers can help you create high-quality work that effectively resonates with your student personas (or semi-fictional representations of your target audience). That means your content will address the motivations and concerns of your prospects while also integrating some of your school's key messaging. Unsure how to go about this process? Our team of professional inbound marketers and SEO experts can help create content and develop SEO strategies to meet your school's needs.
It's important to apply industry best practices when developing your long-form content. You'll want your articles to communicate your school's unique voice while delivering high value to your readers. You also want to opt for short paragraphs, clear headlines, and visual aids or images. It can also be helpful to provide readers with a clickable table of contents and relevant calls to action (CTAs). These steps can help you effectively tackle the question of how to improve website SEO through content.
Example: Rhodes Wellness College uses blog posts to attract prospects and provide them with valuable knowledge on subjects related to their interests and programs on offer. These blog posts convey the school's academic tone, citing highly credible research in their posts, as shown below:
Source: Rhodes Wellness College
Following the same approach, CLC Canada creates blog posts that appeal to language students in Montreal. These blog posts are written with ESL readers in mind, using informal language to establish their brand voice while also connecting with prospects by introducing them to relevant and fun facts or insights about the city:
Source: CLC Canada
Pro Tip: If you've asked yourself "how to improve my Google ranking," then a quick solution can be to embrace evergreen content. By combining long-form content with evergreen topics, you can create articles that will always stay relevant, ultimately boosting your brand awareness and search rankings.
3. Apply On-Page SEO Techniques to Boost the Impact of Your School's Content
SEO and content marketing should go hand in hand. Your content needs to integrate SEO best practices, which include on-page SEO techniques, such as:
Using a focus keyword and secondary keywords

Integrating the focus keyword various times within your text

Optimizing page title and subheadings (H1s and H2s) with the focus keyword

Incorporating the focus keyword in the meta description

Including clear alt-text for images

Removing broken links

Matching user's search intent

Considering

historical optimization

for old content
The image below shows how keywords can be integrated into a blog post for maximum SEO impact. This blog post by Cumberland College uses the focus keyword, "digital marketing program," in the title, and subheading, as well as in regular paragraphs:
Source: Cumberland College
On-page SEO is all about optimizing elements on a webpage to boost search engine ranking and traffic. Making all of these changes can seem a bit tedious at first, but they generate significant value. That's because on-page SEO helps search engines better understand your website, which can then help it determine its value in relation to a user's search query. 
Example: When typing "clinical research certificate" into Google, users encounter a list of schools that integrate that same keyword, as seen in the meta descriptions:
Optimizing this element helps you ensure that your school's long-form content appears exactly when it's needed most as users search for it. 
The best way to improve Google rankings is to stay current on changing trends, algorithms, and industry best practices. That said, a general rule of thumb is to also optimize the technical aspects of your page, such as page speed. 
When creating your long-form content, you may be embedding heavy media files. Those media files can influence how quickly your page loads, which also impacts your website's bounce rate. A good way to analyze your page speed is to use Google's PageSpeed Insights tool. 
This handy tool efficiently analyzes the elements on your page and provides you with helpful diagnostics and opportunities for improvement. Below is a screenshot of some of its recommendations, including properly sizing images and minifying code:
Source: PageSpeed Insights
4. An Intro to Structured Data for Schools Wondering How to Improve Website SEO
If you're wondering what more you can do to give your long-form content a stronger SEO boost, then consider exploring structured data. Structured data is organized information that's designed to help search engines better understand the context of a webpage to deliver accurate results to users. It also makes it easier for search engines to display information related to your webpage on the results page, making it look more appealing. This can come in the form of rich results like:
Featured snippets 

Knowledge graphs

How-to lists

"People also ask" answers

Breadcrumbs 
Here's an example of how a featured snippet (first image) and a "People also ask" answer (second image) might look in the search engine.
By making your webpages more informative and visually appealing, you can increase conversions and boost website traffic. To create these rich results, you'll need to add structured data to your webpage, either by integrating schema markup manually or through plug-ins like those provided through the WordPress platform. You can preview your efforts by using Google's handy Rich Results Test. 
Track Your Performance and Identify New Opportunities with an SEO Audit
Analytics can help you figure out what's working and what isn't with school digital marketing, and the same goes for your long-form content. By taking a quick peek at your data, you can discover valuable insights that will elevate your SEO strategy and shape your future content marketing efforts. 
Consider using Google Analytics 4 to look into key metrics depending on your school's goals and objectives. This can be the average time spent on the page to see whether or not prospects were interested in your content and any actions taken, like CTAs being clicked on or videos being watched. You may also want to monitor whether or not your prospects are sharing your content. If they do, it may be worthwhile to see which parts they've chosen to share. 
Conducting an SEO audit should also be part of your strategy when addressing the issue of how to improve website SEO. Through this audit, you can identify strengths and areas for improvement, covering all aspects, from keyword targeting and backlinking to technical SEO and on-page SEO. You can choose to audit your school website and specific pages, like your long-form content, to capitalize on opportunities for optimization.