India Increasingly Important for Student Recruitment
Date posted: November 5, 2013
In the increasingly competitive landscape of international student recruitment, India represents significant potential. After China, India is the largest source country for international students but it could become the fastest growing market for undergraduates studying abroad as early as 2015. With over half of its 1.27 billion population under the age of 25 and a growing middle class hungry for higher education, it's no surprise that colleges and universities from around the world are clamouring for the market.
While India's education minister seeks to increase the college-going rate to 30 percent over the next decade, its 400 universities can currently accommodate fewer than 10 million students – only 12 percent of the college-age population. This surplus demand, combined with the prestige of foreign institutions and potential for work and immigration opportunities, leads hundreds of thousands of young Indians to pursue higher education overseas each year. Their comparatively proficient English-language capabilities make them particularly attractive for Western schools. Popular college admissions websites, such as bharatstudent.com are in English, indicating that recruiters should continue to work in this language.
Effects of the Rupee's Recent Depreciation
A majority of Indian students could be classified as "strivers", those who show strong academic readiness despite lower financial resources. The drastic decline of the rupee's value in recent months may not have greatly impacted enrolment abroad this year but if it doesn't recover, it is likely to influence next year's numbers. At a recent U.S. universities fair in Hyderabad, however, students and their parents appeared as eager as ever to secure that coveted overseas degree. Organizers actually noticed a rise in the number of enquiries. "Economic conditions keep changing but that is not enough reason to hold back on building a future," said parent Salman Shaikh. Co-coordinator Renuka Rajarao suggested, "parents are willing to go that extra mile, including taking loans, if it means that their child will get that U.S. degree. Clearly, the economic condition is not acting as a deterrent at all when it comes to education."
Top Sending Countries for Canada. Source: http://www.cbie-bcei.ca/about-ie/facts-and-figures/
Canadian Recruitment in India
Top graduate programs in the U.S. and U.K. have traditionally been preferred destinations but recent recruitment pushes from Australia and Canada are succeeding in attracting the increasing undergraduate demographic. According to Citizenship and Immigration Canada, the number of Indian students in Canada rose to 13,133 in 2012 compared to 12,112 in 2011 and 5,709 in 2009. "Indian students are drawn to our universities' common attributes of international reputation for academic excellence, state of the art resources, and safe campuses in welcoming locations," opines Robert Finlayson of Carleton University, who directed this year's annual recruitment tour of representatives from nine Canadian universities, meeting with grade 11 and 12 students in Mumbai, New Delhi, Dehradun, Hyderabad and Bangalore. Large delegations of university presidents have sought to present a unified vision of Canada as an education destination since the two countries agreed to develop synergies between universities in 2010. The daughter and son-in-law of Indian Prime Minister Singh are McGill University alumni.
Collaborating with a group of schools affiliated with the Canadian University Application Centre (CUAC) puts a weight behind recruitment efforts. The associated universities offer a wide variety of programs between them, and as Jason Brennan, the University of Winnipeg's director of admissions notes: "If we do not have what a student wants, another school here probably has that program. What we offer is a Canadian degree and work experience. That makes them highly marketable here. But the reality is that they are becoming citizens of the world with a lot of options."
International students value Canada's relatively lower tuition fees, low living expenses and lenient visa requirements. Jobs and immigration are key priorities for Indian students, increasingly concerned about an education's return on investment. The University of Windsor has been particularly active in promoting the recent federal initiative allowing foreign students to work for as long as three years after graduation and far easier access to permanent resident status. Admissions to the school's graduate engineering programs are optimized by quick turnaround times – forms of qualified applicants are filled in on the spot and processed in three days. Windsor has worked extensively with the CUAC to become well known in India, developing long term relationships through its overseas representative and senior level visits three or four times per year.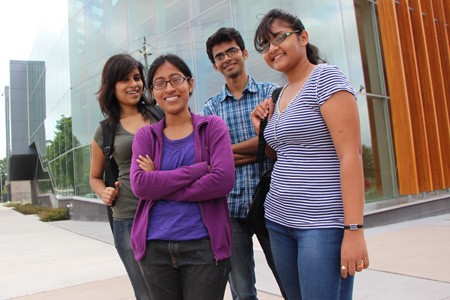 Visiting undergraduate engineering students from India interested in graduate studies at University of Windsor
Indian Student Recruitment Strategy
A range of marketing tools, including education fairs, school visits, and local business offices help to generate awareness through direct contact with targeted students in the initial promotion stage. Although some schools have found satisfactory results working with education agents, the CUAC has a policy of not working with them and their reputation has been shaken by instances of immoral practices. The Canadian government's Edu-Canada Pro resource site can be useful in directing promotional efforts to the right target audience, including upcoming recruitment fairs and cost-sharing marketing materials.
Due to the complexity of the market and risk of fraudulent applications, careful screening of academic credentials, language proficiency, personal recommendations and financial standing is necessary. A comprehensive system should include counselling with student advisors or local representatives to quickly and efficiently identify, track and support qualified students from initial enquiry to the admission and registration stages. Personalized interactions facilitate positive communications and can prevent potential problems from occurring. Submitting applications directly to the one of nine Canadian Visa Application Centres (VACs) located in India will result in faster processing times.
As internet penetration and smartphone usage is rapidly rising in India – particularly among urban, educated youth – promotional material and social media activity should direct prospects to your India-tailored website. Indian students generally have a preference for word-of-mouth information sources, such as family, friends and alumni, but are increasingly found on social media – specifically Facebook. Social media marketing enhances institutional visibility over the entire student decision-making cycle and is increasingly more effective than print advertising or recruitment fairs.
Social media strategies include:
Building awareness with PPC marketing for higher education
Observing target audience preferences to segment into relevant groups
Generating localized content for sharing, track with Analytics and optimize
Creating online contests to develop brand recall and engagement
Example: Dalhousie University highlights their friendly community with fast facts about the school and region, including testimonials from Indian students and alumni, and even displaying flying times to Nova Scotia from India and around the world.
Digital communications can encompass background profiling, pre-departure briefings, and an emphasis on Canada's multiculturalism and immigration potential. Emailing and texting about recruitment events or open days can be an effective method of outreach. Nurturing your Indian students and alumni, on campus and abroad, is an excellent way to understand their preferences for recruitment and develop partnerships for student counselling in India.
Partnerships and Long Term Strategy
Institutions are looking beyond ephemeral market conditions to seek long term partnerships and deepened research ties. In early September, the India Education Ministry announced it will now allow foreign branch campuses to be established, with the resulting credentials considered foreign degrees.
Interested institutions must meet the following conditions:
Not for profit
In existence for at least 20 years
Accredited by a reputable organization
Be ranked in the top 400 in one of three global rankings: the UK-based Times Higher Education or Quacquarelli Symonds (QS) rankings, or the Shanghai Jiao Tong University Academic Ranking of World Universities
Offer course content as good as that offered via their main campuses
Not repatriate money earned on Indian soil or distribute profit or dividends to members
Reaction to the news has apparently been positive, with the sense that branch campuses will create a more competitive market, increase the local quality of education, and bring in investment to various regions.
Example: York University has opened one of the country's first foreign campuses, with its Schulich MBA program featuring one year of study in both Hyderabad and Toronto.
Demographic trends that forecast shrinking North American high school numbers while India quickly becomes the most populous country in the world, highlight an urgency for international recruitment. Smart institutions are investing in relationship building and growing overseas alumni communities to seek the gradual benefits of campus diversity, international prestige, and financial rewards.
How has your school recruited Indian students?