Reading Time:
6
minutes
Around this time of year, those of us in the snowy north are more likely to look longingly towards sunnier destinations, and with the World Cup set to take over collective consciousness in a mere matter of months, all eyes will be on Brazil. The rising southern economic superpower is fast becoming a hotbed of activity for international student recruitment as access to quality higher education emerges as a national priority. With 7 of 10 Brazilian companies having difficulty finding skilled workers, according to a 2011 Reuters report, a degree from a leading university earns a grad five times more than the majority who never finished secondary school.
In this land of immense inequality, universities have long been the domain of the privileged few. The best ones, representing a tenth of Brazil's approximately 2,400 colleges and universities, are public with free tuition but it is the privately educated wealthy who are most likely to pass the extremely competitive entrance exams. That leaves about 73% of post-secondary students enrolled in private institutions, of which the few top quality options are costly and others described as "diploma mills" of dubious quality. Perceived instability in this booming profit-focused industry and recent legislation reserving half of public university admissions for poorer demographics is pushing increasingly mobile students to seek their education elsewhere.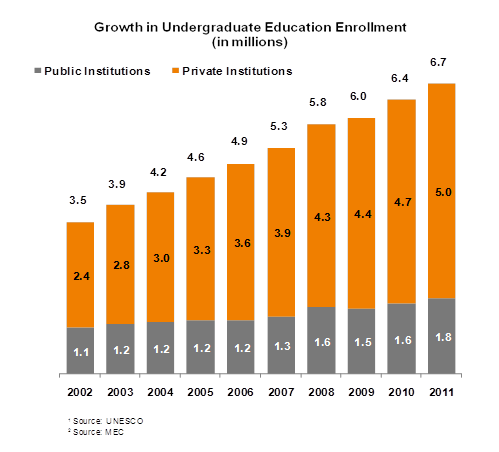 Government Scholarships Increase International Student Mobility
As Brazil slips in international innovation and university rankings, observers such as Science Guide have noted that "mobility needs to be improved urgently" in the weak higher education sector. Fortunately, since the currency has doubled in value over the past decade, capacity for mobility is better than ever in the world's 6th largest economy. Brazil's middle class more than tripled between 2003 and 2010, with a significant segment unafraid to spend largely on luxury items, including an international education. For the one third of Brazil's nearly 200 million people that are under 19, study abroad is a growing trend and some experts suggest that foreign experience may soon become a prerequisite for employment. According to agency association BELTA, 215,000 Brazilians studied overseas in 2011 and that figure is rising by about 20% annually.
With increased spending power meaning an overseas education is now up to 35% cheaper than it was 5 years ago, plus the prestige of foreign qualifications and the high relative cost of domestic training, Brazil is rapidly becoming one of the world's top source countries for international students. Its government is funneling much of new oil revenues into education to fuel sustained economic growth, including the Brazil Scientific Mobility Undergraduate Program (Ciencias sem Fronteiras), formerly known as Science without Borders. This scholarship program, which now funds six months of intensive English study in addition to one year of study abroad, was launched in 2011 to send 101,000 STEM (science, technology, engineering and mathematics) undergrads abroad to "enhance the country's competitiveness". The result has been a doubling of Brazilian undergraduate students on U.S. campuses since last year (over 4,000), but there is still much room to grow.
Source
Language studies are the most common reason for Brazilians to study overseas, both as a prerequisite for further studies abroad and to increase marketability in Brazil's booming tourism industry. These are typically short stays of less than six months, with Canada, France and Spain being the preferred destinations for English, French and Spanish studies, respectively. Educational tourism, such as teenaged language vacations, comprises much of this market but there is a growing trend of segmentation and sophistication for those seeking more than just language courses.
Example: Tamwood is a Canadian leader in language schools, offering several diverse English course packages, with accommodations, summer camps, and links for working abroad and online learning (with information in Portuguese). Its academic pathway program offers pre-university language skills training for admission to its college and university partners.
Working with Agencies
BELTA associated agencies are easily the most influential factor in Brazilian study abroad decisions, representing about 90% of Brazil's global education market. Language and high school programs pay the highest commission (an average of 24% and 20%, respectively), while undergraduate and post-graduate programs generally pay approximately 15%. The agency model is so established in Brazil that it is nearly unavoidable for schools serious about recruiting there. While many schools are interested in reducing their dependency on agents for international recruitment by providing more resources on their websites, in Brazil it is still quite necessary to collaborate in this way or risk being blacklisted.
Personal relations are highly valued for Brazilians and the surest bet for international student recruitment is establishing a strong relationship with local education agents. The seven largest agencies each sent over 3,000 students abroad in 2011. As families invest more time and money in their children's education, agencies are expanding their understanding of foreign university systems to provide available options and better match students with the right institution. Students are increasingly spending four years rather than four weeks abroad, prompting agents to offer further counselling and English language testing.
Student Recruitment Fairs and Collaborations
Sustained collaboration is instrumental to developing meaningful international strategy. Competition is heating up between destination countries, with Australia and New Zealand eagerly signing agreements and developing long-term collaborations with Brazilian institutions. The U.S. has recently become more aggressive in encouraging student recruitment with a new consulate and relaxed travel requirements. Canada, which has more investment in Brazil than in India and China combined, recently announced ambitious plans to increase the number of international students and academic researchers to over 450,000 by 2022. The past few years have seen several collaborative agreements between higher education associations to bring Brazilian students to Canada and to develop applied research cooperation. Streamlining visa procedures and processing times, and work in progress to allow full-time international students with valid study permits to find part-time employment without a work permit, will make Canada an even more attractive study destination.
Student recruitment fairs are an important networking resource in Brazil, and the biannual Salão do Estudante fairs attract over 100,000 visitors a year in the country's nine key cities, many of whom are high-quality, pre-screened students, parents and executives actively pursuing study abroad. Higher education institutions may meet agencies from across Brazil in the days leading up to events at the BMI Agents Workshop. Canadian institutions wishing to participate can find details on this government website. In addition to collaborating with agents and gaining visibility at student fairs, colleges and universities are partnering with the Science without Borders program through the Canadian Bureau for International Education (CBIE), aligning their websites accordingly to attract these students, numbering up to 12,000 over the next four years.
Example: McGill University features details of its Brazilian collaborations with scholarship options, eligibility requirements, the application process, and additional resources in English and Portuguese.
Brazilian Recruitment Strategies
It isn't only the years of marketing that has made Canada the preferred destination for Brazilian students. As price sensitivity is a significant factor in the decision making process for many families, offering initial discounts relative to competition and other financial aid incentives could make the difference. Partnering with popular language schools is another viable method of lead generation. Schools looking to reduce their dependency on agencies can find hope in the fact that Brazil is incredibly active in the online world, so as increasing web resources make the study abroad process more understandable there will be more direct enrollment to overseas institutions.
Brazil has over 66 million Facebook users, second only to the U.S., and they are the world's second biggest Twitter user. Half of Orkut's users are in Brazil. They outpace the rest of the planet in terms of social media activity and have enviable engagement levels with higher education institutions. There is a clear opportunity for schools to leverage their alumni and current Brazilian students to develop an active and credible voice on these social media marketing platforms, linking real-time events with related courses and open days. Social media offers unique opportunities to customize engagement to language preferences and specific cultural norms for efficient resource allocation. Online videos and virtual student fairs are making engagement with international students easier than ever.
It will require a long-term commitment to generate brand awareness and collaborations with local partners, but as the market continues to heat up, Brazil should be an important focus for any college or university's diversified international recruitment strategy.
What student recruitment strategies has your school used in Brazil?