Reading Time:
10
minutes
Crafting the perfect booking process is difficult for any school, but language schools encounter particular difficulties in trying to offer students the experience they expect online.
Since language courses are not one size fits all – there are different classes, start dates, and optional extras to consider – it can be difficult to provide an online booking process that is flexible enough to meet the needs of all your students. Language schools also have to cater to agents and parents who want to make bookings for multiple students, which can further complicate things.
However, with the right tools and features in place, your school can mitigate these issues and offer students as seamless an experience as possible. Keep reading to learn how to address seven common challenges schools in the sector often face.
Challenge 1: Providing Price Transparency for Language School Students
With so many different costs to bear in mind for each booking, prospective language school students may not be prepared for the payment that comes at the end. If you wait until this point to tell prospects the true cost of their program (including accommodation, exam fees, and any other extras), you run the risk of catching them off guard, and even of them dropping their booking entirely.
However, by offering an online quote generator on your website, you can provide full transparency in your pricing.
Example: A quote generator is at the foreground of Liden & Denz's website so prospects can easily explore the different program options available and plan their booking.
Offer a Path to Further Contact and Conversion
If you allow prospects to create quotes before they begin booking, they can take the time to figure out what options are right for them, and contact your school if need be before moving forward.
Example: At any stage in EC English's multi-step quote builder, prospects can contact the school about their quote with a strategically placed CTA. They are also invited to go straight to booking with an even more prominent Book Now CTA.
The above quote builder is a perfect example of how quotes can funnel prospects to enrollment while simultaneously making them feel more comfortable in the process.
Include all Options and Extras in Your Quotes
From accommodation preferences to additional activities to a whole host of different programs, language schools offer students a wide range of options to customize their perfect stay. However, all these choices can create headaches for prospects.
With a highly detailed quote tool, however, you can allow prospects to work out each aspect of their trip so there is no confusion when it comes time to submit their booking.
Example: LSI Institute's quotes include information about their different courses, start dates, accommodations, and more. LSI's quote builder is also responsive, meaning that the options you select will determine which fields you need to fill out. This saves prospects time while also making their choices much clearer.
Adjust Your Quotes for Seasonality
Not only do language schools tend to have a long list of different booking options for prospects to choose from – the prices also change based on season. Since the summer tends to be busier for language schools, courses that start in June, July, and August are often more expensive, while classes in the winter months are generally cheaper.
Unfortunately, this can run the risk of confusing prospects, who may expect low season booking prices during high season, or even vice versa. Worse still, if these costs aren't built properly into your booking process, it could cause errors.
To mitigate this, not only should your quote builder include all possible costs, but the costs should reflect the season in which prospects intend to attend. Make sure your quote generator and booking forms automatically adjust prices depending on the course start date selected.
Example: HEM's application portal includes a free quote tool which schools can use to customize their course prices for different time periods.
By allowing prospects to get a clear picture of the total cost of studying with you before they begin booking, you make the process as transparent as possible, and convert more leads as a result.
Challenge 2: Digitizing the Language School Booking Process
After enabling prospects to plan out their perfect language program, the next step is helping to bring that plan to life by addressing the problems some prospects encounter when submitting their booking.
For starters, the very format of a language school booking can be a challenge in itself. If your school still uses a paper application form, you're making the booking process exponentially more difficult for prospects – especially considering that most language school students are international. Online booking forms rectify this issue, but digitizing each and every part of the booking process is easier said than done.
Since many language schools require a number of documents from prospects – such as visas, transcripts, and passports – your booking tool should include a document upload function that is compatible with different file formats such as PDF, docx, jpeg, and more.
Example: HEM's application portal makes online document submission easy.  In only a few steps, you can customize the perfect file uploader field and select which file types you allow.
With HEM's application portal, prospects can easily drag and drop their documents into their booking – which is significantly easier than sending them in by post.
Another major digitization challenge falls at the very end of the booking process: namely, the signature.
Some language schools require prospects to print off their form, sign it, and re-upload it to the school's site, or to sign in person. But doing so adds unnecessary extra steps that prolong and complicate making a booking.
However, there are a few different ways that language schools can obtain student consent.  To mimic a handwritten signature, prospects write out their name digitally. You could also ask prospects to type out their name in a text box.
Example: You can enable e-signatures in HEM's application portal to allow prospects to sign their name with their mouse cursor or finger.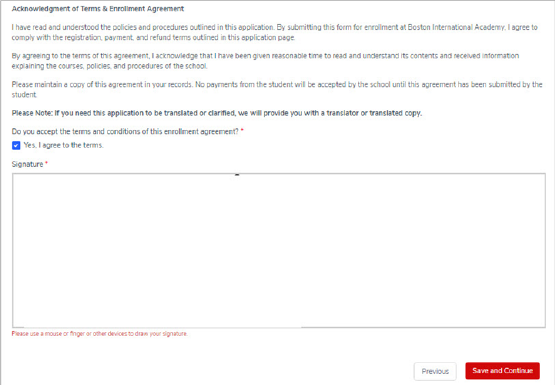 By fully digitizing your forms, you simplify and speed up the booking process to the delight of your prospective students.
Challenge 3: Making Online Payments for Bookings
Online fee payment is another challenge of digitizing the language school booking process. But for language schools, the issue is not solved by simply allowing prospects to pay online with a credit card.
Since language school students come from all over the world, you likely have prospects in regions where the thought of transferring money online raises security concerns. Currency exchange rates and fees may also be a pain point.
To ease these issues, your online booking form should offer a number of different payment gateways so not only can your prospects pay their fees online, but they can feel secure in doing so.
Example: HEM's Application Portal is compatible with Stripe, PayPal, Helcim, and other widely used payment gateways to offer schools and prospects the option to arrange payments using whatever system suits them best.
Language schools may also want to consider offering prospects the option to pay in installments or allow students to make a deposit and pay the rest later. If you are going this route, HEM's application portal can help you track the status of payments.
A great option for allowing students to spread out their booking payments is Flywire. This payment gateway is tailor-made for the education sector, and can be easily integrated with HEM's application portal.
Through Flywire, prospects can create payment plans to manage their course costs. The platform even offers a downloadable app for students to make payments on the go:
Flywire also secures wholesale exchange rates to make currency conversion easier and more affordable for users.
Challenge 4: Overcoming the Language Barrier
The language barrier is another unique challenge that language schools face in the booking process.
While universities and colleges require applicants to be proficient in their language of instruction, language school prospects are looking to develop their linguistic skills, which means they may not be well-versed in your school's primary language of instruction when they enroll.
This can pose problems when it comes to the booking process. If prospects don't fully understand what they're signing up for, they are likely to encounter unexpected issues down the line – which your school's staff will have to fix.
By translating your booking form into different languages, you prevent these problems and make the booking process a whole lot easier for your prospects.
Example: Liden & Denz offers their booking form in English, German, Italian, and Russian.
Challenge 5: Parents Applying on Behalf of Their Children
Since many language schools offer programs for students under the age of 18, parents will often want to apply on behalf of their children. But this can get tricky when parents start creating bookings for each of their kids – especially if you require users to create unique accounts for each booking.
To make things more convenient for parents, consider language school booking software that enables them to create their own accounts in your application portal. This feature makes it much easier for parents to create and manage multiple bookings – and makes it easier for you to track their submissions.
Example: HEM's application portal offers different accounts for prospects and parents, which each offer different capabilities based on their needs.
Since parents are often a key persona for language schools, ensure that your booking process is tailored to them, too.
Challenge 6: Managing Language School Agent Applications
For many language schools, agents also play a crucial role in recruitment. In fact, the 2014 ALTO-Deloitte Language Travel Industry Survey revealed that 85% of language school bookings are generated through agents.
Just like parents, agents often create bookings for their clients – but this can pose similar issues. In fact, it's an even greater challenge in the case of agents considering that language schools also want to closely monitor agent activity, which is difficult to do if the booking is in a prospect's name.
Just as the challenge is similar to that of parents, so is the solution: allow agents to create accounts in your student application portal.
Example: In the front-end of HEM's application portal, agents can create and manage multiple bookings from their individual accounts. On the back-end, the portal includes an agency section where your staff can invite agents, create profiles for different agencies, and monitor booking activity.
With agents being a lucrative part of your school's outreach efforts, you want to make sure your application portal makes it as easy as possible for agents to create bookings.
Challenge 7: Tracking Language School Bookings
Managing hundreds of bookings is daunting at the best of times – and the pressure only mounts when high season rolls around.
If you want to better track your bookings and mitigate any chance of error, you'd be best off integrating your booking system with your CRM. That way, every time someone submits a booking, a contact will automatically be created for them in your CRM database. If an existing contact books, their profile will update with the new information. This way, you can manage all your bookings in one place.
Example: HEM's Mautic CRM makes it easy to keep track of where your prospects are in the enrollment journey, and follow up with them accordingly.
To funnel leads towards booking, and follow up with those who've enrolled, marketing automation software can help you communicate with your prospects in an efficient, timely, and personalized manner through automated workflows.
Example: This email workflow encourages prospects to learn more about the school, discover the opportunities it offers, and eventually submit their booking.
As your bookings roll in, you can use CRM and marketing automation reporting to analyze how effectively your various marketing efforts are driving prospects to enroll.
Example: HEM's Mautic CRM includes a number of detailed reports that offer ample insight into your digital marketing efforts. This one allows you to see which channels are most effective at converting your leads.
Using these tools, you can closely analyze your efforts and continually update them for maximum success. After all, the more efficient your booking process is, the faster you'll convert leads, and the more enrollments you'll generate as a result.
By taking a close look at each aspect of your bookings, and making every element as intuitive and comprehensive as possible, not only do you avoid the above problems – you offer prospects another reason to trust your school with your bulletproof booking process.