Reading Time:
9
minutes
It's no surprise that LinkedIn is a great platform for schools looking to attract professional, career-minded prospects. But did you know that it can be a great space to showcase your school's vibrant environment and community as well? With a strong LinkedIn content marketing strategy, schools can effectively reach their prospects and build more meaningful connections with them. 
Through strategic LinkedIn advertising and marketing, you can solidify your presence on the platform and appeal to a more niche audience. Here's how to use content to leverage your community and boost engagement on LinkedIn!
Start by Setting Up a Strong LinkedIn School Page 
Having a LinkedIn school page is an important first step for schools wanting to solidify their presence on the platform and make the most of their social network. A school page gives a school, college, or university the chance to present itself and showcase its community and academics. Administrators of the page can start conversations with prospects and current students, parents, alumni, faculty, and even donors. 
Unlike a company page, a school page can showcase the alumni associated with that school since students can add its name under the Education section of their own profiles. It's best to optimize the page so that it's instantly recognizable to prospects. You'll want your logo, cover photo, and information to be easily visible. The information you'll need to add includes the name of your school, a tagline if applicable, and a description along with a website and physical address. You can also go a step further by specifying school type and industry, degrees and fields of study, as well as size, among other information.  
Example: John Cabot University has a well-structured LinkedIn page introducing its campus and teaching approach to new prospects. Various sections are sufficiently filled out to give prospects a basic overview before diving into its LinkedIn content:
Source: Sheffield Hallam University
When it comes to setting up LinkedIn for high school students or other specific target audiences, it's important to include information they would want to know. Doing so allows you to build your credibility on the platform and make it easier for prospects to connect with you, especially as you begin showcasing your community.
Share School News and Updates as Part of Your LinkedIn Content Marketing Strategy
A single academic year can be full of action for many schools. As news and updates come up, consider capitalizing on these opportunities to create new and exciting content. This way, community members – including prospects – can feel looped in as they learn more about your school's latest activities. It can also be a way for you to showcase how active your school is, pulling prospects in through open and transparent content. 
Example: Audencia Business School made a LinkedIn post to create buzz around its 2023 Audace Competition, which aims to highlight the school's entrepreneurial talents. The school's community members, and the public, can vote for their favourite Audencia student or alumni project:
Source: Audencia Business School
This type of news enables the school to showcase its thriving students while involving the public and creating a strong sense of community. That said, schools can also use their LinkedIn page to highlight new campaigns, new scholarship opportunities, or new programs in their LinkedIn content marketing strategy. Sharing news on campus expansions, online or hybrid learning policies, admissions deadlines, new faculty, and other updates is also a great option. 
Example: The McGill University School of Continuing Studies uses LinkedIn to share news on its upcoming program. This creates excitement and anticipation for it, giving prospects an idea of what to expect in the summer:
Source: McGill University School of Continuing Studies
Schools looking to apply LinkedIn tips for college students and career-driven prospects can consider sharing industry-relevant news. Here, you'll want to keep a positive tone and show prospects that you foster a nurturing learning environment with great growth opportunities that are aligned with what's happening in the industry. Hashtags can be worth exploring, though they should be more industry focused on this platform. Using them can help your content get more noticed, expanding your reach and boosting your promotional efforts. 
Celebrate Your School's Awards and Achievements on LinkedIn
Sharing your school's history and accomplishments is a great way to involve prospects with your community. It also shows how far you've come, how each achievement makes a difference in your growth as a school, and the meaning behind all the effort you've put in. As far as LinkedIn marketing strategies go, emphasizing your awards and achievements is a great one—especially when it comes to establishing your school's unique selling points. 
Here, you can celebrate milestones, achievements, and awards—ones that your school or its staff has received. This can include impressive statistics as well, adding a layer of transparency to your LinkedIn content marketing strategy.
Example: The University of Windsor celebrates members of its staff who were recognized for their commitment to enhancing student learning through excellent digital teaching. This recognition shows prospects that the school is invested in improving its academic excellence and supporting its students: 
Source: University of Windsor
Spotlight Faculty and Their Unique Research 
Your team makes up the heart of your school, and that includes faculty. Prospects will interact directly with them, so spotlighting the names along with the faces of professors and instructors they may come in direct contact with can be especially rewarding for your recruitment efforts. It can also be a way for your school to stand out. 
You can highlight the groundbreaking work of different faculty, cover their approach and background, and inspire prospects through your LinkedIn content marketing strategy. Doing so can help you solidify your school as the ideal destination for prospects studying in a certain field while also humanizing your school's brand.
Example: The University of Amsterdam – Amsterdam Business School spotlights its professors and their work on LinkedIn. The post shared below features a photo of the professor as well as an image of the book they co-edited, along with a mention of the book's online launch:
Source: University of Amsterdam – Amsterdam Business School
Positioning faculty members as thought leaders is a great move for schools, especially those interested in playing a role in LinkedIn learning for higher education. Your school can encourage its professors to build their professional brand on the platform. This can be done through creating thought-provoking LinkedIn articles, sharing key insights from industry events, posting relevant news, and engaging with other leading experts in the field.
Example: WU Executive Academy shares an in-depth article written by its faculty to inform its prospects and community on a key concept within the business landscape. The article positions the school as a destination of academic excellence with professors who serve as thought leaders: 
Source: WU Executive Academy
Pro Tip: Keep in mind that this approach can be as good a tool for student recruitment as it can be for faculty recruitment. Showing this level of engagement and enthusiasm while sharing insightful information within your network and industry will reflect positively on your school and the environment it fosters.
Looking to create impactful LinkedIn content? Contact our team to develop an inbound marketing strategy that covers your social media and web content needs. Through personalized insights, you'll be able to create posts that resonate more effectively with your prospects, showing off your community and seeing results.
Build a Sense of Community by Highlighting Alumni Success Stories
Career prospects are key concerns for many students, especially those active on LinkedIn for higher education. Since LinkedIn is one of the best platforms for connecting with alumni, you can use it to share their stories and growth. This way, you can keep prospects engaged with relatable stories that resonate deeply with them—ones that resemble their own journey into a new program or career or ones that inspire them to follow in similar footsteps.
Example: The University of Brighton shows off a talented alumn in this LinkedIn post, celebrating his achievement at becoming the first Arab astronaut to participate in a long-duration space mission. This post recognizes the alumn's great accomplishment and inspires prospects to reach their potential:  
Source: University of Brighton
Consider reaching out to your alumni and learning where they are in their professional growth. It's helpful to remember that stories of noteworthy growth are more likely to gain traction and generate engagement. You can also tag your alumni in these stories to make them more shareable, boosting the visibility of your content while also involving your alumni in what you create.
In these situations, sharing images of the actual alumni or videos of them briefly sharing their journey can be incredibly powerful. It can also show your prospects how big of a role your school can play in their future success.
Example: London Business School uses this strategy when highlighting the founding story behind Ocean Bottle, a business that launched due to a "meeting of the minds" between two graduates of the school's Master in Management degree program:
Source: London Business School
Post about Current Students and Student Life in Your LinkedIn Content Marketing Strategy
Your current students are what bring your school's community to life. You can showcase the hard work current students are putting into their studies along with all the ways they supplement their growth on campus. This allows you to highlight your school's extracurricular activities and the enriching experiences you set out to provide to your students. Interested prospects can use this content to learn more about your school's teaching approach, gleaning key insights that can influence their decision to enroll. 
Example: Prospective families on Randolph-Macon Academy's LinkedIn page are able to see how students can improve their learning experience through J-term classes. The basic overview of what these classes entail, along with a compelling image, make this content particularly effective:
Source: Randolph-Macon Academy
You can even use LinkedIn higher education marketing as a platform to spotlight the various events and activities your school hosts to create a diverse and fulfilling student life experience. In addition to promoting campus tours and info sessions, your school can highlight webinars and open lectures that would appeal to your prospects while also revealing your vibrant student life. 
Example: Webster University Geneva hosts a Creativity Week with members of its community, where participants can explore and focus on the value of creativity and innovation in different fields. The LinkedIn post promoting the event includes an appropriately sized poster and a registration link: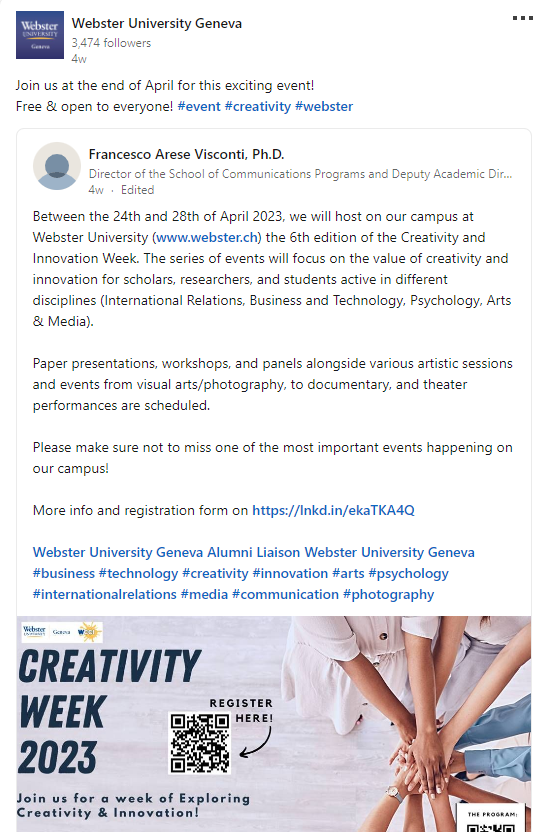 Source: Webster University Geneva
Showing these sorts of events and activities in your LinkedIn content marketing strategy will reinforce your school's reputation as a great learning destination. It can also be a way for you to make the most of LinkedIn student lead generation.  
Consider Creating LinkedIn Groups to Better Reach Target Audiences
Groups can be an efficient way to organize and share content with followers on LinkedIn, keeping them interested and updated in one place. Groups are searchable on LinkedIn, and they can also be featured on your school page to drive traffic.
You can organize your groups based on the audience type – such as a group for parents, faculty, alumni, or even current students – and location, setting groups apart based on different campuses. Groups make it easy for your team to get in touch with various members and build stronger connections. For instance, an alumni group makes it possible for your admissions team to reach out and invite different alumni to speak or share potential job opportunities. On the other hand, student-led groups allow students to connect with one another and coordinate discussions and events. 
These groups can be part of your school's LinkedIn content marketing strategy to show prospects how your community thrives on campus. It also proves to them that your school is an active space with a bustling community that comes together, builds each other up, and continues to provide value long after graduation, making it appealing for those looking for deeper connections and support during their studies.
As you go on to develop your LinkedIn presence and strategy, consider the benefits of LinkedIn advertising. Research shows that conversion rates for sponsored content ads may be between 10% to 15% on low-friction offers – like downloading content or watching videos – and between 1.5% and 4% on high-friction offers, like demo requests and free trials. There's a lot to gain when LinkedIn advertising is done right, and it could be a way for you to elevate your efforts and generate even better results.