While the influencer marketing trend is not all that relevant for the education industry, schools can still gain valuable social proof through employee advocacy, student ambassadors, and alumni engagement.
However, without having a system for creating, tracking, and analyzing what your online advocates share, these tactics are likely to fall flat. LinkedIn Elevate aims to mitigate these issues. On the platform, schools can curate content across multiple social networks more easily and more effectively.
Curious to see how LinkedIn Elevate works? Read on to learn more!
What is LinkedIn Elevate and How Can Schools Use it?
Although LinkedIn Elevate was launched in 2015, it's remained somewhat under the radar compared to other digital marketing platforms. Essentially, it's a social media scheduling tool like Hootsuite with the AI content curating technology of Buffer. According to the platform's website, it provides your organization with tools to "discover and share content curated by experts at your company."
There are many other employee advocacy tools out there with a similar purpose, such as GaggleAMP, Hootsuite Amplify, and Oktopost. However, LinkedIn Elevate offers a few features that you won't find on other platforms.
For starters, when you launch an Elevate account, the program will give you a list of your most active employees on LinkedIn to help you start building your network. Elevate is also the only tool that offers in-depth insights into the people your employees engage with (as in, their industry and job title).
LinkedIn Elevate offers different features for employees, employers, and curators. Employers can share articles for employees to post, regulate this shared content, and access a variety of reports, including an employee leaderboard that lists the most influential ambassadors.
As for employees, they can access company content, discover new articles, and share them across Twitter, Facebook, and even Chinese social network Weibo.
Example: LinkedIn Elevate makes it easy for employees to find high-quality content, recommending articles specific to each user, and showing them what topics are trending in their industry. Employees can even suggest content for others to share.
Source: Social Media Today
Last but not least is the curator role. These are the people who share content and make sure everyone is posting as they should, but don't necessarily have access to all the reports.
Why Elevate? The Advantages of LinkedIn Elevate for Schools
Hopefully, by this point, you're more familiar with the platform and what it offers, but you still may be asking: what benefit does it bring to my school?
Expertise and exposure are two words that sum up the results that LinkedIn Elevate can generate. By sharing interesting and influential content – whether explicitly related to your school or not – your employees will become thought leaders on social media, boosting your school's reputation by extension. Throughout this process, you will also be exposing your school to a much wider, more diverse audience.
Source: Thrive Global
This marketing approach is called employee advocacy, and it's something that business schools and universities, in particular, have been including in their higher education social media strategies for years before there was software to help with it. Since students who attend these institutions are attracted by successful alumni, inspiring professors, and innovative staff, it's important that they all have a strong online presence.
Yes, your school can share posts about its incredible faculty, graduates, and support staff, but content shared by employees has, on average, 2x the engagement than when it's shared by a company. As such, it's advantageous for schools to encourage their staff to develop a 'personal brand' online.
In addition, schools can use employee advocacy for recruitment – but not the kind involving prospective students. Showing off all the cool things that your staff members know and do on social media makes your institution more attractive for potential employees. LinkedIn Elevate even allows you to see how your employee posts influence the number of job applications you receive on LinkedIn.
Creating a LinkedIn Elevate Strategy for Higher Education
Using LinkedIn Elevate seems simple enough. After all, the AI-curated content and detailed reports do a significant amount of the work for you. However, where many employee advocacy initiatives fall flat is due to a lack of organization.
Since your school isn't managing its employee's social accounts, you need to provide your staff with sufficient content ideas, ensure their posts have the impact you intend, and make sure your school isn't associated with opinions or topics that may negatively impact your brand.
Setting Goals for LinkedIn Elevate
One key objective of employee advocacy programs is to help your employees create a personal brand – but it's important that this, in turn, benefits your school in a tangible way.
To ensure this is the case, you should first identify the goals that are most important to your school before you set up your Elevate account:
There may be a few different metrics you'd like to meet with LinkedIn Elevate – just make sure not to cast your net too wide or you could risk not meeting any at all.
As mentioned, Elevate automatically identifies your most active members on LinkedIn when you join, which provides a great starting point for figuring out which employees to add. But of course, your school may have socially active members on other channels, so you may want to do some research or ask around to find those that have a strong presence on various networks.
Schools should also consider adding a range of employees to their LinkedIn Elevate network. The platform allows you to segment staff by groups (such as professors, admissions staff, marketers, etc.). That way, you can monitor the impact of different departments and add or remove staff accordingly.
For schools, specifically, your Elevate network may be especially varied. Although the platform is made specifically for employees, some schools, like American Public University System, added students and alumni to their account. Here's a quote from the school's marketing director:
Source: Social Media Examiner
Maybe one of your current students is part of some noteworthy social initiatives, or you have a professor with intriguing research? These are the kind of people you're likely sharing about on your social channels already, just like Concordia University and Georgia State University have done below. But imagine how powerful these posts would be if your students and staff are the ones sharing this content and connecting their achievements to your school.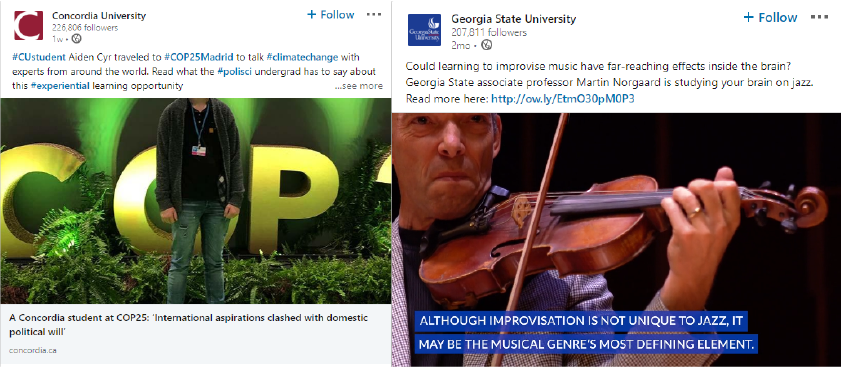 Create a Content Strategy
An effective and thorough content strategy is essential when using using LinkedIn for universities, and your employee advocacy initiatives should planned just as meticulously.
The posts made about your school should help achieve the goals you set earlier – and there are a few ways you can point your employees, students, and alumni in the right direction.
How strictly you control these posts is up to your school. You could either give your staff free reign or make use of the compliance capabilities that Elevate offers, which include:
Social Media Policy: Before someone joins your network, you can create a policy for them to sign (Elevate provides a number of templates for this).
Disclosures: Schools can create a short disclosure that will automatically appear on employee posts. This may be useful to add in case employees share any controversial opinions online.
Locking Perspective Text: You can create copy for certain posts that employees can't edit. If there's a specific message you want to get across on social media, that can be especially useful.
Restricting Networks: If you only want employees to share company-related content on certain social channels, you can do so by restricting networks.
Of course, monitoring posts and writing copy requires time, skill, and effort – so it's generally recommended that you have someone responsible for setting up and managing your school's Elevate account.
Having someone in this role will also ensure that your employees are up to date with everything happening at your school. Whenever your school creates a new blog post, issues a press release, or gets photos from notable events, it's important that there's someone funneling that content through to your LinkedIn Elevate network.
Your coordinator – or team of coordinators – could also find articles that feature alumni or mention your school. If your school specializes in certain programs, such as accounting or engineering, they may want to look for specific articles in that field that would be of interest to prospective students and other professionals.
As for the rest of the content, that's up to Elevate's AI technology to find.
Using Elevate Reports to Complement Your Higher Education Social Media Strategy
Once you've got a new digital marketing tool up and running, it's always important to pay close attention to its performance. With LinkedIn Elevate, tracking won't be all too difficult considering the many reports available.
On the platform, there are three different tabs offering different sets of relevant data. The 'dashboard' tab displays the performance of your staff's content, showcasing the number of posts (aka 'broadcasts') you've made, along with the engagement and impressions they've generated. Elevate also translates these statistics into dollars, estimating the worth of your reach through a metric they call "earned media value":
Source: Social Media Examiner
At the bottom of your dashboard, you can also see what kind of audiences you've engaged, what topics your employee's shared posts fall under, and who the top sharers in your network are:
Source: Social Media Examiner
In addition, the platform's "Leaderboard" tab allows schools to assess who is sharing the most content, who is reaching the most people, and who is generating the most shares or impressions. You can also see which topics get the most buzz, which can help the curator find more relevant and interesting content for your school's network to share:
Source: Social Media Examiner
Finally, the third set of data that LinkedIn Elevate offers relates to the performance of individual posts. In the "Broadcast" tab, schools can analyze shares by topic, curator, or employee group over a given time period:
Source: Social Media Examiner
For additional measurements, schools can also integrate their Elevate account with platforms such as Google Analytics, Salesforce, and Marketo.
Since there isn't much information available about Elevate online – relative to other programs – monitoring is all the more important. If you don't know the established best practices of a given platform, you'll have to find them yourself. Doing so will also help you discover whether the product is worth your school's while in terms of the impact it has on your recruitment – of both prospective students and new employees. But if it delivers on its promises, Elevate could be a valuable asset to anyone using LinkedIn for schools.