New Research Shows Why LinkedIn is Hot for Millennial Recruitment
Date posted: June 5, 2015
Millennials are the primary target audience of many colleges and universities. But who exactly ARE millennials? Opinions vary widely on their precise age range, but today's high school seniors and 20-somthing post-secondary applicants fall into this increasingly "hot" demographic. Across industries, there is an intensifying interest in tracking millennials' purchasing habits and personal values – all in an effort to better position marketing and advertising campaigns to match those preferences. The world of education marketing is no different. Everyone wants to know how to attract, engage with, and recruit millennials.
The results of two recent surveys (one from the United Kingdom and another from the United States) reveal some fascinating trends amongst young millennials who are currently enrolled in, or considering post-secondary programs. And these commonalities converge neatly with LinkedIn's recent launch of several new education-related tools and features. Coincidence? Or does LinkedIn really have its finger on the pulse of what college-bound millennials want and need during their decision-making process.
Or more to the point – is your institution active enough on LinkedIn to leverage its growing influence on prospective millennial students?
First let's look at some of the survey results and then examine how LinkedIn is evolving to meet the unique needs of today's millennial students – and why higher ed marketers should consider LinkedIn an essential part of their social media marketing strategy.
And the Survey Says…Millennial Students are Cost-Conscious
Results from Youth Trends 2015 (a survey from UK-based research firm Voxburner) and the 2014 National Teen Survey (from Northeastern University in the US) reveal that millennials on both sides of the ocean are concerned about money.
83% of Voxburner's 1,156 respondents ranked financial stability as their number one priority – even higher than achieving a particular grade point average. Similarly, the Northeastern Teen Survey participants ranked "being able to afford college" as their highest concern – even higher than terrorism, US crime rates, war, and climate change.
Whether they're comparing tuition or considering career paths, millennials are anxious to avoid debt and secure themselves a stable place in an increasingly volatile economy.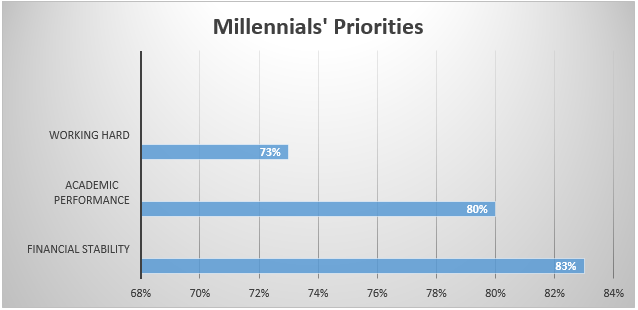 Source
Millennials Want Evidence that a College Degree is "Worth it"
Given their concerns about financial stability, it's not surprising that millennials want proof that your college or university will "pay dividends" on their investment of time and money. The focus on affordability and career outcomes is prompting students to zero-in on the practical benefits of post-secondary education (in addition to less tangible advantages, like intellectual stimulation and personal growth).
31% of National Teen Survey participants (high schoolers) believe that college isn't even worth the cost, and that they're better off pursuing financial security through alternative means, such as entering the work force directly after graduation. Out of 65% who said they planned to attend a post-secondary institution, the majority ranked affordability and job placement rates as top influencers during their college selection process. These factors even outweighed rankings, location and overall graduation rates.
Millennials Want Career Guidance & Professional Experience
In agreement with their American counterparts, 65% of the UK-based millennials confirmed that career planning is a top priority. They actively seek out career advice, and appreciate post-secondary institutions that provide career-mapping tools. Student support services that focus on professional planning, and clearly demonstrate to students how they can affordably and reliably get from point A to point B, are considered extremely valuable by millennials.
It's also worth mentioning that a couple of years ago, ICEF Monitor observed that internships were becoming increasingly sought-after by college applicants as a way of gaining work experience (and getting a foot in the door) while still in school. The survey results we're looking at here confirm that this trend is still going strong.
For millennials who assess schools based on their ability to prepare students for today's workforce, lack of internship opportunities can be a deal-breaker. They want access to real-world professional environments – and the professionals themselves – in order to network and boost their hireability after graduation.
Enter LinkedIn: Evidence, Answers & Decision-making Tools for Millennials
Over the last couple of years, LinkedIn has seen a significant increase in student millennial users, a demographic shift that has boosted its status as a valuable platform for education lead generation.
Beginning with 2013's launch of University Pages and rule changes that allowed students as young as 13 to join, LinkedIn has grown its university membership from 200 institutions to 25,000. And as of 2015, the number of users has reached 300 million. As of 2014, those users included 39 million students and recent grads. How is LinkedIn attracting millennial students? By connecting them with the evidence, answers, and decision-making tools they need to select a college or university. Here are a few such tools that align nicely with millennials' post-secondary priorities:
1. LinkedIn University Finder: Matches Students' Career Goals with Top Institutions
This insightful tool helps students match their field of study, career goals, and geographic location with institutions that boast the highest number of alumni who have successfully pursued the same path.  Here's what the tool looks like:
After I'd stipulated what I wanted to study, and for whom and where I wanted to work, LinkedIn populated a list of results from its database of participating institutions and their alumni. Here's a look at some of the results:
From this page students can see which companies hire the most graduates, which schools produce alumni in careers related to the one they're considering – and even connect with individual grads to ask questions about their academic experiences and professional development.
This tool offers millennials what they crave most: enhanced visibility into what their professional lives may look like if they select a particular school and area of study. And this visibility is based on more than typical marketing messages or institutional promises. It's based on concrete evidence they can rely on to make an informed post-secondary decision.
2. LinkedIn University Outcome Rankings: For Job Placement Success Rates
The survey results confirm that millennials want information on graduates' job placement rates before selecting a particular college or university. LinkedIn's University Outcome Rankings provides that reassurance by analyzing alumni who have landed positions in "desirable" companies in fields connected to their program of study.
LinkedIn then ranks institutions by the number of alumni they've graduated into relevant desirable jobs. The results gives students a sense of which schools best prepare graduates for success in their respective fields of study (ranging from Design and Marketing to Finance and Investment Banking, the study areas change slightly depending on which country is selected: Canada, United States, or United Kingdom).
 Here's what the tool looks like, with the United States specified as the country setting:
3. LinkedIn Decision Boards: To Evaluate Top Choices & Get Advice from Experts
Helping prospective students pull all of their research together and make a final decision, LinkedIn offers users the Decision Board tool.  While investigating their options, students are given the opportunity to "add" a particular school to their Decision Board, which helps them keep track of their top choices all in one place.
What's really compelling is that they can also "share" their board with others – important influencers like alumni, academic counselors, and industry contacts – who can help guide their final selection with insights and advice.
Here's a sample Decision Board:
Takeaways for Education Marketers about Millennials and LinkedIn
As they continue to expand their education tools, LinkedIn's influence is sure to keep growing among career-oriented, cost-conscious millennials in search of post-secondary options. This is prompting colleges and universities to take a closer look at LinkedIn as part of their student recruitment strategy.
Higher ed institutions who want their school to show up on more LinkedIn Decision Boards should consider the following:
Is your University Page crafted with millennial motivations in mind, offering information such as:
– alumni job placement
– top companies who employ grads from a range of programs
– a strong mission or branding statement that emphasizes career planning resources, internship opportunities, industry partnerships, and the accessibility of helpful alumni
Have you cultivated a strong alumni network comprised of members who are both present on LinkedIn and ready to connect with inquiring new students?
Are you updating your page frequently with information about successful alumni, advice for prospective and current students, and Q&A sessions with professors, alumni, industry partners, and admissions staff?
Do you have additional insights about how colleges and universities might harness LinkedIn's growing recruitment power? We'd love to hear about them in the comments section! 
Additional Resources:
To learn more about how to craft an effective LinkedIn University Page, check out this useful resource from ICEF Monitor.