Reading Time:
11
minutes
With a large youth population, growing middle class, and increasing demand for education, Mexico has been earmarked as a high potential market for international student recruitment for a number of years.
One of the four MINT countries—along with Indonesia, Nigeria, and Turkey—identified by investment firm Fidelity in 2011 as having strong prospects of economic growth over the coming decades, Mexico's growing prosperity makes it an extremely attractive prospect for schools looking for new opportunities.
The country is currently estimated to supply just less than 30,000 international students a year globally, over 50% of which are based in the United States. But while the USA has traditionally been the top destination of choice for Mexican students, recent political uncertainty has cast doubt over the future of international student mobility between the two countries.
As a result, US institutions now have to work harder than ever to consolidate and grow their student base across the border, while schools from elsewhere are finding new opportunities as Mexicans look further afield.
Why Mexico Could Be the Next Major International Student Recruitment Market
Dubbed 'The New China' by The New York Times in 2013, Mexico has undergone something of an economic transformation over the past decade, establishing itself as a major electronics manufacturing centre and international trade hub. It is currently the world's 16th largest economy, with a nominal GDP of $987 billion according the most recent International Monetary Fund figures. This growth has come at a time when the country is also enjoying a boom in its youth population, with over 46% of its citizens currently under 24 years old.
Image Source: The British Council
This combination of an increase in both Mexico's college-aged population and its opportunities for skilled workers means that demand for education is at an all-time high. And while educational standards in the country have improved in recent years, it still lags behind many of the world's larger markets, making studying abroad an attractive option for ambitious students.
International Student Mobility Between Mexico and the USA
While the most recent Open Doors report counted 17,052 Mexican students studying in the USA in 2016, an additional study conducted by the International Institute of Education (IIE) a year before revealed that as many as 29,112 students may be coming across the border per year when research fellowships, summer courses, and non-credit studies are taken into account.
The geographic proximity of the two nations makes the United States a natural choice for Mexican students. The strong Mexican cultural presence makes assimilation easier, with many students even having family or friends who have emigrated previously. Being able visit home easily also makes it an attractive choice for family-oriented Mexican students, with the IIE reporting that over 50% of Mexican students were based in states close to the border such as Texas, Arizona, and California.
This close relationship between the two countries had been nurtured by previous governments. 2013 in particular was a landmark year, with the US President Barack Obama launching the 100,000 Strong in the Americas program, which aimed to double the number of exchange students in the Americas by 2020. Around the same time, Mexican president Enrique Peña Nieto announced his government's own Proyecta 100,000 initiative, a plan designed to send 100,000 Mexicans to US universities and attract 50,000 US students to Mexican institutions by 2018.
Example: California State University offers six different programs for Proyecta 100,000 students at its San Bernardino campus. Promoting scholarship options like this can be a great way to increase inquiries from Mexican students.
Both projects are still very much alive and well, but recent political events have led to increased uncertainty about the future of Mexican-American relations, and left students and educators alike wondering what the future holds.
In November 2016, a survey conducted by international recruitment consultants INTEAD revealed that as many as 80% of students from Mexico were less likely to consider studying in the USA if Donald Trump won the election.
Anecdotal evidence from the field also suggests that they are considering other destinations. Following a recruitment fair in Mexico in March, Leigh-Ellen Keating, the International Services Director at Brock University in Ontario, told Inside Higher Ed, "The table was flooded with people, which is not historically what I have seen with the Mexican market. They just want to go to Canada, and historically I think a lot of them would go to the States."
This is not to say that US institutions should give up hope on this market, however. It remains to be seen just how significant an effect recent events will have on the choices of Mexican students, and it could be argued that the positives of the USA as a study destination still far outweigh the negatives.
Indeed, it's possible that institutions who can successfully convey that Mexican applicants will be welcomed and accepted by their school and wider community could see increased inquiries as students search for the best possible options. This can be accomplished by making your existing Mexican student presence more visible on your website and social media, and promoting events that celebrate Latin American culture.
Example: The University of Texas at Dallas recently posted a video of its Cinco De Mayo celebrations on Facebook.  Due to its Southern location, the school has a strong presence of both Mexican students and those with Mexican heritage.
Opportunities for Other Countries to Increase Student Recruitment in Mexico
While it would be premature to suggest that the USA will be usurped as the top destination of choice for Mexican students, there are certainly opportunities for other countries to increase their share in the market.
One country that will likely benefit is Canada, where institutions are optimistic about their chances of attracting students from Mexico in the future. "It's speculative at this point, and we'll of course have to wait and see what happens in terms of enrollment, but there's a lot of change in the world, and when there's a lot of change, people will look for places that they would feel safe in and included," said Richard Levin of the University of Toronto, who reported a 63% increase in applications from Mexico in the last year.
Other factors have also combined to make Canada an increasingly attractive option for Mexican students, such as the current favourable exchange rate between the nations' currencies, as well as expanding air travel links.
In late 2016, the Canadian government also removed student visa requirements for Mexicans staying in the country for less than six months, making it easier for students to enroll in short-term programs. This move could be particularly beneficial for language schools.
Example: Heartland International English School, which offers ESL programs in Manitoba and Ontario, features testimonials from Mexican students on its homepage. The school offers both short- and long-term programs, meaning it provides options for students from Mexico to study there for up to six months without a full student visa. Heartland currently estimates that around 8% of its students come from Mexico.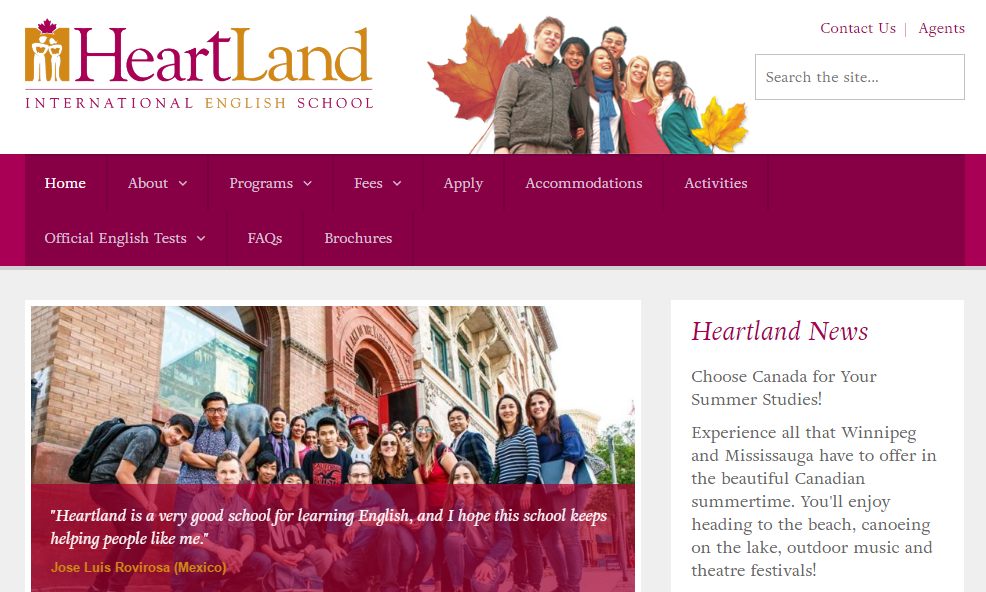 Another country that has moved to strengthen its educational ties to Mexico in recent years is the UK. Currently the 5th most popular study destination for Mexican students, Britain has a particular advantage over other English-speaking countries when it comes to graduate programs, as the one-year Master's programs offered by British universities are particularly likely to appeal to Mexican applicants.
Example: Cranfield University, which specializes exclusively in postgraduate programs, has a dedicated page on its website with information for Mexican applicants, including academic and language requirements, visa information, and scholarship opportunities.
British universities looking for opportunities in this market were boosted in 2015 with the signing of the Mutual Accreditation and Recognition of Awards agreement between the UK and Mexican governments, which allows up to 150,000 students to use their existing academic qualifications to progress to further study. The agreement was the first of its kind between the UK and a Latin American country, and underlines the potential importance of Mexico to British educators.
Of course, it isn't just English-speaking countries that could benefit from increased opportunities in Mexico. Spain is currently the 2nd most popular international study destination for Mexicans, and the common language and historical ties the countries share could easily see its popularity increase.
Germany and France also have a share of roughly 7% each of the current Mexican international student market, giving both a solid foundation to build upon in the country. The fact that both nations allow international students some leeway to stay in the country and find work after graduation could also hold some appeal for Mexican applicants.
The Growing Demand for Language Education in Mexico
Like many international student recruitment markets, one of the key growth areas for Mexico is language education. Despite sharing a border with the United States, English proficiency is lower than you might expect, with the country currently ranked 43rd in the Education First English Language Proficiency Index.
However, a 2015 study by the British Council has indicated that the desire to learn English among Mexican students is growing, estimating the size of the potential market to be as much as 23.9 million people. The report, which included a survey of 1,000 Mexicans aged between 16 and 65, also uncovered the reasons English language training has not had a huge uptake in the country, with costs and accessibility among the key barriers to learning.
This suggests that emphasizing affordability could be a good tactic for language schools hoping to attract Mexican students, possibly by highlighting any flexible financing options you offer, as well as how the cost of living in your location compares to other cities or regions.
Example: The Arizona Language Institute, located just a few hours from the US-Mexican border in Phoenix, makes affordability a key part of its messaging for prospective students.
The British Council study also examined what would motivate Mexican learners to study English, with employment prospects, travel, and quality of life the most frequently cited reasons.
With that in mind, promoting English programs which focus on workplace training could be a sound strategy for schools, while highlighting any tourist attractions and unique experiences your location might offer could also help to attract Mexican students.
Example: This blog post from The Language Gallery, an ESL school with locations in Canada, the UK, Ireland, and Germany, promotes the benefits of learning English for business. Professionally focused content like this should play well in the Mexican market.
Mexico is One of the Largest International Recruitment Markets for Community Colleges
One of the most unique characteristics of the Mexican market is the popularity of community colleges as an option for international study. IIE figures estimate that as many as 24.6% of Mexican students in the USA are enrolled at community college level, compared to less than 10% of international students from the rest of the world.
For a sector that has traditionally found it more difficult to attract international recruits, this represents a unique opportunity. Many Mexican students see community college as an affordable pathway to higher education, with most enrolling in general studies or liberal arts programs in order to qualify for transfer to Baccalaureate programs after completing an associate's degree.
As a result, targeted campaigns highlighting course options, low tuition fees, and progression opportunities could pay real dividends, both for community colleges in the USA and other countries hoping to gain a foothold in the Mexican market.
Example: Cochise College in Arizona highlights its affordability and transfer agreements with universities prominently in its messaging. The community college is located in Southern Arizona just a stone's throw from Sonora, Mexico. It even offers resident tuition rates to Sonoran students, who often commute to and from the college.
Recognizing Mexico's Regional Diversity When Targeting Prospective Students
Speaking to ICEF Monitor in 2015, the Executive Director of Mexican educational organization LAMAT Joshua Tripp was keen to stress how important it is for schools to understand the differing motivations of prospective students in different regions of the country.
Since Mexican culture can be very family-oriented, many students are not necessarily looking to remain abroad once they finish studying, and will be looking for qualifications that will create opportunities for them in their local region.
Depending on what part of the country they come from, this can mean very different things. For instance, the northern part of the country is home to a thriving manufacturing industry, meaning students may be looking for technically-focused education, while central Mexico is a hub of arts and culture.
Students from Mexico City are more likely to be interested in business or finance programs, while those in Yucatan, which is one of the country's main tourism centres, may favour hospitality programs or language training.
Example: The University of Texas offers an Executive MBA program with classes based in Mexico City, the country's main business centre. The program is specifically pitched at Mexican students who want to earn a US degree but would prefer to stay close to home.
This information can be crucial in helping schools figure out where they should focus their education lead generation efforts, and help them to create content that will connect with the unique motivations of students in specific parts of Mexico.
Best Practices for Recruiting Students from Mexico
When you are looking to recruit students from Mexico, it's important to give them a perspective they can really identify with. Featuring testimonials from current Mexican students and highlighting past successes can be very effective, and you could also consider employing current students as student ambassadors, so that prospective Mexican applicants can gain an insight into your school from people who share their culture, values, and goals.
Example: Queen's School of English at Queen's University in Canada employ student ambassadors to answer queries from Mexican students.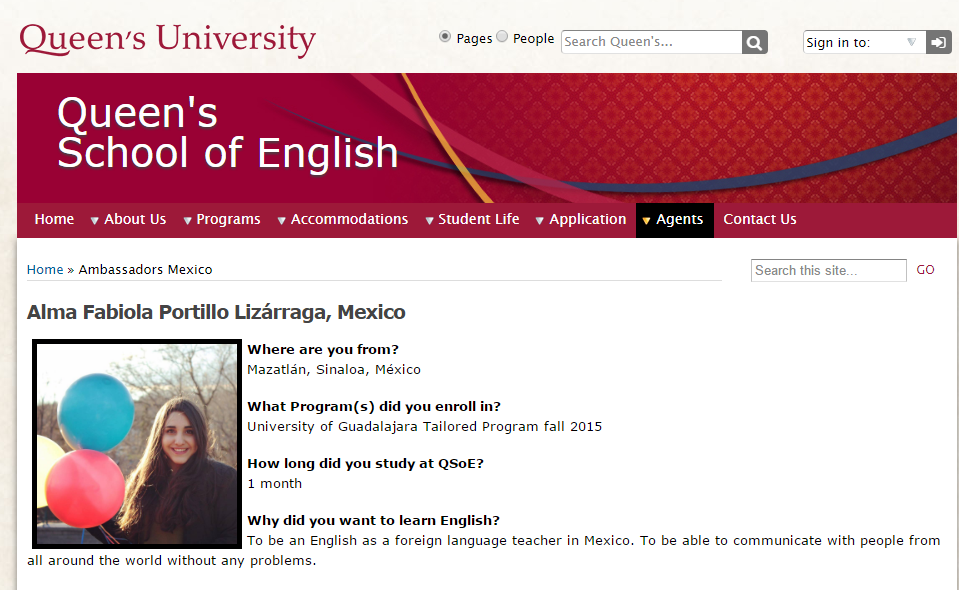 In addition, given that English proficiency levels in Mexico are not very high, it may be worth considering creating multilingual paid advertising campaigns and Spanish content in order to target them more effectively, particularly if you are promoting ESL programs.
Recent uncertainties make it difficult to predict just what the future holds for international student mobility in Mexico. While the current political climate casts some doubt over whether the United States can continue to dominate the market, American schools are still in a good position to attract Mexican students provided they work hard to make them feel valued and accepted. Nonetheless, there is evidence that Mexican applicants are becoming more open to other destinations, and countries like the UK, Canada, and Spain could well see their opportunities increase.
Regardless of where you are based, however, the projected growth of the market means that establishing a strong presence in the region now could pay huge dividends over the next few years, giving your school a foothold in a market with enormous future potential.