Reading Time:
7
minutes
Research shows that 92 percent of social marketers are now using Facebook advertising.
Facebook's enormous and diverse user base, and expanding advertising capabilities (including mobile options) make it an ideal social media platform for student recruitment – worldwide!
Why are so many brands, including educational institutions of all types and sizes, so excited about advertising on Facebook? There are several advantages, including:
Affordable prices: you can run an ad for as little as $5 (and have total control over your overall budget)
Wide range of targeting options to reach your audience
Spend, performance, and ROI are easy to track and measure
Most colleges, universities, language programs, secondary schools, etc. have already made Facebook their primary social media platform. Promoting certain posts or running advertisements is an intuitive next step – and yet many schools still haven't jumped into the fray.
Considering getting started with Facebook advertising, or want to ensure that your existing ads are getting the clicks they deserve?
Take a look at our 6-point checklist for creating ads that will yield the maximum number of inquiries and applications for your institution.
1. Define Your Audience & Make Sure Your Ads are Effectively Targeted
It's best practice to define your student or parent personas before launching any kind of digital recruitment tactic – but when it comes to recruiting students with Facebook advertising, effectively targeting the appropriate audience can truly make or break your success.
Once you know characteristics like the age, gender, location, interests, etc. of the persona you'd like to reach, be sure to fully leverage Facebook's targeting tools (including advanced options) for advertisers:
How Targeting Helps Protect Your Ad's "Relevance Score"
Not only are effectively targeted ads much more likely to actually engage your intended audience (and result in conversions), they will also help you maintain a healthy "relevance score" on Facebook.
Facebook scores your ad from 1 to 10 based on the positive or negative feedback they expect it will generate from viewers. The more times they predict viewers will hide or report your ad, the lower its score will be.
Facebook wants to ensure that the ads people run are actually targeted to an audience that will appreciate and want to engage with them (rather than being perceived as spam).
Tracking the relevance score of your ads will help you:
lower the cost of reaching people on Facebook: the higher your ad's score, the less it costs to be delivered
test creative options to see which version of your ad yields the highest score
optimize ads that are already running by monitoring their scores and making improvements when needed to improve conversion
It's also important to follow through with targeting by ensuring your ad content speaks very clearly to your intended audience. It's not enough to simply get your ad onto their news feed. It needs to persuasively resonate with their motivations, concerns, stage of life, interests, etc.
Here's a strong example of audience-targeted ad content from Grand Canyon University. It's clear that they are speaking to mature students looking for reputable online PhD programs so they can further their education with maximum flexibility:
2. Include Engaging Visuals that Reflect Your Prospective Students
Grand Canyon's compelling ad image underscores the tremendous importance of including engaging visuals in your Facebook ad.
One tried and true approach is to showcase authentic images or video of real students and alumni to bring authenticity to your advertisement, and help your target audience "see" themselves in your content.
Here's an example from Academy of Learning College whose Facebook ad features a video slideshow of their own students on campus:
Including real students in your ads helps draw viewers into your academic community, humanizes your brand, and minimizes the perception of your ad as spam (all of which translates into more clicks).
Kissmetrics declares the image the most important component of your Facebook ad. Here's their list of what NOT to do:
Don't use low-quality images or generic stock photography
Don't steal anything from Google Images
Unless you're a famous brand, don't use your logo
All good advice when using social media advertising for student recruitment. The most persuasive Facebook ads capture viewers' attention with genuine images that feature real people – preferably real people who go to your school!
3. Hook Prospective Students with a Clear Value Proposition
You don't have more than a second or two to convince Facebook users to click on your ad. Don't beat around the bush. Make your message clear, and razor-focussed on the value your offer brings to prospective students, parents, agents, etc.
Here is a simple yet effective example from the Career College of Health, Science and Technology (CCHST), which highlights three ways students benefit from pursuing their Office Administrator program (quick training, a recognized diploma, and industry-relevant certification):
And here's another example from UCLA's Anderson Business School that is very specific about what students have to gain from their intensive 3-day micro course. Their value proposition combines an introductory statement with a tagline, which overlays the ad's image, drawing your eye down toward the "Sign Up" CTA: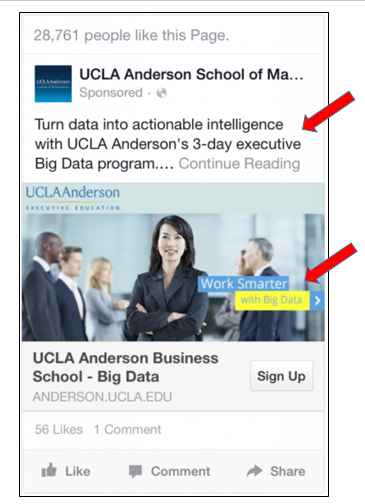 The ad clearly communicates what the course teaches, how long it lasts, and what students have to gain by enrolling (the capacity to "work smarter with big data").
4. Add a Call-to-Action with a Special Offer
It should be intuitive that providing "next steps" is crucial for boosting the click-through rate of your ad; however, many institutions neglect to include a clear Call-to-Action (CTA) in their Facebook ad.
Viewers want to know that clicking on your ad will be worthwhile, so why not beef up your CTAs with some kind of added value you know will interest your target audience?
This could be as simple as offering an easy online sign-up for free information and a campus tour, like this example from Academy of Learning College:
Other content offers might include viewbooks, e-brochures, a trial class, or an invitation to view student video testimonials. Rather than soliciting clicks with the ubiquitous (and somewhat vague) "learn more", give your viewers something relevant to look forward to when they fill out your landing page form or arrive at your website.
5. Think Beyond "Conversion" & Nurture Conversations
Your Facebook ads don't exist solely to generate clicks. They also represent powerful opportunities to engage with your target audience and promote a positive school brand.
When your school's advertisements get shared, "liked" or commented on, be sure to talk back and show thanks!
AOLC has a valuable opportunity to reach out here, when a fan posts on one of their ads about how excited she is to be submitting an application:
Think of your Facebook ads as conversation-starters. Thoughtful responses can help generate buzz about your institution, encourage further interactions, and differentiate your advertising from competitors – who likely aren't taking the time to talk back when users engage with their ads.
6. Track, Measure,Test, Improve…Repeat!
Facebook has its own tools schools can use to measure the performance of their ads. These tools also include instructions on how to fine-tune your copy and images to improve CTRs.
A/B testing (or split testing) should also be a part of your ongoing analyses, because it allows schools to know precisely which elements of their ads resonate most persuasively with targeted audiences.
Schools can run two ads that are identical except for one small variation, and then use the tracking tool to measure engagement, and determine which ad to run with.
Examples of ad elements you could test include:
images (try testing how human images perform against non-human visuals, or video content versus a still image)
CTAs (placed at the top of the ad versus the bottom, or two different approaches to CTA text)
textual description (compare phrasing of two value propositions)
You'll find steps for A/B testing your ads on Facebook's Ads Manager.
Routinely tracking, measuring and testing your ads is the best way to boost your click-through rates and enhance the overall ROI of your social media student recruitment.
What else would you add to this checklist for improving CTRs on Facebook ads?
Have you discovered any unexpected results by A/B testing your Facebook ads?
We'd love to hear your observations or questions.