Reading Time:
10
minutes
When designing a website, many schools have a tendency to think about it purely in terms of aesthetics. Does the site have a sleek, modern look? Does it make good use of visuals? Does it use the school's branding well?
While these are all important things to consider, the actual purpose of the site – the goals it is being designed to accomplish – can often be left out of the conversation. One of the most crucial of these is the role of a website in driving more conversions from prospects.
Although it may not seem obvious, your website's design, structure, and navigational elements can all have a massive impact on your conversion numbers. 
By structuring your site specifically with conversion optimization in mind, you can ensure that its user journey naturally moves visitors towards signing up for your mailing lists, making inquiries, or even applying. Keep reading to find out how.
Understanding the Relationship Between Education Web Design and CRO
To understand how a website's design can drive conversions, you need to understand a little bit about user experience (UX) design. UX design involves considering the overall experience and user journey a website provides to visitors, and planning your design to make it as enjoyable and intuitive as possible.
A good UX design process will consider everything from the look and feel of a website, to its navigation, to accessibility, to content, and a whole lot more besides. Good UX makes your website a welcoming and pleasant experience for your prospects, which in turn increases their likelihood of converting.
Crucially, it also has a natural relationship with conversion rate optimization (CRO). In your efforts to improve the user journey on your website, you will also be able to define where it leads. This means you can direct prospects to conversion more efficiently by making the path towards it easier to follow and removing any roadblocks that might pop up along the way. There are a number of ways to accomplish this goal.
Making It Easy for Prospects to Find the Info They Need to Convert on Your School's Website
When a prospect lands on your website, they are looking for information. They may want to find out more about a specific program or course, learn about your location, or explore another aspect of life at your school. 
Simply put, if they can't find out what they want to know, they won't convert. This means that you need to make sure that your education website design process takes a 'content first' approach, and that your pages leave plenty of room for informative copy, videos, and other elements which will help you provide the information your prospects want. 
If they commonly seek out detailed information about the curriculum of certain programs, make sure this is available on your program pages. If they are often curious about student life, create a student life section on your website. These might seem like obvious points, but you would be surprised how many school websites tend to be a bit light on the content that matters to future students. 
Example: Linköping University's website has a very detailed Student Life section. The main page is full of links to useful articles and videos to help prospects learn more about studying in Sweden.
It's also crucial that this information is easy to find, and that means carefully planning your website navigation. Analyze your menus, as well as the links on your homepage and other frequently visited pages, to ensure that there is a clear path to pages that prospects are likely to want to visit. 
This can sometimes be easier said than done for larger schools with a lot of different programs and facilities, as their sites can often number hundreds of pages. Creating tiered menus that clearly point prospects in the right direction can be an effective solution.
Example: The University of Chicago uses a two-tired menu on its website.
By paying close attention to this aspect of your design, you will make your school easier to learn about, increasing your chances of engaging prospects and convincing them to take the next step. 
Shorten Your Conversion Path to Generate More Leads for Your School
In addition to making it easy for prospects to find the information they need, you need to make it easy for them to convert. Whether you are looking for inquiries, mailing list subscriptions, applications, event registration, or anything else, you need to provide a clear path to conversion on your website. And that path should ideally be as short as possible. 
Think of a prospective student landing on your homepage now. If they want to make an inquiry, how do they do it? Can they get to an inquiry form in one or two steps, or do they need to navigate through a few pages? Is it clear as soon as they land on the page how they can make an inquiry, or do they have to find that information themselves?
You can ensure that your high ed website design drives prospects towards conversion by strategic placement of Calls to Action (CTAs). For example, many schools will place inquiry and application CTAs within the main menu of their site, so that prospects can always access them quickly from wherever they are. 
Example: The Cumberland College website features a top menu on every page with CTAs enabling visitors to book an information session, make an inquiry, or apply online. This means prospects are never more than one step away from conversion.
If you are using this tactic, make sure your menu is sticky so that it will follow users as they scroll down the page.
To make the path to conversion even shorter, you can also place lead capture forms directly on your pages, rather than have prospects click CTAs or links to access them. This means that prospects can convert instantly as soon as they are ready.
A lead capture form can be placed in the right-hand column of a page, within the main banner, or in the centre of the page, depending on what best fits your design.
Example: Oxford College, a career college in Ontario, places an inquiry form on the right-hand side of each of its web pages.
For best results, be sure that your CTAs and forms point to a variety of offers suitable for every stage of the enrollment journey. A prospect in the awareness stage, for instance, might be more likely to sign up for a newsletter or mailing list than make a direct inquiry or attend an event, which are more likely to be consideration stage actions. You'll also need a clear path for those further down the funnel to apply.
Place the CTAs for these offers on appropriate pages (e.g. an Apply CTA should be on your How to Apply page), and ensure that your lead capture forms are optimized to encourage signups. For example, a newsletter signup form should be relatively simple, perhaps asking for just a prospect's name and email rather than a slew of information.
Example: Concordia University's newsletter signup form requires just a visitor's name and email.
An inquiry form, meanwhile, might be more effective if you collect all the information your admissions team will need to follow up with a prospect.
By making these offers easy to find, appropriately placed, and simple to avail of, you will create user journeys that align with your school's goals.
Create Landing Pages to Improve Your School's Conversion Rates
While you should definitely include forms on your regular website pages that allow prospects to convert directly, it's also advisable to build landing pages for each of your conversion offers.
A landing page is a page that's purpose-built to capture a lead's details in exchange for a particular offer, such as a brochure download, an event registration, or an inquiry response. The page will provide a brief synopsis of the offer and why a lead should avail of it and include a form for them to submit. 
It will also limit navigation, with your main website menu removed from the page and no links to other pages in the body text. This reduces the likelihood of the user leaving the page without converting. 
Example: This landing page from the University of Geneva follows all best practices – offering concise information about the offer, limited navigation, a clear CTA, and a form to facilitate lead capture. 
Landing pages are important because they improve conversion by directing users very clearly towards a single destination. They also help to provide context to your offer, with persuasive copy that communicates exactly why a prospect will benefit from submitting. 
Where possible, any CTAs on your site that lead to conversion events should direct to purpose-built landing pages. You should also use them in any ad campaigns your school is running, and in email marketing where relevant. 
Mobile-Friendly Education Website Designs Convert More Leads
With mobile phone users accounting for approximately half of web browsing worldwide, making sure your higher education website design is optimized for mobile will go a long way to increasing your chances of generating conversions.
This goes beyond simply having a responsive site. Even if your pages are made to fit for mobile, you need to pay extra attention to the elements of your design which direct users towards conversion opportunities, and ensure they translate to mobile design.
Your menus may need to be abridged or changed to make it easier for mobile users to navigate your site, and you may need to resize CTAs to make sure they a large enough for mobile users to notice or click.
Example: Hult International Business School's website is fully optimized for mobile, with menus, CTAs, and copy rearranged for an optimal mobile browsing experience.
It's also crucial that your forms are easy for mobile users to fill in. Nothing will turn a user off faster than a form with fields and dropdown menus that are hard to complete on their phone. 
Your Website Speed Could Make a Dramatic Difference to Your School's Conversion Numbers
Did you know that the average website user is 32% more likely to bounce from a web page that takes 3 seconds to load compared to a page that takes one second? It might seem like no time at all, but these few seconds can make all the difference in an era where internet users are becoming increasingly accustomed to lightning-quick browsing speeds.
If your prospects experience slow load times on your website, they will become frustrated and therefore be less likely to convert. Improving your page speed could play a big role in maximizing your conversion rates.
You can see how your load times stack up against others by using Google PageSpeed Insights. This free tool not only rates your desktop and mobile load speeds, but provides actionable insights into how you can improve.
Example: A PageSpeed Insights report for a school. The report provides diagnostics on what is slowing the website down, as well as details of steps that can be taken to improve it.
When considering your website speeds, it's also important to consider the connection speeds of your audience, which may differ drastically from your own, particularly if you are recruiting international students. Take a look at this chart from Fastmetrics which details average connection speeds in mbps (mega bits per second) across the globe: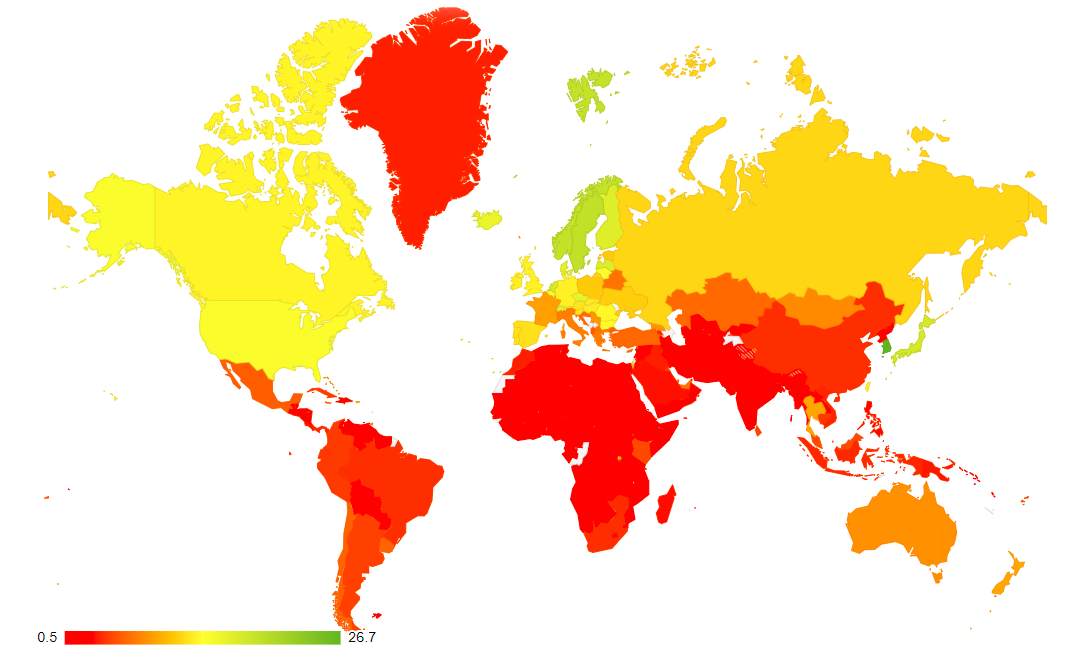 Source: Fastmetrics
As you can see, connection speeds across Europe, North America, and Australia are much higher than the rest of the world. If you're working for a school in one of these regions and trying to recruit prospects from South America, Africa, or Asia, load times may be much slower for your prospects than for you, making it doubly important to make your site as fast as possible.
Not only that, but page speed is also becoming increasingly important in SEO. Google's recent Page Experience update places load times very much at the forefront of its ranking factors, and is predicted to dramatically affect rankings in the coming months. This means a slow website could stop you from attracting the traffic you need to convert more prospects in the first place.  
Testing and Measuring to Optimize Your School's Site for Conversions
Like anything in digital marketing, optimizing your website for conversions is often a matter of continuous testing, measurement, and improvement. 
If you are introducing new forms or CTAs, trying out different placements, creating new landing pages, or anything else in order to convert more leads, always be sure to take the time to analyze your results. 
You can use Google Analytics to track common conversion paths for your website goals, and look at your CRM and marketing automation reporting to identify top performing CTAs, forms, and landing pages.
Where needed, you can even split test different designs, placements, and copy to see what performs best.
In time, you will hit on the right formula to ensure your website design is helping you attract as many conversions as possible.