Reading Time:
11
minutes
With summer over and a new academic semester in full swing, this time of year is often a period of transition for many schools when it comes to their student recruitment activities. As 2019 approaches, the thoughts of many professionals will be turning to their goals for the coming year.
In addition to looking forward, however, it can also be beneficial to reflect on the past. For schools that are finishing their recruitment cycle and preparing to enter a new one, a post-campaign analysis can be a useful exercise that allows you to take stock, brainstorm new ideas, and pinpoint improvements in the overall execution of your campaigns.
While certain aspects of digital marketing, such as organic SEO and content creation, are meant to be done on a continuous basis, it can still be worthwhile to review your overall performance over a given period when you are looking to redefine your strategy going forward. Others initiatives, like paid advertising campaigns, may have more set end dates, giving you the perfect window of opportunity to evaluate them.
Here's how to evaluate and analyze your activities to maximize your potential insights.
Revisit Your Initial Student Recruitment Objectives
The first step in this process is to go back to the initial goals you set for your student recruitment initiatives. Aside from telling you immediately how close you came to achieving your objectives, doing this will also help you ascertain whether your success or failure in meeting them is an accurate barometer of your campaign performance.
For a start, your school should evaluate whether the goals it set were clear enough in hindsight. You may find that your objectives were not particularly well defined, and even that you are unable to say for certain if you had met them. This is a valuable lesson which you can carry forward into future campaigns.
Additionally, you may conclude that the goals you had in mind when your campaign was first developed were unrealistic, and that you need to be more conservative or do more comprehensive evaluations of your potential enrollment targets in the future. At the other end of the scale, it is possible that your school may not have been ambitious enough, and failed to maximize the potential opportunities available to them.
Other times, circumstances beyond your control can come into play. Economic fluctuations, your competitors' activities, or even small things like weather and social trends can all have an impact on your success that may have been impossible to foresee when you began your campaign.
The political climate can be a factor, too. For example, Times Higher Education reported in 2017 that applications to universities in the UK from EU students had fallen by 7% due to concerns over Brexit. A school which implemented a marketing plan for student recruitment that failed to account for this development could find themselves struggling to reach the targets they set.
Break Down Your Results by Channel and See What the Data is Telling You
The best student recruitment strategies are multichannel and complementary, with social media, website content, SEO, PPC initiatives, and other efforts all feeding into one another's success. However, when reviewing the results of a campaign, it can be useful to break things down by channel, allowing your team to analyze the role each played in achieving your objectives, and how successful it was.
Here is what you should be looking for when it comes to the main specific elements of your campaign:
Web Content
Strategically focused content such as blogs, videos, and infographics can be a driver of both short and long-term success in student recruitment. In the short-term, compelling content can yield immediate results for your school, communicating the unique selling points of your programs and courses to prospective students and driving them towards enrollment.
Example: Blogs like this from Syracuse University College of Law can be a great way to entice potential applicants to consider your programs.
On a more long-term basis, regularly publishing quality content can serve to strengthen your organic SEO, helping to get your website found by prospective students in key searches.
When evaluating how well your content strategy has been executed over a given period, there are a number of sources you can look at to gather insightful data. Google Analytics is a good place to start. Analyzing your web traffic, conversions, and goal completions in relation to your content will give you a good idea of how well it is working to helping you achieve your goals. Reports like the Landing Pages Report, the All Pages Report, and the All Pages Navigation Summary will give you detailed insights into activity generated by each of your pages, while the Reverse Goal Path report will also tell you what content is driving leads towards conversion.
Example: The Reverse Goal Path report allows you to view what pages prospective students visited before they converted.
You can also use tools like Moz to evaluate whether your rankings have improved for your targeted keywords, and look at metrics like social shares for specific posts to get an idea of how engaging your audience finds your content.
Using these key performance indicators (KPIs), you can pinpoint content that was effective and compelling, and posts which weren't, and use this information to plan your content strategy in the future.
Social Media
Analyzing the success of social media will likely involve the use of a number of different analytics platforms. Native tools such as Facebook Insights, LinkedIn Analytics, and Twitter Analytics will all give you channel-specific data for each site, but you will also need to make use of other tools to maximize the amount of actionable data you have to work with.
The Channel Report in Google Analytics, for instance, will help you to see which social channels are driving traffic to your website. Meanwhile, many marketing automation and CRM platforms, such as HubSpot, have built-in social data gathering tools which will help you evaluate which sites are generating the highest quality prospective students.
Because social media can be used both to increase awareness and to drive prospective students towards enrollment, much of your analysis of your results will depend on how much weight you have put on one or the other.
Most likely, you will have set your goals mainly with attracting prospective students in mind. In this situation, bottom line metrics such as Click Through Rates (CTRs) to your website and landing pages will probably be the most instructive when it comes to organic social media. If your goal is to increase awareness, looking at the amount of followers you have on different channels compared to when you began your campaigns will probably provide the best insight into how well they have gone, but you can also look at other engagement metrics such as the amount of reactions and comments on posts, the percentage of video content that is being viewed, and your overall post reach.
Example: Facebook Insights offers a wealth of data regarding post engagement and reaction.
Paid social is also likely to be an important part of your campaign, particularly as organic reach on social media platforms like Facebook becomes more limited. You can judge much of the success of a paid campaign using the same KPIs as organic posts, but you should also account for cost-dependent metrics such as Cost Per Click (CPC) and Cost Per Lead (CPL) to evaluate whether your initiatives have provided value for money.
When reviewing social media, comparing your performance across different channels can also be extremely important. Your school may find that certain sites are more effective for reaching prospective students than others, and should play a bigger role in your strategy in future.
Example: HubSpot's social reports offer a comprehensive comparison of performance across a number of social channels, measuring both engagement and lead generation.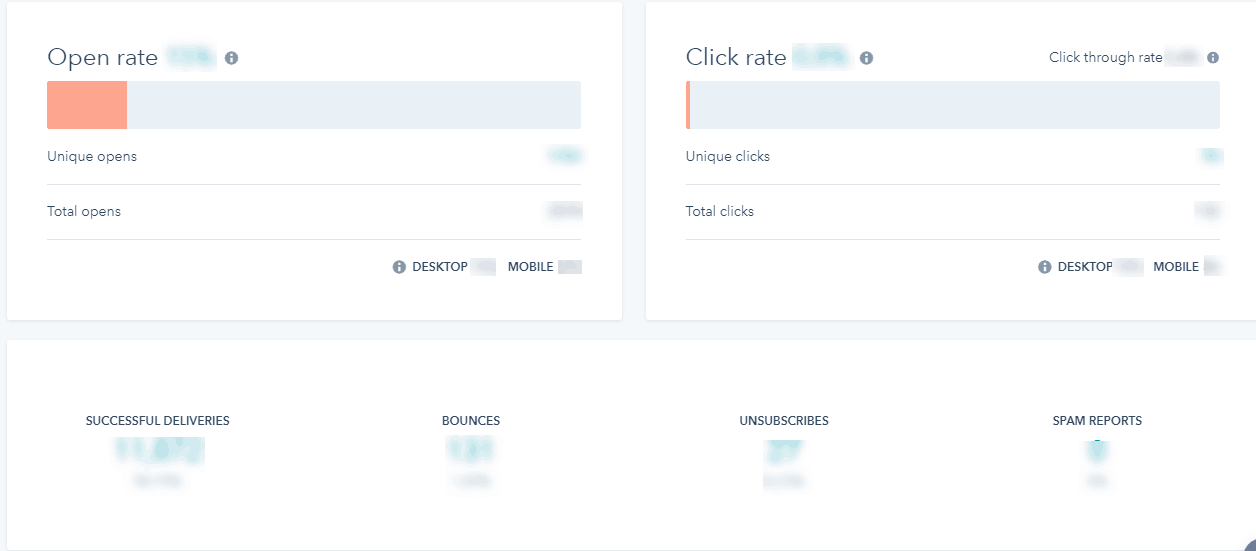 Paid Search Advertising
Pay per Click advertising will also likely have played a role in your campaigns, and it can be important to delve into KPIs such as you average CPC, CPL, and CTR, as well as reviewing your total budget over a given period. Aside from that, you may also want to track the improvement of your quality score and your average position over time.
Example: AdWords offers a number of valuable metrics that will help you judge the success of your campaigns.
If your campaigns have been executed well, your school should see them become more cost-effective, with lower bids required to get your ads shown in the searches you want. You can also use analytics tools to gather data about any landing pages connected to your campaigns.
Example: Users can access a number of useful metrics about the performance of any landing pages created on HubSpot.
Lead Nurturing Initiatives
How well you follow up on inquiries from prospective students can make a crucial difference in the success or failure of your campaigns, and you should look at your CRM data to determine what percentage of leads converted to enrollment, how successful your team was in making contact with prospective applicants, and how far down the funnel prospects progressed before dropping out. You should evaluate this in relation to leads generated from each of your digital marketing channels to assess their effectiveness.
If you have been reaching out to leads through email, SMS, or instant messaging, you should also look at your CRM and marketing automation reports to measure the success of these efforts. Useful metrics to consider include open rates, CTRs, and unsubscribes, as well as other data which may be offered depending on the platform you are using.
Example: CRM and marketing automation platforms like HubSpot often provide email reporting features.
Organic SEO
All of these efforts will also have an effect on the overall health of your organic rankings in search, with each contributing to strengthening or weakening your website's overall SEO authority. Viewing how your total traffic, average positions, clicks, and conversions have improved over a given period of time in targeted searches will be a good overall barometer of how well your student recruitment efforts are going, and will also tell you how strong a position you are in as you begin any new initiatives. Google Search Console can be a great source of insights for these metrics.
Example: Search Console will offer insights into what searches your website is being found for, as well as what kind of engagement it is attracting.
Conducting a Creative Analysis of Your Student Recruitment Strategies
Of course, when you are measuring the success of a marketing strategy for student recruitment, the numbers may not tell the full story. As you review your school's results, it is important to take a fresh look at the creative approach you took to your campaign across different channels at the same time.
This will help you establish if any problems, underachievement, or missed opportunities were the result of poor strategy or creativity. For instance, if your blog posts have not attracted the engagement or SEO benefits you were hoping for, you may find that on second glance they simply could have been written better. On the other end of the scale, you could, for example, have done a great job of creating varied, high quality content on your social media channels, but failed to allocate enough budget towards promoting your posts, severely limiting its potential reach and effects.
Example: As an illustrative example, take a look at this post from Western University. A school looking to review the creative elements of it could look at its copy, its use of hashtags, and the visuals included to determine how well done they were.
Similarly, PPC campaigns could underperform due to unimaginative ad copy or a poorly designed landing page, rather than any targeting or budgetary missteps. Considering the creative elements of your campaigns along with the data you have accrued about their effectiveness will help you identify the mistakes you made and areas where you can improve.
Get Feedback from Key Stakeholders
The challenge of a post-campaign analysis is to recognize the root cause of your problems, and judge your work with a critical eye. This can be quite difficult when various members of your team have poured a lot of effort and dedication into a number of specific areas, and you may find that they are understandably defensive about their work.
For instance, the person in charge of creating your content might be reluctant to admit it could have been put together better, and be more inclined to attribute any disappointing results to targeting, budget allocation or other factors, while the person who handled the advertising spend might have the opposite attitude.
For this reason, it is important to seek feedback from all of your key stakeholders when conducting your analysis. This will allow everyone to have their say on what they think could have been done better, and help you to gain a wider consensus on how every element of the campaign was viewed.
Seeking feedback from your team will also allow you to gain insights into the operational realities of your campaign, which could put some of your results in a different light. You might find, for instance, that an initiative that looks wildly successful on paper was actually much more difficult to carry out in terms of the workload or time it demanded than you had originally estimated it to be.
For instance, while a well-made video can attract a lot of engagement, the time spent writing the script, shooting it, and editing it together can quickly add up, making its numbers seem less impressive when the resources involved are considered.
Example: This video from the University of Guelph is very well-made and attracted over 27,000 views on YouTube. However, it is worth considering the amount of hours that must have gone in to shooting such an extensive amount of footage and editing it together when judging its success.
In addition to seeking feedback from your team, you can also look to your audience. Some schools periodically survey new students about their experience during the admissions process, allowing them to see firsthand how their efforts were perceived.
It might also be possible that you have gained a healthy amount of feedback from prospective students who chose not to proceed towards enrollment. If you have a CRM system which allows you to take notes about every contact you make with leads, or even record calls, exhuming this data at this point could provide you with a wealth of information about what it was you could have done better during the process.
Example: CRM systems like Mautic allow members of your admissions team to make notes about calls.
Provide Recommendations for the Future
Once you have gathered information from all of these sources, you can assemble it into thorough analysis to present to your team. Even more crucially, you can draw up a comprehensive list of recommendations for your next major campaign or student recruitment cycle.
This could include:
Refined target personas
A revised channel strategy
A revised budget
New, more well-defined goals
Possible changes in your creative approach
Operational changes in your team's strategic approach to the campaign
Above all else, you should remember to consider both the good and the bad of your previous campaigns. While those that ignore their mistakes are bound to repeat them, a school which focuses too much on the negative may miss out on opportunities to accentuate and build on the elements of their campaigns that have performed well. Taking an honest, unbiased view of the whole picture is the key, and will give you the best chance of improving in the future.