Promoting ESL Education as a Route to Further Study for International Students
Date posted: May 3, 2017
While there are a number of good reasons to learn English, an increasing number of international students now see it as a means to secure a better education. The education systems of English-speaking countries like the USA, the UK, Canada, and Australia are widely recognized as being among the best in the world, with each attracting thousands of international applicants each year.
Additionally, there has been a growing shift towards English becoming the globally accepted medium of instruction for study, with an increasing number of programs being taught in the language in non-English speaking countries. A 55-country study carried out in 2015 by the British council revealed that as many as 90.9% of private universities and 78.2% of public universities worldwide now allow programs to be delivered in English, with institutions in other education sectors also reporting an upward trend.
As a result, demand for English language programs as a route to further study is only going to increase, with ESL providers at all levels standing to benefit. Read on to find out how to capitalize on these new opportunities.
Pathway Programs and the Broadening Scope of ESL Education
One of the biggest indicators of the increased importance of English language education in academia has been the rapid growth of ESL pathways in recent years. Sometimes referred to as foundation programs, International Year One, or preparation courses, these programs are aimed at students who do not currently meet all of the admissions criteria for entry into undergraduate or Master's studies, and usually provide some combination of ESL instruction alongside certain academic components. Pathways can either be run in-house by the institution itself or through private providers.
Example: Like many other universities in the UK, The University of York's International Pathway College is run through a private provider, Kaplan International Colleges. It is estimated that private providers make up as much as 50% of the global pathway market.
This emerging market has been growing year after year. A study conducted in 2015 by StudyPortals and Cambridge English estimated the global pathway market to be worth up to USD$825 million per year in tuition revenue. By the time they updated the study in 2016, that figure had risen to USD$1.4 billion.
The advantages of pathway programs are quite clear. Schools can be confident that any students they accept from these programs have been trained to the standards they require, while students get the benefit of language education which is tailored specifically for their end goal of progressing to further study. They learn how to apply their English skills in an academic context and they become familiar with complex terminology and phrases that might be common in their chosen field.
The pathways market is not limited to universities. As international student recruitment has become more important to community colleges in recent years, many have begun to institute pathway programs as a bridging option for prospective students.
Example: Vancouver Community College offers its own ESL pathway, which helps students get to the level of proficiency required for the college's programs.
A different kind of model is also slowly emerging among career colleges, many of whom now offer added ESL components to specific courses for international newcomers, which allow them to improve their English while also gaining a recognized professional qualification.
Example: Saint Elizabeth Health Career College offers a program that combines Health Care Assistant training with ESL education in British Columbia. International students can bring their English skills to the standards required in the Canadian workplace while simultaneously obtaining their healthcare qualification.
International Student Recruitment Opportunities for Standalone ESL Providers
Although the demand for pathway programs is evident, adoption of the model has not been consistent worldwide. While countries like Australia and the UK have plenty of established programs, North America and other parts of the world have been slower to introduce pathway options. The table below shows the distribution of pathway providers around the globe at university level:
Where pathways are not widely available, traditional language schools could also find new opportunities. As demand continues to grow, standalone ESL providers who offer English for Academic Purposes (EAP), or other options to help students meet the entry requirements for further education, can expect to see increased interest in their services.
Example: ALPS Language School in Seattle provides academic preparation for TOEFL and IELTS exams, which are commonly used by universities to measure English proficiency. Given that the USA has been slower to adopt the pathway model in comparison to other English-speaking nations, this can be a fruitful strategy for traditional language schools.
Regardless of the type of school you are working for, the increased range of options and new players entering the language education market also highlights the need to work harder to distinguish yourself to this group of prospective students. The ESL landscape has become increasingly crowded, and schools need to be able to communicate the advantages of the options they offer clearly in order to stand out from the crowd.
Developing Personas to Appeal to Aspiring Academics
The key to promoting ESL education to prospective applicants with ambitions of further study is to know what your potential market wants. Your school may need to conduct extensive research to pinpoint the most popular institutions, areas of study, and exam preparation required among your target personas.
This will allow you to develop targeted online student recruitment content which highlights exactly how your programs can help them get where they want to go, promoting your location, any links you have with popular institutions, and any recognized qualifications or exam preparation you offer for students.
Example: This video from ILSC, who provide pathway programs in a range of locations in the USA, Canada, and Australia, is perfectly pitched for the motivations of their target audience, presenting what they have to offer simply and effectively.
Highlighting Progression Opportunities for Prospective ESL Students
When trying to appeal to ESL students aspiring to further study, it's crucial to make it clear just how your programs can help them reach their goal. For instance, many university pathway programs offer some form of conditional acceptance to students, and this should be highlighted prominently on your website, landing pages, and any promotions through social media.
Example: The University of Maryland Baltimore Country offers conditional acceptance to students who complete the bridging program at the school's English Language Institute. The university makes this a prominent part of its messaging focus.
Pathways which are linked to a number of different institutions and programs have the added advantage of offering international students a wide range of routes to further study, and this should be emphasized as much as possible. Creating blog posts which focus on particular program choices, study destinations, or institutions is a great way of accomplishing this, and can really help to get prospective students excited and motivated about their educational journey.
Example: This blog post from CultureWorks, a pathway provider in Ontario, highlights the numerous study possibilities available to students who progress to undergraduate degrees with its partner institution Brescia University. This type of content can be a great way to appeal to the specific motivations of your targeted personas.
Even if your language school is not directly linked to an institution, you can still promote the progression opportunities your programs can offer, particularly if you provide preparation for standardized English exams like TOEFL, IELTS or Cambridge English. These programs can be a stepping stone for international students seeking further education, providing them with universally recognized proof of their English level and making it easier to apply to English-speaking institutions.
Example: The English Studio, a language school with locations in London and Dublin, promote their IELTS program as a route to university study.
It may also be beneficial to emphasize any support you offer to help students go on to further study, such as counselling and guidance for applications. Featuring student testimonials can also be hugely important, allowing your school to showcase its past successes.
Example: King's Education, who run pathways in the USA and UK, feature student testimonials on their website from graduates who have gone on to study at top universities like Cornell and UC Berkeley.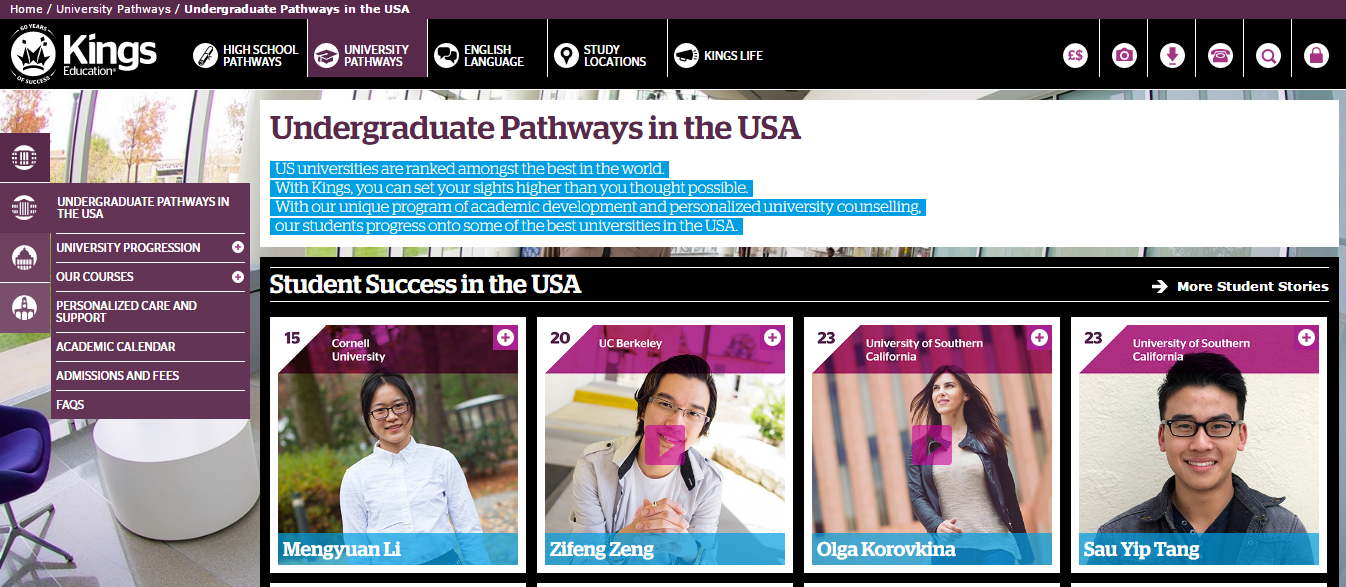 Emphasizing College Readiness in ESL Digital Marketing
Another key aspect of marketing to this unique audience is emphasizing college readiness. International students who undertake language education prior to further study want to be sure that the program they choose will fully prepare them to succeed in an academic environment.
As a result, it's crucial to position your programs as a path to acceptance at English-speaking institutions, as well as a route to success. Students need to feel confident that they will be able to follow complex lectures, conduct detailed academic research, and complete essays and assignments to the standards required by top English-speaking educational institutions.
With that in mind, you should make an effort emphasize the aspects of ESL education that matter most to an academic audience, such as improving written English and listening comprehension. This will ensure that potential applicants know they will have the tools they need to excel after completing your programs, and it will help to foster confidence and trust with international students online.
Example: This video from George Brown University does a great job painting a clear picture of how the school prepares students for academic life.
If you are promoting a pathway program that includes additional academic components, such as classes in subjects which are relevant to specific degrees, these can also be used as a unique selling point for your course, offering students the opportunity to build their knowledge in their chosen field as they improve their English skills.
Example: The University of Victoria offers pathway streams in both Social Science and Science and Engineering, which combine English education with first-year credit courses. The school's program page stresses this aspect of the program, making it clear students can expect more than just ESL instruction.
Programs which are offered by universities, or which have established links to educational institutions also have an advantage in this area, as students can be assured that the course materials and instruction meet the standards of top-level institutions.
Managing the Expectations of International ESL Students
While you should be as positive as possible about students' chances of progressing to further study, it's very important to be clear about exactly how the training you provide correlates to the entry requirements for universities and colleges.
International students can often be unsure or confused about exactly what level of ESL education they require, and you need to make sure not to unintentionally mislead new prospects or give them the wrong impression.
For instance, students may assume that a preparatory program at a university will lead to automatic acceptance to a particular program, when in fact they may need to achieve certain grades or satisfy other requirements. Making them aware of these caveats can be crucial in ensuring you attract inquiries from suitable prospects, and meet the expectations students have of what your program will do for them.
Additional Strategies for Attracting Prospective ESL Students Seeking Academic Progression
When it comes to marketing to this audience, the big difference is how you position your course offerings. Prospective students need to be convinced that your program is the first step to a top quality education that will create real opportunities for them to build the future they have always wanted.
As a result, they can be quite discerning, and you need to work hard to appeal to their unique and singular motivations, making the prospects for progression you offer a key part of your messaging and reinforcing your credentials in this area with strong, relevant web content. Conducting multilingual paid advertising campaigns and offering native language content may also be necessary to really gain visibility among your key target audiences.
Nonetheless, the rewards and potential this area holds for ESL providers make it well worth exploring. Should you succeed, you can build a lasting and sustainable reputation in what is fast becoming one of the most important markets for both language education and international student recruitment as a whole, and you can ensure a steady stream of new inquiries from a diverse range of regions and countries around the globe.