Reading Time:
10
minutes
You may have read recently that HEM's hometown of Montreal was named the world's best student city in QS Digital Solutions' annual rankings for 2017. For those of us who live here, this wasn't too surprising. With affordable accommodation options, a range of highly regarded institutions, and a vibrant, diverse culture, Montreal has plenty to offer students, and it's easy to see why the city has become popular.
Nonetheless, the news did spark a conversation in the office about the role a school's location plays in attracting students. Selling students on living in your town, city, or country has always been a crucial part of recruitment, and as global student mobility continues to grow, it is only going to become more important.
Faced with a more diverse range of possible study destinations than ever before, today's students will  consider the climate, culture, and lifestyle they will enjoy in your town just as much your programs and facilities.
As a result, recruiters need to be able to find a way to make their location a key part of their strategy, promoting its features and benefits and positioning it as an attractive study destination.
Think Your School's Location Isn't Unique? Look Again
The other locations that made the top ten in this year's QS rankings were Paris, London, Seoul, Melbourne, Berlin, Tokyo, Boston, Munich, and Vancouver. These are all large, cosmopolitan cities with a wealth of diversity, culture, and amenities, and it would be natural for schools in smaller towns and more remote areas to wonder how they can compete.
However, there is no reason to be discouraged. No matter where you are based, the real key to making your location a central part of your student recruitment strategy is finding what makes it unique, and this can be almost anything.
Take a moment to think about your school's location now. What makes it special to you? Perhaps there is a great range of recreational activities available. Or the climate and natural surroundings are particularly beautiful. Or maybe your town and campus is just full of really good, friendly people? Each of these things can be a potential selling point, and help you paint a picture of life at your school that is just as exciting and fulfilling as anywhere you can think of.
How Schools in Small Towns & Cities Can Market Their Location
When it comes to study destinations, bigger isn't always better. While many students will be attracted by the prospect of a bustling metropolis, others might find the idea of a large city daunting, or worry that they will be isolated from their larger college community. Applicants who are from small towns or rural areas themselves may also prefer to study in an environment which mirrors what they are used to, and some students from big cities might even appreciate the change of pace.
With that in mind, owning your school's small-town status and promoting it with pride could help you attract prospective students who see the benefits of studying in a more tight-knit, welcoming community.
Example: Truman State University is located in Kirksville, Missouri, which has a population of less than 20,000. The school does a great job of using its rural small town setting to its advantage, promoting its community atmosphere and outdoor activities. This video features students- many of whom are from bigger cities- talking about their experience of the town.
Another huge advantage of being based in a less populous area is that it is likely to be much more affordable for students. Big cities tend to come with high prices for accommodation, transport, and entertainment, and a small town can be a far more cost-effective option for students who might be struggling to finance their studies. Reminding prospective students of that fact on your website can be a great way to generate more inquiries for your school.
Example: This blog post from Ashland University in Ohio highlights its location, which was named the 8th most affordable college town in the USA.
Many small town schools also see great results from promoting their proximity to other areas. For instance, schools based in commuter regions just outside major urban centres can position themselves as offering 'the best of both worlds' for students, boasting a small-town atmosphere and prices with easy access to big city attractions.
Example: The University of Hertfordshire does a great job of promoting the benefits of living in Hatfield, a quaint small town which is also just 20 minutes from London by train.
You could also try applying this approach on a much larger scale, promoting not just locations in your immediate vicinity, but different cities and countries that are within easy reach. For example, many international students who choose to study in Europe will look to take advantage of cheap flights and trains to explore the continent, and European schools are often keen to highlight this possibility.
Example: While it is located in a small city, The University of Groningen in the Netherlands promotes its location as a 'Gateway to Europe,' highlighting how students can easily travel to cities like Paris, Brussels, London, and Berlin.
Of course, this approach will have it limitations, and some students will naturally gravitate towards larger cities. But as you can see from each of these examples, promoting a school based in a more remote area can have its advantages, helping you attract applicants who are a perfect fit for your school and town.
Socializing & Recreation: What Does Your Location Offer Students?
Socializing and having fun is a huge part of the student experience, and your school's location naturally plays a big role in what you can offer students in this area. Highlighting the local nightlife, dining, music, and theatre scenes can all play a huge role in convincing students that your town will provide them with a rich and full social life.
Consider publicizing upcoming events and things to do on your website, or creating city guides for prospective students which provide information about the best restaurants, venues, and nightclubs in your area.  Many schools even maintain close links with local venues and event organizers, and promote special offers, contests, and giveaways for students through social media.
Example:  New York University offers students discounted deals on tickets for events in the city through its website and on social media, including movie screenings, concerts, and Broadway shows.
It's also worth focusing on special events or festivals that might take place in your city. When considering a school's location, students will often be on the lookout for truly unique experiences, and showing that you can offer something that they won't find anywhere else can be help you differentiate your school from other institutions they might be considering.
This can be done by publishing blogs, social media posts, and other content related to big events around the time they take place, giving your online visibility a valuable boost and helping you generate more student inquiries.
Example:  One of the first things that come into most people's minds when they think of New Orleans is the annual Mardi Gras carnival. Tulane University is keenly aware of this, and regularly creates content centered on the event. This blog post, published by the admissions department, offers valuable insider information for prospective students, explaining what it entails and clearing up common misconceptions about what they should expect.
You can also use events like this as an opportunity to engage and connect with current students, encouraging them to share photos and video on your social media pages to increase your stock of student-generated content.
Again, while this might appear to be an area where schools in large cities have an obvious advantage, this isn't necessarily the case. While they may not offer the same variety of options for students looking to hit the town, schools in rural locations often excel when it comes to outdoor activities, with many boasting idyllic surroundings that are ideal for things like hiking, biking, and water sports. These activities also offer great potential for highly visual content that will really grab the attention of potential leads online.
Example: Lakefield College School, a private boarding school located in rural Ontario, promotes the outdoor activities that students enjoy heavily on its website, with the campus's beautiful natural surroundings providing a perfect backdrop.
It's also important not to underestimate the appeal of historic, cultural, and educational attractions for prospective leads. International students in particular are likely to want see any major tourist hotspots near your location, and highlighting art galleries, museums, and historic sites can pay major dividends for your school.
Example: This blog post from Technion Israel Institute of Technology highlights a number of famous cultural and historic sites students can visit during their time in the country.
As you can see, there are any number of different angles you can approach this aspect of your location-based content strategy and development from. And once you start thinking about what type of student would enjoy living in your area, you can easily find attractions and things to do that will appeal to their mindset.
How Your Climate Affects Your Online Student Recruitment Strategy
Climate and weather can also be major factors for leads considering your location as a study destination. London School of Business and Finance Rector and Chief Executive Maurits van Rooijen once recalled how Australian admissions staff would tell him that the first question prospective students always asked them was, "How far is your university from the beach?," and it's no surprise that many schools in the country are careful to place sun, sea, and surf, at the centre of their promotional imagery.
Example: Sydney English Academy- or SEA- is an ESL school located just moments away from one of the city's most popular beaches, and naturally uses this as a major selling point on its website.
Climate can also be especially important for international students, who may be used to warmer temperatures and have misgivings about dealing with harsh winters and inclement weather.
Example: British Columbia experiences much milder winters than other parts of Canada. As a result, schools from the region- like Royal Roads University in Victoria- are keen to stress this point in their international student recruitment efforts.
Of course, for many students, the opposite is true, and they are excited to experience a different kind of climate and everything that goes with it. Again, it is very much a matter of embracing the climate you have, and focusing on its advantages and what makes it unique.
Example: CultureWorks provides ESL programs at a range of different locations in Ontario. Rather than play down the harsh Canadian winters, the school makes them a focus of their social media marketing efforts, posting regular photos of the winter activities students enjoy.
Linking Your Location to Your School's Programs and Courses
Of course, for many students, there is much more to choosing a study destination than just finding the place they like most. Just as a serious prospective student will consider your programs based on their reputation and relevance to their career aspirations, they will also think long and hard about how well your location fits in with their plans for the future.
Many international students, for instance, will have ambitions to stay in your country and work after graduation, and schools based in nations with generous postgraduate work permit laws can use this competitive advantage to attract more inquiries from abroad.
Example: Students who complete a two-year MBA at the University of Toronto's Rotman School of Management are eligible for a three-year Canadian work permit upon graduation. The school makes this a key part of the program's branding.
Students will also look at the career opportunities your location offers in their chosen field. In the above example, for instance, Rotman also benefit from Toronto's status as a major global financial centre. Potential MBA applicants researching the city will find several top financial services companies and other multinational corporations with offices there, making them more optimistic about their chances of finding a good job after graduation.
It's also worth looking at how well your surroundings complement your programs, and whether this can be utilized in your branding efforts. Perhaps you offer tourism or hospitality programs in a top travel destination, for example, or creative arts programs in a city known for its culture. Once you start to consider the possible synergies between your location and the education you offer, you'll be surprised by what might fall into place.
Example: Unity College specializes in programs based around sustainability science, and brands itself as 'America's Environmental College'. It's location in rural Maine is the perfect setting for its unique brand identity, with a campus that sits on 225 acres of unspoiled woodland overlooking a lake. Accordingly, the school makes it a key part of its messaging, highlighting its surroundings through articles, videos, and virtual tours and maps of the area.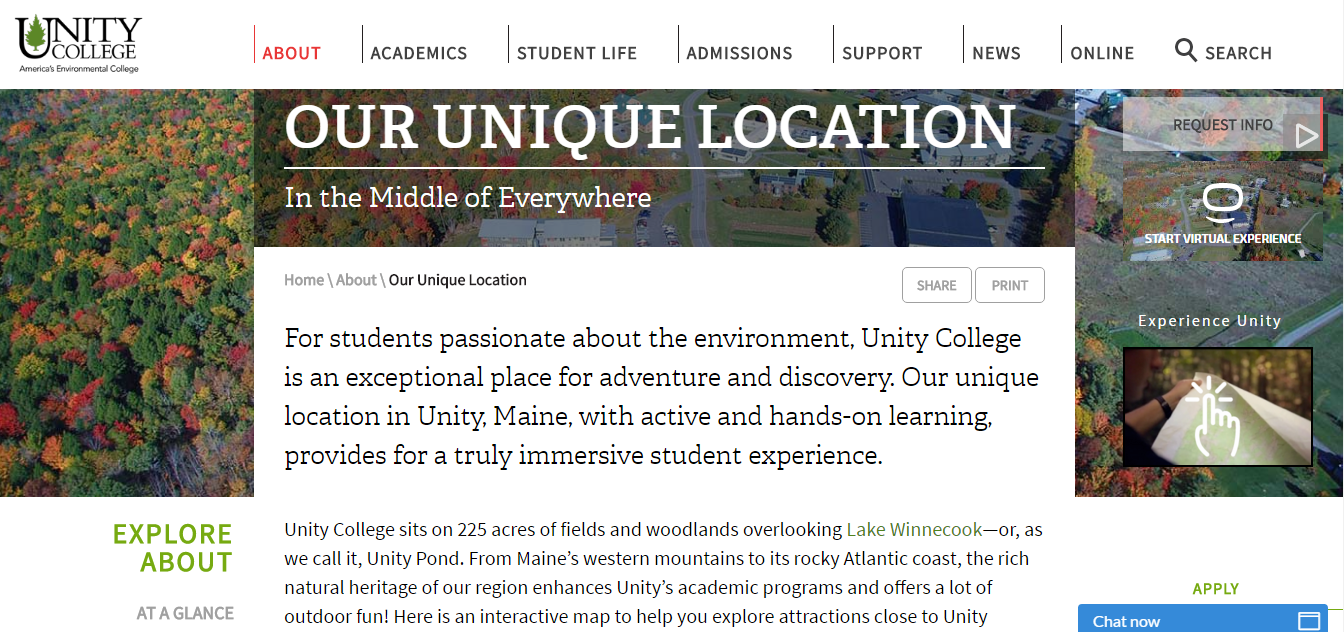 Benefits of Incorporating Your Location Into Your Online Student Recruitment Campaigns
Too often, schools are guilty of underestimating their location's potential appeal for students, or assuming that they are aware of its advantages without communicating them effectively in their recruitment initiatives. Making it a key component of your strategy will allow you to maximize its potential as a selling point, ensuring you don't miss out on valuable lead generation opportunities.
Campaigns that centre around your location also lend themselves well to content that is both highly visual and informative, making them easy to optimize for maximum SEO benefit.  Not only that, but when incorporated into your branding effectively, your location can easily be integrated into all aspects of your online student recruitment initiatives, including social media, blogs, video content, and much more. And with prospective students now willing to travel farther than ever before, there's never been a better time to show them where you are.
Additional Sources:
http://monitor.icef.com/2016/06/importance-location-international-recruiting/