Reading Time:
10
minutes
Search Engine Optimization, or SEO, is essential to boosting a school's online visibility, allowing it to better reach and attract new prospects. When done right, SEO for higher education can help schools enhance their website performance and strengthen the impact of their content strategy—enabling them to rank even higher on search engine results pages (SERPs). 
In a highly congested digital space, these results provide schools with a competitive advantage. In addition to improving your online visibility and organic search traffic, your SEO strategy can help you deliver a better user experience on your school's website. By embracing SEO best practices for education websites, your school can provide its prospects with better value and higher quality content. This, in turn, allows you to develop a more positive reputation while also giving you a higher chance of connecting with your audience. 
Read on for a curated list of insights that can help your school revamp its SEO strategy to improve its student recruitment efforts!
Optimize Your School's Content to Rank Higher in Search Engine Results Pages
Your school's web content should be unique and original. Whether you're creating content on key pages of your website (i.e. Academics, Admissions, Student Life, etc.) or producing blog posts, you'll want to avoid repetition and share new information. This gives you the opportunity to cover more ground when it comes to your content strategy, focusing your efforts on connecting with prospects at different stages of their enrollment journey. 
According to Elijah Baker, SEO consultant, founder of Musiprof, and instructor with HEM Academy, "a well-planned SEO strategy will allow you to answer important questions that prospective students are asking about your school." To develop this strategy, adopting a holistic approach can be the best way to go. As Elijah explains, "This means that your strategy needs to look at the various aspects of SEO in order to stand out. This includes effective keyword research, writing high-quality content that answers student questions, Off-Page SEO, and technical excellence, to name a few." 
It may also be worthwhile to review your school's existing content and identify key topics that regularly come up. These topics can then be transformed into "topic clusters," a selection of different articles that fall under a parent theme—linking back to a pillar page that serves as the go-to comprehensive resource within that group of content. You can choose to share these topic clusters on your school's homepage to showcase the value you can offer to both your web visitors and search engines.
Pro Tip: If your school already has a large bank of existing content, some of which may share overlapping information, content consolidation can introduce new opportunities for strengthening your school's SEO and content strategy. With this approach, you can prevent similar content from competing with each other, combining them into a long-form evergreen piece that boosts authority and ranking. 
Structure Your Content Strategy with Keyword Research 
It can be overwhelming to develop an SEO for higher education strategy, especially with lots of factors to consider. But when you're just getting started, it's important to focus on the basics first. 
In Elijah's view, "schools [can] begin by doing thorough keyword research, then perform[ing] on-page optimization while writing high-quality blog articles." This way, "school recruiters can uncover the exact keywords that prospective students are searching for" and use them to drive qualified traffic to their website. "Through this process, trust is established and a school can establish themselves as an authority within their niche," adds Elijah.
When it comes to keyword research, it's best to begin by analyzing user intent. Here, you'll want to consider relevancy and authority, as well as the keyword's monthly search volume, to determine if it's the right one for your school. To improve your chances, it's important to aim for keywords that your school has a good chance of ranking highly for. That means focusing on more niche-specific keywords as well as more general ones. 
Online tools are a great resource to turn to during this process, allowing you to gain better insights in order to outrank your competitors. If your school has a Google Ad account, you can work with Google's Keyword Planner. You can also consider Moz Keyword Explorer and other industry-standard tools to get you started. 
The screenshot below shows Moz's Keyword Explorer tool in action, allowing you to quickly identify your chosen keyword's monthly volume, difficulty, and click-through rate (CTR). You're also provided with relevant keyword suggestions and a SERP analysis:
Source: Moz Keyword Explorer
A common mistake to watch out for is optimizing pages for too many keywords. "The golden rule in SEO is that each page on your website should be optimized around one main keyword only," explains Elijah. "Secondary keywords can be added, however, a page can only really be optimized around one focus keyword." He recommends using the plugin, Yoast, for schools using WordPress to improve their SEO for higher education efforts.
Apply On-Page SEO Techniques to Elevate Your School's Content
You can start making use of these keywords by using them in the content you create—especially in your school's blog. For optimum results, it's best to apply blog SEO best practices. Here, your focus keyword should be featured throughout the article as well as in the title, H2 and H3 subtitles, and meta description. That said, it's important to strive for balance since keyword stuffing can also negatively influence your SEO ranking. 
This strategy refers to On-Page SEO, which centers on optimizing elements on your web page to meet industry standards and exceed user expectations. This includes optimizing image alt tags and URLs to feature your focus keyword. You'll also want to share compelling content in the introduction to decrease bounce rate, aim for the right article length to boost your ranking, and integrate internal and external links. 
Example: Rhodes Wellness College has published a blog post titled, "In Addictions Counsellor Training? A Look at the Environmental Risk Factors for Developing an Addiction." The keyword, "additions counsellor training" appears in the title, subtitle, and the body of the article:
Source: Rhodes Wellness College
Pro Tip: Links can serve to help search engines better contextualize your content. For your school to generate the best results, you'll want to feature authoritative and high-quality external links as well as relevant internal links in your content. It's a good idea to use keywords when linking to internal pages. These keywords get picked up by search engines and can help you boost your SEO ranking. 
Consider Historical Optimization to Revitalize Existing Content
Historical optimization is another approach your school can take to improve its SEO for higher education efforts. Through this technique, you can bring new life to what you have already created and shared, capitalizing on the popularity of your existing content. You can rely on On-Page SEO tactics to update what you've created and better attract your prospects. This can include keyword optimization, replacing older or broken links, and adding more value to modern audiences. Doing so can help you improve your conversion rate and boost traffic as well as interest in your older content.
Example: 
When searching for reasons why they should consider studying abroad in Geneva, prospects only discover the University of Geneva on the second page. By applying historical optimization techniques, this website's chances of being featured on the coveted first page can increase.
Optimize Your Website Performance with SEO for Higher Education
There are many things to consider when striving to generate more organic web traffic. This includes design as well as technical aspects that impact your site's performance. For instance, you'll want to optimize the layout and content hierarchy to ensure that visitors are greeted with the most important content—positioned above the fold. 
Your school can also benefit from improving its page speed, especially since that factor heavily impacts bounce rate and conversions. According to Portent's research, the first five seconds of page load speed influence conversion rates the most, with that number reaching the lowest point at the 6-second mark:
To prevent this, you can use Google's PageSpeed Insights tool to determine your school's loading speed and identify opportunities for improvement. Typically, this involves optimizing images by using next-gen formats and reducing their size, minifying existing code, or reducing redirects, to name a few key approaches. 
The image below shows this tool in action, revealing the insights that a school may use to enhance its page load speed: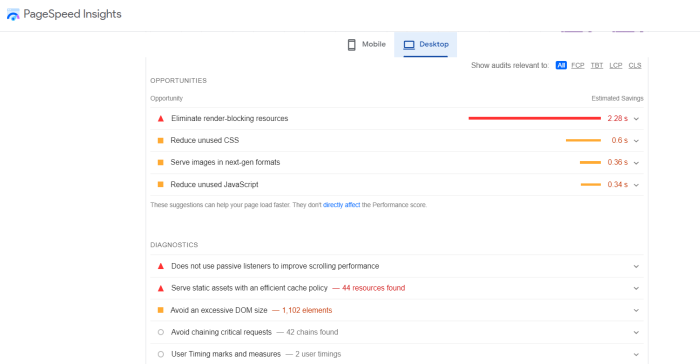 These insights can be customized to your school's website, improving SEO for colleges and other higher education institutions.
Prioritize Mobile Optimization as Part of Your SEO for Higher Education Strategy
You've likely already heard about the importance of mobile optimization. A few years ago, Google announced it would take a mobile-first indexing approach, which means most websites will be crawled or indexed through the mobile version. As a result, your school will need to prioritize mobile optimization and ensure that the content and metadata – including titles and descriptions – are the same in both versions. This way, Google displays the exact information you want it to display. 
On that note, your school can optimize the user experience by creating a mobile responsive website. This means redesigning your layout and reorganizing how content appears on the page, integrating a hamburger menu, and removing heavy media for a smooth loading experience.
Example: The University of Victoria has created a mobile-optimized version of their website. Here, prospects can easily navigate to key pages via the hamburger menu and scroll through content, which appears in a stacked format for easy viewing. 
Source: University of Victoria
Improve Your Off-Page SEO with a Strong Link Building Strategy
Backlinks, hyperlinks that link from one website to another, typically make up the core of Off-Page SEO efforts. Good backlinks redirect to high-quality sources, making them an excellent indicator of an authoritative website. Schools that have amassed many backlinks to their website are able to improve their SEO ranking—especially since search engines prioritize relevancy, authority, and trustworthiness as ranking factors.
This strategy is put into action outside of your school's website, making it an "Off-Page" SEO tactic. Here, social media marketing and influencer marketing can be effective ways for your school to achieve backlinks, generating quality mentions of your school that share your content to a broader audience. Your school can use its network of student ambassadors for these efforts, redirecting new prospects to your school's website while simultaneously showing search engines that your website is a trusted source.
Another way to do this is by getting involved in guest blogging. Your school can seek out third-party websites that feature guest content in the field of education. For instance, if your university is seeking to boost international recruitment, then you can create an article on international student opportunities at your school and share it on a third-party website. 
Example: London South Bank University takes this approach, creating a blog on the Study International website in order to attract prospective engineering students. It should be noted that this blog contains many backlinks, redirecting readers back to the university's website.
Source: Study International
Prospects searching for reasons to study engineering in London can now discover London South Bank University through this blog—which appears on the first page of Google's search engine results page. This approach can be particularly effective to improve SEO for universities. 
Improve Your Local SEO with Student Testimonials and Reviews 
Motivating your community to share online reviews and student testimonials can also help boost your local SEO efforts and link-building strategy. That's because their feedback can boost your school's credibility and online visibility—more reviews typically lead to better engagement, which can help your school rank higher on Google. 
Optimizing your Google My Business (GMB) listing can play a big role in your school's local SEO efforts. This way, prospects searching for your school or a school that meets their specific needs, can get a quick overview of your institution. This allows prospects to see a basic introduction of your school, its address, and other key information—including your reviews. The higher your rating, the higher the chances are that prospects will choose you over your competition. With a higher click-through rate, you can increase your web traffic and boost your SEO ranking.  
Example: Prospects typing Webster Geneva into Google are able to see the Webster University Geneva's Google My Business Listing, shown below:
Scrolling further down, prospects discover a review section that features 16 Google reviews. When clicked, they are able to see a positive rating that can impact their decision to click on the website—thus boosting the university's SEO ranking.
Conduct SEO Audits to Boost SEO for Higher Education 
As Elijah puts it, "SEO provides long-lasting results for your marketing efforts." However, you'll need to consistently monitor your performance and stay up-to-date on industry best practices. Unlike search engine marketing for higher education, SEO can deliver unique value, boosting your school's return on investment. 
"Once a piece of content ranks highly in the search results (SERP), it can stay there for years, driving highly qualified traffic at no extra cost. An initial investment, in the beginning, is required, but the return over time can be higher than any other digital marketing channel," explains Elijah. 
In fact, research shows that organic search contributes to 53% of all site traffic while paid contributes only 15%. To maximize organic search traffic, you'll want to invest in a strong SEO strategy. By conducting an SEO audit, you can discover new opportunities for improvement and better determine your school's next steps.