Reading Time:
10
minutes
The MENA (Middle East and North Africa) region gets a lot of attention in the international student recruitment world, and for good reason. Comprising 21 countries with a combined population of over 400 million – over 60% of which are under the age of 24 – the region's size, youth, and upward economic mobility makes it a vital market for the sector.
Scratch the surface, however, and MENA becomes an even more fascinating proposition. A rich tapestry of wildly diverse countries, each with their own unique culture, educational climate, and future prospects, means that there is potential in the region for schools of all kinds worldwide.
Keep reading as we take a whirlwind tour of the MENA region, and explore its potential for international recruitment.
A Snapshot of Various International Student Recruitment Markets in The MENA Region
Covering every single country in the MENA region in detail would be impossible in just one blog. However, there are a few nations in particular that warrant specific attention when it comes to recruiting international students:
Saudi Arabia
Saudi Arabia is currently the largest market for international recruitment in the MENA region, with UNSECO estimating that around 89,000 students travel from the country every year. Much of its growth over the past couple of decades has been due to the King Abdullah Scholarship Programme (KASP), an ambitious scheme which provides full funding for many Saudi students to pursue university study and language preparatory courses abroad. KASP resulted in Saudi Arabian enrollment in US universities alone jumping from 3,000 students in 2005 to just under 60,000 in 2015, an increase of almost 2,000%.
However, drops in commodity prices in 2016 let to cuts in government spending. While KASP has remained intact, its parameters have become far stricter, with funding now only provided to applicants with particularly strong academic records and IELTS scores, and participating institutions limited to more highly ranked schools.
As a result, the past few years has seen outbound student mobility from Saudi Arabia stall somewhat. Recent political developments in the US have also compromised its attractiveness as a study destination for Saudi prospects, while a highly publicized political incident last August saw the country order 8,000 scholarship students to leave Canada after a Canadian politician criticized the Saudi Arabian government. While they have since allowed medical students, postgraduate scholars, and final year undergraduates to return, the dispute could arguably make it more difficult for Canadian schools to target Saudi Arabian prospects in the future.
The country has also invested in developing its own domestic education infrastructure. QS now ranks 21 Saudi Arabian Universities in its Arab region top 100, and it has even become a regional study destination in its own right, attracting thousands of students from places like Yemen, Syria, and Pakistan.
Nonetheless, Saudi Arabia's funding for students, the market's desire for quality education, and its economic power still make it an attractive option, and it remains an important source of applicants for many schools around the globe.
Example: City, University of London promotes its visits to Saudi Arabia on its website. The CTA on the right-hand side of the page also links to its Arabic HotCourses page, allowing prospects the option to access information in their own language.
Egypt
Like Saudi Arabia, Egypt is both an important sending market for international students and a popular study destination in itself. It currently hosts over 50,000 international students, with Southeast Asian countries like Malaysia, Thailand and Indonesia among the most common places of origin.
As a sending market, Egypt accounts for a relatively modest 31,000 students globally, but what makes them unique is the sheer diversity of their study destinations. There is arguably no clear country or even region that Egyptians seem to favour, with the top destination choice (the United Arab Emirates) accounting for just over 5,000 students. Ten other countries have over 1,000, and these range from neighbouring nations such as Saudi Arabia and Qatar, to globally popular destinations like the US, France, and the UK, to more surprising choices like the Ukraine and Malaysia.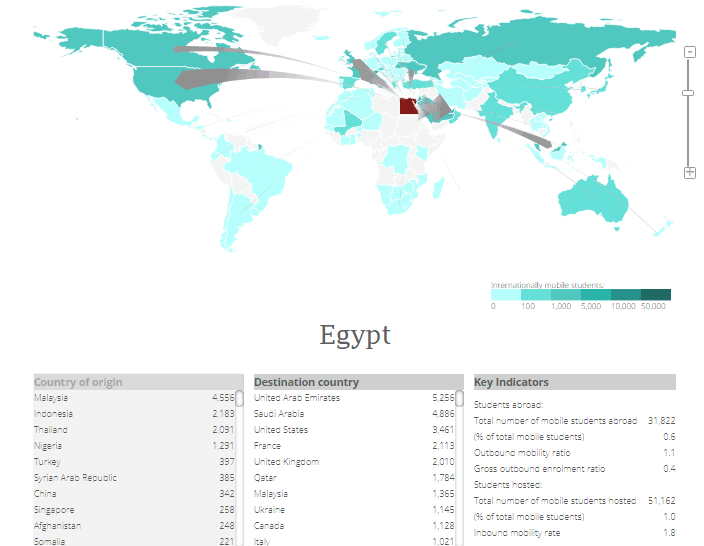 This means that schools in many different, diverse countries across the globe could potentially find success targeting Egyptian prospects, and there may be enormous untapped potential in the market for your institution.
Morocco
Morocco is one of the largest senders of international students in both the MENA region and Africa, with 48,453 Moroccans currently enrolled in institutions abroad according to UNESCO figures. This puts it behind only Iran and Saudi Arabia in MENA, and Nigeria in Africa.
One of the reasons Morocco doesn't get more widespread attention as an international student market is possibly because it is very much dominated by one particular country. Due to its relative proximity and common language, France is the overwhelming study destination of choice for over half of Moroccan prospects.
Surprisingly, the Ukraine, Italy, Spain, and the United States are the other top five destinations for Moroccan students, suggesting language isn't the only motivating factor in destination choice. Canada, which ranks in sixth, could possibly have untapped potential to improve their market share, particularly in French-speaking parts of the country like Quebec.
Example: The University of Ottawa advertises its city's bilingualism to Moroccan applicants on its website.
Kuwait
A relatively small country with a population of 4.4 million, Kuwait nonetheless punches above its weight as an international recruitment source market. This is largely due to the educational landscape of the country. Kuwait has just one public university which is vastly oversubscribed, and private options are expensive. There are also very limited opportunities for postgraduate study.
These circumstances have given rise to a unique situation where it is often cheaper for Kuwaiti students to study abroad than at home. This, coupled with the wealth of many Kuwaiti families and the availability of some generous government scholarships, has led to the country sending over 21,600 students abroad every year per UNESCO estimates. The country's own figures, meanwhile, actually put the numbers closer to 33,000. In contrast, the nearby Lebanon, which is home to over one million more people, is the source of just over 16,000 international students.
In terms of study destinations, the USA, the UK, and Australia are among the most popular for Kuwaitis, although many opt to stay closer to home, with Egypt, Jordan, the United Arab Emirates and Bahrain also hosting large numbers.
There are a number of other significant sending markets in the MENA region. For instance, we have written before in detail about the international student recruitment opportunities in Iran, which accounts for over 50,000 students worldwide. Iraq also supplies over 30,000 students globally, although it should be noted that the majority of these are enrolled in regional hubs like Turkey, Jordan and the UAE. Algeria also offers a lot of opportunities, particularly for countries offering a French-speaking education.
Other countries like Jordan, the Oman, Yemen, Israel, Qatar and several more account for thousands of students worldwide each year. Researching the region will help schools to evaluate the potential of targeting specific MENA countries.
Opportunities for Language Schools Targeting International Students in MENA
One specific area in which there is expected to be growing demand from international students in MENA over the coming years is language education. Currently, the region ranks as the lowest worldwide for English proficiency. Statistics from the EF English Proficiency index show that English skills across Middle Eastern countries are mostly ranked as 'very low,' with only the Lebanon boasting moderate levels of general proficiency: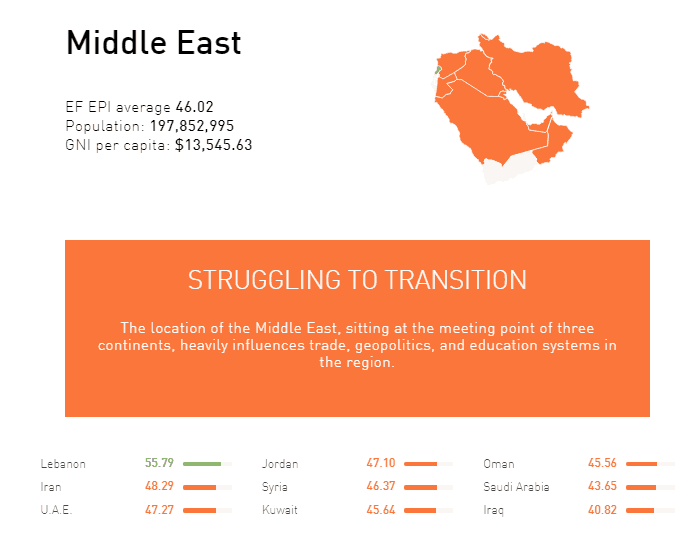 North Africa has similar results, with the region invariably ranking as among the lowest in terms of proficiency levels across the entire African continent:
There is a widespread desire and need across the region to improve this situation. While Arabic is generally the most widely spoken language in most MENA countries, a 2015 British Council study entitled The Relationship Between English and Employability in the Middle East and North Africa (MENA) noted that "English is prominent across the region in several domains; for example, the business, education, cultural and political sectors, as well as the tourist industry, which constitutes a very large percentage of the Egyptian, Moroccan and Tunisian economies in particular." Language schools targeting international students in these countries would perhaps do well to highlight these opportunities in their marketing materials.
Example: St Giles International offers English courses specifically designed for those working in the tourism sector. Promoting a program like this could be particularly successful in North Africa.
Author Dr. Elizabeth J Erling also noted that the language "is purported to be popular among the younger generation, who view English as an essential stepping stone to better career prospects in the private sector."
Furthermore, a 2018 World Bank Study Expectations and Aspirations: A New Framework for Education in the Middle East and North Africa highlighted the need for greater proficiency in both English and French in facilitating general education. The report points out that "most Arab countries use either English or French as the LOI (language of instruction) for mathematics, engineering, the medical sciences, and other sciences."
French, of course, is mainly used as the LOI for North African nations with colonial ties to France. The World Bank noted that while many schools teach in French in Tunisia, Algeria, and Morocco, it is generally not the spoken language of most students, meaning they may still need to improve their French skills in order to pursue international study.
Morocco is a particularly interesting case, as there have been calls from many in recent years for English to replace French as the country's first foreign language, though Minister for Education Said Amzazi recently ruled out the possibility of this happening within the next decade.
All of this means that schools looking to promote language programs could find great success in the region, and a few MENA countries are well-established as important markets for the sector. For instance, Open Doors estimates that 15,977 students travel from the region to the USA every year to complete intensive English programs ahead of university study – which is around 18.34% of the total market for IEPs.
The majority of these students (just over 11,000) come from Saudi Arabia, and have likely been largely facilitated by the KASP. However, it is worth noting that the limitations placed on that scheme in recent years – which include a requirement for applicants to have a minimum IELTS score of 4.0 – could possibly limit the number of applicants from the country in future. Kuwait is another market which has shown large growth in the IEP sector, where it now accounts for over 2,400 US students.
Example: The Intensive English Program at the University of Georgia provides an Arabic version of its website for visitors from the MENA region.
Given the comparatively low levels of proficiency in many MENA countries, developing multilingual content for any landing pages, ads, or web pages targeted towards prospects from the region could be essential for language schools looking to attract leads.
How to Target International Students from MENA Online
The Middle East and North Africa is becoming increasingly digitally literate, and schools considering how to target international students should find no shortage of opportunities to generate engagement online.
While internet usage and site popularity vary across the region, schools will mostly find that globally popular social networks dominate the MENA territory. According to the University of Oregon's State of Social Media Middle East: 2019, Facebook has over 265 million users in the region, with Egypt, the largest market, accounting for around 24 million of those.
Example: The University of Nottingham shared this blog from one of its Egyptian International Student Ambassadors on its Facebook page.
YouTube is also popular, and Instagram usage is growing, too, with the platform now hosting over 60 million users in the region. Twitter and Snapchat are used on a smaller scale, but still have a substantial audience. Additionally, instant messaging service WhatsApp is hugely popular across a number of MENA countries, and could be an important outreach tool for schools.
Example: The University of East London encourages prospects from the Middle East to contact its representatives through WhatsApp.
Of course, online censorship is often a concern for those looking to engage audiences in the MENA region, and the openness of the internet varies from country to country. Many, such as Saudi Arabia and Egypt, use filtering systems to block controversial content, while others like Algeria and Iraq are relatively open. Outright blocking of globally popular sites is rare – Facebook, Twitter and Google are banned in Iran, but many people in the country still access the sites through VPNs.
In terms of what selling points to emphasize, one key area of importance that has emerged for schools looking to target MENA students is inclusiveness and tolerance. Recent political issues in popular study destinations like the USA and the UK has meant that prospects from the region may want reassurance that your school and location will provide a safe, welcoming environment where their traditions and cultures are respected.
Participating in social media campaigns such as #YouAreWelcomeHere and #WeAreInternational can be one way of doing this, allowing your school a simple but effective way of demonstrating your commitment to diversity and cultural acceptance.
Example: This Instagram post featuring Saudi Arabian students from INTO Queens Belfast uses the #WeAreInternational hashtag.
Emphasizing the existing MENA community in your local area or on campus can also be helpful, and you can do this by highlighting student societies, current students from the region, or alumni.
Example: In this student testimonial posted by Victoria University, a Saudi Arabian student talks about how at home he feels in Melbourne. This kind of content can be an excellent way to reassure international applicants who are apprehensive about going abroad.
Whatever your goals, the Middle East and North Africa definitely holds a lot of promise for schools of all types looking to diversify their international student recruitment efforts. With the proper research and a sustained multichannel approach, it could prove to be a worthwhile source of quality applicants for your institution for years to come.