Reading Time:
11
minutes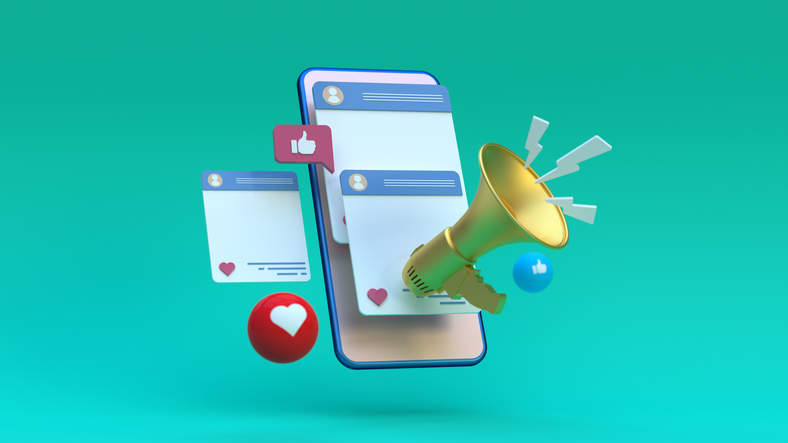 What makes a good social media ad? Is it an eye-catching design? Compelling copy? A strong CTA?
In most cases, it's all three, plus a whole lot more. There are many different aspects of social media ad creative that marketers need to consider when planning their campaigns. From technical requirements to more subjective choices in ad design and messaging, considering every aspect of how your ad is made will give you the best chance of success.
If your school is looking to get better results from its current ads, or even just getting started in the social media advertising game, read on to learn about some things you should be considering.
1. Your Campaign Objective Should Fuel Your School's Ad Creative
Like all digital marketing activities, a social media ad campaign should be attached to a clear objective. Whether it's attracting applications, inquiries, registrations for information sessions, or just raising awareness by driving web traffic or social media engagement, the goal of your campaign should be clear.
To aid you in this, social media ad platforms will ask you to select an objective when you create your campaign.
Example: Objective selection in LinkedIn Campaign Manager. Each objective is grouped based on stages in the buyer's journey, making it easier to ascertain which is best for your needs.
On some social media platforms, you will find that the objective you select has an impact on the formats available to you for ad creation. For instance, on LinkedIn, Follower ads are not available for the web traffic or lead generation objectives, while Message and Spotlight ads aren't available if your objective is engagement. These formats aren't appropriate for your objective, so the platform doesn't offer them.
Those tasked with creating your ad, whether they are internal staff or an external agency, should be aware of your objective, and steps should be taken to ensure your creative is aligned with that goal.
Creative that is inconsistent with what you are trying to achieve could dilute your messaging and affect your results. A campaign promoting online courses shouldn't feature images of students on campus. The copy in an ad which aims to drive registrations for information sessions shouldn't encourage prospects to 'apply today'. This might seem obvious, but it is often common for ad creators to make these kinds of mistakes.
Example: While this ad from Hult Business School is promoting its Bachelor of Business, the main objective is to get prospects to take an online quiz. Thus, the quiz is at forefront of the design, copy, and CTA.
What's more, knowing your ad objective will often help spark your creative, giving your team an immediate starting point for their design, format, and copy. If the goal is clear, what your ad needs to include will be clear, too.
2. Higher Ed Social Media Ad Creative Should Fit Its Format, Not the other Way Around
Format can play a huge role in the impact of social media advertising for education. From single image, video, and carousel ads, to platform-specific options like Conversation Ads on LinkedIn and Stories ads on Facebook and Instagram, there is no shortage of creative ways to showcase your school and its courses.
Choosing the right format could help you get your message across more successfully. Want to showcase stunning visuals? A single image, video or story ad might be the way to do it. Need to describe what you have to offer in greater depth? Messaging or Conversation ads on LinkedIn might be the best option if you have an audience on the platform.  Or maybe you'd like your ad to shine a spotlight on more than one course, or different aspects of your school and its offerings? If so, a carousel ad could be right for you.
Whatever format you choose, be sure to tailor your creative for it. Each format will have widely understood best practices for copy length, visual content, and other aspects of ad creation, and it's important to be familiar with them.
There are also technical specifications regarding image and video size and layout that you'll need to follow.  Platforms like Facebook Ads Manager will try and help you with this by adjusting pictures and videos to fit specifications, but this can often result in them not rendering properly, so you may need to do some editing to make sure your ads turn out the way you envisioned.
Example: The Facebook Ads suite will allow you to crop and change your designs to fit their format.
Placement is also important. Social media ads can be shown on desktop, on mobile, in news feeds, in stories, in the right-hand sidebar, in messenger apps, and a host of other places depending on the platform. However, each of these placements presents your ads in different sizes and shapes, and you may need to edit your ads – or create new ones – to maintain their quality.
Pay attention to your copy, too. Some placements will allow for more copy, while others will allow less, truncate your copy, or even not show it at all. This means that there may be important information missing from your ad, or conversely, that you are not taking advantage of some of the space more copy-rich placements offer to get your message across.
Example: Facebook news feed ads allow for a short description above the main visual, just like regular social media posts, as well as headlines in the ad itself. The right column placement, however, features the image and account name with no other copy.
Simply put, the ad creative should fit the format and placements you choose, not the other way around. Taking the time to carefully choose and curate your creative for each one is the best way to ensure success.
3. Use Design Best Practices in Your School's Social Media Ads
Apart from one or two specific formats, social media ads are generally visual, with images and videos forming the focal point of your ads. That means it's important to ensure your designs catch the eye.
If you're not a graphic designer, this may be a bit daunting. However, there are a number of tools that those with less expertise in the area use to make professional looking ads. For instance, many ad creators swear by Canva, a freemium graphic design platform that provides hundreds of free templates for everything from Facebook Ads to YouTube thumbnails.
Example: Some Facebook Ads templates in the Canva platform. While very few of these templates are specific to schools, you can easily use them as a starting point, and then edit your image, graphics, and text in the platform's editing software.
Even if you are working from templates, though, you'll still need to learn a few design principles to help mould them to your needs. One particularly important aspect to pay attention to is your colour scheme. Extensive research has been done into colour schemes used in ads and the particular ways they affect the perception of the audience. Red, for instance, is said to convey urgency, while green is more relaxed, and yellow can create an impression of optimism. Think about how you want to your audience to feel when they see your ad, and strive to find a colour scheme that matches.
Example: This ad from Queensland University of Technology uses heavy amounts of blue, a colour which is said to convey trust and security. Considering the ad centres on the career pathways the school provides students, it's an appropriate choice.
Of course, you may also need to ensure that the colours you choose for your ad match your school's branding. Your logo will be visible on most ads you serve on social media, so choosing wildly clashing colour schemes is unwise. For that reason, many schools will limit their designs to only include colours within their own brand palette.
Example: ASC English keeps its ad design consistent with its brand in this ad.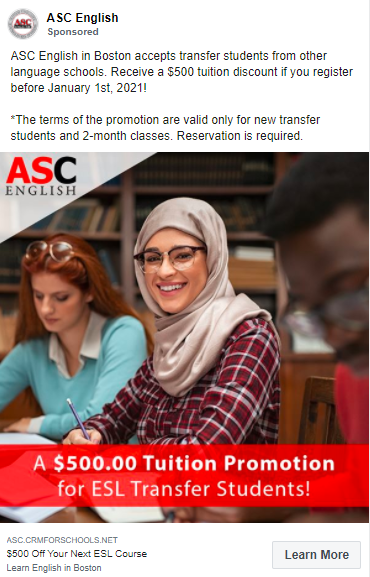 If you're placing text in your image, you should also ensure that it is consistent with your general typography style. What's more, it's very important to keep in mind that Facebook has a specific rule that it will not approve an ad if more than 20% of the image is text. This is something that templates in platforms like Canva don't always adhere to, so you may need to double-check if you don't want your ad to be rejected. If you want to make sure it falls within the guidelines, Ads Manager editor will do an automatic check for you if you open the image for editing.
Finally, take care to find the right pictures for your ads. As a general rule, ads featuring people perform better on social media, as it helps the viewers relate to them. You should make sure, however, that the people featured in your ads reflect your target personas. For example, a career college targeting mature students shouldn't feature stock photos of university-aged students hanging out on campus.
There are several more things to keep in mind with regard to design, taking in everything from contrast, to proximity, to the use of lines and space. However, once you get a good handle on the basics, you can work to improve your skills over time, even if you're not a natural.
4. Writing Great Copy Will Help Your School's Ads Connect
The quality of the copy in higher ed social media ads is something that's often overlooked, but can have a huge effect on your results. If the copy doesn't grab your prospects' attention, speak to their needs, and drive them towards a desired outcome, they are less likely to engage with your school.
There is no magic formula for creating great copy, but here are a few things to keep in mind that might help:
– Find your unique selling point: Think about what it is that really makes your school, program, or event special. What will it do for your prospects? What sets it apart from similar offerings from your competitors? Once you start focusing on this, you'd be surprised how quickly the right ideas will come.
– Focus on benefits over features: Further to the previous point, you should make sure your copy focuses on the benefits of what you are offering, rather than its features. As a simple example, 'our MBA will help you develop skills in logistics and supply chain management' is a benefit-focused sentence, since it discusses what students will gain from the program. 'Our MBA includes logistics and supply chain management courses' is features-focused, since it talks about the contents of the program without communicating how it benefits the audience.
– Problem Agitate, Solution (PAS): This is a common copywriting formula that many ad writers use. In a nutshell, it involves identifying a particular pain point your audience might have, agitating (elaborating) on it, then providing a solution. A simple example for a professional development course might be:
Struggling to make time for your professional development? With so much on your plate, it can be hard for a busy professional to commit to training. Our online program is designed to fit around your schedule.
This formula may not fit the needs of every ad, but it can be tweaked and adjusted. And just keeping it in mind can help ad urgency to your copy.
– Ask questions: This is a simple tip that can go a long way. In a similar way to the PAS method, including questions in your copy prompts readers to think, engaging them with your ad rather than simply presenting them with information.
– Include social proof: In certain cases, adding eye-catching statistics, endorsements from alumni, or other elements of social proof can work very well in ads, adding weight to any claims you're making about the benefits of studying at your school.
– Have a clear informational hierarchy: What form this takes will depend on the format of your ad, but it's important to ensure that the most important information your ad needs to convey is featured prominently, and that there is a logical flow and order to what you are writing.
– Keep length in mind: While the conventional wisdom is that you should keep ad copy short, this isn't necessarily set in stone. In fact, many advertisers find that longer ads perform better than shorter ones, likely because the copy includes more depth and information.
Regardless, you should pay attention to the length of your ads and the results you get from ads with differing copy lengths. You should also keep in mind that some longer copy will be truncated when your ads are presented to your prospects.
– Write in the second person: It's important that your ads speak directly to the user. Using 'you' and 'your', rather than 'students' or 'they/them/their' is a simple but effective way of doing that.
– Include keywords: While social media ads don't need to be optimized for rankings like content developed for search engines, you should make sure that the key words or phrases in your headlines, descriptions, and image text have some correlation with one another. This can help your quality score, lowering the potential cost of your campaigns.
As with design, there are a number of other potential tips and tricks that could help you create better ad copy. But, as with design, you will find your skills improving the more you practice.
5. Choose Your School's Ad CTAs Wisely
Like so many digital marketing initiatives, Calls to Action are crucial in education social media ads for schools. In most ad formats, you will have the option to include a button to drive viewers towards your website, to register for your event, to follow your school's page, or another relevant action.
With that in mind, it's important to choose the right CTA that will best entice prospects to complete your objective. However, one challenge here is that your choices are often limited. Most social media ad formats will come with a set of preset CTAs for you to choose from.
Example: An excerpt of available CTAs for a Facebook Ad. Obviously, Apply Now would be an obvious fit for schools, but Learn More, Subscribe, and Contact Us might be better choices if your ads are aimed at those further up the funnel.
While these presets can limit your customization choices and make it more difficult to create unique copy, they can also help take the guesswork out of your creative. Once you have an objective in mind, the right CTA to use should be quite clear.
6. Monitor Your Results to Find Winning Education Social Media Ad Creative
While there's no secret formula for winning creative, the best way to ensure success is to launch your campaigns and monitor their results. As they progress, test different ad copy, formats, and designs, and see which options perform best.
After you've run a few campaigns over time, you'll be able to pinpoint what approaches are most likely to resonate with your audience, making it easier to get it right first time in the future.