Reading Time:
12
minutes
Do you sometimes find yourself disappointed with the traffic, visibility, and conversions generated from some of your blogs? Does most of your school's web traffic come from just a few posts? Do you find it difficult to create new content as regularly as you should? If you are facing any of these problems, historical optimization could be a great option for your school.
Historical optimization is a strategic approach that marketers use to refresh and update their existing content, before publishing it as new. This strategy allows you to capitalize on the popularity of existing blogs, optimize them for more success, and extend their shelf-life. It's a relatively simple process that can have massive benefits in the amount of traffic and inquiries your school's content marketing generates.
Interested in learning more? Here's how to get started.
Understanding Historical Optimization for Schools
To make the most of historical optimization, it's important to first understand how and why it works. The best place to start is by looking at a few particularly important ranking factors that search engines like Google consider when evaluating web pages:
On-page SEO architecture– Search engine indexing algorithms will crawl certain elements of your pages such your titles, H1s and H2s to determine how relevant the text is to particular queries. This is why integrating keywords into these parts of your pages is so important.
Page authority- If a lot of people are clicking on and reading a particular web page, it sends a message to search engine bots that users find it relevant to that particular search. As a result, web pages that have attracted a lot of engagement will accumulate authority over time.
Example: This 2015 blog from Automotive Training Centres still shows in first place in Google for the search 'why become a mechanic'. The post's popularity has allowed it to accumulate authority over time, keeping it in top spot.
Freshness– Conversely, search engines will also look to reward freshness in an effort to provide web users with the most current, relevant information about a topic. As a result, pages that promise new information about a topic are likely to be favoured in search.
It's a combination of the last two elements that gives historical optimization its true power. By taking a post that already ranks well and updating it, you can be rewarded for both page authority AND freshness.
Taking things a step further, historical optimization also gives you a chance to review the on-page SEO architecture of a post in order to better align it with the queries it is ranking for. This can help to boost your rankings further, and can also encourage more clicks and conversions by providing more relevant content.
Choose the Right Higher Ed Content to Optimize
If you have noticed that a lot of your school's traffic comes from just a few web pages, you're not alone. Across a number of industries, several organizations who regularly create original content have reported that anywhere from 50 to 90% of their page views, and even their leads, can be attributed to just a small handful of posts.
With that in mind, the best starting point for your historical optimization efforts is usually your most popular posts. These are the pages which already generate the majority of your traffic, and are likely to be the starting point for a large percentage of your prospective students.
Historically optimizing these blogs allows you to harness their already considerable power and multiply it, consolidating your search position and even improving on it. More than that, though, the process can help your school maximize the benefits of the traffic these pages get by better optimizing your content to push readers towards conversion.
Example: The open graph at the top of the search result for 'reasons to study English in Ireland' is from an Education First blog post.
To capitalize on this traffic, the post is well-optimized for conversion. First, a newsletter signup form is placed midway through the blog on the right-hand side:
Then at the end of the article, a final call to action is placed to encourage prospects to find out more about the school. Notice how the CTA includes similar wording to the search query it is ranking for:
While you may already be including these kinds of elements in your blogs as a matter of course, making doubly sure that are plenty of chances for prospects to convert on your most popular posts, and that your CTAs are aligned with the post's messaging, can be a very wise move. You might also place links within the body of the blog to other posts where relevant, in order to use its popularity to give the rest of your content marketing efforts a boost.
Aside from your top performers, there are three other categories of posts that might be ripe for historical optimization:
Posts which rank well, but not well enough– You may have several posts which are frustratingly just beneath where you would like them to be in terms of search performance, appearing towards the end of the first page or beginning of the second in SERPS for important keywords. These posts already have some traction and authority, and could easily do better with some tweaking.
Example: In the same search as the EF blog, a similar post from The English Studio ranks on page 2. Historical optimization could help bring it into the top tier of results.
Posts which rank highly in search but have low click-through or conversion rates: Some of your school's well-optimized posts might rank quite well in search results, but don't seem to be able to translate this into traffic to your website.
In this case, the aim of your historical optimization efforts would be to improve your title, meta description and other elements to make the post more relevant to the query. Alternatively, you might have some posts that attract a lot of traffic, but are not converting it to inquiries. As with your most popular posts, these pages can be optimized in order to move prospects down the funnel more effectively.
Post with high conversion rates but low traffic: The lost gems of your higher education content marketing efforts, these are posts which have been shown to be very effective in pushing prospects towards conversion, but simply aren't found by them often enough. Historical optimization can help you bridge this divide by making them more attractive to search engines and web users.
Of course, you may find certain posts which meet these criteria but aren't a good fit for historical optimization. Some examples would be topical posts centred around things that are tied to particular time, like posts about trends in your sector, current news, or events. While these kinds of topics might attract a lot of visitors upon publication and therefore some search authority, they have a limited shelf-life. You should be looking for posts with real evergreen potential.
Additionally, it's best to allow a post to age a little before optimizing it in order to feel the full benefits. As a general rule of thumb, most publishers will wait until a post has been online for at least six months before considering it as a candidate for the process.
On-Page SEO in Historical Optimization for Higher Ed
If your goal is to attract more traffic from your historical optimization efforts, your main focus will likely be on your post's on-page SEO architecture. The first step is to redefine which keywords you are looking to rank for by looking at what searches your pages are currently showing up in. This can be done through a number of tools, but one of the best is Google Search Console (formerly known as Webmaster Tools), a free tool which allows site owners to evaluate their site's indexing and visibility.
Search Console allows you to see the most common queries your pages are being found for, and the clicks, impressions, CTR, and average position for each.
Example: The top 10 queries for a blog post about IELTs test prep in Search Console.
Using this, or other tools like HubSpot's Attribution Report, you can identify the keywords that offer the most opportunities for your higher education content marketing strategy. Once you have done so, you can work on rejigging your on-page architecture to match your new goals. Some elements you should look at include:
Page title- Possibly the most important element. Ensuring your page title includes a full keyword and is as close to fulfilling the user intent of searchers as possible will not only satisfy search engine algorithms, it will also encourage more prospects to click through.
Example: This blog post from the Berkeley Haas School of Business has a clear, simple and relevant title, helping it to rank highly in search results.
H1s, H2s, H3s, etc.- Using header tags correctly throughout your posts make them more scannable and readable for search engine crawlers. Including keywords or partial keywords in your headings and subheadings where relevant will also increase your potential to rank on your desired searches.
Example: This blog from Geneva Business School integrates the keyword 'DBA degree' into its H1 and opening H2.
Keyword integration in the body of the post– You can also include keywords throughout your blog at various points, providing they fit naturally within the text.
Alt text for images- An often-overlooked element, alt text makes images readable to search engines. Ensuring that is has been included, and even including keywords where possible, can be a great way to boost your SEO.
Example: When adding images to posts you are drafting in WordPress, the Attachment Details tab on the right-hand side of the page allows you to input alt text. Other CMS platforms offer similar options.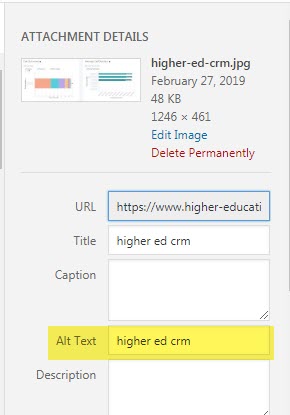 Internal and external links– Looking over your posts, you might see opportunities within the copy to place links to other pages on your site, such as program pages or other blogs. Internal links create a reciprocal relationship between pages, allowing each to strengthen the other's SEO authority, while also directing prospects towards other valuable content.
You might also want to insert external links in places where you can direct prospects to resources which might be valuable to them. For example, if you have a post which mentions the availability of government financial aid for students at your school, you could provide a link to the relevant website for potential applicants who want to find out more.
Additionally, you should check any existing internal and external links in the post to make sure they are still working, and that they are relevant and up to date.
Meta descriptions– While meta descriptions do not directly influence SEO, they can be very important to increasing the likelihood of prospects clicking through to your site. Ensuring that you have an engaging meta description of about 145-160 characters, preferably integrating a full keyword, could make a valuable difference if you are looking to generate more traffic from a post.
By revising and updating these elements, you are making your blog easier for both humans and search engines to scan and identify as relevant to their query. The resulting boost could have a massive impact on the return of your posts.
The Relationship Between Conversion Rate Optimization and Historical Optimization
If you are looking at posts which have been attracting a lot of traffic, you may want to concentrate more on conversion rate optimization in order to capitalize on their popularity more effectively. Here are a few questions you might ask yourself:
Does the post deliver on the promise of its title?
Does it have a compelling CTA?
Does the CTA include the keyword you are targeting?
Could your CTA be paired with a more relevant or enticing offer e.g. a brochure, open house or virtual tour, chance to set up a meeting with an admissions advisor etc.?
You might also want to look at the design and placement of your CTA. For example, many schools, and indeed brands across other industries, have found that CTA buttons fall victim to 'banner blindness', and that simple text-based CTAs are actually more likely to be seen and read by prospects.
Example: WU Executive Academy use simple text-based CTAs in their blogs.
Be mindful, however, that effective CRO is about getting in the mind of your prospective students, rather than just playing around with different elements of your web pages. Put yourself in their shoes, and think about what they want and need, and you should be able to find ways to encourage them to take the next steps.
5. Freshening Up Your Higher Education Content Marketing
While the technical aspects of historical optimization are important, it's also equally crucial to look at the overall content of your posts and make an effort to freshen it up a bit.
For one thing, posts that have been around for a while might have become dated in certain respects. You might notice that some things you have mentioned are no longer factually accurate, or that statistics you have cited are not the most current figures. Updating these elements helps ensure that new readers will get just as much value from your post as those who came before.
Similarly, you may notice that some of your copy ties the post to a specific time and place. For example, the blog might reference a specific current event that was happening around the time it was published, and needs to be rewritten to maintain its evergreen value.
Example: Here's one from our own archives that needed a slight update! This blog about student recruitment in Brazil referenced the 2014 FIFA World Cup in the introduction, which took place in the country and was approaching at the time of publication. While references like this can add a bit of colour, they can also date a post quite quickly.
Additionally, historically optimizing a post should be seen as an opportunity to add a little extra value to it. For instance, if you have created a blog about things to do in your city or local area, you could add a paragraph or two about any new attractions that may have opened up.
Example: ESL school English Studies Institute often create blogs about tourist attractions students can enjoy in Berkeley. You could add one or two more suggestions to posts like this when historically optimizing them to add value.
Similarly, a more academic post could be updated to reflect some more recent developments in the field.
Alternatively, you might find that you have developed some additional relevant assets since the post was published that could be added to it, like a new video, or pictures from student excursions or events. The key is to try and spot opportunities to improve on what you have done originally, and add a bit more substance in order to justify republishing it.
Publishing Your Historically Optimized Higher Ed Content
Once you have made the desired changes to your post, it should be republished as new, with the date changed to the current date in order to let search engines know that the content has been updated. For good faith, most publishers recommend that you add a disclaimer to the bottom of the post indicating that it was originally published in the past, but has been updated.
Example: A note from one of Higher Education Marketing's own blogs which was updated.
You should also promote it in the same way that you would promote a new post, and share it across social media and in your email newsletters in order to further amplify its value. After about a month or so, you should start to see the fruits of your efforts in your analytics data. Although it is not a guarantee that the process will improve traffic and conversions, several publishers who have used these methods have noted significant gains.
While it should not be seen as a substitute for creating new blogs, historical optimization could be one of the most valuable higher education content strategies to have in your arsenal. By capitalizing on the hard work you have put into building up your blog channel and SEO authority, and working to improve upon your most popular posts, you can give them a healthy and prosperous second life.