Reading Time:
9
minutes
Twitter reports that it now has 288 million monthly active users who send 500 million tweets a day.  According to research from Statista, the world's most active Twitter users range from age 18 to about 30 – which fits right in with the target audience for many Twitter for education strategies. Audiences in this age range may include the parent of a young student, a first-time university applicant, a graduate school candidate, or a career-changer looking for practical training.
Given these numbers, there's little doubt that your institution should be active on Twitter, as part of a broader social media marketing strategy. But deciding how to present your brand and choosing content to post can be a daunting task. Many schools default to self-promotion, a practice that typically undermines community building and student recruitment efforts on Twitter.
Whether you're just getting started on Twitter or have been tweeting for some time, here are seven sure-fire content ideas your institution can use to build brand prestige, boost engagement, earn more followers, and inspire inquiries.
1. Make Sure Your Homepage Reflects Your School Brand
Your school's Twitter profile page is a hook. It's the first "content" visitors see when they visit your account.  Make sure its images, logos, description and colours genuinely represents what makes your institution amazing, so visitors will feel inspired to read what you have to say.
What do you want Twitter users to associate with your institution?
Glasgow University choses to showcase its fabulous digs in a breathtaking panoramic shot that says prestige, grandeur and legacy:
Herzing College gets personal by spotlighting two female students (its target persona) and showcasing a milestone anniversary. This cover image reinforces Herzing's student-oriented brand and highlights a well-established tradition of effective skills training:
Next we have a multifaceted approach – the profile cover shows several sides of Duke University. A few distinct associations come to mind: cultural diversity, a naturally beautiful campus, school spirit and academically committed students:
What keywords come to mind when you look at your school's Twitter education profile?
2. Keep Students in the Know with Practical Updates
No matter what type of institution you are – Master's program, K-12, university or language school – your Twitter education account should provide timely updates on campus-related matters. These may include dates for registration, exam periods, graduation, parent-teacher interviews, campus open house, or even emergency alerts. This is a great way of using Twitter for education as a trusted source of relevant, practical information – a resource parents, students, and prospective applicants can turn to for important updates, all in one place.
McMaster University reassures followers by showing they're prepared for a potential public transit strike:

Brock University lets students know exactly which campus resources are available during the all-important first day of exams (timely and considerate):
These next tweets from York University are helpful deadline reminders made extra considerate by including links to information students will need to complete next steps. It's worth mentioning here that adding relevant links to tweets has been shown to dramatically boost engagement. ICEF reports that tweets with links receive 86% higher retweet rates than those without. The examples we've added here provide evidence of this trend.
Updates and reminders show you care when it comes to Twitter for education. They demonstrate that your institution is tuned-in to the needs of its students, and will selflessly tweet to help them out. Now that doesn't mean that you can't subtly promote your programs and events through standard posts and Twitter ads for schools while helping out your students – these things are not mutually exclusive.  John Cabot University does it well here, showcasing their career fair (and industry connections) while issuing a timely reminder to students who may have forgotten (demonstrates care):
This method can also be used if you want to promote courses on social media. Just ensure that you don't indulge in any blatantly self-promotional messaging on Twitter that places your interests above those of community members – this will bore your community and repel prospective followers.
3. Twitter for Education Should Aim to Intrigue & Inspire Your Personas
Your institution is surely a place where intellect is engaged and creativity prospers – and your Twitter account should strive for the same. For an effective social media marketing strategy, schools should tweet content that engages their personas' interests, and speaks to their motivations for enrolling – or considering enrolling.
This might include sharing a pertinent blog post your marketing team or students have written, relevant articles from around the web, or videos that explore topics related to your school, programs, and local community.
Free from self-promotion, content like this connects with your followers, sparks conversation, attracts new members, and reinforce a positive brand.
In this example, the American University of Paris tweets a video that highlights the institution's iconic surroundings – a major draw for its international audience. Current students can relate, prospective students will be enticed, and both will learn a thing or two about this world-famous city:
This next tweet from Herzing College offers a link to content students can use to prepare for finals. There's nothing overtly promotional about it – the link is there purely to be of help:
And also from Herzing, this retweet of CareerBuilder's tips for landing a great job – right on point for a brand that focuses on industry-oriented training:
Here's one more from the Academy of Applied Pharmaceutical Sciences (AAPS) offering Twitter users an interesting blog to read on a topic relevant to their training programs:
Whether you're creating the content yourself or curating it from expert sources, fascinating stories and educational tidbits help establish your account as a fun and helpful place to be.
4. Open Your Campus & Classroom Doors
Your Twitter account is an extension of your school's community. Use it to shine a light on what makes your institution unique – show followers and prospective students what life is like on your campus. This is a great way to align your institution with its personas' goals, and even resolve some of their potential concerns. Highlight special events, student clubs and activities, classroom learning, or how your institution gives back to the world.
Here's a fun example from the American University of Paris:
Invite Twitter users into your classrooms. This is really important for building confidence in your institution, putting a human face to your brand, and encouraging Twitter users to check out your feed more often. Here's a simple example from The Meadowbrook School, a K-8 institution in Massachusetts:
And here is another example of a classroom sneak-peek from Loomis Chaffee, a 9-12 boarding school in New England:
Also from Loomis Chaffee, this tweet shows a group of teachers engaging in a professional development retreat – a great way to promote your institution's commitment to continuous improvement:
For how to use Twitter for college recruiting, education institutions can also encourage transparency by offering prospective applicants chats with current students. This video example from Duke University shows a discussion about housing, student life, and dining on campus – great for giving potential applicants/parents an inside look at what goes on at the college:
5. Share Your Student & Alumni Success
When education institutions celebrate their students' success online, everybody wins. Current students feel supported and empowered, prospective applicants are inspired, and parents feel reassured that your school helps children achieve their full potential. It's definitely worth taking the time to tweet about how your students aim high and make waves.
Here's another nice example from Duke University:
Here's a persuasive tweet from Trebas Institute inviting users to check out an entire blog post about their alumna's success following graduation – a great success story/testimonial for prospective applicants: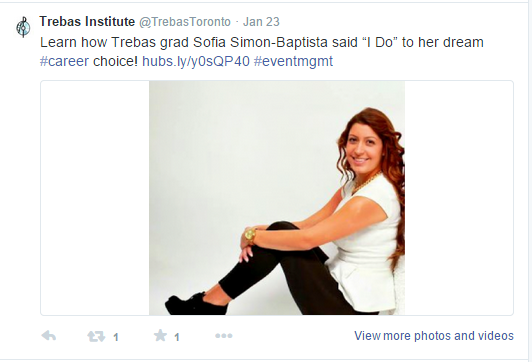 In last example, Bates University tweets a Vine video of students presenting their own research at an undergraduate summit – showcasing their students' involvement in the wider academic community:
6. Twitter for Education Should Promote Staff & Instructors
Sharing good news about your staff and instructors on Twitter just makes good sense for how to promote a school on social media. It reinforces brand prestige by letting prospective students/parents know that your classrooms are guided by experts.
Here is a good example from Brock University, highlighting their professor's new research and TV interview:
Show your followers how your instructors get involved in community events and are publicly recognized for their expertise. In this next example, the University of Manchester celebrates their professors' appearance on a local quiz show:
Keep Twitter users up-to-date on any awards or accolades your professors achieve – their success is your success:
It should be noted here that tweets with visuals will almost always capture more attention, more favorites and more retweets than those without. ICEF confirms that tweets with images enjoy 2X more engagement than those without.
7. Create Branded Hashtag Campaigns for Your Twitter for Education Account
Use branded hashtags to encourage engagement and highlight what truly distinguishes your institution. This way, community members are the ones promoting your brand – not the admissions and marketing team. The results are authentic, more likely to be retweeted, and can help convince prospective applicants to submit inquiries about your programs.
Here's an example of a branded campaign from Notre Dame where current students are invited to weigh in on what makes the university a uniquely wonderful place to study:
Sheridan College uses #SheridanMoment to encourage tweets from followers who were recently accepted into one of their programs. This is a great way to create a buzz around "getting in," encourage new students to engage on Twitter and inspire prospective applicants to make inquiries about your next intake period:
The takeaway about Twitter for education posts is to promote and cater to your personas' interests – not your institution's marketing objectives. When schools tweet helpful, relevant, inspiring content that connects with their followers' aspirations, they automatically promote their own prestige.
How does your school create a Twitter community students (and prospective students) want to be a part of?  Has certain content proved particularly effective in boosting engagement?