Reading Time:
7
minutes
Education institutions of all kinds need visuals on their website to offer prospective parents and students a window into their learning community – and the degree to which you offer them this visibility can have a direct impact on whether they submit an inquiry or move on to a more forthcoming competitor.
There is a lot of data out there that reinforces the advantages of implementing a visual content marketing strategy, for example:
visual content can be processed faster than the human brain (60, 000 times faster than blocks of text)
"views" of published content can jump by 48% if they contain visuals
effective visual content tends to keep site visitors on your pages for longer, and is more likely (than text alone) to prompt action
Since we know how persuasive even static images can be, it's no wonder that video content is now considered the gold standard for visual content marketing. But it's surprising how many education institutions aren't including videos across their website, which is one of their most valuable tools for education lead generation and student recruitment.
The 5 types of video we talk about in this post are often overlooked by schools of all kinds: K-12, language programs, career colleges, and universities. Check out our examples and tips to learn how your institution can integrate video content marketing into your student recruitment strategy.
1.Alumni Interviews: Provide Proof of Positive Outcomes
Whether your target audience is parents of students, teens, or career-changing adults, it's important to offer them proof that graduates from your institution go on to do great things. There is an intensifying focus on the tangible outcomes of education, and chances are your prospective applicants want reassurance that your program will help them reach larger goals.
These larger goals may include landing a dream job, gaining admission to a prestigious university, or earning acceptance to a top graduate program.  Having alumni share their own success story on camera is an attention-grabbing, highly persuasive way of providing this important evidence.
Here's an example from Sarah Lawrence College where successful alumni offer career advice to current students:
Here is another example from Weequahic High School's alumni section. The video shows one of their graduates pitching a business idea on the TV show Shark Tank, and successfully securing funding for his venture!
VCG, an English language school in Vancouver uses videos to capture their grads' positive experiences at the school, and how the ESL training helped them achieve their goals. These stories reinforce VCG's key marketing message (which many language schools share), which is that its courses help students gain entrance to and succeed at partner universities.
John Cabot University strategically positions its alumni testimonial videos under the About Us tab – a place prospective students (and parents) are likely to visit when evaluating the school. They also include a brief summary of the video (to provide context) and a transcript of the interview for viewers who also want a textual description.
And lastly, here is Stenberg College's highly impactful alumni testimonial section, which features several graduate narratives that describe how training at the career college literally changed their lives. Emotionally stirring and practically-focussed, there's no better proof of positive outcomes:
2. Industry Connections: Reinforces Practical Applications of Learning
Using video to showcase your links to industry dovetails nicely with providing proof of positive outcomes. It connects your institution to the "real world" and shows how you help students find their professional path.
 Admittedly, this theme seems more appropriate for career colleges and universities. However, even K-12 schools should consider showcasing how students apply learning in practical ways and gain exposure to potential career paths. Here's an excellent example from Mililana Uka Elementary School who includes this video of students and their parents participating in a robotics competition under a Gallery tab on their homepage: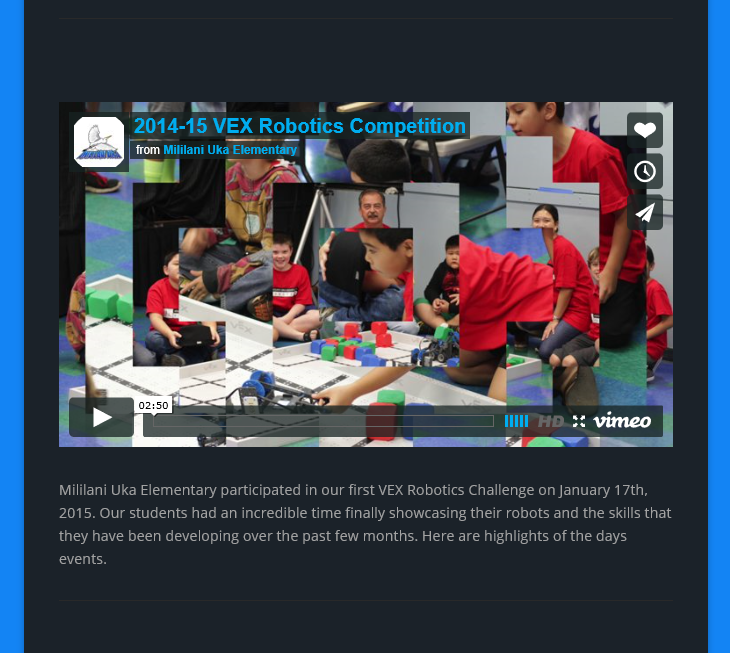 And for colleges and universities: record industry partners talking about how well your interns perform and how they're happy to hire students from your program after they graduate. Easy to consume, these videos will quickly deliver the message that you understand what employers want, and that your institution has cultivated strategic relationships with industry leaders.
Here's an example from George Brown College in which an affiliated employer praises student interns:
3. Students in the Classroom: Inspires Trust in Your Methods
Videos of classroom learning build trust with prospective students and parents by providing evidence that your educational model is effective. Short clips of lessons or students presenting projects can go a long way to differentiating your school from competitors. Plus, content like this makes your instructors, facilities and culture seem more real and accessible – which ultimately will help inspire inquiries.
 Here's a nice example from Little Mountain Learning Academy, an enriched ESL school. They've integrated videos of students learning into their program page (a place parents are sure to visit):
In this next example, Holy Trinity School goes the extra mile and includes a series of videos on their website homepage, segmented by lower, middle and senior grade levels. This is a great way to hook your site visitors' attention right from the start, by giving them an inside look at what goes on in the classroom.
4. Community Engagement: Reinforces an Ethical Brand
Both parents and students are increasingly interested in the idea of schools teaching citizenship through community involvement, commitment to sustainability, and charitable giving.
Millennial students often consider themselves global citizens and want their college to reflect their own feelings of social responsibility and engagement. Many parents want to foster those same feelings in their own young children. When choosing an education institution, applicants like these are looking for authentic, ethical brands that contribute to the world in meaningful ways.
Here's an example of how Concordia University showcases its community engagement through a series of videos in the About section:
This next example from Phillips Exeter (a 9-12 private school) gets part of the way there by including a section on global initiatives, but has not yet upgraded their visuals to video:
They might consider adding some video clips of outreach in action, like Juilliard does on its website:
5. Student & Teacher Successes: Enhances Your Prestige
Awards, publications, special appearances or interviews, a winning project, an ambitious initiative – all help to reinforce the prestige of your school, students and instructors.  Your website's News and Events section is a great place to promote these successes on video, as is strategic locations such as the Why Choose Us page.
Here's a great example from the American University of Paris, who uses video to capture the accomplishments of an ambitious student media project.  Prospective applicants interested in leadership, collaboration, and connecting with industry will identify with the student speaker in the video – and many millennials are indeed focussed on those very goals.
Nardin Elementary school does a great job highlighting student awards, but could take this section of their website a step further by including short video interviews with each of the recipients. This way, prospective parents get a clearer sense of the school's culture, values and academic rigor through the first-person narratives of its students.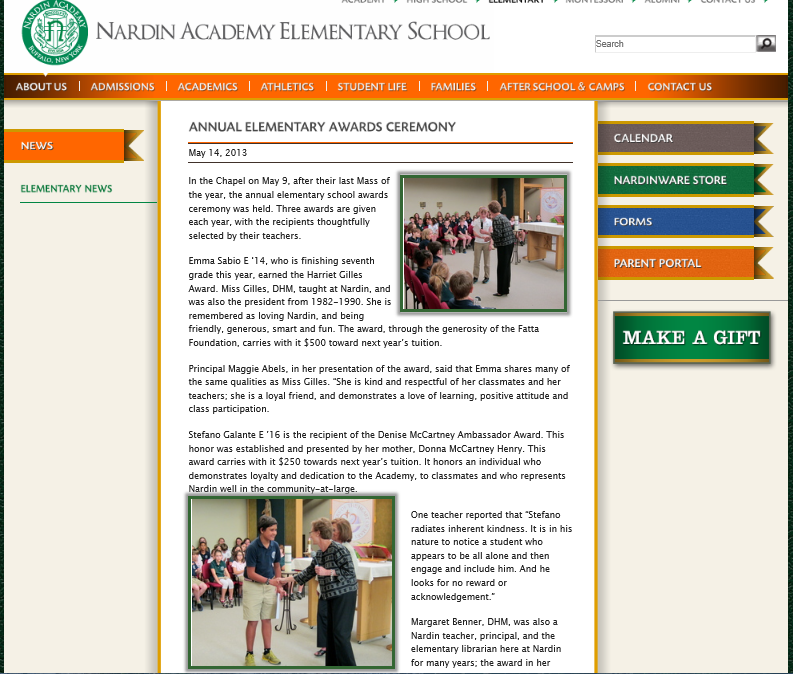 And here, another example from Mililana Uka Elementary School, which uses a Gallery tab on its homepage to organize videos. This example shows one of their own teachers receiving a prestigious education award:
Since many institutions are only including some (and in many cases, none) of these highly compelling examples, there is a valuable opportunity here for resourceful education marketers to differentiate their school website with targeted video content.
What other video themes do you think would help build your school's brand and inspire inquiries?
Let us know your observations, successes or questions in the comments below.