Reading Time:
10
minutes
Imagine you are a prospective international student, preparing to leave your home country for the first time. Do you feel excited, or nervous? Confident, or apprehensive? Are you looking forward to all the new things you're going to do or see, or focusing on all the familiar things you'll miss?
Studying abroad can be a great adventure, but it can also be quite a daunting prospect for a young student. They will naturally worry about fitting in, making new friends, and coping with challenging coursework, all while adjusting to an unfamiliar culture and language. They may also be concerned about facing discrimination or intolerance while at your school, both on and off campus.
And since many international students won't have the luxury of visiting your campus before they enrol, your website is often their main window into what they can expect at your school. So what can you do to make them feel more welcome?
Often, it's the small details that make the difference. Here's just a few ways your website can make your school seem more like a new home than a study destination.
Tolerance, Inclusiveness & Your International Student Recruitment Strategy
Thankfully, most modern education institutions are open, tolerant, and inclusive environments that encourage and celebrate diversity. Nonetheless, it's natural for international students to feel apprehensive when preparing to adjust to life in a radically different culture or country.
They might worry that they will be treated differently, face prejudice based on their race or religion, or even be subject to abuse or violence. It's up to your school to show them that you provide a safe haven where their religious and cultural traditions will be respected, and that they will be accepted and treated equally by staff, students, and the wider local community.
Making a clear commitment to inclusiveness and tolerance on your website is a good start. Many schools publish 'diversity statements' online, which outline their core values and highlight initiatives aimed at promoting diversity on campus.
Example: Duke University's Office of the Provost states its commitment to diversity and inclusion, as well as providing information about relevant programs, centers, training, and education which help to foster equality and tolerance on campus.
While statements like these can be very worthwhile, you can also consider using images or video content to state your commitment to in a more eye-catching way. This can be especially effective if you involve your current international students in the process, allowing you to deliver your message using voices that prospective leads can identify with.
Example: This video from the University of Sheffield uses both international and local student voices to deliver a message of inclusiveness that really celebrates the diversity and openness of the school.
It might also be an idea to get involved in wider initiatives which promote tolerance. For instance, #WeAreInternational, a UK-based campaign which aims to fight prejudice in education, is now supported by over 100 universities and educational institutions. Supporters of the campaign are given access to video materials, a free digital toolkit, and downloadable badges and tote bags to help spread its message. Many schools regularly use the hashtag in their social media initiatives to reinforce their commitment to diversity.
Example: Celtic English, a language school in Cardiff, Wales, use the #WeAreInternational hashtag regularly in their tweets.
The success of #WeAreInternational has led to a similar campaign being launched in the US using the hashtag #YouAreWelcomeHere. Initiatives like this attract a lot of wider media attention, so being involved in them can be extremely important to your international student recruitment efforts, and have a big impact on how your school is viewed by the wider international community.
Promoting Events & Societies Which Cater to International Students
One of the best ways for any student to settle in at a new school is to get involved in campus life. Many schools have multiple societies and clubs where international students can meet and socialise with students from their own country, other international newcomers, and friendly locals.
Promoting what your school has to offer prominently on your website will get students excited and allow them to start thinking about all they have to look forward to, rather than what they are going to miss.
Example: The University of Norwich details a comprehensive list of organizations, societies, and other outlets available to international students on its website.
Special events, particularly those which bring both international and domestic students together, should also be featured prominently on your site. Whether you're operating a small school or a large university, meet and greets, concerts, guest lectures, and meals can all be turned into great opportunities to foster a more inclusive and integrated environment on your campus. And the more active you appear to be in working to make your current international students feel like part of your wider school community, the more prospective applicants will notice.
Example: San Diego State University hosts an International Coffee Hour every week, in which both domestic and international students share their culture through food, performances, and presentations. Showcasing regular events like this on your website will give prospective leads a real sense of what your school is all about.
Welcoming the Families of International Students to Your School
Since many international students may be older than average, or simply come from cultures where it is more common to marry at a younger age, it's not unusual for them to arrive to your country with spouses, and sometimes young children. With that in mind, it's worth remembering that when you welcome international students, you are welcoming their family too.
As a result, it's worthwhile to include support materials for them on your website, such as information on finding schools and childcare, how spouses of students can obtain work permits, and any details on how they can settle in and get involved in their new community.
Example:  The University of British Columbia provides a comprehensive list of resources for international students with family on its website, including suggested activities for partners and spouses, information about childcare facilities and schools in the area, and links to neighbourhood and community organizations.
In particular, it's important to make an effort to reach out to the partners of prospective students, who will often be a key influencer during their decision-making process. The partners of students are even more likely to feel ambiguous about the prospect of moving abroad, as they will most likely not have a job or friends when they first arrive, and won't get the benefit of the readymade support network that a college campus provides.
Not only that, but many partners of international students may not speak your language as well as the students themselves do, making it an even more difficult and isolating experience. Offering personalized support, special events, and online resources lets them know that they are just as much a part of your wider school community as their partner, and helps ensure they offer their full support.
Example: New York University runs weekly meetings for spouses and partners of their international students where they can socialize and make friends, often taking field trips around the city.
Food for Thought: Why Your Campus Menu Matters to International Students
A great article published by ICEF last year detailed the increasing evidence linking campus food culture to international student satisfaction. In a new country for the first time, students long for certain 'home comforts' to make them feel at ease. Having familiar food options available to them can make a huge difference to how quickly they settle in, while health and cultural or religious dietary restrictions are also a big factor for many students.
The ICEF article referenced a University of Guelph study which described how "students related feelings of depression, homesickness and identity loss, hunger, difficulties with weight loss or weight gain, and stories of being forced to compromise religious beliefs in order to eat." So while it's unlikely to be first thing you think of from a marketing standpoint, schools shouldn't underestimate the importance of food culture in both international student recruitment and retention.
Fortunately, recent years have seen many schools move to address international students' complaints that they are not being provided with suitable food options, establishing new ethnic dining options and committing to providing a more socially conscious and healthy all-round service. Despite this progress, however, campus dining is rarely promoted prominently on school websites, and information can be very difficult to find.
Ideally, your website should have a section devoted to your campus dining facilities which provides detailed information on all your menu options. It can also be reassuring for prospective students to include a statement outlining your commitment to providing healthy and culturally appropriate meals. Today's students also favour sustainable and ethical approaches to food sourcing and preparation.
Example: The University of Northern British Columbia's website features an extensive Food Services section. Their dining hall claims to offer 'The Comforts of Home' to both local and international students, and features its own fresh market, global food menus, and sustainable, vegetarian, vegan,  and ocean-friendly options.
Students from different parts of the world may also have dietary restrictions for religious reasons. A number of schools have been criticized for failing to provide adequate kosher, halal, and Hindu menu options in recent years, and it's important to let these students know that their needs will be met.
Example: Columbia University provides detailed information for students about its Kosher meal plan.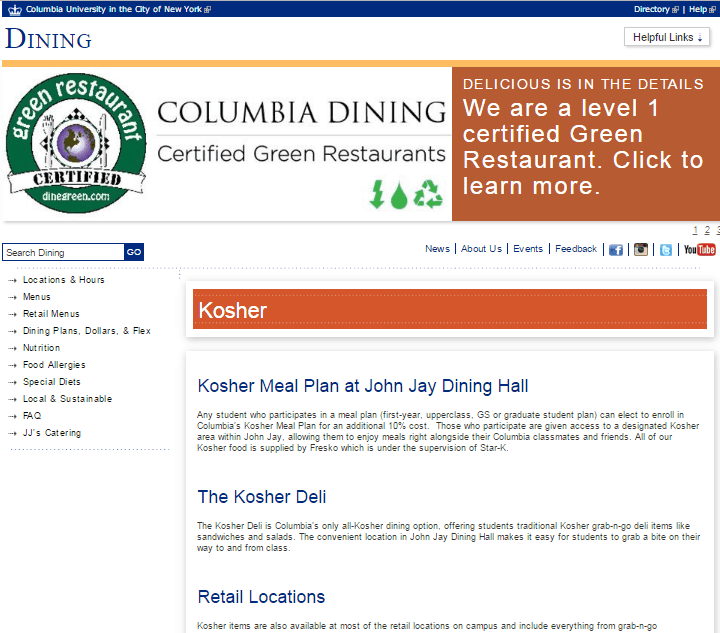 It's also important to remember that international students will often be looking to buy and cook their own food, or eat out in your town. Many schools offer helpful lists on their website of restaurants and grocery stores that cater to international students' preferences. This not only reassures them that they will have plenty of places to eat, but also demonstrates that your location welcomes and caters to different cultures.
Example: The International Student Services section on Brown University's website features an exhaustive list of specialty food stores in Rhode Island, with a range of options to suit almost every culture and nationality.
Connecting and Engaging with International Students
Above all else, it's important that prospective international students feel connected to your school, and one of the most important aspects of this is providing them with accessible channels for online engagement. If you have the resources, offering them the option to connect with advisors who speak their own language can dramatically increase engagement and inquiries.
Example: ONCAMPUS Global, who offer foundation programs at various universities across the United States and the UK, have global representatives in several countries that students can contact by email or phone.
For an even more personal touch, many schools employ current international students as ambassadors for specific countries. This gives prospective applicants the opportunity to speak to people from a similar background and culture about their experiences in your country, and get answers to their most pertinent questions from someone who really understands their needs.
Student ambassador programs can be extremely effective, and should be promoted as prominently as possible on your website. Including brief biographies about your student ambassadors can be very helpful too, allowing prospective students to put faces to names and making the service feel more personal.
Example: The University of Utah has an extensive student ambassador program. Uniquely, they employ both international students and students from Salt Lake City who can speak languages other than English, meaning students have the choice of connecting with a peer from their own country or a student with a wealth of local knowledge.
Social media can also be a valuable engagement tool. When communicating with Chinese students, for instance, many schools find WeChat is the most effective channel. Michigan State University even uses the messaging app to deliver weather warnings and other announcements to its current Chinese students. Not only is this sort of extra effort appreciated by your international student community, but it can provide a boost to your Chinese Digital Marketing initiatives, as current students will tell their peers about their experiences and help to grow your reputation.
Example: Most WeChat users prefer to access accounts by using QR codes. As a result many schools, such as the University of Tennessee, provide theirs on their international student pages.
While it is crucial for your international student recruitment strategy to highlight your programs, facilities, and academic reputation, focusing too heavily on these aspects can leave your school at risk of seeming too impersonal and inaccessible for international applicants.
Taking the time to improve the sections of your website we have highlighted in this blog can go a long way towards addressing this problem, ensuring that prospective applicants from around the globe are left in no doubt that your school has the experience, infrastructure, and inclusive culture to meet their needs, and helping you build a reputation as an institution with a truly global outlook.
What do you feel schools should be doing to make prospective international students feel more welcome? What does your institution do to promote inclusiveness online and on campus? Leave a comment below and tell us more!