How to Make Amplification Part of Your Higher Education Content Strategy
Date posted: March 4, 2020
Considering the time and resources your school has to devote towards creating content, you'll want it to be discovered by as many prospects as possible.
With content amplification, you can reach a significantly wider audience, and get a far greater ROI from your blogs, videos, and other creations. Amplification involves using a variety of digital channels – free and paid, native and third-party – to broadcast your content and increase its reach. Not only does this tactic raise your school's profile online – but it can also help you attract more inquiries and applications.
Want to learn how to create a successful content amplification strategy? Keep reading to find out.
What is Content Amplification? A Primer for Schools
Whenever your school's blogs, videos, infographics, or other forms of content are shared anywhere that's not your school's website, it's content amplification. Essentially, content amplification is a multichannel marketing strategy that aims to multiply content reach through offsite sharing.
Content amplification includes relatively standard digital marketing tactics like sharing your blog posts on social media and including them in your school's newsletter, as well as some more intensive, less common strategies like employee advocacy and content syndication. Ads created specifically to drive traffic to content also fall under the content amplification umbrella. The more robust your strategy is, and the more channels you use, the larger your online audience will be:
If organic blog traffic isn't cutting it for you, or if your school is looking for new ways to improve its online presence, these tactics will help your school improve brand visibility.
But keep in mind that content amplification is not an alternative to content creation – it's an addition. What's more, a content amplification strategy does require work to set up and carry out. Schools can't magically multiply their content reach overnight – they must build up their email list, social media followers, and presence on third-party platforms to get the results they want. Some platforms even require you to submit a pitch before sharing your content.
In the long-term, however, content amplification has a great payoff for schools. After all, you've already created the content – why not showcase it to new and diverse audiences?
Beginner Amplification Tips for Your Higher Education Content
Let's start with the basics. If your school is creating content, it's essential to share it via email and on major social networks. By sharing your content on these channels, you provide prospective students with helpful and informative resources – as well as driving traffic back to your school's site.
Including content offers in emails is a great way to deliver extra value to a prospect's inbox. You may want to create emails that highlight certain resources, as London Business School does below:
Your school can also spice up its newsletter by featuring blog posts:
Schools should also make sure to share their content on social media. Since most prospective students consult a school's social channels before deciding to apply, it's important to provide as many resources as possible to help them in their decision-making process. Facebook, Twitter, and LinkedIn are popular platforms for schools to share blog content, as they allow you to include links and a description:
Instagram, although undeniably popular for higher ed, is not the most apt platform for blog sharing as you can't include links in newsfeed posts. However, you can use Instagram to showcase your school's infographics and videos, as these can be displayed directly in your feed. What's more, if you're a verified user or have over 10,000 followers, you can also create an Instagram Story that links to your blogs or other pages on your website.
Once you are sharing your content regularly through emails and on social media, you should start to see an increase in traffic and views from these channels. From there, you can take your amplification strategy to the next level.
Employee Advocacy for Schools
An increasingly popular tactic among companies with engaged work cultures, employee advocacy involves curating content for staff to share on their personal social media accounts. For schools, this approach can also include current students, parents, and alumni, further increasing its power and potential.
What's more, marketing studies have found that content shared by people, as opposed to organizations or companies, is likely to generate more meaningful engagement. According to LinkedIn, although 3% of employees share their company's content, these posts generate an average of 30% of all content engagement.
Example: This University of Toronto staff member frequently promotes content, initiatives, and news related to her place of work. Employee advocacy not only helps boost your content reach – it also improves your school's online visibility at large.
Not only does advocacy expand your content reach to audiences you would never access otherwise – it can also help your school's key personnel become thought leaders online, which will, in turn, positively impact your overall reputation.
But how, exactly, do schools curate social media content for their team? That's where social sharing and advocacy tools come in.
Platforms like LinkedIn Elevate, GaggleAMP, Hootsuite Amplify, and OKtopost help you distribute content on popular social channels like Facebook, Twitter, and LinkedIn, as well as popular sites like Medium, Quora, and Glassdoor. Each time your school writes a blog or creates a press release, you can share it to your school's network and encourage your staff and alumni to share it, too.
Example: Through advocacy programs like GaggleAMP, pictured below, schools can prepackage posts and tweets that its staff and alumni can share with the click of a button.
Source: Capterra
Many of these tools will also have AI technology to suggest non-branded content for your staff to share. Although this does not directly promote your own offerings, it is nonetheless an important part of content marketing for schools. After all, you don't want your employees only posting about your school – they should have their own voice, too.
If your staff, students, and alumni share both posts from your school and other interesting content related to their field, their reliability, as well as their following, will increase. As you can imagine, this can have a great impact on your content amplification strategy in the long term.
Once you've got an advocacy strategy up and running, how does your school see whether it's working? Luckily, most social sharing tools allow you to track the performance of the posts within your network.
Example: On GaggleAMP, schools can assess the engagement they're generating, as well as which networks are best for generating it.
Source: Capterra
While these systems do a lot of the heavy lifting for you when it comes to advocacy, it's worth emphasizing that you'll still need to devote time and energy to setting up your strategy, curating content, and monitoring the results.
Content Syndication for Higher Ed
Content syndication involves republishing your articles and blog posts on third-party platforms. This includes social publishing options like LinkedIn articles, blog sites like Medium, and online news platforms like Mashable.
Content syndication gives schools the advantage of reaching a wider and more diverse audience, as each platform has its own unique readership. While the more sites you syndicate on, the larger your reach will be, it's important to figure out which platforms are best aligned with your school's target audience to ensure that you aren't devoting resources to channels that may not generate the impact you want.
For instance, if your prospects are avid readers of buzzworthy content and opinion pieces, consider syndicating content on Medium. You can republish your entire blog, or snippets of it, as Keele University did below:
If your prospects are not fluent in your school's language of instruction, consider syndicating your visual content to sites like Pinterest and Tumblr.
These sites are also a great fit if your prospective student personas are younger or more visually oriented, as both have a large following among these groups.
Quora and Reddit may also be advantageous platforms for your school to use. Many young adults use these forums to get their higher ed questions answered, and users will often post links to relevant articles. Neither Quora nor Reddit have native blogging platforms where you can republish your content, but you can still link to relevant pages in your posts.
Example: If you post FAQs, guides, or any other sort of content that answers questions that prospects may have, it could be useful to share on sites like Quora, shown below.
However, content must be shared more subtly on these sites. While useful resources provided by brands can be welcomed in the right context, both online communities are fiercely against these spaces being used for overt promotion.
While some platforms, like Medium, allow schools to create accounts and start posting right away, others require you to submit a pitch in order to share your content. While this method inevitably takes extra work, the results can be worth it. Sites that are picky about submissions are generally held in higher esteem, so having your school's content featured there will significantly boost your brand.
Submission-based syndication platforms include sites like Business Insider, Mashable, and HuffPost. All have large and devoted audiences, which means syndication is highly competitive. As a result, the author usually needs to have some social clout or have written a particularly cutting-edge piece to be approved. As such, this content amplification strategy is best suited for institutions with high profiles like universities and business schools. It's also worth noting that you may need to submit the content under the name of a well-known staff member.
If your school decides to republish written content – whether on free-to-use platforms or ones that require submissions – there are a few precautions to take. Some marketers speculate that Google penalizes duplicate content, although others like Neil Patel suggest that isn't the case. At any rate, duplicate content is difficult for Google's search crawlers to index, so it's important that they recognize the post on your website as the original source.
There are two different tags you can add to your syndicated content in order to direct Google back to your original content source: the "rel=canonical" tag and the "Noindex" tag. Aim for the former, as Google has an easier time recognizing it.
These tags will prevent your school from losing organic search traffic while ensuring that your original content won't get outranked by the syndicated version. Some sites, like Medium, will automatically add the necessary metadata, while others will require you to do it yourself. But beware that there's no way to add these tags on certain platforms, like LinkedIn, so schools will need to weigh the risks against the benefits.
Increase Your School's Content Reach with Paid Advertising
If you want to supercharge the reach of your blog posts, videos, and infographics, you can add paid advertising to your higher education content strategy.
This could be as simple as using the ad platforms you already know and love, like Facebook and LinkedIn ads, to generate buzz around your blog content. You could also create content-specific ads using platforms like Outbrain, Taboola, and Zemanta. These advertising services can get your content displayed on media outlets like People, ESPN, and CNN. If you've ever read an article and saw a bunch of third-party suggested posts, chances are you were looking at paid syndication from one of these ad platforms.
Like social and search ads, you can target prospects using audience segmentation (i.e. retargeting or lookalike audiences), geotargeting, and platform placement (i.e. choosing whether you want to appear on desktop, tablet, and/or mobile) with Outbrain: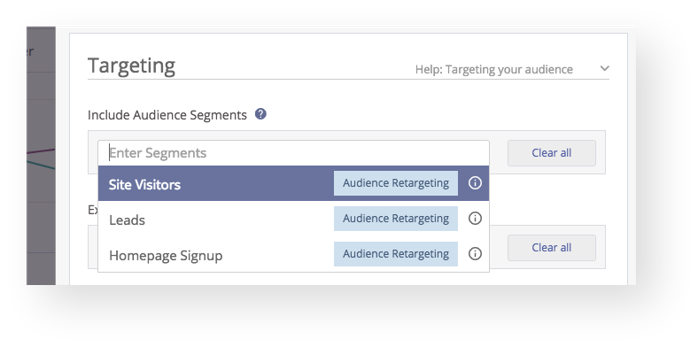 Source: Outbrain
Outbrain also offers advanced options that allow you to target prospects by interests and attributes:
Source: Outbrain
Since sites like Outbrain have a massively large and varied audience, it's important to get your targeting parameters right to make sure your content gets delivered to the right prospects.
If your audience is active on the platform, Quora can be another great option for advertising your content, as you can serve your ads directly to users asking specific questions, which adds an extra level of focus to your targeting.
As with any digital marketing tactic, it's important to keep a close eye on your ad performance to see if this type of advertising is worth your school's while. Since the goals of content amplification ad campaigns are more awareness-based – prospects are directed to your blog instead of a landing page – it's important to temper your expectations accordingly.
Content amplification is a mixed bag of tactics and strategies, so it's important for your school to analyze the impact each component has on your overall higher ed content marketing strategy to ensure you're getting a positive return on investment. It may take you a while to figure out exactly which content amplification tactics best benefit your school, but when you do, your online presence could grow exponentially.