Reading Time:
11
minutes
Blogging has long been one of the most effective strategies for recruiting students in the digital realm. Digestible but rich in information and persuasive without being overtly promotional, a blog post serves as a way for potential students to learn more about your school, their subject area of interest, your location, and many other things which can influence their decision-making process. By using SEO best practices for higher education in your blog, you can improve the visibility of this content. 
Creating an effective education marketing blog strategy goes beyond simply developing valuable content. Through search engine optimization, blog posts can serve as a tool to help more prospects find your school online, boosting your rankings in results pages for important queries and driving traffic to your website. 
So, how you do you create blog content that is engaging and ranks well in key searches? Keep reading for a roadmap to success.
Defining Your Blog Strategy as Part of SEO Best Practices for Higher Education
Before you even begin to create posts that will help your SEO authority, you need to figure out what to write about. As much as employing SEO best practices for higher education can help your posts rank well, value and quality is still the ultimate factor that determines search engine authority, and making sure you have a clear strategy to develop unique, engaging blogs will go a long way.
Like many of your digital marketing efforts, the secret to creating good education marketing blog content is writing with your personas in mind. If you properly define your audience, you can write posts in a tone and style that appeals to them, and that tap into their unique motivations or address specific barriers to enrollment. Interested in receiving personalized support to better navigate our process? Reach out to our team to develop an SEO strategy and build your content marketing efforts.
Example: This excerpt from a persona for a postgraduate business program neatly illustrates some of the goals and pain points of a typical candidate. The goals include advancing their career and possibly starting their own business, while the barriers to enrollment can relate to scheduling issues and a reluctance to take time out of the workforce. Can you think of blogs that could be created around these topics?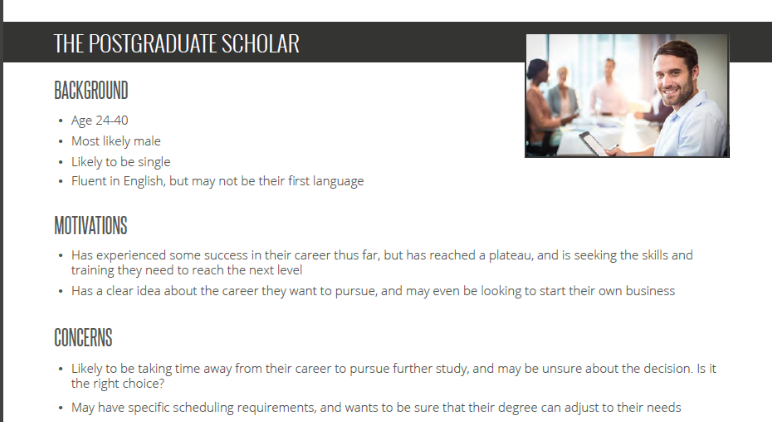 Even during the persona creation process itself, you will likely find that your team gets a number of ideas for potential blog topics that could resonate with your key target demographics. For example, if a major concern of many of your prospects is financing their studies, a blog offering tips to help pay for your education could be just the trick.
Example: Tuck School of Business created this blog offering practical advice for potential MBA candidates looking to finance their studies.
As you go deeper, of course, you'll need to find a way to generate a steady stream of topics that will allow you to produce engaging blogs on a regular basis for the months and years to come. One method which both helps you find new ideas and is great for your SEO is the topic cluster approach. Popularized by HubSpot, this technique involves taking one broad subject area and creating an in-depth 'pillar page' around it, which is usually a longer post. This page provides a general overview of several different aspects of the topic.
Around that, you build 'clusters' of subtopics for additional blogs which address specific aspects of the subject in more depth. You then make sure that the pillar page links to each of the subtopics within the body text, and vice versa. 
Doing this shows search engines that the pages are connected and creates a reciprocal relationship between the posts, meaning the SEO of each one is strengthened in tandem with the others. This helps you build your domain authority around specific search areas.
Example: A topic cluster built around the area of student life.
Of course, you don't necessarily want to create blog after blog on just one particular program, course, or other aspect of your school for weeks on end. As a result, it's better to create several clusters and then gradually develop them. Put together a content calendar that maps out a regular publishing schedule which offers plenty of variety for your readers.
Defining a Keyword Strategy for Your School's Blogs
Developing a list of keywords you want to rank for is crucial for your higher education marketing blog strategy. For most schools, this will involve keywords centered around your programs, courses, and studying in your location, as seen in this example HEM built for an American boarding school:
There are a number of tools you can use to find keywords. Google Ads Keyword Planner, Moz Keyword Planner, and UberSuggest are among the most popular, and each offer a variety of keyword ideas categorized by search volume and ranking difficulty.
Example: An UberSuggest search for keywords around the term 'English language training'. The SD in the right-hand column stands for Search Difficulty. The higher the number is, the more difficult the keyword is to rank for. Which keywords would you target from this list?
You can also use Google Analytics or Google Search Console to find out what keywords visitors are already using to find your site. This can be a valuable way to tap directly into the search habits of your audience in your keyword strategy.
Example: A list of keywords from Search Console for a school that offers digital marketing courses in Montreal. You can see which keywords are generating the most impressions in search, and which are attracting users to click through to the school's website.
A good rule of thumb is to aim to develop around ten variations for each keyword you select. This can include a mix of short and long-tail (4 words or more) keywords. Shorter keywords will often attract a higher search volume, but can be difficult to rank for. Long-tail keywords garner fewer searches, but it can be easier to get your blogs to page one.
Optimizing Blogs with SEO Best Practices for Higher Education
When many people think of SEO-optimized content, they still think of pages full of repetitive keywords awkwardly shoehorned into copy wherever possible. Thankfully, this practice (known is 'keyword stuffing') is a thing of the past. As search engine algorithms have become more sophisticated, they have found ways to prioritize quality and relevance, meaning pieces which indiscriminately shove keywords and phrases into copy are punished rather than rewarded.
Today, SEO for education websites is more about integrating keywords naturally in relevant places, and making sure the architecture of your posts is structured in a way that makes them easy for search engine crawlers to read. There are a few elements involved in this process.
SEO-Friendly URLs
Your URL – the address of your web page – can have quite a significant bearing on its SEO visibility. Generally, a good blog URL should be close to the title of the post, and include a full keyword if possible.
However, it may worth tweaking it a bit before publication, mainly to shorten it. Studies have found that Google slightly favours shorter URLs in search rankings:
A common method of shortening URLs is to remove unnecessary 'stop words', which are words like and, a, if, with, the, etc. These words often have little SEO significance. However, it's important to be cautious with this tactic, as removing some stop words can change the meaning of your URL in the eyes of search engine crawlers.
Metadata
In SEO, metadata refers to the tags that search crawlers use to read your web pages. Two of the most important tags are:
– Page Title: A page title is exactly what it you'd expect it to be, i.e., the title of the page as it appears in Google search results.
A page title for a blog should ideally be the post title, possibly with the name of your school or another keyword word worked in if the title is short. For optimum SEO value, strive to make it under 60 characters long, as anything longer will appear truncated in search results.
– Meta Description: This tag is the text that appears directly underneath the title in search results. Generally, it is accepted by most SEO experts that meta descriptions are not a ranking factor in Google's algorithm. However, since the information displayed can encourage users to click on the page, it can have an indirect effect on your overall page authority, so you should work to make your meta tags as enticing as possible. 
A good rule of thumb when it comes to higher education SEO best practices for meta description length is that they should be between 140 and 160 characters. However, Google often variates how much text it shows in meta descriptions. Some results will show large paragraphs of text, while others might not display a meta description at all.
There are many other types of meta tags which help search engines understand a page's information architecture, images, and other elements. We'll cover some of these later in this blog. 
Information Architecture
In order to read your content properly and discern what it's about, Google relies on a number of meta tags which denote its structure. In addition to title and meta description tags, this includes sequential header tags, which are typically arranged as follows:
– H1: the main headline or blog title
– H2s: headers of specific sections throughout the page
– H3s: subheadings within specific sections.
Longer posts can even have H4s, H5s, and so on. These header tags need to be labeled correctly in your HTML code, and should also include partial or full keywords where relevant. If you structure your post in this way, search crawlers will know that the post has a clearly defined structure, and that the content is relevant to your targeted keyword. Not only is this good for SEO, but it also improves user experience for your readers by making your posts more scannable.
Keyword Integration Within Body Text
In addition to including keywords in your metatags and headers, it's also advisable to integrate them into the body copy of your blogs. There are generally no strict rules when it comes to how many keywords to include in your posts, but many experts recommend including one keyword or a keyword variation per every 200 words as a rule of thumb. 
Again, though, it's important that keywords are integrated naturally, and not forced into your blog in a way that disrupts the flow of your piece or makes your writing appear clunky to a reader. With a little practice, you'll find ways to subtly place them into your blogs.
Optimize Visuals when Applying SEO Best Practices for Higher Education
Images can be a great way to add colour to your blogs and make them more digestible for readers by breaking up long sections of text. What most people don't realize, though, is that images can also have a big impact on SEO.
In general, search engines favour content that makes good use of visuals, but only if they can read them. Search engine crawlers determine the meaning of images by reading their Alt Text (alternative text) tags. This is the text that displays if the image fails to load or is read aloud on screen readers for users with visual impairments. Making sure your alt text tags are reflective of the image you are displaying can therefore boost your SEO.
Another more technical aspect of placing images in your blog is to pay attention to their sizing and load times. Large image files can slow your page load times, which has become even more important recently in light of Google's new Page Experience algorithm update. Using small image files, as well as implementing lazy loading so that images load as users scroll down the page, can help to negate any lag they place on your page speed.
Pro Tip: Formatting for Featured Snippets
Featured snippets are the expanded boxes which appear at the top of many search results pages. They aim to use excerpts from websites to instantly provide succinct answers to common queries.
Example: The featured snippet that appears in the results page for the search 'benefits of an MBA'. The content is pulled from a post by Wharton Business School. 
Such is the power of these snippets in raising awareness of your brand and positioning your site an authority on a subject, they are often referred to by marketing experts as 'position zero' on Google. 
But how do you create blog content that might become a featured snippet? The key is to focus on how you your format your posts. Featured snippets commonly provide lists or stepped directions, so using lists in your posts or structuring your H2s in this way can help you get there.
Example: This blog from Automotive Training Centres has become a featured snippet for the search 'reasons to become a mechanic'. The bullets listed are the H2s of the post.
Some featured snippets also focus on providing succinct, one-paragraph answers to specific questions, so trying to work these into your content could be especially fruitful.
Taking Your School' SEO to the Next Level with Historical Optimization 
Once your content has been posted for a while and has gained some search authority, historical optimization can be an excellent strategy to take your higher ed marketing blog's SEO to the next level. 
Historical optimization involves taking older posts (published at least more than six months ago) and updating them to freshen up their content. Once you're finished, you can also re-optimize them to improve their on-page SEO or target different keywords, then republish the posts under the same URL with the publishing date updated. 
Search engines will then know that the content has been updated and will reward it for freshness. However, the page will also retain its existing authority. This, combined with the improved optimization, can result in a massive boost to the page's traffic.
All of these SEO best practices for higher education can help your school create an SEO-driven blog strategy that will generate a steady stream of organic traffic and inquiries from prospects. When combined with unique content that truly captivates your leads, you have the perfect recipe for success.