Creating a Segment Email for Schools
A 'segment email' is one that can be sent manually to certain groups of contacts, or new contacts that are added to associated segments. 
To start creating a segment email, you'll first need to go into Mautic's email dashboard. To do so, click 'Channels' on the left-hand sidebar, and then select 'Emails'.
You'll be brought to the central email screen where you can click 'New' to create a new email.
From there, you'll be asked what type of email you want to create. In this case, select 'New Segment Email.'
You'll then be brought to an email builder which provides plenty of options for customizing the perfect email.
Customize Your Segment Email
First, you can select your template from the various themes available in Mautic, including the one custom-built for you from HEM. You could also code your own template if you so choose.
On the right-hand menu, you'll find a number of different fields that allow you to schedule, track, and organize your email campaigns. There, you can add details such as an internal name for your campaign and custom UTM tags.
The element that differentiates this section from a
template email
is the 'Contact Segment' section, which allows you to choose who the email will be sent to.
If you experience any confusion filling in your email details, simply hover your cursor over the question marks to find out exactly what information the field is asking for.
If you want to further customize your email, click the 'Advanced' button in the top left-hand corner. There, you can select the 'reply to address,' add attachments, and create a plain text version of your email if you so choose.
If you're happy with your email thus far, feel free to click 'Apply' in the top right-hand corner to ensure your changes are saved.
Once you've selected a template and added any necessary details, the next step in building an email campaign in Mautic is to add the content itself. To do so, click 'Builder' in the top right-hand corner.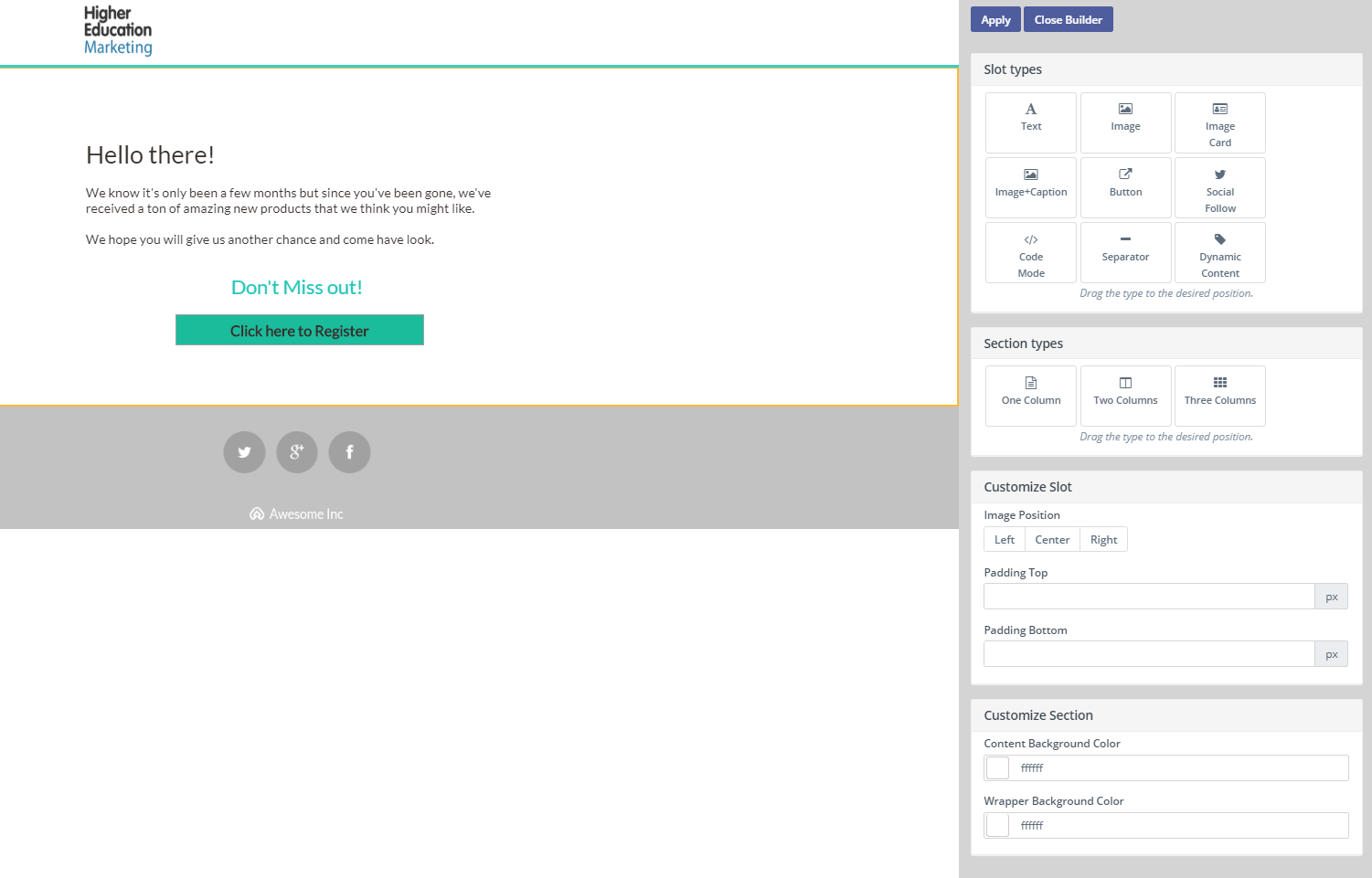 To edit a pre existing element, simply click on it. You can then make any necessary changes in the 'Customize Slot' section on the right-hand side. Your changes will automatically update in the preview version of your email.
If you want to add a new element to your email, there are many different options available on the right-hand menu, which you can click and drag into your email.
For example, if you want to add a header image, simply click 'Image' and drag it to the top part of your email. A blue box will indicate to you the field where your image will be.
Then, you can click on that element in the preview version of your email to edit it to your liking.
Continue editing the template and adding elements until you've created the perfect email for your campaign.