Reading Time:
9
minutes
Perhaps more than any other social network, LinkedIn is unique. While the likes of Snapchat, Facebook, Instagram, and others have sought to expand over the years from their own particular niches to serve a much wider user base, the professionally-focused networking site has remained almost entirely faithful to its remit since its launch all the way back in 2002.
This very particular focus can make it difficult for institutions of different kinds to assess the overall value of their LinkedIn presence to their marketing efforts. On the other hand, LinkedIn's USP can make it a very effective platform for targeting particular kinds of students, providing options that no other social network or online channel can match.
Keep reading to find out how to maximize the value of LinkedIn for your school.
LinkedIn's Role in Student Recruitment
LinkedIn currently has 562 million users. Unlike other social networks, the site only publishes statistics on its total registered accounts rather than daily or monthly active users (although Omnicore estimates that its MAUs number around 260 million). This is somewhat reflective of the nature of the site, as many users will only use it when looking for a new job or to otherwise further their career.
In the earlier part of the decade, LinkedIn attempted to position itself to take a key role in the college search process for students, developing university finder tools loaded with features. However, this aspect of the site was not quite as successful as the company had hoped, and these features have been scaled back over the last few years. Chegg's Social Admissions Report in 2016 found that just 17% of US undergraduate students had used the site at any point during the college research process, with sites like Instagram, Facebook, and YouTube proving far more popular:
Tellingly, the 2017 edition of Chegg's report refrained from including LinkedIn at all.
However, while there may only be limited potential in using LinkedIn for student lead generation, it definitely does not mean that it is not a useful channel. For a start, institutions offering professional development, online, and part-time courses are a natural fit for the site. LinkedIn is also seen as a particularly effective tool for recruitment as postgraduate level, particularly for professionally-focused programs such as MBAs. The site's own research indicates that prospective students in this group average two times more LinkedIn homepage views than the average user, and also found that 88% of admissions professionals rated LinkedIn as the best social network to find quality candidates at this level. The platform has presented numerous case studies showing the positive results institutions have gotten in this sector.
Example: Florida International University used a mix of solutions to promote its online master's programs on LinkedIn. FIU's Sponsored Updates attracted a 1.8% engagement rate, while its LinkedIn InMail campaign had an open rate that was two times the LinkedIn benchmark.
Many of the targeted prospective students in these types of programs will already be somewhat professionally established, and are looking for a program that will bring their career to the next level. That isn't to say, however, that LinkedIn should only be used by schools targeting more mature students. The biggest plus point of the prospective student audience who does use the platform to research schools isn't its size, but its desirability.
Because of the nature of the site, LinkedIn tends to attract users with a motivated, goal-oriented mindset. These characteristics are desirable in students across all types of institutions and age ranges. Simply put, a candidate who is active on LinkedIn is focused on bettering themselves, which can be a very positive sign if you are looking to improve the overall quality of your leads. LinkedIn have even offered their own data to support this, stating that its users have a higher 'grit score' – a measure of determination and perseverance – than the average person.
How Schools Can Create Posts and Content for LinkedIn
The question for schools, then, is how to appeal to such a discerning audience, and finding the right strategy to speak to the LinkedIn mindset is crucial to leveraging it successfully. The key point to remember is that unlike other social networks, LinkedIn users are usually there primarily for work and not play. While you should still be looking to produce posts that people enjoy, you should keep in mind that visitors to the site will be looking for things that offer some kind of tangible value or benefit towards their career growth or personal development. Sharing strategically chosen long-form content like blogs can be ideal for this purpose. For instance, posts offering industry specific tips or insights can be a great way to reach potential applicants on the site.
Example: WU Executive Academy in Austria make good use of LinkedIn by sharing business-focused content.
It's also important to keep in mind that LinkedIn members are far more career-oriented than other social media users. Even at undergraduate level, prospective students who specifically opt to use this site as a research tool will be doing so because they want to gauge how your courses and qualifications can help them beyond graduation. Highlighting graduate outcomes and alumni success stories can therefore be a shrewd strategy.
Example: This post highlighting a successful alumnus from UCD Michael Smurfit Graduate Business School is a great example of the sort of social proof LinkedIn users look for.
Another aspect of the LinkedIn community to be aware of is the value it places on thought leadership. Active members tend to very engaged and dedicated to their chosen sectors, and will often use it to seek out and share content related to developments at the cutting edge of their industry. Sharing content that touches on the latest industry trends, research, or developments can lead to it being seen and shared by not only prospective students, but industry leaders in particular fields, who will often command large followings on the site.
Example: This story about a technological project undertaken by the University of Manchester highlights the school's role at the forefront of research and development.
Managing Your School's LinkedIn Presence
While schools once had separate university and company pages on LinkedIn, these have now been amalgamated, meaning that you must maintain your presence as both an employer and an education provider in one place.
While this is arguably easier from a day-to-day management point of view, it can be a challenge to strike the balance between both, particularly in the About Us section which appears prominently on your homepage.
Example: UC San Diego does a good job of delivering a description on its LinkedIn About Us page that is appealing to both prospective students and potential employees.
A LinkedIn University page also offers other information that can be very instructive for prospective students. For example, the Alumni Insights section appears just below the About Us section, and users can click to another page for expanded information. This section offers insights into what organizations graduates have gone on to work for, what roles they have, and where they are based.
Example: The University of Manchester's Career Insights page shows that alumni have found work in several desirable organizations such as PwC and the NHS.
Another unique feature which many schools find useful on LinkedIn is Showcase Pages. These are customized individual pages that act as an extension of your main page, and allow brands to spotlight different products and services. Many schools use Showcase Pages to highlight specific courses, departments, or campuses.
Example: The University of Michigan created a showcase page for its joint Master's in English and Education program.
Advertising on LinkedIn for Schools
Perhaps the most intriguing options offered by LinkedIn for universities and other institutions relate to paid advertising.  Due to its professional focus, the targeting offered by LinkedIn Campaign Manager is unlike any other social ads suite. In addition to basic characteristics like age and location, the site allows you to target users based on profession, industry, existing qualifications, years of experience, and even seniority.
This can be particularly useful for schools looking for candidates with very specific qualifications, and LinkedIn have spotlighted a number of success stories that show the effectiveness of their ad campaigns for higher ed. ESCP Europe, for instance, used LinkedIn ads to reach over two million potential applicants for its Masters in European Business program, achieving an incredible 14% conversion rate. That's 280,000 prospective students.
LinkedIn's Matched Audiences options also provide opportunities for remarketing. By placing a LinkedIn Insights tag on your website, you can use website retargeting to serve ads to prospective students who had visited your site previously on LinkedIn. You can also upload contact lists from your CRM to retarget leads who originated through different channels.
The platform offers a number of different ad options. Sponsored Content ads appear in user's feeds much like boosted posts on sites like Facebook and Instagram, and are a great way to drive both engagement and conversions. William and Mary School of Business, for example, saw a 100% increase in their University Page followers after a Sponsored Content campaign.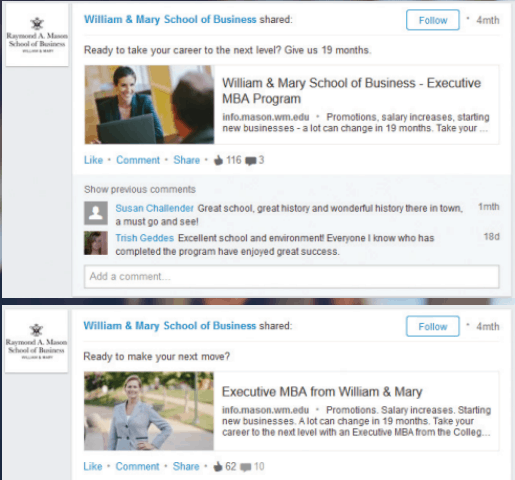 Text Ads are also a good option. These short ads are similar to paid search ads in format, and appear either at the top or right hand corner of the LinkedIn homepage. It should be noted, however, that Text Ads are only served to desktop users.
Possibly the most interesting ad option on LinkedIn is Sponsored InMail. These messages are sent directly to a users LinkedIn inbox, and serve as a unique halfway house between social advertising and email marketing for schools.
Example: Duke University generated more than 2,000 leads with a Sponsored InMail campaign.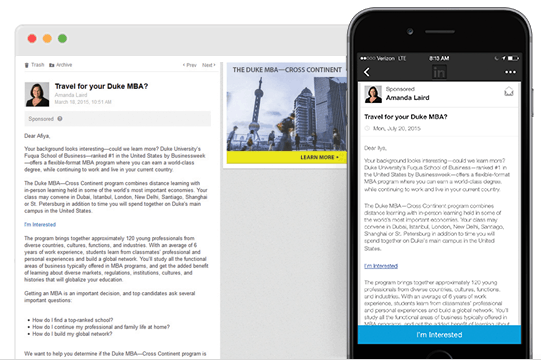 Measuring the Success of LinkedIn for Student Lead Generation
One of the huge pluses of the changes introduced to LinkedIn for schools over the past number of years has been the addition of better analytics tools. Where the previous university pages offered limited performance data, the new pages allow schools to access Linked Insights' full suite of tools. This includes metrics on page views, visitors, reach and engagements. It also allows users to view extremely insightful Follower Demographics data, which provides information about the industry, roles, company size, and seniority of those engaging with your school on the site.
Example: A sample of the Follower Demographics Job Function data report on LinkedIn Insights.
Adding a LinkedIn tracking tag to your website can also allow you to set up conversion tracking to evaluate the success of LinkedIn ads in driving prospective students to your site.
Measuring the success of your LinkedIn efforts will be key to determining just how valuable it is to your student recruitment initiatives, and how a big a part it should play in your overall strategy. Offering access to a very specific type of audience, LinkedIn is obviously going to more effective for some schools than others.
However, its unique value proposition means that it is well worth investing some time in. Simply put, LinkedIn affords your school access to high quality, motivated potential leads that you just won't find anywhere else. Even if it plays only a small role in your student recruitment efforts, it could be more valuable than you realize.