Reading Time:
13
minutes
In the fast-paced world of business education, not only do schools want to find quality candidates – they need to reach them ASAP.
Paid advertising can help business schools do just that. Through well-organized, strategic campaigns,you can accurately target top prospects at a faster rate by using Google and social media ads.
However, with increasing competition amongst business schools online, you'll need to make sure to optimize each aspect of your digital advertising strategy in order to reap the benefits.
Whether online ads are new to you, or you'd like to improve your current campaigns, this blog offers a number of tips and tricks for business schools looking to perfect their paid advertising strategy.
Step 1: Set Goals for your Business School's Ads
What does a successful ad campaign look like for your business school?
It's an important question, but not all schools can provide you with a definitive answer. Sometimes admissions teams are so focused on launching campaigns and generating leads that they don't take the time to determine what, exactly, they want their ads to achieve.
By defining your objectives before you create your ad campaigns, and determining which metrics you want to meet, you'll be setting yourself up for long-term success.
For starters, think about what element of your school you want to grow. Do you want to promote a specific program? Are you looking to stand out among the competition? Does your school want to increase applicants from specific locations?
Answering these questions can help you decide what kind of content to create, what channels to advertise on, which prospects to target, and more.
Once you've determined your general goals, you can then plan for how you're going to reach them by attaching numbers to your objectives.
For maximum advertising success, your business school should have an approximation of how many leads you want to generate before setting up your ads in order to make sure they are reaching enough people to achieve your desired outcome.It's also crucial to determine how much you will need to spend in order to reach that goal.
Having a good idea of your objectives, and the resources you can allocate to them, allows you to set realistic expectations going into your business school advertising campaigns.
Step 2:
Create a Clear Messaging Strategy for Your School
What are your prospective students looking for in a school? Once you have the answer, you'll be able to create ads that are compelling and relevant for your target audience.
To start, you may want to look to your personas for guidance.
Example: This business school persona is looking for a modern school with cutting-edge technology and global recognition. If your personas have similar motivations, make sure to highlight how your school excels in these areas in your ads.
This ad from UNSW Business School would likely appeal to the above persona.  The modern design and Google logo would likely catch the attention of any tech-savvy business prospect. Additionally, the ad spotlights its international ranking with an impressive statistic.
Most business schools already have a good idea of what their main selling points are, but it's essential to narrow in on the specific motivations and concerns of your prospective students if you want your ads to speak directly to their needs.
Step 3: Choose the Right Paid Advertising Channels for Your Business School
Now you know what you want your business school ads to say – so the next step is determining how you want to say it, and who you want to hear it. Each paid advertising channel offers a different way of conveying your school's message, and each has its own audience.
Of course, there is significant overlap amongst channels: a Facebook Ad looks almost identical to a Twitter Ad, for example, and your prospects are likely to visit multiple popular platforms online. But it's important to weigh the pros and cons of each when creating your paid advertising strategy. That way, you can allocate your budget according to the channels your prospects are most likely to use.
Google Ads for Business Schools
When you think of online advertising, what kind of ads come to mind? Considering that Google is not only the most popular search engine but the biggest advertising platform on the planet, Google Ads are likely the first you think of.
Because of their expansive reach and mass influence, Google Ads are usually a staple part of paid advertising for business schools.
Search ads tend to be the more popular ad choice for business schools, as your prospects conduct ample research before deciding on an institution – and you want to make sure your site is visible during that process.
To create a search ad, your school bids on certain keywords – like study business in Germany, for example – and when users search those terms, your ad will appear.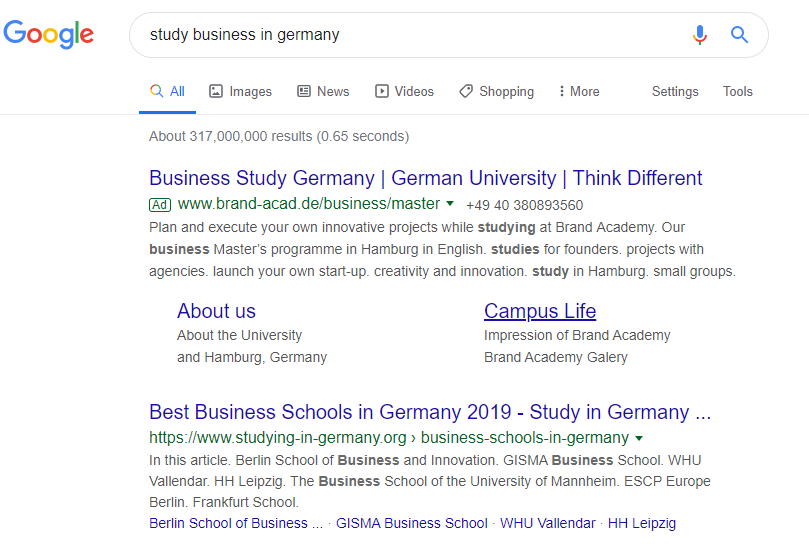 There are also other factors such as your CPC bid and quality score that effect where your ad ranks. You can learn more about that in our in-depth Google Ads overview for schools.
Google display ads, on the other hand, are banner-style ads that appear across the 2 million websites in the Google Display Network. The exact placement of these ads is determined by a number of different targeting options such as keywords, demographics, and browsing history.
Both display and search ads will boost your school's online visibility, but search ads can be particularly helpful if you want to reach leads in the beginning stages of the enrollment journey,as you can introduce them to your school as they research business programs.
As for display ads, you can make them work for any stage of the enrollment journey, but they can be especially successful in reaching hot leads. By retargeting your display ads at prospects who have already engaged with your website – perhaps they submitted a form or visited your admissions page – you can urge them towards filling out their application.
Social Media Advertising for Business Schools
Since 96% of prospective business students use social media and 67% use it to learn about graduate education opportunities, social platforms are becoming increasingly important recruitment tools for business schools. Through paid advertising, your school can achieve the visibility it needs on social media.
When it comes to social advertising, there are a number of different platforms, ad placements, and targeting options to choose from. The average CPC bid also differs across channels, so business schools should think carefully about which social platforms best accomplish their purpose. The handy chart below can help you get started.
Your personas can also help you figure out which advertising channels are most effective. Chances are that LinkedIn will be a top contender considering that it's the go-to platform for business professionals looking to take their career to the next level. A recent LinkedIn report even discovered that professional social networks are among the top 4 influences for prospective students looking for a graduate business program.
However, the power of LinkedIn Ads comes with a price – LinkedIn is arguably the most expensive platform to run ads on.
With that in mind, it's probably wise to include multiple social platforms in your paid advertising efforts. Facebook, for instance, is an essential component of practically any digital advertising strategy. As the world's largest social network, Facebook Ads boast the largest audience.
Instagram, too, is becoming too big a social media channel for business schools to ignore with its potential advertising reach of 849.3 million users. Twitter is also a viable social advertising platform for business schools as it is one of the go-to sites for professionals who want to stay up to date with the latest trends and developments.
Keep in mind that the exact amount you should allocate to each channel differs from school to school, but using a diverse array of social networks ensures you have the best chance of reaching the widest audience.
Step 4: Create Winning Business School Ad Content
Regardless of which platforms you choose to run campaigns from, it's crucial to use each channel to your advantage by presenting your message in the most effective and eye-catching way possible.
With a clear messaging strategy in your toolkit, crafting the perfect ad will be much easier, and you're also more likely to achieve the results you want. All you have to do is tailor your ad content for each advertising platform.
Google Search Ad Best Practices
While there is less room for customization when it comes to Google search ads, there are still different tricks you can use to maximize your impact.
Example:  These 3 MBA search ads look remarkably different from one another. For starters, each differs in length. While the University of Cumbria's ad text is one line, Yale has a full paragraph. Notice, also, how Yale's ad includes two extra categories – Life at Yale and Class Profile – and Brookes's ad has a number of different links at the bottom. These features are called 'extensions' which allow advertisers to incorporate different offers into their ads.
To make the most out of your search ads, pay close attention to your copy and the extensions you use. Many business schools use a bullet point approach to their ad text in order to highlight as many benefits as possible in such a limited space. Brookes and Yale both use this method, as demonstrated above.
You can also add a number of different ad extensions – for free– in order to promote different offers. If you want to draw prospects to different webpages, consider using sitelink extensions, which display additional links. Business Schools that want to invite prospects to contact their admissions team may want to use the call extension. Keep in mind, however, that ad extensions are not guaranteed to show every time your ad is displayed, as they depend on your ad rank and placement.
Google Display Network Ads Best Practices
Although search ads and display ads are run on the same platform, the process of creating their content differs greatly.
Google Display Network ads come in a number of different formats with customizable features. Here are the 4 types of Google display ads you can choose from:
Text ads: these includes a headline and two lines of text
Static image ads: visual banner ads
Rich media ads: image ads that include interactive or animated elements
Video ads: display ads that show exclusively on YouTube
Example: The text on this rich media ad from Imperial College Business School alternates between the three following phrases. The more creative and dynamic your ad is, the more likely it is to capture a prospect's attention.
Regardless of what ad type you choose, make sure to include a CTA (call to action) in order to invite prospects to click.
Example: Those who come across this UNC Kenan-Flagler ad are drawn to the bright yellow CTA in the center.
Social Media Advertising Best Practices
Social media advertising offers plenty of flexibility in terms of design and placement, making it easy to tailor your ads to your target audience.
From standard formats like sponsored posts, to channel-specific options like Stories ads, there are many different ways to present your school's offerings.
Example: These two GMAT Instagram Ads boast different benefits. The Stories Ad enables prospects to visit the GMAT website by clicking the 'Learn More' CTA, while the sponsored post includes a 'Follow' button and allows GMAT to include more text.
For business schools, LinkedIn InMail is a particularly popular ad option.
Example: You can easily create personalized InMails that send your school's message right to the inbox of prospective students. What's more, LinkedIn InMail has a 300% higher response rate than email.
It's considered best practice to include a number of different ad placements in your campaigns, so feel free to test out different options in order to see which most effectively attract your target prospects.
Step 5: Target the Right Audience with Your Business School Ads
All the time you've spent crafting the perfect paid ads will be for naught if your prospective students don't get a chance to see them.
This is where audience targeting comes in. By selecting the right targeting options, your ads will reach the right users, which makes this step of the process a crucial one.
Search Ads Targeting
For search engine ads, your targeting strategy is largely determined by the keywords you bid on.
Just as your personas help you strategize what kind of content to create, you can use them to figure out which keywords your prospects are likely to be searching for.
Put yourself in your prospects' shoes to figure out what it is they are looking for, and what kind of information they need. Is there a certain kind of program your prospects are likely to be looking for? Perhaps they want to study in a particular location? Or are they seeking a particular type of course delivery, such as an online or part-time degree? Asking questions like this should naturally bring to mind a number of search terms that would fit your campaign.
Example: These general keywords are relevant for a number of different business schools.
Once you've got some ideas, you can use a program like Google Keyword Planner to come up with additional keywords and assess their search volume.
Since the more popular a keyword is, the more expensive it will likely be to bid on, you need to make sure you pick words and phrases that fit your budget.
If you find that your keywords of choice have a CPC out of your price range, consider bidding on long tail keywords. For example 'marketing degree in Vancouver' will likely be cheaper than 'marketing degree'.
By carefully defining your keyword strategy, you can make sure your ad content matches exactly what prospects expect to see when making search inquiries.
Although keywords are the primary factor that determines who sees your search engine ads, Google also allows advertisers to narrow their audience with demographic targeting.
You can target people of a certain gender, age, parental status, and household income. Advertisers can also reach users in specific locations, which is especially important if you bid on keywords such as 'business school near me,' or other phrases that don't specify region.
Google Display Network Targeting
In contrast to Google search ads, display ads come with a multitude of targeting options, including:
Topic targeting: target users browsing certain page categories
Interest categories: target users with relevant browsing history
Placement targeting:target users on specific sites
Contextual targeting: target by keyword
Demographic targeting: target users of a certain gender, age, and more
Since the competition is high amongst advertisers using display ads, it's especially important for your targeting to be spot on.
Social Media Targeting
Audience targeting options differ across social channels, but once you've mastered one, you're likely to find it easier to get started on other platforms.
For instance, as the largest social media advertising channel, Facebook arguably offers the widest range of targeting options – from demographics to locations to interests. You can also target those with a connection to your school, or those who've performed certain actions on your website or social media channels.
Example: Business Schools looking to target prospects for graduate finance degrees may want to start with the following parameters.
Step 6: Monitor Your Business School Ad Campaigns
Regardless of whether you're a seasoned advertiser or are just getting started with paid ads, it's always important to keep a close eye on your campaigns. That way, you can learn what works and what doesn't for your school – as well as maximize your paid advertising budget.
Google, Facebook, and all the other social media ad platforms offer ad monitoring tools that you can use to analyze and optimize your campaigns.
Example: This Google Ads campaign report offers insight into how much a school spent on its ad campaign, and how many leads it generated as a result.
As demonstrated above, ad reports include a number of different metrics. While all have their merit, here are the ones you should really be paying attention to on a weekly basis.
Impressions
Cost
Clicks
Click through rate (CTR)
Conversions
Cost per conversion
But it's not enough to just look at the data – you also have to act on it. This means swapping out ads that aren't performing well, increasing your budget on high-performing ads, and experimenting with new ad copy or placements until your school has achieved its goals.
You could also consider launching a remarketing campaign at some point in the process to transform high-quality leads into students. These campaigns enable you to specifically target users who have already visited your website but have yet to submit their application.
If you're running ads on Facebook, Lookalike campaigns can be another helpful addition to your advertising efforts.  Lookalike campaigns promote your ads to those who share interests, demographic qualities, or other attributes with the individuals being targeted by your regular campaign. This option is particularly viable for those wanting to reach new markets while retaining their lead quality.
If you are considering these kinds of campaigns, it's important to get the timing right. If your ads are achieving your desired results, you may want to wait awhile before running any remarketing campaigns. If your ads aren't performing as you expected, consider starting your remarketing efforts earlier and running them for longer.
Over time, you'll be able to spot trends in your ad campaigns and continuously improve them. This way, you'll spend less time troubleshooting and more time engaging with your new leads.
Given the competition in the sector today, it's no longer a question of whether or not ads are part of your business school's digital marketing strategy – it's a question of how effective they are, and whether you're optimizing them for maximum success. But with striking content, strategic targeting and data-driven monitoring, you're bound to find the right prospective students for your school.