Education Recruitment Strategies for Attracting Working Students
Date posted: April 17, 2019
How many of your students have full-time jobs? While people working through their studies is nothing new, there have been signs in recent years that the proportion of students in employment, and the number of hours they are working, is increasing.
Taking the USA as an example, a recent Georgetown University study found that nearly 40 percent of undergraduate students and 76 percent of graduate students worked more than 30 hours per week. Other kinds of institutions like language schools and career colleges are also likely to have high percentages of working students.
So how do you provide for the needs of this growing segment of your school's community? Keep reading to find out.
Why Do Your Students Work?
The reasons for the growth in working students are arguably a combination of push and pull factors. At undergraduate level, for instance, the increasing cost of education over the years has made working a necessity for some.
And while a variety of funding options are available, students are becoming increasingly cautious about the future burden of accepting financial help for their education. A 2017 survey by the College Savings Foundation indicated that only 63 percent of Generation Z students were considering the possibility of taking on debt, compared to 71 percent the year before, while only 49 percent were planning on seeking financial aid.
Working is one of the ways these students plan to bridge the gap. 85 percent expected to take on a job at college, while as much as 20 percent said they would work full-time. The number of mature students at this level has also increased over the past number of years. This group is likely to have families and other responsibilities, and may still need to work regardless of any other financing they seek out.
On the other side of the coin, the increased amount of options available for both work and study has possibly played a role, with online connectivity equipping students with the capability to do both remotely. More flexible study options also make it easier for student to pursue work and study concurrently.
Example: Herzing College attracts a lot of students who work. The school's Flex-Ed approach allows them to customize their schedule to fit their needs, and forms a key part of the school's marketing messaging.
Beyond undergraduate level, postgraduate students are often likely to need to work due to their age and responsibilities as well. However, students at this level may also want to remain in employment in order to continue to advance their careers and climb the professional ladder, particularly in competitive fields like business.
Part-time MBAs are a by-product of this need, and are becoming an increasingly common alternative to full-time courses.
Example: This ad for Yale's Executive MBA program, which is shown in a search for 'flexible MBA', is specifically aimed at prospects who want to work while obtaining their degree.
Many top-level companies will even help their employees fund these courses in the hope that they can reap the dividends of their newfound knowledge, and education recruitment strategies for business schools can often involve targeting employers.
Additionally, short professional development courses are another option that is gaining traction among both professionals and employers alike, especially in tech-related areas, where there is a constant need to retrain and upskill in order to keep knowledge up to date.
Example: Southampton Data Science Academy offers corporate packages for organizations to provide tailored data analytics training for their employees.
Working students are also becoming more and more prominent in language education. The increasingly global nature of various industries means that many people now find themselves employed abroad, and in many cases, they will arrive with limited knowledge of the native language of their new home. Specialized courses tailored for expats and business purposes can bring their skills to the level they need to thrive in both their professional and day-to-day lives.
Example: Liden & Denz offers Russian language training tailored specifically for expats in St. Petersburg. The school have clearly thought hard about catering to the needs of their audience, and offer a number of appealing options, including evening group classes and even in-company training.
These are just a few examples of typical situations working students may be in at different education levels, but your own audience's needs may be quite different, and it's important not to make any assumptions without doing the necessary research. The proportion of your audience working students make up will also naturally vary depending on what type of institution you are and the courses you offer.
As a starting point, you should consider surveying students to find out how many work, how much they work, and why they do it. This information will help you to define detailed student personas for this group, and pinpoint their specific characteristics, motivations, and needs.
Emphasizing Work-Friendly Study Options in Your Education Marketing Strategies
Once you have determined a persona for your prospective working students, you will have a better idea of how to position your school and courses to appeal to them.
For best results, you should consider the overall branding of your school or courses, with the aim of adopting a messaging strategy that is 'working-student-friendly.'
In many cases, this starts with flexibility. Presumably, any courses you offer that are targeted towards those who work will offer a schedule that is suitable for this demographic, whether that includes evening or weekend classes, online learning options, or just a manageable amount of course hours.  Placing this aspect of your courses front and centre in service pages, advertising, and social media posts will help ensure you generate interest from this audience.
Example: Lazardis School of Business and Economics places its convenient schedule front and centre in its messaging for its Alternate Weekend MBA program.
Academic resources and support are also likely to play a key role in your working student recruitment strategies. Working students usually don't have all day to spend in your libraries studying, or the ability to meet for group study sessions in the middle of the afternoon, or even the luxury of waiting for your instructors' office hours to discuss their progress.
As a result, they need the reassurance that your school will offer the help they need, when they need it. You should aim to promote any resources you provide to help them through their course more easily, such as online libraries, virtual tutors and study resources, or designated advisors who are contactable 24/7.
Example: The University of London and London School of Economics deliver a number of flexible study courses in partnership using a sophisticated virtual learning environment. The tool affords students access to downloadable course materials, group discussion forums, and video tutorials. These kinds of options are perfect for working students.
Your school should devote some attention to easing concerns working students may have about time and workload management, too. Taking on both employment and study is a tremendous undertaking for most students, and it's natural that they will question whether it is too much. Providing content that offers tips for managing their responsibilities, helps them plan their routines, or even just offers gentle encouragement to pursue their goals can help to convince them that it is achievable.
Example: The Kangan Institute created this blog offering simple tips for balancing work and study.
Focusing on the Goals of Working Students
Keeping in mind the ultimate end-goals of working students is also important. Many of them will be older, and are returning to education to either change or upgrade their current career, while even younger working students are likely to be quite practical and results-oriented.
That means it's vital to position your school as the best path to achieving what they want. Content marketing can be ideal for this purpose, offering you a platform upon which to present the value of the qualification you offer, and the skills students will acquire.
The key is tap into the mindset of your prospects. Those seeking a career change, for instance, will often be nervous about taking a different professional path, particularly if it is one that is more competitive or comes with more risk. Emphasizing the practical opportunities your course can offer to help them build their resume, the quality of your instructors and facilities, and the career opportunities a qualification can afford them is essential.
Example: This blog promoting Falmouth University's flexible MA in Photography offers tips for how aspiring professionals in this field can find a niche upon which to build their careers. Content like this could be very valuable for prospects who might be passionate about photography, but worry about the sustainability of trying to build a career in the field.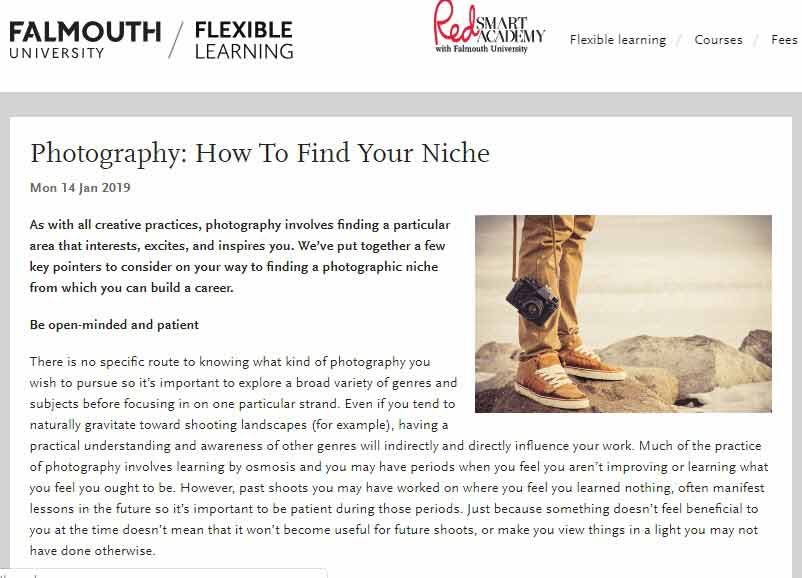 If your course is aimed at professionals who are already on their desired career path, on the other hand, you should be aiming to highlight not just the future benefits your course will offer them, but the present ones too. Schools promoting MBAs, for instance, might point to how the insight working students will gain from their course can be incorporated into their daily professional roles as they progress, offering them an immediate return upon their investment.
Example: The Copenhagen Business School emphasizes that its Executive MBA program will add immediate value to the daily work of its students, with projects designed to be applied directly to their organizations.
Schools should keep in mind, too, that employers may well constitute a portion of their target audience. Organizations may provide funding for short professional development courses, language training or MBAs, as well as time off and other support. Creating content that sells the benefits of what you are offering specifically to companies could be a valuable avenue for you.
Example: Cactus Language Training created this blog about the benefits of corporate language training for businesses.
Focusing on the successes of your graduates is also important. You should try to feature student success stories and testimonials across your web and social channels, as this will provide valuable social proof of the worth of your courses.
Example: The David Eccles School of Business posted this video on YouTube detailing the experiences of an Executive MBA graduate who secured a lucrative position with Adobe.
Working Students are Usually Local Students
While there are some exceptions, the majority of prospects who are intending to work full-time while at your school are likely to be based in your local area, and will be seeking a school nearby that offers the study options they need. Even in language education, students who are working while they pursue their courses are likely to already be living in your city, even if they come from somewhere else originally.
With that in mind, including local SEO in your student recruitment strategy can be a great way to increase the likelihood of being found by working prospects. Optimizing your GMB listings, focusing on localized keywords, and investing in targeted digital advertising campaigns on social media and search can all help you to tap into this market.
Example: This listing for GEOS Toronto shows up on page one of Google results for the search 'part-time language courses in Toronto', a likely query for working students. Note how the description specifically promotes the course as an ideal option for students already living in the local area.
Nurturing Working Students Towards Application
Because of the challenges they face, prospective students who will be working while studying can need a bit more encouragement than other audiences in order to convince them to apply.
With that in mind, personalized follow-up can be especially crucial. Whether a lead is looking for advice about planning their schedule, reassurance about the support available, or just the chance to talk about the benefits of studying with you, speaking to someone one-to-one can make all the difference. Your admissions team should work to connect with these prospects through email, phone, or even by SMS in order to reassure them that they will get the personal attention they need.
Example: Wu Executive Academy makes it easy for prospects to contact their admissions team by displaying their details prominently on various web pages.
Offering online information sessions, webinars and tours can also be quite valuable when dealing with prospects who work, as they may not have the freedom to come and visit your school in person at a particular date and time.
Example: Dalhousie University offers Skype sessions and webinars as well as physical open house events for potential applicants of its blended MBA course.
Simply put, if you can show working prospects that you are mindful of their needs and will accommodate them while they are considering your school, it will inspire confidence that you will continue to do so once they enroll.
Supporting Working Students Once They Begin Their Studies
While promising working students support, flexibility, and guidance before they apply is all well and good, it means nothing if you don't deliver it. Student retention can be particularly low among students with full work schedules, as they are more likely to find the demands of their studies and their professional lives too challenging to overcome.
There are a number of digital strategies you can use to mitigate this risk, such as the creation of online communities, orientation apps, or even just the use of email and social media marketing to keep your working students aware of the support systems available to them.
By doing this, you will ensure that students are able to succeed in their goals without having to compromise their professional responsibilities, and build a lasting reputation for your school as a go-to option for this audience.