Reading Time:
9
minutes
By now, you must have heard of search engine optimization as the top approach for improving your school website's search visibility and ranking. But did you know that high authority backlinks play a key role in that process? Despite the changes in search engine optimization, backlinks still provide value to schools looking to boost their search visibility and ranking. Gaining more high quality backlinks improves overall SEO efforts.
School websites with lots of high quality backlinks are more trusted by search engines, often appearing further up the search engine results page (SERP). By focusing on your link building strategy, your school can begin generating these valuable links—becoming much more accessible to your target prospects. Here's what you need to know as you get started!
What are Backlinks and Why are They Important?
Backlinks are one-way hyperlinks that direct online users to a specific website, passing domain authority to it. They're important because they can help boost a website's search visibility and ranking. The process of generating these backlinks is called link building, and it can be an impactful way to boost your school website's visibility on a search engine. Link building strategies can include various techniques, anything from content marketing to broken link building. The idea is to find opportunities that would make your website appeal more to other online users.
The importance of backlinks in SEO revolves around the idea of domain authority, determining the value and quality of a website. Backlink benefits are so notable that link building is viewed to be the third most important SEO ranking factor, following content and keywords. In fact, nearly 40% of businesses spend between $1000 and $5000 on link building monthly.  
When it comes to link building, it's good to aim for medium to high quality backlinks. These hyperlinks would come from high domain authority websites, ones that serve as trusted and credible sources. The higher the quality, the more authority they would pass. Although this may take some time, it can be extremely rewarding. By choosing to aim for high quality links instead of low quality ones, you can generate high commitment traffic to your school website.
 With a good link building strategy, you can prove to search engines that your school website is trustworthy and valuable—increasing its chances of appearing at the top of the SERP. The more high quality backlinks you earn, the higher you can expect to rank on the SERP.
Generating High Authority Backlinks Using Linkable Assets
Search engine users, including your prospects, generally gravitate towards the best or most promising content. These types of content are most likely to generate more high authority backlinks, especially since they tend to highlight what people want to see. As you develop your school's content, consider factoring SEO in your efforts. This means creating linkable assets to boost your link building strategy.
Create Valuable and Appealing Visual Assets as Part of Your School's Content
Visual content has been rising in popularity for years—and for good reason. It easily stands out, it nicely condenses key information, and it often appears in an aesthetically appealing way. This type of content leads to visual assets, which include anything from images and videos to charts and infographics. 
Research shows that 88% of marketers include visual content in 50% of their published articles. In addition to their eye-catching nature, these visual assets are incredibly easy to link to, making them a great addition to SEO for higher education. You can simply publish an image on your school website or blog and generate a backlink anytime other internet users share that content on their own platforms. Embedding share buttons makes it even easier.
Example: Medix College shares an infographic on their blog that condenses a lot of information in an easily digestible and eye-catching way. The infographic itself can quickly be linked to or shared by medical lab technicians or those interested in the field: 
Source: Medix College 
Creating these types of visual assets can be a part of your school's high fidelity content development approach. By creating compelling videos, you can encourage prospects to interact more meaningfully with your school while also increasing your chances of gaining a backlink. Besides, short and punchy videos can attract attention, naturally driving clicks and traffic. Third party sites may view your school video and share it on their own website, boosting your school's brand awareness. That is the case with Toronto Film School's campaign video, which was shared on Strategy News: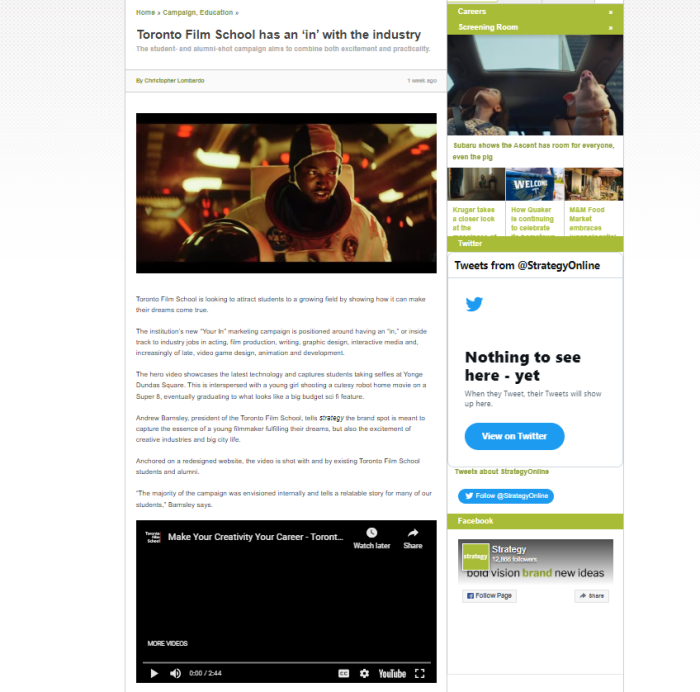 Source: Strategy News
Interested in creating linkable assets that would resonate with your prospects? Reach out to our team for a personalized approach to SEO-driven content that stays true to your school's brand!
Share Relevant List Posts and Research to Attract Links 
List posts refer to blog posts that contain numbered lists of tips, techniques, reasons, insights or anything else that may be related to your school and its programs. These posts are particularly great because they transparently highlight the value of your content to your readers, usually providing them with the information they're looking for. They're also easy to digest and scan. These blog posts can be diverse, giving your team the ability to explore a wide range of topics relating to your school and its programs. 
Because of that, list posts can be easily shared on social media. Statistics show that list posts get about 218% more shares than how-to posts and 203% more shares than infographics. The same research shows that long-form content gets an average of 77.2% more links than short-form articles. By combining list posts with a long-form content approach, you can maximize your content marketing and SEO efforts. You can even go further by integrating evergreen content into these long-form list posts. 
Example: The InFocus Film School regularly publishes long-form content on its blog, some of which include list posts. The list posts cover highly relevant topics about the industry and school programs, providing valuable tips and insights. The blog post shared below is a list post that contains evergreen content, making it linkable for others in the industry:
Source: InFocus Film School
Research and data are also linkable assets. You can share valuable statistics and numbers or even create handy guides and thought-provoking blog posts that your prospects would want to access. Here, the idea is to provide your audience with cutting edge insights and deep dive explorations into topics they are most likely eager to learn more about. These pieces of content can then be shared by your audience and other online users within the industry, ultimately boosting your school's link building strategy and driving more traffic to your website.
Example: Hult International Business School published a thought-provoking article on its blog, written by a faculty member. The post explores brand symbolism, engaging marketers and prospects interested in the school's International Marketing program. Such a deep dive from a credible author makes the article a great linkable asset, resulting in high authority backlinks.
Source: Hult International Business School
Develop a Link Building Strategy to Gain High Authority Backlinks for Your School
There are various factors that come into play when developing a link building strategy for your school. Firstly, you'll want your backlink to come from a website with high authority and relevance to your school and its programs. Secondly, you'll want to aim for editorially-placed links—ones that are typically in the middle of body text and are integrated into the content because another online user believes that it is a great fit with their own.
Here, it's worthwhile knowing the different types of backlinks in SEO. There are "nofollow" links and "dofollow" links. The former is a tag in the web page code that asks search engines not to consider the link as an endorsement while the latter is a normal backlink that passes on authority. As you develop your link building strategy, you'll want to generate "dofollow" links from credible and trustworthy sources.
Reach Out to Third Party Blogs, Forums, and Directories when Developing Your Link Building Strategy
Reaching out to third party sites in order to collaborate is one of the most effective ways to build high authority backlinks. This approach includes getting in touch with guest blogs, directory sites, niche forums, community sites, or even press and influencers. For instance, you can list your school on a reliable directory site. This way, its users can find your school after inputting a search query and visit your website once they view your school's profile on the third party site. 
Niche is a great example of a site that lists countless in-depth profiles on educational institutions, companies, and neighbourhoods—connecting schools with prospective students and families. The site lists top schools like Randolph-Macon Academy and features key information in an accessible way. This information also includes a backlink, providing traffic to the school website:
Source: Niche
Your school can also collaborate with local organizations to form relationships and backlinks. This can take shape in the form of contributing to charities, hosting local events, or providing internships at select businesses. Based on those activities, third party organizations can link to your school while providing details about your involvement. 
This technique also works with study abroad programs set up between different schools. In these cases, one school can link to the other as it highlights the great opportunity students may experience at the other campus.
Example: Kent State University embraces this approach when showcasing its study abroad program. The school links to the Webster University Geneva website, sharing images and key information about it in order to better explain the program:
Source: Kent State University
Guest blogs are also another gold standard approach that can help boost your school's domain authority. You can offer to create high value and high quality articles that will be meaningful to another blog's reader while also integrating links to your school. The blog post can focus on one of your school's programs, providing backlinks that direct blog readers to your website.
Example: Study International is a website that aims to connect students with the right school, featuring all kinds of articles on schools and programs on their blog. Schools looking to advertise can produce an article and share it as partner content. This is what the University of Waikato College does, generating backlinks: 
Source: Study International
If your school has a noteworthy program, event, or campaign, then it may be worthwhile to get in touch with journalists for media coverage. You can generate more backlinks through press releases, announcements or stories about your school's milestones. Alternatively, your school can use influencers, especially if they are current students. These student influencers can serve as student ambassadors, linking to your school through the content they produce. These links would also count towards your link building efforts.
Discover New Opportunities for Your School's SEO with a Backlink Audit
It's no secret that SEO audits are incredibly helpful in improving your digital marketing efforts and online presence. An SEO backlink audit, also known as a link audit or profile, is no different.Backlinks improve a website's SEO performance by indicating to a search engine that the website is credible. The search engine then views it as valuable, increasing its ranking in the SERP.
The three main features of a quality backlink include relevancy, domain rating and authority, and editorial placement and positioning the anchor text in the middle of an article instead of in the footer.This audit can strengthen your school's link building strategy by allowing you to discover risky or low quality backlinks, which may harm your domain authority. It can also enable you to discover valuable links and opportunities that can improve your link building efforts. You can use the audit to evaluate your overall strategy along with how impactful your current backlinks are. 
This can clue you in on your school's success, giving you the insight you need to determine whether or not your school is performing as well as you expect. It can also help you assess your competitor, consequently allowing you to step up your own link building efforts to develop a more competitive edge if the need arises. 
By embracing these strategies and paying closer attention to your school's SEO and content performance, you can begin cultivating high authority backlinks that provide immense value to your school and its recruitment efforts.