Reading Time:
9
minutes
Amid a preponderance of chat applications, social media channels, and other methods of engaging with prospective students in the digital space, it's easy to forget that some of the most effective tools are not the newest or flashiest. Some, like the humble SMS or text message, are little changed from their decades-old roots, but still offer incredible power today for reaching prospects and guiding them to eventual enrollment.
Just about every mobile phone everywhere can send text messages, meaning developing a smart SMS strategy could have a great impact on recruitment efforts both domestically and internationally. To do so effectively, however, takes a bit of planning.
Here are some ideas for SMS messages to send at each stage of the enrollment journey.
A Preliminary Note About SMS Audiences in Higher Education
According to comScore's Cross-Platform Future in Focus 2016 report, "mobile now represents almost 2 out of 3 digital media minutes." What better way to take advantage of this fact than to leverage a mobile-specific channel like SMS?
The results of a 2015 survey conducted by Shift Communications were even more encouraging, finding that 82 per cent of individuals will read every text message they receive, regardless of whether it was sent by a known individual or entity. This is a remarkably high number, well above the 24.79 per cent estimate for email (via Smart Insights Email marketing engagement and response statistics 2018).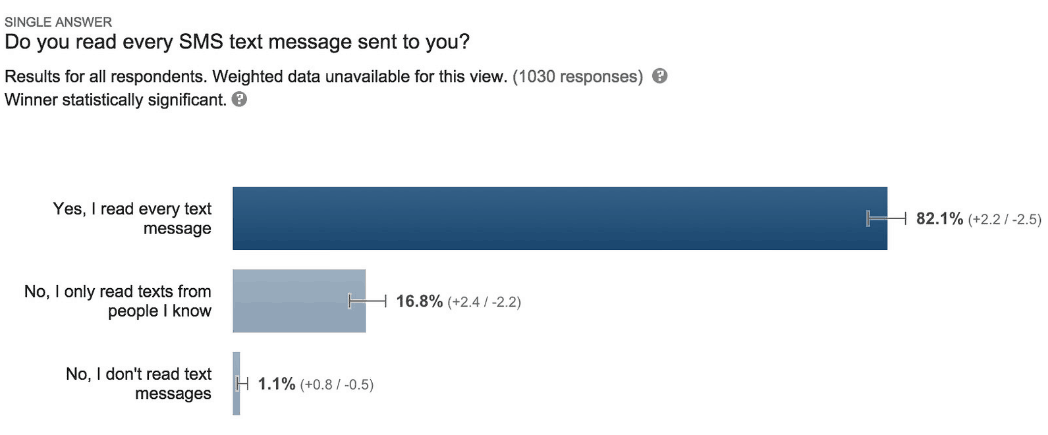 Even with these advantages taken into account, it is important not to just jump into using SMS for higher education marketing. The limitations that cost places on the technology will necessitate that you think carefully about who you attempt to reach with SMS.
Cost has a limiting effect on SMS primarily in two ways. First, phone plans or PC-based texting service plans cost money. This makes SMS a relatively pricey option in comparison with services like WhatsApp or Facebook Messenger, which offer free messaging to internet-connected devices. Second, the fact that SMS incurs costs means that it tends not to be the communication channel of choice in the developing world. Depending on the audience you hope to reach, this could well result in less engagement from the prospects to whom the messages were sent. For this reason, SMS is likely a strong choice when employed to reach individuals in wealthier nations and local markets where the cost of texting will be lower rather than international campaigns.
SMS Can Help Establish Initial Contact With Prospects
Schools hoping to appeal to prospects at the consideration stage could enjoy particular benefit from developing an SMS plan. At this critical stage in the enrollment journey, prospects are likely to be researching a number of different institutions and domains of study, meaning their attention will be somewhat fragmented. Employing such a direct and intimate form of communication to connect with them can be a great way of putting your institution front and centre in their minds, and thereby encouraging them to take next steps.
SMS will initially best be used in a supporting role. After getting contact information for a new lead, the goal for your recruitment team when attempting to communicate with them should be to arrange a phone call as soon as possible, as no other channel can match the immediacy or intimacy of voice.
In pursuit of setting up a telephone meeting, it can be appropriate to send one or two SMS messages per day, alongside calls and emails, in an effort to establish contact. As succinctly as possible, your SMS should introduce the member of your team sending the message, mention how you received the contact information, and end with an invitation to speak on the phone.
Example: Here is a mock-up of a good introductory SMS. In order to grab the recipient's attention, these messages should be as quick and succinct as possible, though still personalized.
Until a response is received, these messages should be sent to the prospect for as many days as it makes financial sense to do so. For smaller schools receiving fewer inquiries, it may be possible to pursue an individual lead in this manner for a couple of weeks. For larger institutions, it might make more sense to give up after just a few days and favour the other means of communication available to the institution.
SMS is a Great Channel for Building Relationships
After making initial phone contact with prospects, it's a great idea to use SMS as one of your channels for follow-up. As a good starting point, send a quick note to thank them for taking the time to speak with you. It's a simple but effective way to make your school seem polite and attentive, so there's no reason not to do this.
It's also a good idea to use SMS as part of your toolkit for inviting prospects to open houses, campus tours, or other events meant to help them get excited about what your school has to offer. Note that while personalization can be valuable here, it's not quite as essential as in the example prior, so it's acceptable to lean on automation a little more heavily. Having a relatively formulaic message with just the recipient's first name changing is enough to achieve the balance between expediency and personalization that is desirable here.
Example: Here is a mock-up of a reminder message for an open house event at a school. Note that it is quick and direct, and includes a link to an event listing for curious individuals to learn more.
It's important that you don't overdo it with the messages at this point in the process. A single reminder text the week of an event can do a world of good – remember, the prospect is quite likely to read it – so there should be no need to send multiple messages.
Create an Opt-in SMS Messaging Service for Prospects
SMS isn't entirely dissimilar from Email, so why not adopt an email marketing tactic and put together texting lists? Placing a form on your website for users to enter their contact information and opt in to receive texts from you is a great way to ensure your efforts with SMS in higher education marketing are directed at receptive individuals. It also opens the door to some interesting promotional opportunities that could encourage your prospects to sign up for SMS, or even to enroll at your institution down the line.
In this capacity, SMS can serve as a delivery mechanism for many different kinds of content and messages. For example, if you have a blog post your SMS audience might find interesting, send them a message with a link to the post (use a URL shortener to eat up fewer characters). You could also offer discounts on application or other fees to your SMS audience, or run giveaway contests with school merchandise for recipients who text back a given keyword. Using SMS for these kinds of messages will reward creativity, so let your imagination run wild!
Example: Sending a survey with a special offer to prospects on your SMS list can be a good way to both gather information and deliver a little extra value to them.
Note that because these kinds of messages are nonessential, and not strictly necessary for prospective students to enroll at your school or keep informed about upcoming recruitment events, it really is best for them to be included solely in an opt-in messaging list. This ensures that prospects do not receive a large number of messages that they are not interested in receiving.
Student Enrolled? Keep Texting Them
Just because you've gotten a prospect to enroll at your institution doesn't mean it's time to ease up. Cultivating a reputation for exceptional communication and service is an excellent way to encourage more applications down the line. If your current students love you, they're going to provide word-of-mouth marketing that money can't buy.
One interesting way to use SMS to deliver value to new students is to send invitations providing opportunities to meet established members of your school community. You might offer to connect new enrollees with current students who can give them a little guidance into their chosen program or campus life, for instance. It can also be useful to lean on SMS to send reminder notes about important dates, like tuition payment deadlines.
Example: Troy University offers an opt-in SMS alerts system to help students stay up to date on important and time-sensitive information.
One important point to keep in mind at this stage, and indeed at others, is that it should always be easy for students or prospective applicants to opt out of receiving your text messages. Similar to email "Unsubscribe" links, there should be a mechanism by which recipients of your texts can remove themselves from the messaging pool. If you use an automated solution, it may be possible to have this done automatically after the recipient replies with a selected keyword (e.g. STOP). If you don't, it's important to just be attentive to the communications that students send you and to respect their preferences. Send a final quick note to acknowledge a request that you cease messaging and then ensure that your system registers this change to that individual's communication preferences.
Put it all Together With CRM & Marketing Automation
There are many potential applications of SMS at various stages of the enrollment journey, but it's not enough to just have an idea of how texting might be used to engage with students and prospects. For maximum effect, it's advisable that you get organized by investing in a CRM and marketing automation suite.
A CRM (customer relationship management) application allows you to more easily keep track of all of your contacts and can be used to log SMS interactions with them. This can help you better understand the frequency with which people are being contacted across all the different channels you are employing, and avoid accidentally going overboard in your appeals to individual prospects.
Example: This image from Hubspot gives an idea of what a contact profile looks like in a CRM. Note the right-hand entry detailing the most recent interactions between the sender and the contact.
While a CRM is certainly useful on its own, it is greatly improved when integrated with marketing automation. This can help you to automate some of the repetitive tasks involved in digital marketing, and is particularly valuable when using SMS as a delivery method for content, deals, or event reminders. A marketing automation service can help you segment your audience and automatically send appropriate messages to people depending on what it is that they want or will find valuable.
Working in tandem, these programs can be quite a powerful tool for streamlining higher education texting campaigns. From the start, you can build out a contact profile, track your attempts and successes at communicating with them, sort them into specific categories according to personal details (geographic origin, age, etc.)  or preferences (areas of study, interest in campus life, etc.). All of this information, in turn, can be used to automatically send them only SMS messages that are relevant to their unique profile. It's a feature set that can be hugely effective for delivering an experience that is genuinely and personally useful, without requiring that your team spend large amounts of time poring over audience details every time a message is to be sent.
Example: An application like Mautic can help you create SMS campaigns for delivery to different groups of prospects or students.
With its small character limit and somewhat limited feature set, SMS isn't the most exciting technology around for digital marketing and recruitment teams hoping to make connections and build relationships with prospects and students. Careful application, though, can turn texting into a back-to-basics winner capable of fostering intimacy and offering real convenience that your contacts will appreciate.