Reading Time:
11
minutes
Having a website that meets the latest design trends is something schools should always strive for – but making sure your website is up to date with the latest information should be your number one priority.
The sudden switch to online learning has prompted many schools to rethink the courses they offer, as well as what makes these courses special, and it's essential that your school's site reflects these changes. After all, your website is essentially a reflection of your school in digital form.
With some strategic website updates, you can establish your school as an online course provider that understands its students and provides them with the resources they need as soon as they land on your site.
Spotlight Online Learning on Your Higher Education Website's Homepage
Put yourself in the shoes of someone scouring the internet for their ideal online program. What's the first thing you're going to look for when you land on a school's website? The course information.
It sounds simple enough, but plenty of online course providers haven't made this info easily accessible on their websites. Even if your school is offering some on-campus courses come Fall 2020, it should be immediately evident to any website visitor that you offer online courses, too.
Of course, making major changes to your school's website is certainly easier said than done. But considering the vital role your website plays in the recruitment process – especially now that the process is completely online – it's something you'll eventually have to do, and the sooner, the better.
One simple way you can update your website is by adding popups or banners that highlight online course information. This way, you don't have to alter the design of your school's site in any way.
In case you're not familiar with them, popups are the small windows that automatically open when you click on certain websites. Popups may offer key information, include a lead-capture form, or direct users to a particular webpage through a CTA. When it comes to education website design, there is no more obvious and direct way to highlight your online courses.
Example: A popup on Delfin English School's site that points visitors towards its online course information. Popups have been a particularly popular web design tactic for language schools during this time, since language courses are typically offered in person. Popups make visitors immediately aware that the school offers remote learning.
Banners, on the other hand, are the more subtle and permanent version of popups. You'll typically find banners across either the top or bottom portion of your screen, and unlike popups, you usually can't close banners.
Example: The eye-catching red banner on Canadian Business College's site is a great way to let prospective students know that their courses are available in online­­­ formats.
While these updates provide a quick fix for online course promotion, you may want to consider more seamless methods of integrating your online courses to your homepage – especially if your school is primarily offering online courses for the foreseeable future. Doing this will give your homepage a more cohesive look, and signal to prospects that your online course options are not simply a quick fix for the current climate.
One way to do so is by adding an online courses tab to your primary navigation. That way, prospects can also easily access online course info on your website no matter what page they're on.
Example: The sticky header on CDI College's website, with an Online tab at the forefront.
Your school may also want to consider updating any visual elements on your homepage to showcase your online courses.
Many modern education websites have a hero image that occupies the better part of the screen when someone lands on their homepage. Given how prominent this image is, it's important to make sure it aligns with the message you want to convey to your target audience.
Compare these two language school homepages, for instance. The one from Sydney English Academy highlights location as its main selling point, while International House foregrounds its live online classes. Now, neither page is better than the other, but the images frame the schools and what they offer differently:
If you really want to go above and beyond in your online course promo, consider adding chat functionality to your higher education website. This will allow prospects to talk with an advisor about your online courses in real time, or schedule an appointment and browse resources if no one is available.
Example: The chatbox on the UK College of English's site. Although this tactic can be more technical to implement in contrast to the other options, it's a highly effective way to engage prospective students.
Your school's homepage creates an important first impression – especially if a prospect is stumbling upon your school for the first time. It's vital that both its design, and the content it foregrounds, are aligned with both what your school offers and what your prospective students want to see.
Create Pages Specifically for Online Learning
Once you've established your school as a professional online course provider on your homepage, the next step is to provide the information to back it up. This requires having comprehensive and well-designed web pages that offer in-depth information about your remote programs.
If your school is new to online learning, you may have had to scramble to create new course pages at the start of the pandemic. If this is the case, you should continuously work on updating these pages, adding new content and up-to-date information.
Example: The robust course description for an online program at McGill School of Continuing Studies.
Keep in mind that real estate is precious on important web pages, so if you have a lot of information to add, using a submenu to categorize content like McGill did allows you to include plenty of info without cluttering the design.
However, the desire to maintain a clean design shouldn't prevent you from adding extra features to your online course pages in order to help prospects take the next step in the enrollment journey.
One popular way to generate leads is by including a 'contact us' form on your course pages. After all, those that visit these pages are definitely interested in your courses, so there's a high chance they'd be willing to fill out a form to learn more about them.
You also want to consider what types of CTAs you include on these pages. It's important not to overdo it with these elements – too many options and you can risk distracting visitors – but some strategic CTAs can work wonders for accelerating the admissions process.
Depending on your school's overall digital marketing strategy, there are different kinds of offers you could include, such as an 'apply now' CTA or links to a related webinar or online event.
Example: An online French course page from Language Studies Institute that includes CTAs to show more courses and contact the school, as well as an inquiry form at the bottom of the page.
How these pages fit in your site's architecture depends on how you structure your course offerings. McGill, for instance, had individual course pages under a central online course directory, whereas Language Studies Institute grouped courses under different umbrella areas such as English and French programs.
Update Course Pages for Pre-existing Programs
We're in a time of unprecedented uncertainty, so the last thing you want your website to do is further confuse visitors. Now, this is easier said than done if your course schedule has changed completely, including dates, course offerings, and their formats. So an important step of updating your website is going through the pages with a fine-tooth comb to make sure that information is consistent, relevant, and up to date.
A great starting point is to take a look at the course pages your school created before the pandemic since some of the information may not be relevant anymore. Does your school still offer these classes? If so, are they available online, on campus, or both? Have tuition costs changed?
Example: A program directory for a course series at NYU, and an individual course page. It is clear that the school has updated these pages with relevant information, such as when they are offered, what format, and how many credits students can earn.
If your school already offered online courses before digital learning took off, considering revisiting these course pages to make sure they are relevant to today's online learners.
When economic, political, and social forces change, so do many school's prospective students. For many students, the goal of higher education is to prepare them, or better prepare them, for the current work climate. Therefore, the wording on these pages should cater to these prospects' motivations and concerns.
Example: The online MBA program page for Athabasca University, a longstanding online course provider. The page highlights AU's history offering online courses, which is a valuable selling point in today's market, considering that many schools rapidly shifted to online classes and prospects may be skeptical about the quality of education they'll receive.
Add a COVID-19 Information Page to Your Education Website Design
Prospects interested in online education don't just want in-depth information about your school's online course curriculums – they also want insight into all the other aspects that contribute to an optimum learning experience.
However, with so many unknowns in the higher education world, it can be difficult to give definitive answers to questions like: "will I be able to return to campus midway through my course?" and "how are you administering essential student services?"
Constantly updating each page of your website with this information is taxing and time-consuming, to say the least. That's why many schools have created a page specifically for COVID-19 information.
While having some type of COVID-19 page is a universally helpful practice for schools, the optimum format and structure of this section of your school's website is bound to look different. Some schools have a single page dedicated to coronavirus information, while others have an entire directory for these updates.
Example: Curry College in Boston has a comprehensive page dedicated to general COVID-19 information and resources, as well as a page for more niche 'return to campus updates' that are updated regularly.
The University of Texas at Austin, in contrast, has devoted an entire section of its site to COVID-19 information. The section's primary navigation separates information by topics, but there is also a secondary navigation that provides information specific to certain website visitors such as students, faculty, and staff:
Depending on what your school wants to highlight, and what kind of information your prospects are likely to look for first, you could link your popups and banners to this page instead of online course pages.
Higher Education Website Best Practices: Create New Content for Online Learning
COVID-19 updates and online course pages are essential components of any professional online course provider's website, and should be your school's starting point when renovating its site. However, just because your website is up to date with the latest information does not mean it is necessarily optimized for online learning. That requires going over and above in your efforts to provide extra information and relevant resources for your prospective students.
In practical terms, this means including blogs, videos, and other engaging content that offer insight into school, your courses, and even online learning in general.
Let's start with perhaps the most popular form of online course-related content: blogs. Writing blogs not only provides your prospects with in-depth information into topics of interest, but it can also work wonders for your website's search ranking (more on optimizing content for online SEO here). What's more, it provides your school with a toolkit of resources it can include in its recruitment campaigns.
If blogs aren't a staple part of your school's content marketing strategy, you may want to start with some general posts about online classes or online learning.
Example: An online learning-focused blog by Seattle Central College Continuing Education, which includes helpful tips as well as information specific to the school's online courses. A general blog like this is a great resource to include in emails, or to direct inquiring prospects to.
If your school already has a sizable blog archive, you may even want to consider creating a section devoted exclusively to online learning-related blogs. Doing so signals how serious your school is about creating resources to help prospects have the best possible remote learning experience.
Example: The Online Learning Tips, Strategies, & Advice section of Northeastern University's website.
Creating blogs has always been a staple higher education website best practices, but as video content rises in popularity and engagement, your school should consider adding it to your content marketing mix.
The great thing about using videos to promote your online courses is that you can put human faces to what may seem to some like an impersonal form of learning. You could introduce your course instructors via video, for instance, or have staff members personally address students and talk about the services your school has created to foster an online community.
If your school has hosted webinars on its online courses, you can also upload a recording of the event in video format to get extra bang for your digital marketing buck.
Example: Recorded webinars on Linköping University's site that provide targeted information for future students. Fittingly, the webinars are located on the section of Linköping's website dedicated to admitted students.
Many schools are also getting creative with the kinds of website content they're using to promote online courses. University College London, for instance, is using its SoundCloud podcast to keep students in the loop with COVID-19 updates and info: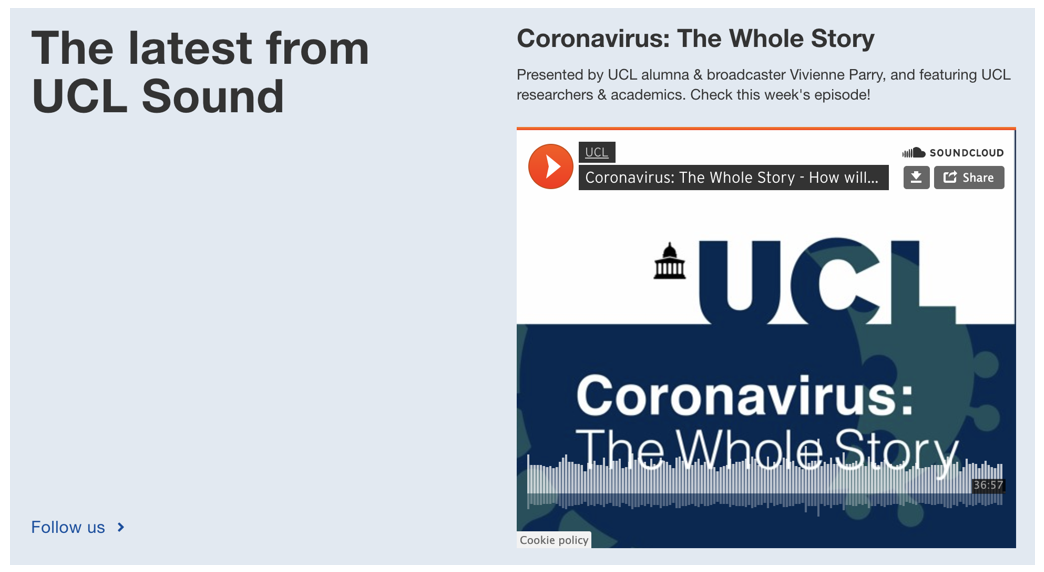 From blogs to videos to webinars to podcasts, the possibilities for promoting your school's online courses are as vast as your school's creativity.
Establishing your school's reputation as a professional online course provider starts with your website. The content you create, the information you offer, and how these elements are organized and designed has a significant impact on how prospective students view your school. The more effort you put into these components, the more insight you provide prospective students, and the more comprehensive your online courses will look as a result.