Ghana & Kenya: Comparing 2 Exciting Emerging Markets for International Student Recruitment in Africa
Date posted: July 18, 2018
When discussing international student recruitment in Africa, Nigeria has had a tendency to dominate the conversation in recent years. However, the continent is home to a number of other interesting markets that could prove to be fertile ground for schools.
Two of the most exciting are Kenya and Ghana, located in East and West Africa respectively. While neither are currently particularly large markets for international study, both boast growing economies, young populations, and increasing demand for quality education.
Similar yet different, exploring these two fascinating international student recruitment landscapes could prove highly beneficial for schools looking to establish a presence in countries with high growth potential.
Ghana: Opportunities for Student Recruitment in One of the World's Fastest Growing Economies
Spurred by the discovery of large offshore oil reserves, the Ghanaian economy has grown rapidly in recent years. The World Bank estimates that the growth of Ghana's GDP has almost doubled between 2016 and 2017 alone, jumping from 3.7% to 6.1%, while projected growth in 2018 is an incredible 8.3%. A recent report from the International Monetary Fund is even more optimistic, forecasting growth of up to 8.9%.
This makes it one of the world's fastest growing economies, and with that growth comes a drive to educate. A number of new private institutions have opened over the past number of years to accommodate Ghana's young population, while the government has also made moves to improve educational quality across the board.
Despite these efforts, however, Ghana still faces problems. Research has shown that less than 10% of new graduates find a job in their first year after finishing their studies, while the Brookings Institute has calculated that the unemployment rate is actually higher among the more educated:
Part of the reason for this appears to be that Ghana's economic boom has resulted mostly in the growth of informal, unskilled jobs, and while there are opportunities in the burgeoning manufacturing and energy sectors for qualified graduates, the Ghanaian education system continues to produce more humanities graduates than needed. As a result, increasing numbers of Ghanaian students are seeking education abroad, often with a view to eventual emigration, with over 12,000 students travelling every year to further their studies.
Why Investing in International Student Recruitment in Kenya Could Be Worthwhile
A centre for manufacturing, agriculture, and financial services, as well as a burgeoning tech sector that has been dubbed the 'Silicon Valley of Africa', Kenya's economic growth makes it a huge potential market for international student recruitment in Africa.
It's also a young country, with one in every five of the East African nation's population aged between 15 and 24. Additionally, the British Council has estimated that Kenya's college aged population will be over 5.7 million by 2024.
This perfect storm of youth, innovation, connectivity, and economic strength should point to an extremely bright future for the country. Indeed, the Kenya Vision 2030 plan launched by the government in 2008 set the ambitious goal of the nation becoming an upper middle income country by 2030. Recognizing the key role education will play in making this dream a reality, the country has sought to expand its offerings over the past decade, with massive government investment in the sector as well as a number of new private institutions opening to fill demand.
Unfortunately, the expansion of domestic education has seen a few problems. Issues with quality, accreditation and funding have beset many institutions in both the public and private sector, so much so that the government was compelled to conduct a large-scale review,  resulting in tighter controls and even putting the future of certain institutions into doubt.
The government's new funding plans for public universities have also caused internal strife. The system, unveiled in late 2017, allocated funding to universities based on the specific courses they offered, with lower funding given to areas like arts and social sciences and more allocated to priority sectors like science and medicine. While the government claims it will provide more transparency, some universities are not happy with the system, which puts extra pressure on many already cash-strapped institutions.
The country already sends at least over 13,000 students abroad every year according to UNESCO figures, while ICEF Monitor speculates that many more untracked international students are enrolled in schools in neighbouring countries such as Uganda. With the growth of the middle class combining with the instability of the domestic education sector, many recruitment experts are forecasting growth in Kenyan international student mobility in the coming years.
Top Destination and Program Choices Among Kenyan and Ghanaian Students
According to UNESCO figures, the most popular destinations for Kenyan students include the USA, the UK, Australia and South Africa.
Available data for outbound student mobility in Ghana, meanwhile, showed that the USA, the UK, and Canada were among the top 3 choices: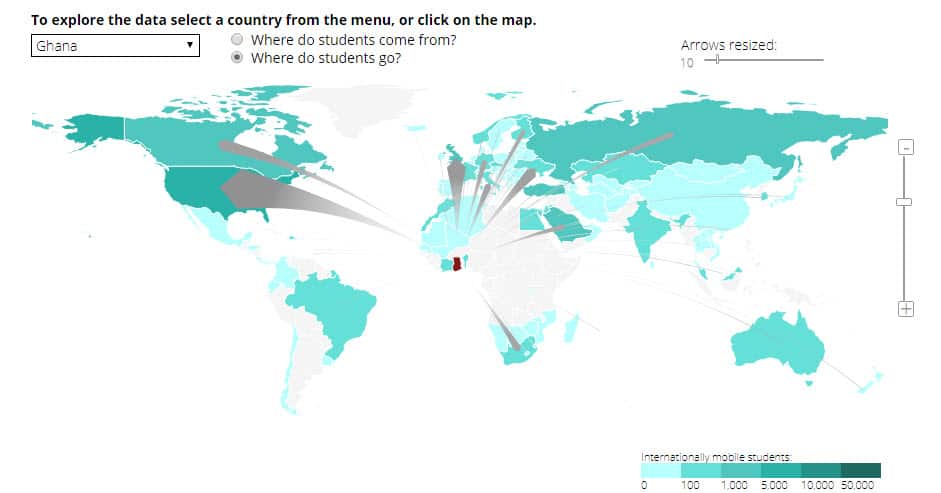 The popularity of Canada is also said to be growing among Kenyan students. Given the likelihood of Ghanaians to want the option of emigrating, it is possible that the threat of US travel restrictions and the complications that may be caused by Brexit in the UK will see Canada improve its share of the market there in the future, too. This means investing in student recruitment in either of these nations could be a fruitful option for Canadian schools.
Example: This blog posted by City College in Toronto specifically targets Ghanaian students, and highlights the advantages of studying in the city. This kind of content demonstrates that schools in Canada are beginning to recognize the potential of Ghana as an international student market.
Additionally, QS's Emerging Markets Applicants Survey in 2016 found that Canada was the second most popular destination choice among graduate students, behind the USA but ahead of the UK. The survey also suggested that Australia and Germany were popular among prospective students at this level in both Kenya and Ghana. This is especially pertinent considering the Intead Know Your Neighborhood Report produced in Fall 2017 indicated that students in the two countries were more likely to seek postgraduate opportunities abroad than undergraduate degrees.
Example: Bond University in Australia features this glowing testimonial from a Kenyan master's student on a dedicated page for African applicants. This kind of student generated content can be an extremely valuable tool for promoting your school to prospects in new markets.
Schools from traditionally popular study destinations in Ghana may also face competition from a somewhat unlikely source. ICEF Monitor reports that student mobility from Ghana to China – which is not tracked by UNESCO – has grown substantially, with the Chinese government recently introducing new scholarships for Ghanaian students. The countries already have strong economic ties, with Ghana importing more goods from China than any other country, and a number of Chinese businesses have set up headquarters there. This relationship could be one of the first signs of China – traditionally viewed as more of an outbound market – seriously establishing itself as a top international study destination.
There are also opportunities for language schools interested in recruiting international students from Africa in both nations. Ghanaian and Kenyan students may be interested in learning French, German, or another language depending on their destination, but there is a market for ESL as well. While English is the one of Kenya's first languages, along with Swahili, and is thought in schools from a young age, the Kenyan population also speak over 40 different tribal languages depending on their region. This means that English is not always likely to be commonly spoken at home, and Kenyans students may require additional education to bring their language levels to the standards required in other countries.
Likewise, English is Ghana's official language, but there are also a number of commonly spoken tribal languages such as Twi, Bono, and Ga. The structural differences of these languages also influence how Ghanaians learn and speak English, with short words and phrases often preferred to longer more complex sentences. This means that many Ghanaians could possibly seek ESL education, particularly for help in areas like academic writing.  
Example: Blogs which focus on writing tips, like this post from Oxford Royale Academy in the UK, may be a good way to engage students from Ghana or Kenya, who may have a good working knowledge of English but be more used to using it in an informal manner.
Motivating Factors for Recruiting in Ghana and Kenya
Perhaps unsurprisingly, the biggest obstacle to studying abroad for students in both nations is affordability. Just around 5% of Kenyans fall into the middle income bracket at present, and while this is growing, it means that international study is a luxury not everyone can afford. Meanwhile, the unemployment of many educated Ghanaians means that financing their studies is inevitably an issue. Schools would be wise to promote any scholarship or financial aid opportunities they may be able to offer if they hope to attract applicants.
Example: The University of Sheffield highlights the scholarships it offers for students from Kenya on its website.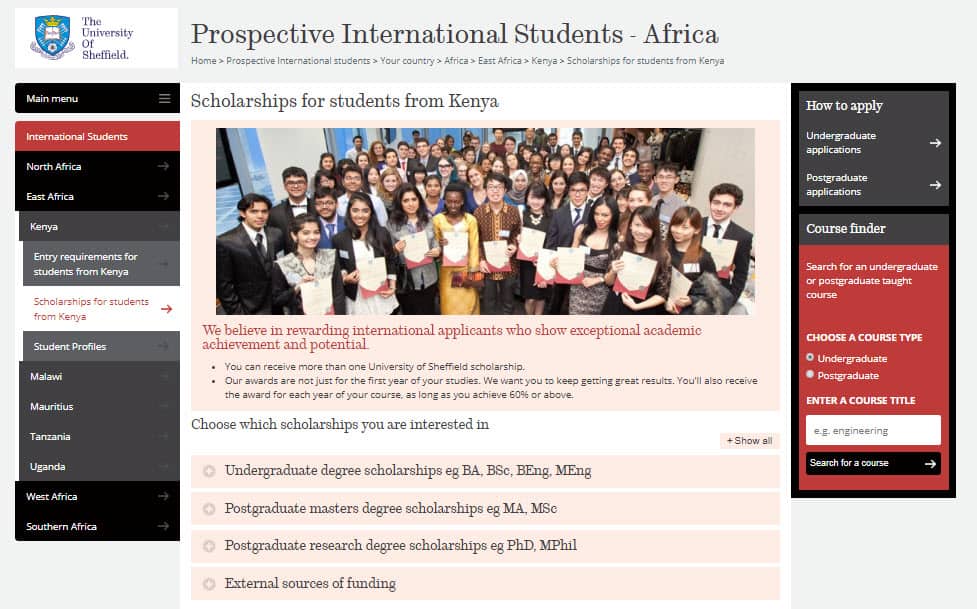 Intead's Know Your Neighborhood report also revealed that a lack of scholarships and financial aid opportunities were the main reason students in both countries changed their minds about studying abroad.
A more unusual factor in the decision-making process the report revealed was safety. According to the survey, a strong campus safety program was the top factor in choosing a university for more than 73% of Kenyan students and 72% of Ghanaians. This means that emphasizing how safe your campus and city is could be a surprisingly crucial factor in attracting students. 
In addition, both Ghanaian and Kenyan respondents were found to value being able to connect personally with representatives from schools, both in-person and online, so offering personalized contact from admissions officers or agents could make a huge difference.
Example: Brunel University in the UK provides Ghanaian prospects with contact details for representatives in Accra, as well as the email for a dedicated university contact.
Navigating the Online Landscape When Recruiting Students from Kenya and Ghana
One strategic advantage Kenya has over other countries at similar stages of development is its relatively superior online connectivity. Fueled by the country's burgeoning tech sector, as well as the popularity of its mobile money system M-Pesa, a far larger proportion of Kenyans have regular access to the internet than other countries with similar per capita incomes, according to a study from the Pew Research Center.  Indeed, Hootsuite estimates the country's internet penetration at 86%, an incredible figure for a developing nation:
Social networks like Facebook, Twitter and Instagram were shown to be very popular in the country, too, as well as mobile messaging services like Messenger and WhatsApp. This means schools looking to engage prospective Kenyan students online will find plenty of opportunities, particularly if they optimize their efforts for mobile, which accounts for an estimated 83% of web traffic.
Example: This Facebook video from Victoria University featuring a Kenyan graduate attracted over 363,000 views. Featuring inspirational stories from successful alumni can be a great way to connect with international students.
When trying to recruit students from Ghana online, on the other hand, choosing the right channels is key. Internet penetration in the country is still somewhat low compared to others, at just 35%. Like many other developing nations, mobile usage is more common than other device types, accounting for up to 75% of web traffic, according to Hootsuite.
In terms of social media, the dominant sites are WhatsApp and Facebook, with other globally popular sites like Instagram, Twitter and Snapchat enjoying more limited reach than they do elsewhere in the world:
This suggests that focusing on these two platforms might be the best move for schools interested in breaking into the market.
Example: The University of Cincinnati used Facebook to share this story of an unusual group of Ghanaian students – two sets of identical twins from the same family! Note how the school makes use of the popular #youarewelcomehere hashtag, which many US universities use to promote tolerance and inclusiveness.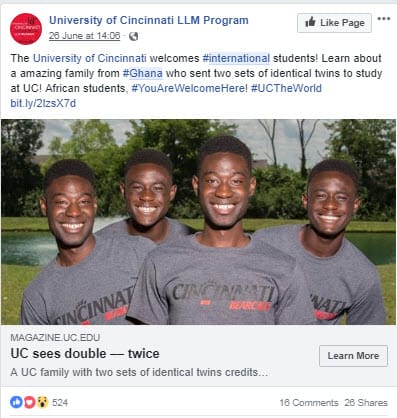 Overall, both Kenya and Ghana remain small niche markets for international student recruitment right now, but their future potential makes them intriguing options for schools. Establishing a presence and visibility in these countries now could help you reap the rewards as international student mobility increases over the next decade, while still offering plenty of opportunities to attract eligible prospective applicants in the present.
Further reading:
http://monitor.icef.com/2016/06/ghana-emerging-important-sending-market-sub-saharan-africa/
http://monitor.icef.com/2017/10/kenya-become-growth-market-outbound-mobility/