Reading Time:
11
minutes
Location has long been an important part of search – people want to know about the good things that are close to them – but with just about everyone walking around with a GPS in their pocket today, it's become bigger than ever before. Search for most kinds of businesses, and the odds are good that localized results will get top billing.
For schools, and particularly smaller or newer schools, this means that their institution and programs must rank well within their region. Best results will come to those that complement their efforts to rank for more general key search terms by taking steps specifically designed to improve their optimization for local search.
Curious about whether your school is doing everything it can to improve local SEO? Read on to find out.
Start By Doing Local Keyword Research
Much of SEO is based on the idea that many users tend to search for the same, or at least similar, terms when using a search engine. By figuring out keywords that could apply to your website, and taking steps to help it rank higher in those searches, it's possible to drive more organic traffic to your pages.
Local SEO offers a nice spin on this concept. While Google search engines tend to localize results in any case, targeting localized keywords can prove quite effective. By volume, users are somewhat less likely to search for a localized keyword – "ESL School in Vancouver" – than they are for general keywords – "ESL Schools." However, there are thousands upon thousands of schools across the world attempting to rank for the keyword "ESL Schools," and nowhere near as many attempting to rank for the Vancouver variant. Including local stem keywords – containing phrases like 'near', 'located in', 'close to' etc. – can also be a fruitful strategy for driving traffic to your site.
The advantage this offers for schools is clear. Prospective students often already have an idea of where they want to complete their studies, and so might be more likely to use a localized search term. It can also help ensure that you reach your intended target audience, rather than attracting unwanted inquiries from students in the wrong locations.
Example: ILSC Vancouver and ILAC are two schools that rank highly for the keyword 'ESL School in Vancouver'. Targeted localized searches like this can help improve your visibility.
You can improve your ranking for localized keywords by incorporating them into your website's onpage SEO architecture. Integrating these keywords naturally in your titles, headings, subheadings, and body text will help search engines to recognize what your pages are about and categorize them accordingly, helping to boost your visibility in targeted searches.
Create & Optimize Localized Web Content for Your School's Website
Strategically-focused, quality web content is one of the most important drivers of SEO for education websites, and this holds true for local SEO, too. Careful creation of localized content is one of the best ways to get your school ranking higher in local listings and reach your target market, and there are a number of useful ideas to employ toward this end.
As a starting point, you should try to establish dedicated web pages for each of your institution's locations or departments. This should only be done, however, if these pages can offer unique, valuable information – you should not duplicate the text across multiple locations and just swap the names. Think carefully about how you might approach creating a dedicated page for each department or location. Would the content be interesting and useful? Is there enough to differentiate one location from the others? If you don't think you have enough unique information – about programs, facilities, local school culture, etc. – it may be best to skip creating unique pages for each location.
Example: St. Giles International is an ESL provider with multiple campuses in various parts of the UK, Canada, and the USA. Their website includes unique web pages for each of their campuses, helping to ensure they rank well in localized searches.
You should also consider creating blog content to boost your ranking for certain localized keywords. Publishing regular blog posts with a local spin can also be a good way to provide value to users on your website. Prospective students want to know more about the culture and activities to be found in a school's surrounding area, particularly when they are coming from out of town. You can meet their need and create content that boosts your website's ranking for related keywords all in one fell swoop.
Example: This post by Lakefield College School is a great example of how to create a post that is both interesting to prospects and optimized for a localized keyword, in this case 'Private Boarding School in Ontario'.
Take Ownership of Your School's Online Listings
Another concern for institutions looking to improve local SEO for education marketing should be setting up online listings. Taking the initial step of creating listings for your school online will ensure that your information looks the way you want it to in Google Search and Google Maps – by far the most important tools for local search – as well as important apps like Yelp, Bing, and others.
The priority should be to establish a good Google My Business listing. These listings are what often appears at the top of localized searches in Google services, as well as the open graph on the right hand side of the page in branded searches.
Example: WU Executive Academy's Google My Business listing. Ensuring this information is accurate and well-presented can help enhance your SEO efforts.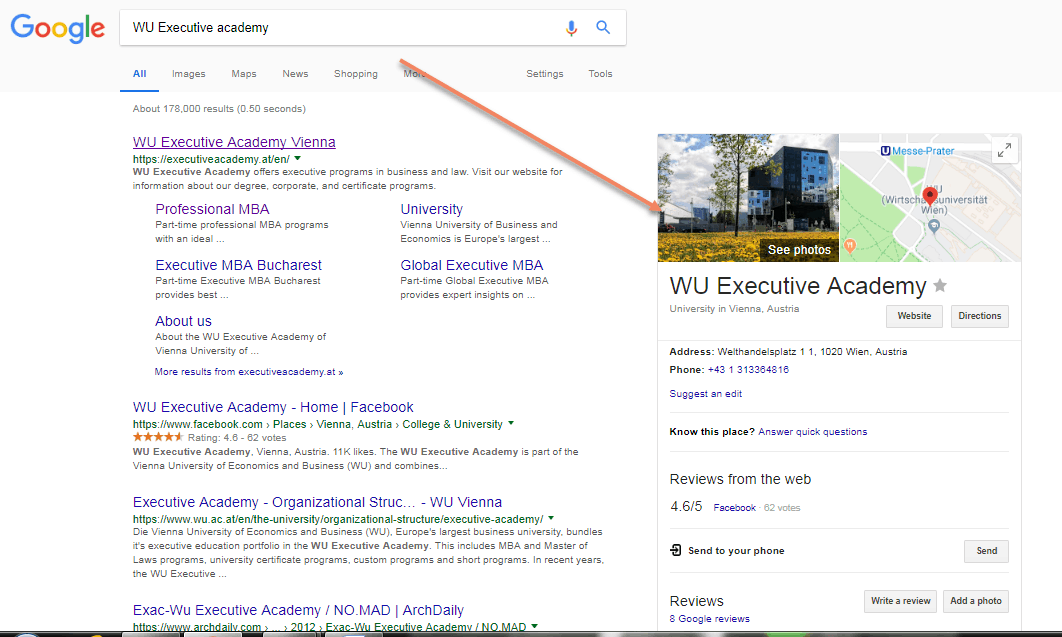 It's important to note that the top positions for local GMB listings are incredibly competitive. At present, just three local listings appear in searches by default, the rest hidden behind a "More places" button. If your GMB listing is not well optimized, your chances of appearing in that coveted top-three position is dramatically lower, something which will almost certainly negatively affect traffic to your site.
Example: In this search for "language school Toronto," you can see that just three results appear at the top of the page. Dozens more are left behind the "More places" button.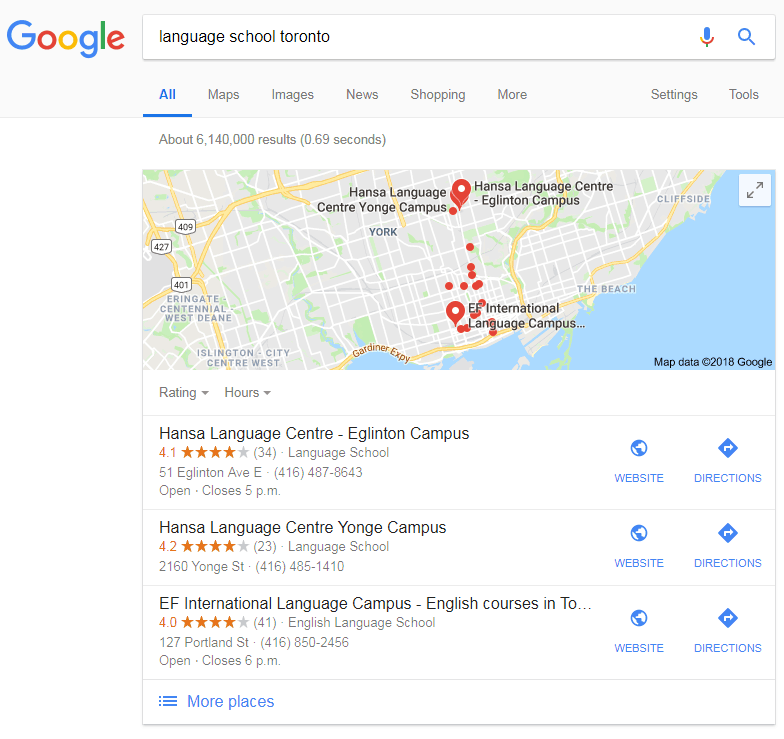 To begin to optimize your GMB presence, you must first create a listing for your school, or else claim an existing listing for your school in Google's system. For reasons we'll get to soon, it's worthwhile to do this even if an existing listing presents information that is correct. Enter or update the name, address, and phone number (NAP), ensuring that they are the correct details for contact at your school's physical location. Entering details for a P.O. box or virtual office is not considered acceptable, and may even hurt your chances of achieving good visibility. While this may seem like a small detail, it will help you control your brand and ensure your online profile is complete, accurate, and optimized.
GMB listings are available by location, so schools with multiple campuses should create one listing per campus, and the largest institutions may create one listing per department or office. For best results, each listing should have a unique name, address, telephone number/extension, and URL, as well as a unique visual look that aligns with your brand.
Completing all of these steps will mean that a school has completed the minimum necessary for using GMB, however there is much more to getting the most out of the platform. GMB listing owners are invited to add images, and it is important that you do so, as striking visuals make it more likely that users will engage with your listing. Offer images of the campus, of selected interior spaces, of the school's logo, of students and faculty. Essentially, any visually attractive images that show off the best of your school and demonstrate its unique personality are perfect for this space. Note that, as time goes on, it's likely that user-submitted images will become associated with your listing, but it's best not to rely on these since there's no guarantee as to their quality. Submitting your own high-quality images is the best way to ensure there is visual appeal in your GMB listing.
Example: The University of Hawaii at Manoa uploaded a range of images to show off its beautiful campus to users browsing its GMB listing.
The final step of the GMB setup process is to pick a category under which your school should be listed. You should narrow this down as much as possible so that your school has the best chance of being found by your intended audience. There are a range of categories available for the education space, covering just about all the broad types of schools that are out there, so it shouldn't be difficult to find one that matches your offerings.
It may also be worthwhile to devote some attention and resources to occasionally creating posts for your GMB listing. In 2017, Google introduced the option to add posts to GMB listings, providing a space for listing owners to place short-form, temporary content (posts normally last a week) that appears alongside a listing. Note that this is only going to appear when users either search directly for your school, or else click on its GMB listing in a more general search, so exposure is relatively limited.
Nonetheless, if you do decide to make an effort at creating GMB posts, there are a number of types of content that can be great fits. Upcoming events like open houses are a particularly good example, with details about the time, place, and location all able to be featured prominently. Event posts can also last for longer than seven days, generally expiring only after the event has taken place. Even if you don't intend to make use of GMB posts beyond this, it would be worth your time to create posts for important public events.
Example: St. Thomas Aquinas College in New York regularly posts about events in its GMB listing. GMB posts can include calls to action (CTAs) to encourage further engagement.
For posts other than events, let your imagination run wild! Everything from images of fun campus moments to quick introductions of prominent faculty can be good ways to show off your school in an appealing, snackable fashion. The only constant, really, should be that the posts include a link back to a relevant page of your website – an event landing page, a related blog post, etc.
A word of warning: Users have long complained about GMB posts not delivering accurate analytic information on its own. In order to get the best sense of how well your GMB posts do for driving traffic to your website, be sure to create custom links through a URL builder tool. This will allow you to better gauge the number of people who click through from your GMB posts, allowing you to refine your efforts over time.
While GMB is the most important listing for most schools to optimize, it is certainly not the only one. Listings should also be set up through Bing Places, LinkedIn, Facebook, Yellow Pages, and as many other relevant services as you can manage. These listings, also known as citations, can have a reinforcing effect, improving your results in localized searches and likely driving more users to your website. It is important to note that the listings that matter most will vary by the country in which your institution is found. These lists by Whitespark offer a breakdown of some of the most important listings in the USA, Canada, UK, and Australia, but if your school is located elsewhere, be sure to do a bit of research prior to getting started with updating your listings.
Add NAP Info to Your School's Pages
When it comes to local SEO, it's important to keep in mind that users are likely to want quick access to contact information that will help them locate your school. Modern search engines can recognize this too, which is why it's considered critical to local SEO that you have your school's name, address, and phone number – commonly known as NAP info – present on every page of your website. In doing this, you ensure that your website has key information that users want, increasing its utility and likely enjoying a bump in local rankings.
Some suggest that it is best to place the NAP in both the header and footer, though electing to place it just in the footer is fine as well, and will likely be preferable from a visual design standpoint. Remember that consistency is important for the NAP. It should appear in the same place on each page to make it easier for users to find it, and the information should be correct and identical across all your pages. If there is a mismatch between pages, or a mismatch between the NAP on your website and the information in the online listings you created (see section 1), it could confuse both users and search engines, so ensuring accuracy can be extremely important
Thinking about how to present NAPs is a special challenge for multi-location or multi-department schools, particularly when the institution has more than a handful of different addresses. Generally speaking, if you have up to 10 locations and can present the information in an uncluttered fashion, it can be best to include the NAP for every location in the footer of every page. If you have more locations or think it looks too cluttered to present more than a couple, then just include the "main" contact for your school (a central campus, official office, etc.) on most pages and the main contact and a particular location's NAP on location-specific pages. These approaches strike the best balance for usability and visibility that tend to be rewarded in SEO.
Example: The ASC A+ Program academic enrichment center has two locations, both of which have NAPs represented in the footer of each page.
Optimizing your web presence for local searches is a special process to be undertaken on top of regular higher education SEO practices. In addition to the ideas mentioned in this blog, you can also seek to improve your off-page SEO by encouraging any local partners such as businesses, community groups and government organizations you are involved with to link to your online content.
While this does mean a bit of extra work, the benefits of appearing at the very top of localized SERPS are not to be underestimated. Through a bit of dedicated effort in creating comprehensive, informative listings through Google My Business and other services, and in putting some time into content creation and presentation on your website, it's possible to tick many of the boxes for high-ranking localized search results, and likely gain a significant amount of traffic as a result.