Reading Time:
6
minutes
Compelling storytelling is not only a pillar of content marketing – it is also a powerful ally in crafting a strong brand identity. When done well and in congruence with a college's values-in-action, it can be an influential differentiating factor in a prospect's post-secondary decision. A recent Gallup study revealed that the mission, purpose or vision statements of over 50 higher education institutions shared "striking similarities, regardless of institution size, public or private status, land-grant status or religious affiliation, or for-profit or not-for-profit status."
It seems nearly every university prepares the leaders of tomorrow, nurtures lifelong learners and has a global impact. In Canada, there are multiple schools vying for the title of the most Canadian, global or green university, a plethora of murky marketing for confused future students. Not to suggest that these aren't necessarily accurate or productive campaigns, but bland branding that seeks to stand for everything to everyone ultimately risks standing for nothing. Across dozens of focus groups of high school students considering such an immense investment for an abstract intangible, Ken Steele, higher education monitor and futurist, repeatedly heard the sentiment: "How am I supposed to choose when they all look the same? It's like they just slap a different logo on!"
Communicating a Distinctive Brand Identity
Although colleges and universities have long had a conflicted attitude towards higher education branding, most now concede that staking a distinctive position in the sector is essential for attracting and guiding a sustainable community. Leveraging a focused identity that is aligned with tangible outcomes may eventually result in a credible reputation that is reinforced by the student experience. Every institution should have a clear idea of both its purpose for existence and how it is in fact perceived by diverse stakeholders from within and beyond its walls. The greater the alignment between a college's leadership and the actual people on campus regarding perceptions of its purpose, reputation and culture, the stronger and more consistent will be its overall identity.
As a school's website is its most prominent window to the world, visitors should be able to intuitively derive expectations about what it will deliver based on its cumulative messaging. An underused resource for achieving this objective is the "About Us" section – a university's portrayed mission, history, values and vision. These pages are an opportunity for institutions to define what makes them unique, providing a sense of their roots and where they are going. How do you convey these unique attributes? Why not a good story?
Example: The University of Rochester's "About Us" section is brimming with personality, with well laid out summary statistics, vision statements, and rankings data. Where it really shines, however, is its excellent demonstrations of campus culture – fascinating video/image/audio-enhanced sections revealing points of pride, symbols and traditions. The latter section includes an inspirational speech about students overcoming the metaphorical "fiery furnace" of the college experience, superstitions about their clock tower, and other colourful school traditions. They succeed in showcasing a fun, vibrant and engaged community.
How do Students Fit Into Your Story?
Prospective students are seeking more than a marketable degree that results in a profitable career – they want some assurance that they'll fit in, to picture themselves living at your campus during the coming years. In a choice among similar offerings, decision makers tend to go with the most memorable story that expresses values they share. Tell rather than sell with relatable anecdotes that bypass the head to the heart, establishing more meaningful connections by demonstrating authentic experiences and outcomes.
"Storytelling moves us into the place where we trust what we know, even if it can't be measured, packaged, or validated empirically," writes Annette Simmons in The Story Factor. "A story is more respectful than telling someone what he or she ought to think. Respect connects." Stories have the power to slice through incessant promotional noise, providing order and simplification, eliciting emotion and empathy, persuading by letting the audience reach their own conclusions. An individual's path may extend to the collective, representing an organization with pride or a guiding conscience.
Combining stirring music, voices and images, videos have tremendous storytelling potential and are easily digestible, memorable and shareable. This video of Concordia University Irvine alumnus and California Teacher of the Year winner Greg McFall is a good example of the transformative power of education – and video storytelling.
Source
Embracing Your School's Niche
Many schools have carved out a sustainable niche by identifying and targeting a subsection of prospective students that they can serve exceptionally, earning a particular reputation and devoted following. Understanding your historical context and predominant culture enables the definition of corresponding values and beliefs that can then be celebrated in communications.
Think of so-called cult brands that have become iconic by bringing their ideology to life. The mythology surrounding Notre Dame's football team ("win one for the Gipper") stands as a prominent example in higher education, galvanizing emotional support that has endured long since the story's legendary beginnings. Numerous shoe, clothing and alcohol companies have equated their products with a lifestyle, including many that have claimed a countercultural ethos based on their origin story or how a desirable subculture has embraced their brands.
Higher education is certainly not like selling shoes, however other industries may provide lessons in crafting intriguing brand statements that invite consumers into their stories. Brand mythologies attempt to stylize, dramatize and elevate the core of what's already there, making the most of the stories that any organization has – from its leaders, employees or the users of its offerings. Your story must be true to your school's brand promise but can be made all the more compelling by describing how a struggle was overcome or resulted in meaningful life changes.
Example: Shimer College has embraced its unique learning environment at a tiny campus within a larger Chicago school's campus, and how its education based on student-driven dialogue rather than textbooks or lectures is ideal for a particular student niche. Their unusual website design and content celebrates their differentiating qualities and nurturing of creative minds, showcasing "visionary alumni" like electronic music pioneer Laurie Spiegel in their "Our Story" pages.
Living the Story you Tell
An effective brand position in higher education is one that is a logical extension of how your community already perceives your school. While creating strategic campaigns for individual programs can be a productive initiative, an institution's brand position should be broader in scope, a sufficiently sturdy claim to endure for many years. For your values and vision to be accepted and truly influential, you must live the story you tell.
Example: University of Northern British Columbia backs up its claim as "Canada's Green University" with convincing evidence, such as its Green Grant Program, proof of energy efficiency leadership, abundance of walking trails near its natural setting, and being named one of Canada's Greenest Employers.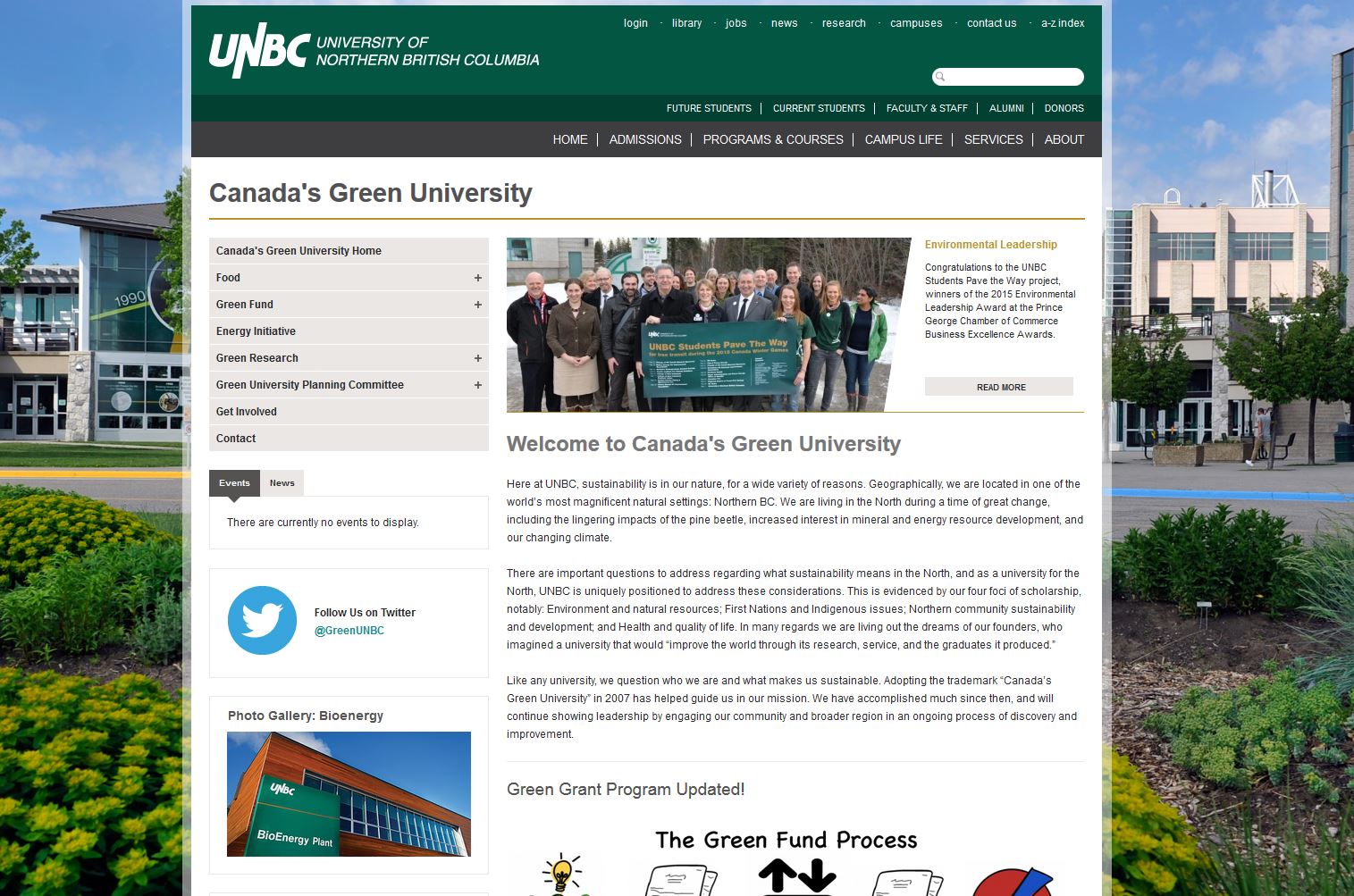 Example: The University of Oregon's similar proximity to forests is used as the starting point for exploration in its "if" campaign, integrating creative web design to encourage students' discovery of self and the university's offerings. They call their "town deep in the woods a little weird and truly wonderful," allowing prospects to browse a stack of easily digestible webpages like photographs that lead to interestingly worded calls-to-action.
How does your school leverage great content to tell its story?