Reading Time:
13
minutes
To engage prospective students, you have to catch them where they live – and it's no secret that your prospects are spending a massive amount of time on social media platforms. How to truly capture their attention through these channels, however, is another matter.
Many institutions feel challenged by the task of writing for Facebook, Instagram, Twitter, LinkedIn, and other popular social media channels, intimidated by various factors such as style, length requirements, and other rules and restrictions of each platform type. 
When should you use hashtags? What's the word limit to a Tweet? Is long-form or short-form copy more effective? Those tasked with writing for schools will often find themselves asking these questions and others before creating a social media post or ad. 
The good news is that even the most inexperienced writer can become effective at creating copy for a school's social media platforms, simply by following some best practices. With that in mind, we've come up with nine key tips to help your copy stand out on the most popular social media platforms—Facebook, Instagram, Twitter, and LinkedIn.
1. Develop a Distinct Voice for Your School's Social Media Channels
In working on your school's social media marketing, you may have heard about the importance of creating a brand voice. So what exactly is your brand voice? 
Think of it as the soul of your school culture—in effect, the personality that you wish to portray, both with current and prospective students, as well as your faculty, and even your local area. Social media offers educational institutions the opportunity to speak to audiences through the personality of their choosing, often allowing for a more natural user experience. Even if the language format of the school's website and generalized advertising is conservative and academic, that can be stripped down to take on a much more casual tone via social media messaging. Colloquialisms, local lingo, and slang all might be used where appropriate, as a means of tapping into the psyche of your target market. 
Example: Old Dominion University in Norfolk, Virginia is reputed as a doctoral research college, and generally takes a formal, professional approach to its website copy:
Yet, note below how ODU takes a lighter approach on social media to engage with prospective students. The social media team took the liberty here of having fun with rumours that celebrity musical couple Jay-Z and Beyoncé were in town, photoshopping them into its iconic Lion Fountain on campus in this Twitter post—and using a playful, engaging caption alongside it:
The effect of creating posts with light, engaging copy like this can often help to showcase the student life of the school, humanizing and animating what may otherwise be perceived by many prospective students as a stiff, or even intimidating learning environment. This post generated so much student buzz that it ended up appearing as a segment on the local news, helping the school to gain exposure.
On the other hand, you may decide that a better approach for your school is to keep the brand voice consistent through all of your website, advertising, emails, and social media marketing. 
Example:  Oxford University keeps the tone on much of its social media messaging consistent with the formal, scholarly approach taken on its website. We can see this in some of the university's recent Twitter and Facebook posts:
To maintain consistency, be sure that anyone writing for your social media channels understands what your brand voice looks like in the digital sphere. In this way, both current and prospective students will come to know your unique school character—and will begin to feel more connected with your institution. 
2. Speak to Your Student Personas Needs in the Moment
If you've been working in social media marketing for higher education for some time, you probably already know how critical your audience is to all of your initiatives. Your school likely already has a clearly defined audience, and you may even have developed a number of target personas to work with. If not, persona development is something to be aware of as a key strategy for delving into the psyche of your prospects. 
Persona development helps you to understand the various audience members you wish to target, moving beyond simple demographics to understanding the pain points and needs of different students. 
Example: To get a clearer picture of what this looks like, take a look at this persona HEM prepared for one of our language school clients: 
The information that goes into the creation of a persona is often extrapolated from research, and ideally, from answers to a questionnaire issued to members of your target audience. 
In developing your student personas, it might also be helpful to look at external research. 
Example: A recent survey of 3,200 U.S. college students taken by The Parthenon Group reveals six different student study motivations: aspiring academics, coming of age, career starter, career accelerator, industry switcher, and academic wanderer. 
Source: The Parthenon Group
You might look to these six motivations to help understand what a prospective student may be feeling or needing when engaging with your school.
Beyond all of the information you've gathered to put together your persona documents, it's important to be sure you're addressing needs and pain points each persona may be experiencing in the moment. Keeping up-to-date needs in mind will help your school's messaging stand out amid all of the noise on the user's news feed, personalizing your posts to speak to their current situations.
Example: This LinkedIn post from Western University empathizes with students starting a new semester amid the pandemic reality:
Using messaging in this way is critical for showing that you care about and understand your school community—ensuring a more engaging experience for those visiting your social media platforms or checking out one of your school's latest ads.
3. Have a Goal in Mind for Each of Your School's Posts or Ads 
Are you looking to announce a new program? Share an event with students? Gain new followers? Increase engagement? Before writing a social media post or ad, clearly establish your goal to help with your copy generation. From there, the message will often fall easily into place. 
In creating a social media ad, the platform you're on can often help direct you, as you're asked to choose your campaign goal from a list of options. 
Example: Facebook splits up its many possible campaign goals into categories of raising awareness, consideration, and conversion. See the screenshot below for possible goals within the consideration phase of the enrollment journey:
Source: Facebook.com
It can be helpful to refer to these objectives when defining goals for organic posts, too. These might include gaining likes, mentions, clicks, shares, conversions, followers, and brand awareness. Whether you're aiming to get students to sign up for more information on a program, to book an appointment, receive a newsletter, or fill in an application, be sure to include your specified call to action (CTA) in your post or ad. Your CTA should be aligned with your goal. If engagement is the goal, this can be achieved effectively by asking students to join in the conversation by "liking" a post, dropping a comment, or by asking a direct question encouraging a response.
Example: In a recent Facebook post, Cardiff University attempts to engage the audience by asking why they love their school's home city. The many and varied responses can lead to further conversation and engagement with the school:
Remember also to keep to the rule of a single goal per post or paid social ad. If you have multiple ideas you wish to convey in one post, it may confuse the user, reducing potential for engagement. 
4. Write Your Higher Education Social Media Posts According to the Platform 
Once you've got your brand voice, target personas, and goal worked out, you still have to consider the social media platform you're writing for. Prospects that visit Facebook may have very different characteristics from prospects that visit Twitter or LinkedIn.  You need to have an understanding of what students are expecting from their preferred platform and then create your copy accordingly, with a message that a user on that platform can identify with.
When writing your social media content, some quick facts and rules of thumb to follow from the top four social media platforms include the following:
Facebook:
Use creative headlines

Longer messaging can be used, but shorter is more typical

Make your writing clever, encouraging sharable content 

Minimize hashtags

Use emojis where appropriate

Pose questions to encourage engagement: e.g. "Do you agree? Drop us a comment!"

Use clear CTAs on paid ads
Instagram:
Prioritize images, and construct language around those

Keep the caption short 

Use hashtags to bring students back to something associated with your school

Emojis can be used effectively

Use fun, humorous language often

No use of links allowed in post copy. Instead, ask audiences to connect to you via your school bio 
Twitter: 
Word count must be kept low (max of 280 characters)

Keep your copy casual, interesting, and relevant

Focus on hashtags to boost engagement and summarize your message

Emojis can be used to good effect

Focus on calls to action

Encourage sharable content, and getting your audience to comment
LinkedIn:
Business oriented for sharing professional content

More formal language

Longer messaging if needed

Great place to announce news, milestones, and events

Share quotes from influencers and share statistics

Stay away from emojis and GIFs, but hashtags are becoming more common on this platform
Example: To understand what copy should look like from one platform to the next, take a look at these varying posts from a few schools – starting with this Instagram from Spring-Ford High School in Pennsylvania:  
Note the focus on imagery with just a few words and associated hashtags to get the message out in short fashion, to suit the Instagram audience profile.  
While Instagram serves primarily to dazzle and entertain, Facebook audiences are typically more interested in getting real information from the posts appearing on that platform. Harvard University seems to know this, using a creative headline and compelling language to pique student interest in the post below about a research project. Note that the language and creativity of the post even caught Mark Zuckerberg's attention:
Finally, the Twitter post below from Western University caters to the platform format, keeping the language brief and using lots of hashtags.
5. Use Shorter Copy for Most of Your School's Posts… 
We already know that "short but sweet" is the order of the day on both Instagram and Twitter. On other platforms, shorter copy is also typically preferred. Today's social media users are busy people, and even if they're not—they're increasingly impatient. The very appearance of anything approaching a paragraph is likely to keep a student scrolling right past your post. The use of a punchy, info-rich caption or message is often the best approach for grabbing attention to immediate effect.
There are some ways to maximize the shorter format to keep in mind. As a start, remember to keep your message clear, using the old-school "who, what, where, when, why" approach to try to cover all the bases of the point you wish to convey. Your image selection can often help to cover some of those bases.
Example: The University of Florida keeps it short and sweet on this Instagram post, grabbing immediate attention with a striking image, and using a caption that makes it easy for the audience to connect it back to an upcoming game for the U of F Gator football team.
The fun alligator image above lets the audience know the "who" here is the Gators home team. If in any doubt, the caption uses the hashtag #GoGators. From there, at a quick glimpse, the what, where, when, and why are covered by the simplicity of that caption. What's it about? The game. Where? All students will know the venue. When? The post is intended to engage with students who know the game is on either at the time of posting, or probably sometime the same day. The "why" of the post is also implied—to support the home team!  
6. …But Don't Be Afraid to Experiment With Longer Copy 
As you look for ways to improve engagement through your higher education social media marketing efforts, you might sometimes wish you had room to pack more information into your post copy. While the short format is often the preferred approach to social media messaging, don't entirely rule out longer copy. LinkedIn users, for instance, often use longer copy to share professional information. Some occasions do call for it on the other platforms as well, although there is no set rule on this. 
Example: The University of Nebraska has used longer form copy to good effect here on a Facebook post, providing more details and information to better educate visitors about the school.
If you're tempted to try longer format copy like this, the best way to establish its effectiveness is to test your short copy versus longer copy on a post or ad. You might be surprised by the results. 
7. Schools Should Know When and How to Use Hashtags and Tagging
Hashtags are undoubtedly useful, added to posts to draw readers to additional information on the topic at hand. Just bear in mind a few important rules of thumb on the use of hashtags in your social media efforts:
Remember which platforms to use them with—most commonly Twitter and Instagram. Facebook can also make use of hashtags, although less often. While they were once something of a rarity on LinkedIn, they are now becoming more common on that platform as well.

Don't clutter your captions with hashtags, as the messy appearance can be off-putting to audiences. If you feel the need to use them more liberally, a good tip is to place them at the end of the post for more readability.

Use tried and tested hashtags that work for your school, but be sure to research and test new ones as well by using hashtag research tools (Hashtags.org, Ritetag, etc.).
Finally, don't overlook the opportunity of creating your school's own unique hashtags to promote a sense of community and keep everyone feeling connected. 
Example: Take a look at the original, inspirational hashtag generated by the school below.
Tagging is also a great way to maximize the use of short messaging. By tagging, you can directly engage an individual or organization by mentioning them in your post. When you tag hyperlinks to the mentioned individual's own social media profile, the person will be notified that they have been tagged. 
Example: UBC uses tagging to good effect here:
8. Make Good Use of Emojis in Your Higher Ed Social Media Efforts
You might be forgiven for thinking emojis aren't appropriate to use when creating posts in social media for higher education. However, emoji use is no passing fad, and should not be underestimated for its opportunity to drive real engagement. After all—a picture (emojis count) does speak a thousand words, and the research in the area is hard to ignore. 
According to one study, 92% of all consumers use emojis in their daily communications, with over 10 billion emojis sent each day. Other research has shown that 70% of people believe the fun little faces express feelings better than words. 
With all of this compelling research in mind, it's clear that emojis can be put to great use for engaging with your prospects. Go ahead and try using some in your social media copy on Facebook, Instagram, and Twitter (but not on LinkedIn) to see if you notice an increase in audience engagement. Just remember not to overuse them, and be sure that you've accurately interpreted the meaning of an emoji before inserting it in your copy. 
Example: McGill University strikes a good balance here, adding a personalized feel to its messaging: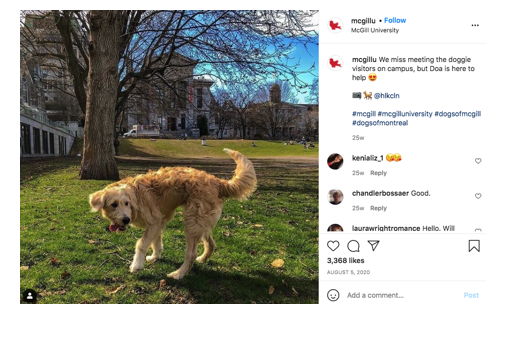 The context of your post can also be a guiding factor in deciding upon emoji use. 
Example: Carleton University doesn't use emojis often in its Facebook posts, but seems to have found the right moment for them in this playful post:
As a rule, avoid emojis altogether if the tone of your post is of a serious or academic nature. Any time the nature and language of a post is casual, emojis can be considered to further animate your messaging.
9. Write Higher Ed Social Media Copy to Your Images
Imagery is important on all social media channels. Whether you're targeting your audience with a new ad campaign or trying to announce something new and important to current students via a social media post, the image that you select has the potential on its own merit to stop viewers from scrolling. 
From there, it's the accompanying caption that you create that has the power to captivate, engage, and convert. You may have heard the expression "content is king." This remains the case in your social media messaging. After all, no matter how powerful your image is, it still may not put across the precise message you're trying to create—and you can't visually transmit your call to action with an image alone. Captions are required to contextualize the images you post.  
Example: To see what effective captioning looks like, take a look at this Instagram post from Columbia University. Note the title within the image "My Story Matters" begging the question: "What story?" The caption then serves to answer the question briefly, but with just enough alluring information to prompt engagement:
Another example below, taken from Columbia University's Instagram page again, reveals the use of strong, intriguing imagery to prompt curiosity. Note again the brevity of the captions, making use of tagging, hashtags, and some occasional use of emojis to maximize the impact of the short message:
Making changes to your current copy style by implementing this tip, or any of the other eight discussed above, might just be the ticket to a lot more engagement with your prospects!